$20 Bills
Brand new, uncirculated $20 and old $20 bills have a unique appeal. The former is pristine and untouched, with crisp edges and vibrant colors exuding freshness and novelty. On the other hand, old $20 bills may have a weathered and worn appearance, but they often possess a particular character and history that newer bills lack.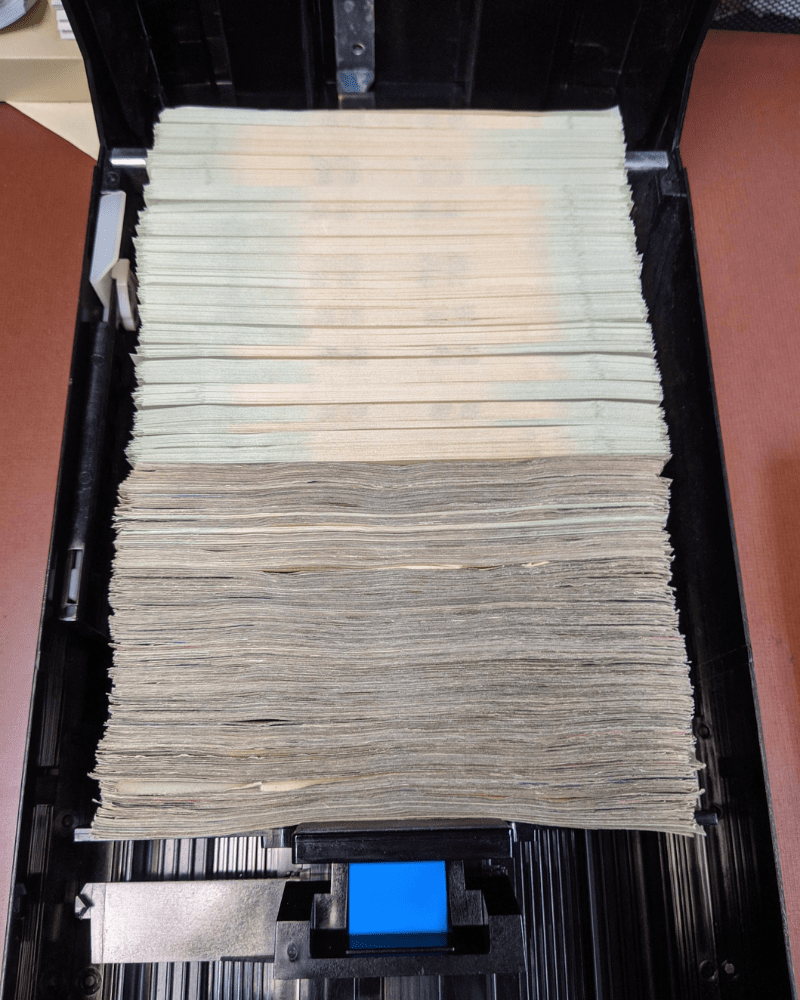 The creases, smudges, and fading on an old $20 bill tell a story of where it's been and who's handled it. Both options have distinct charm and allure; choosing between them is a matter of personal preference.
Crocs
Wearing Crocs daily makes them comfortable in a way that's hard to replicate with a brand-new pair. After continuous use, Crocs conform to the wearer's feet, providing unparalleled comfort that can only come from well-worn shoes.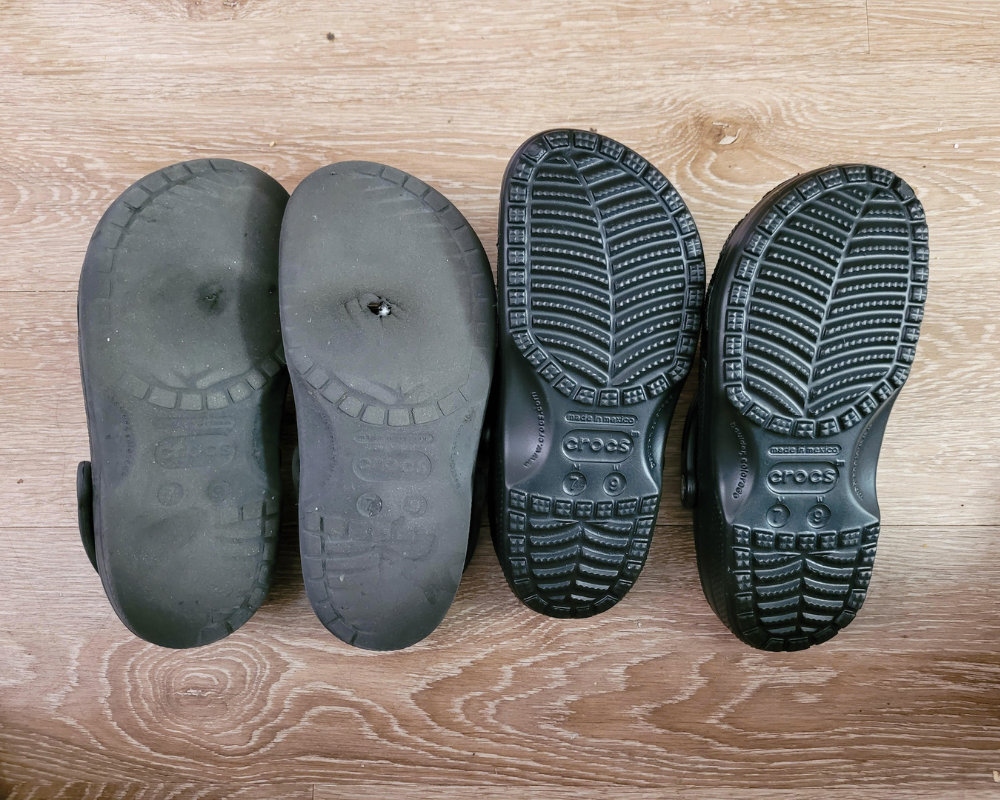 In contrast, a brand-new pair of Crocs has a pristine, untouched appearance with a smooth and glossy finish. It's hard to resist the allure of a brand-new pair, but the personal history embedded in an old, well-worn pair can be just as satisfying.
Mini Golf Balls
Whether you're playing with new mini golf balls or well-worn mini golf balls, you're gonna have a blast regardless. Brand new balls are perfectly smooth, with vibrant colors and satisfying weight.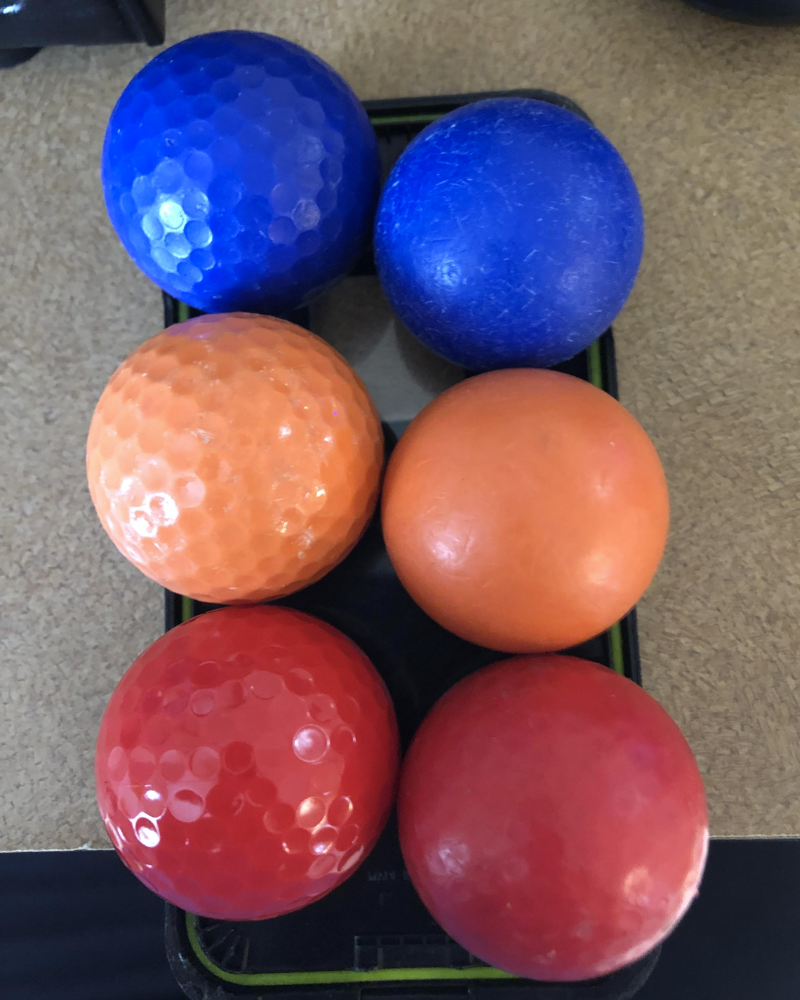 They feel fresh and exciting, promising a smooth putt and the potential for a hole-in-one. In contrast, mini golf balls used over the years show signs of wear and tear, with scratches, scuffs, and dents that tell the story of countless rounds of mini golf.
Gaming Chair
If you have a well-worn, favorite chair, you know that they're hard to replace. The decade-old chair has molded to the shape of its user and shows signs of wear, conveying a sense of nostalgia and comfort. It's like an old friend – familiar and reliable.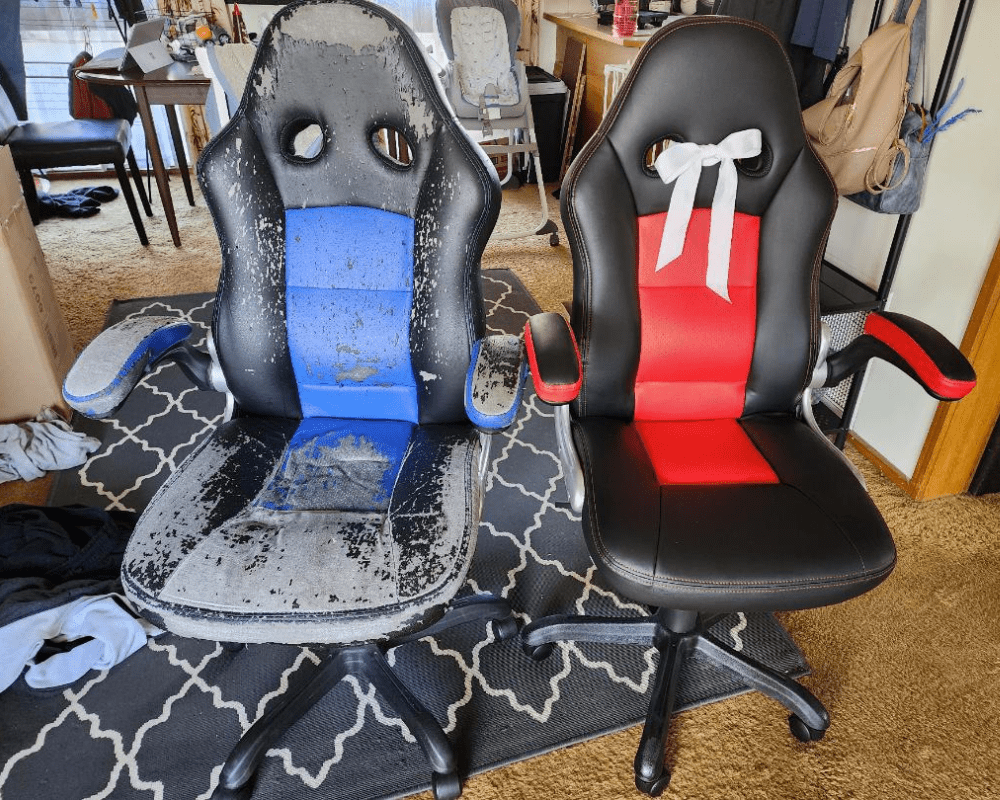 On the other hand, a brand new version of the same chair is sleek and pristine, with the latest features and technology. It promises a new level of comfort and gaming experience.
Littlefoot Doll
A new Littlefoot doll is pristine, with bright colors and a flawless appearance. It promises a sense of novelty and excitement and is a perfect gift for somebody.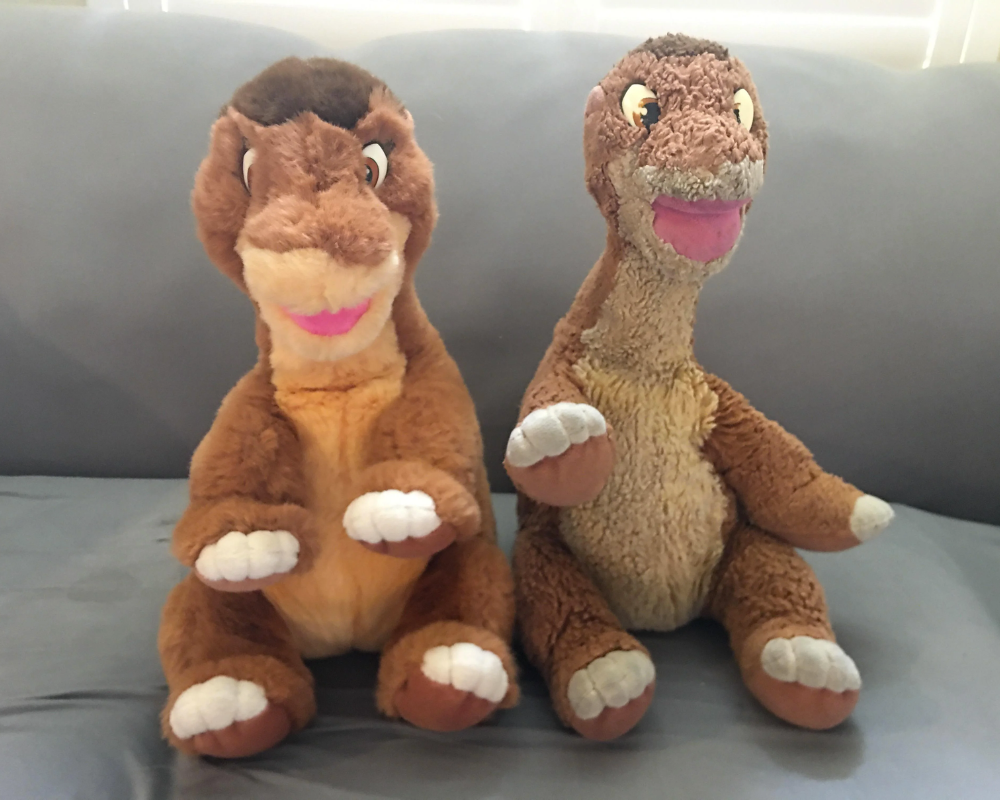 On the other hand, the 34-year-old doll looks well-loved and well-played, with fading colors and frayed edges, which adds a sense of history and character. It's a unique item passed down through generations or held onto as a special childhood memento.
Loofa
A brand-new loofa and one used every day for five years are vastly different items. The brand-new loofa has an untouched surface, providing a satisfyingly scratchy texture that's ideal for exfoliating. It promises a fresh and invigorating shower experience.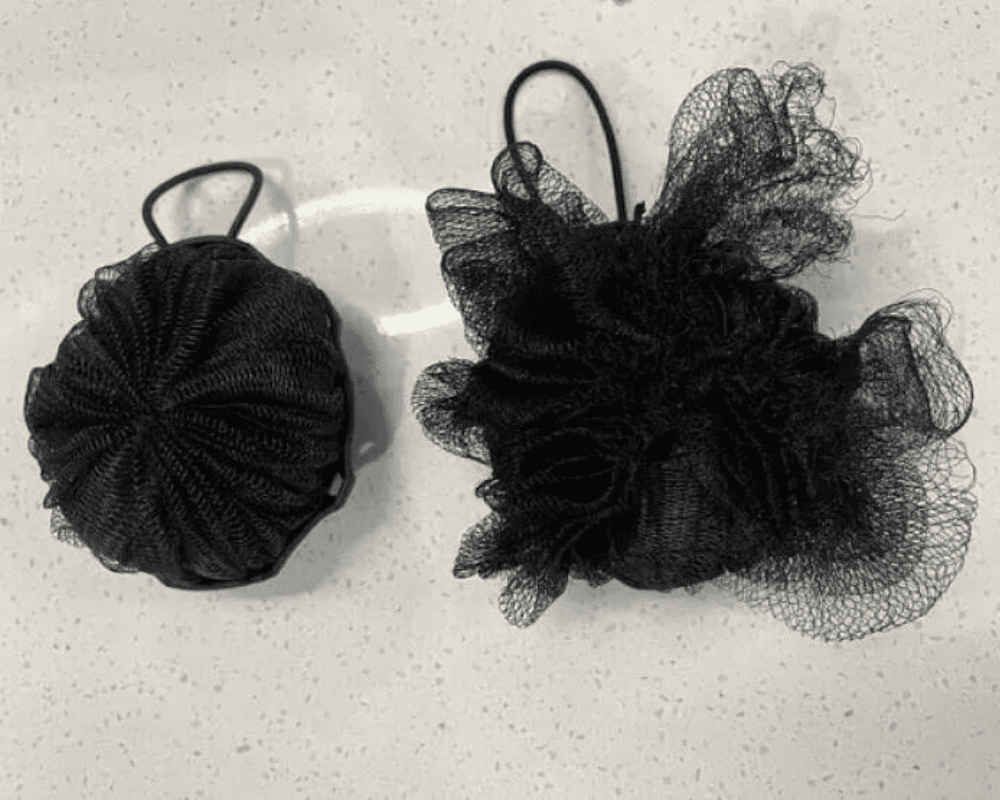 In contrast, a loofah used daily for five years has softened with time, offering a gentler touch more suited to daily use. Its surface is stained and worn, representing the countless showers and self-care rituals it's helped facilitate.
Gloves
Some people like their old gloves, and some prefer new ones, but new gloves have several advantages. They offer a pristine appearance, a snug fit, and maximum protection against the elements.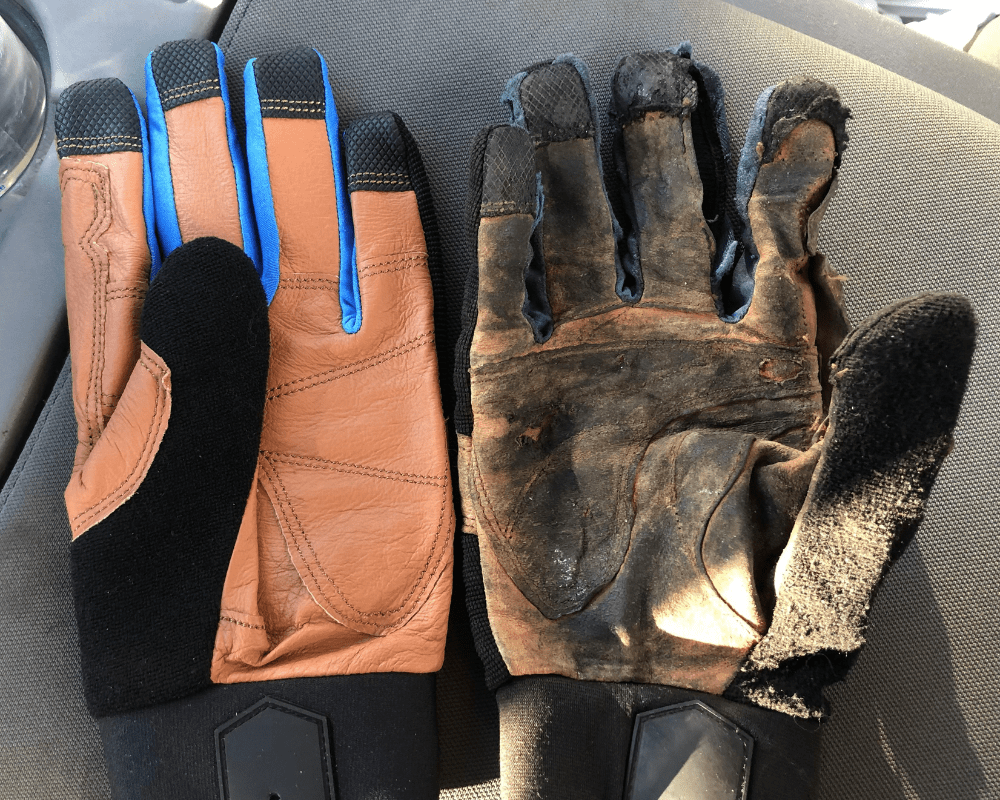 Additionally, a sense of cleanliness and freshness comes with brand-new gloves without the wear and tear of extended use. While old gloves may have a sense of familiarity and comfort, the superior condition and effectiveness of brand-new gloves can't be denied.
Eraser
There's a certain thrill to opening a new stationary item for the first time. The old eraser is visibly battered, with a rough texture and limited ability to erase mistakes effectively. It's been overused and may have accumulated dirt and grime over time.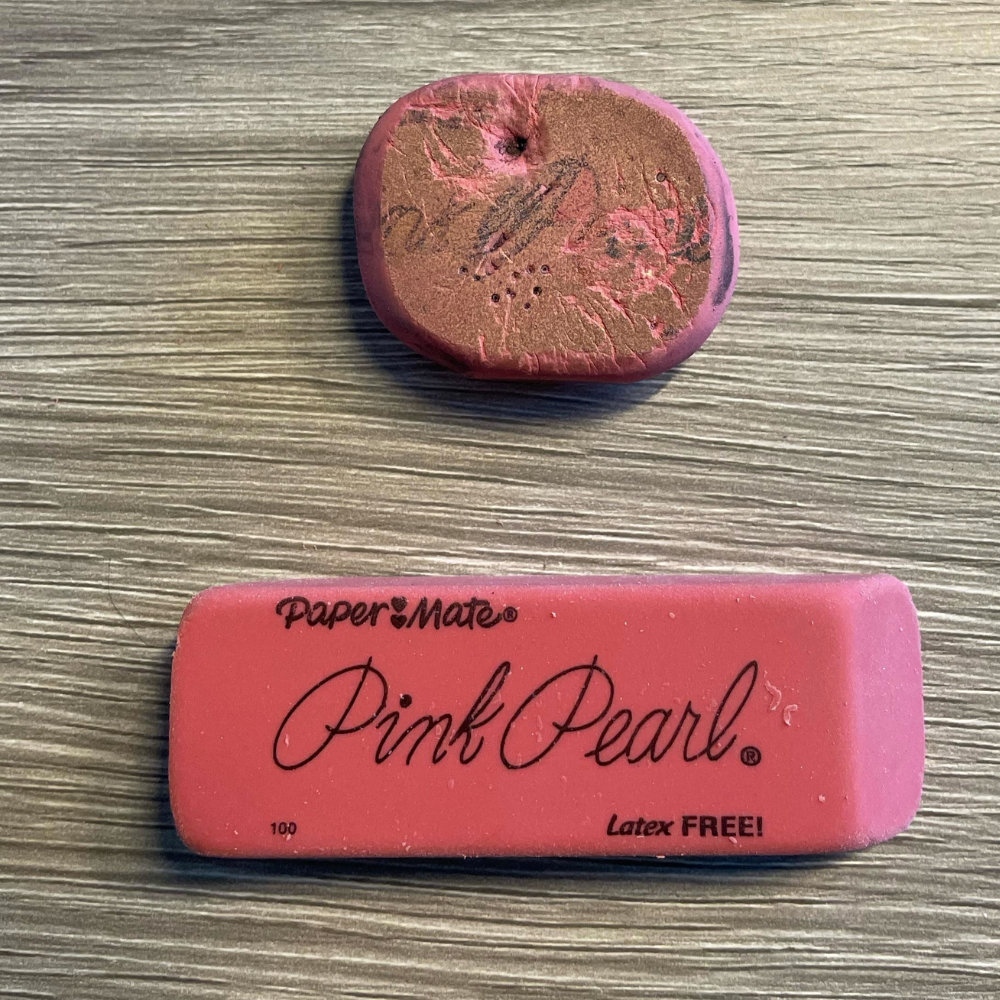 In contrast, the new eraser is unmarred and possesses a smooth surface that can quickly and easily remove pencil marks. It represents a fresh start and offers the potential for error-free work.
Clogs
When it comes to the comparison between a new clog and a worn-down one, the new clog has a clear advantage. The new clog is like a blank slate, without any wear and tear or signs of damage.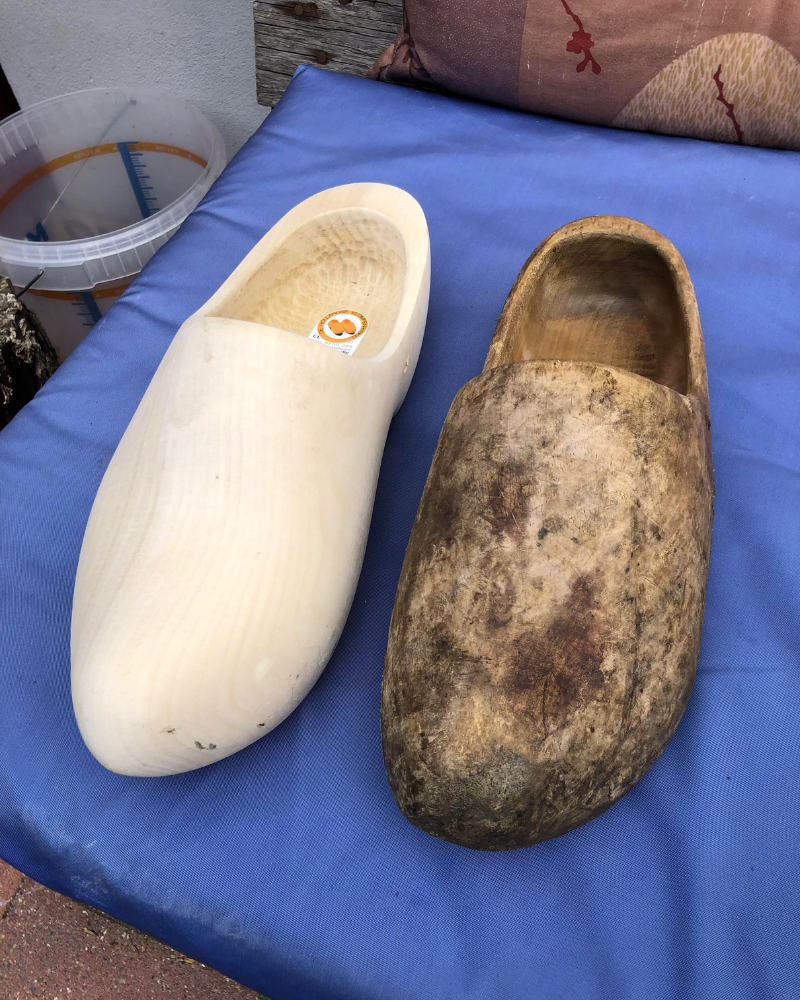 In contrast, the old clog has been through a lot, with scratches, stains, and a weathered appearance that shows its age. Sure, the old clog may have sentimental value, but the new clog promises a fresh start and a long life ahead.
Log Book
When comparing a used log book to an unused one, the choice can be tricky. On the one hand, the new book is compact, unblemished, and perfect for starting fresh.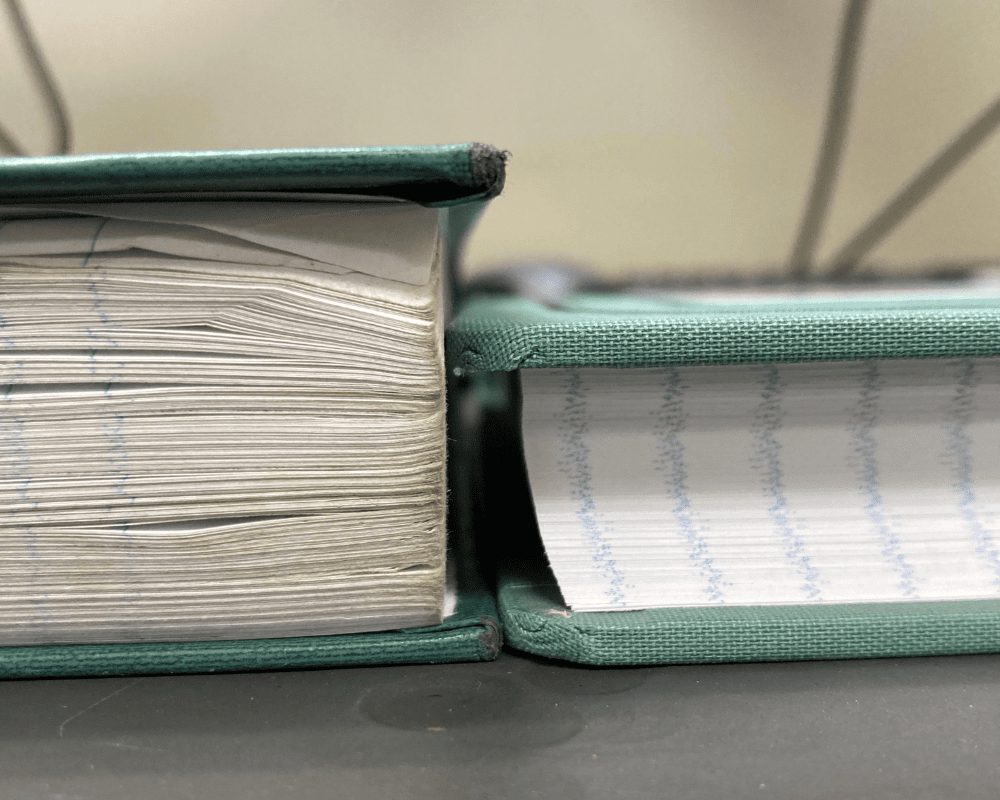 On the other hand, a well-used book may show its age, but it's a treasure trove of memories and valuable information that can't be purchased. The old logbook may be battered and weathered, but it's a record of all the hard work and dedication put into it over the years.
Sports Shoes
You know you like the look of a new sports shoe, but slipping your feet into a used one is like coming home. The old shoes may show wear and tear, but they may have accompanied you through many athletic pursuits and they hold cherished memories.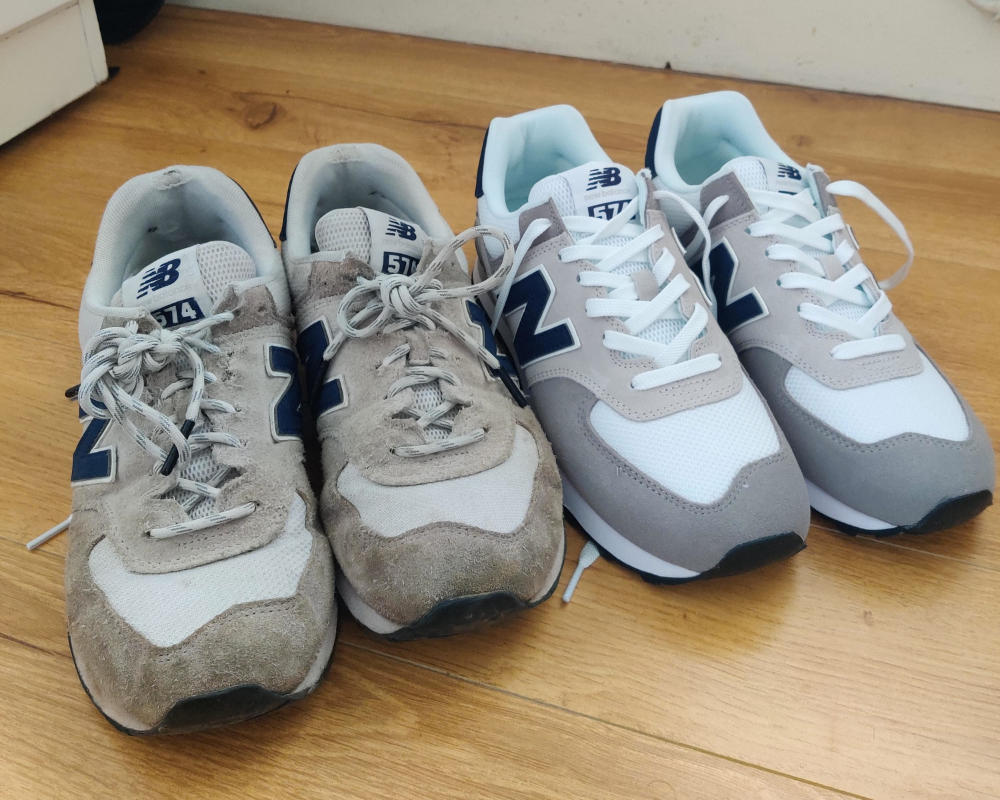 On the other hand, new shoes are fresh and clean, ready to provide the support and comfort needed for a successful workout. They offer the latest technology and are designed with peak performance in mind.
Sandals
Comparing a new sandal to the same sandal used for 20 years is like night and day. The new sandal is pristine and perfect, with no signs of wear or tear. It's ready to hit the beach or the boardwalk in style.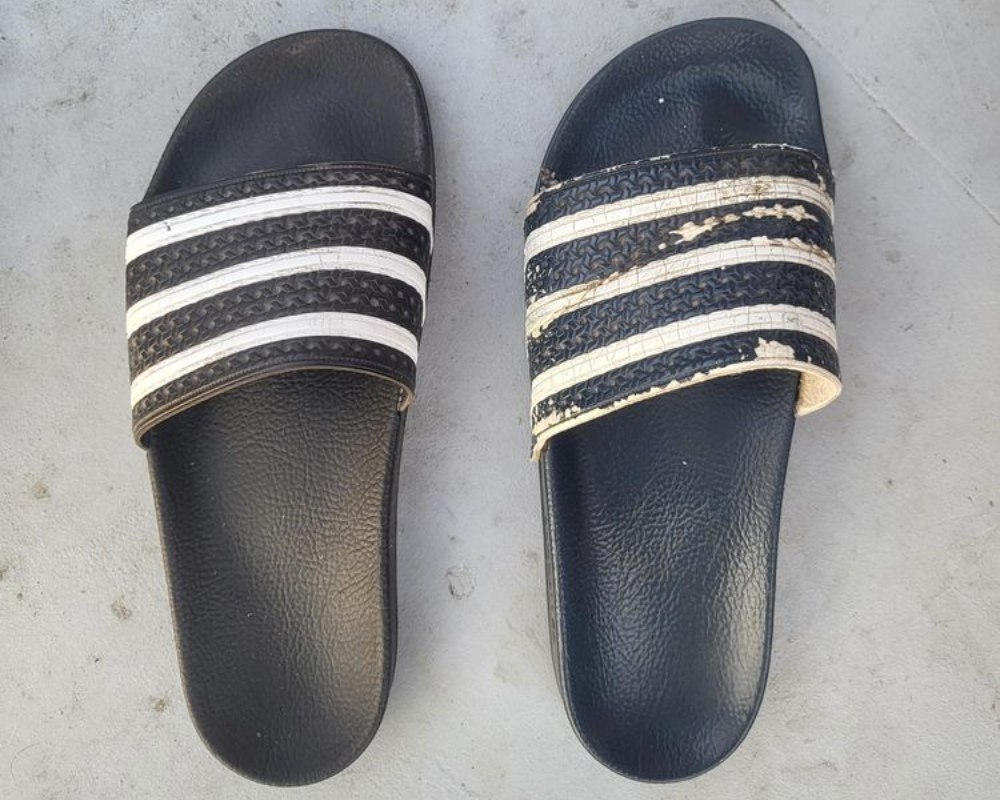 However, the 20-year-sandal has been through a lot and has probably seen some incredible adventures. It's comfortable and broken in, molded to fit the wearer's foot perfectly.
Knee Pads
The contrast between knee pads utilized for four years and a pristine, unused pair is remarkable. The well-used pads may display visible wear and tear but offer coziness and familiarity that a brand-new pair can't duplicate.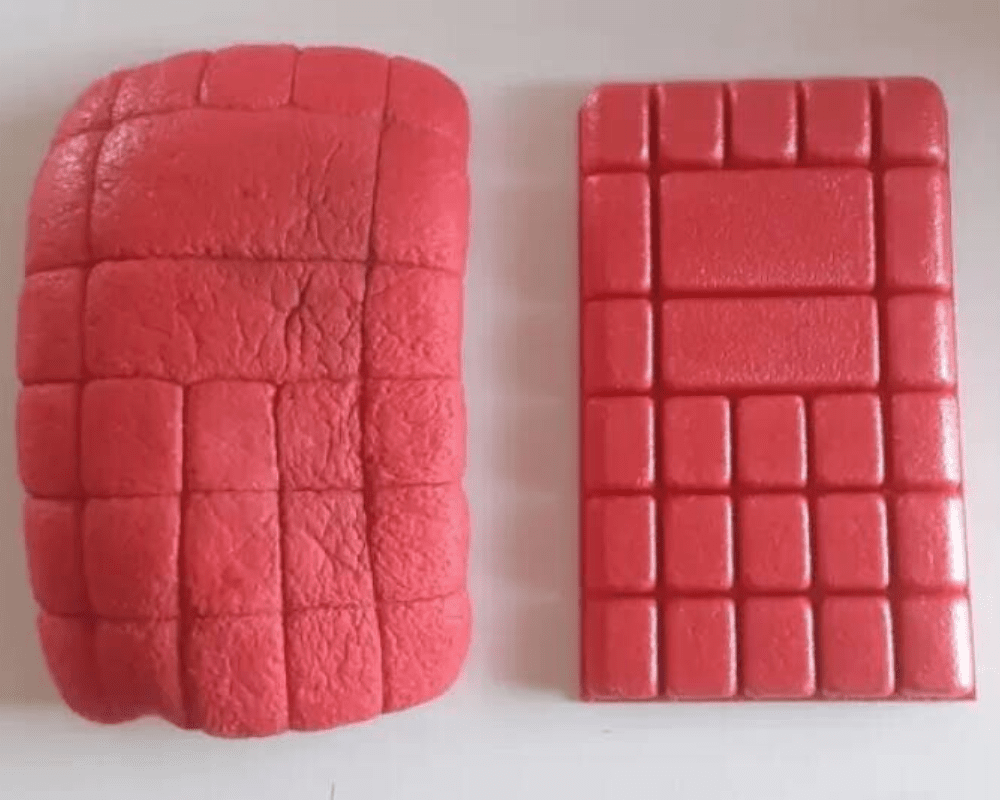 Conversely, the new pads provide a fresh start, with immaculate padding and straps that provide optimal support. Ultimately, the decision between the two rests on personal preference and the degree of comfort required for the job.
Uno Deck
When comparing a 20-year-old Uno deck with a brand-new deck, it's easy to see the differences between the two. The old deck will likely be weathered, with well-worn cards and a battered box, whereas the new deck is pristine and untouched.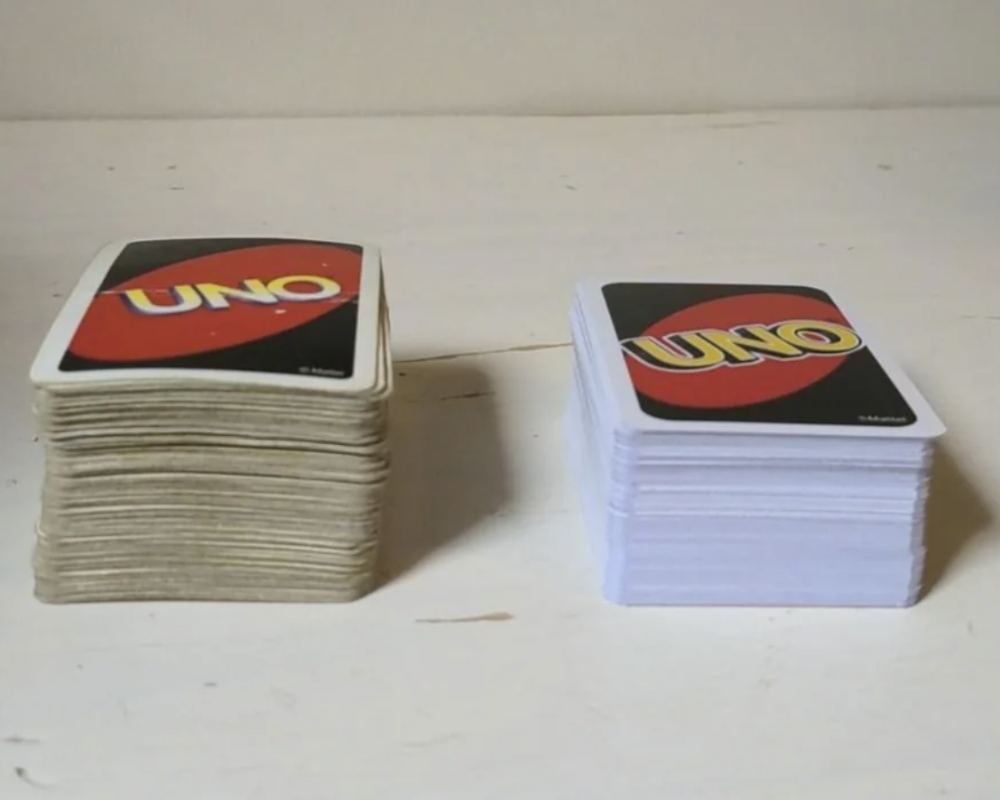 The used deck has a specific sentimental value, having been played with countless times, while the new deck has the allure of freshness and novelty. Whether you prefer the nostalgia of a used deck or the excitement of a new one is up to you.
Drum Sticks
The contrast in their condition is striking when comparing a pair of drumsticks wholly worn down to a brand-new pair. The old sticks will likely show signs of wear and tear, such as splintering, fraying, and loss of weight and balance. In contrast, the new sticks will be straight, smooth, and evenly weighted.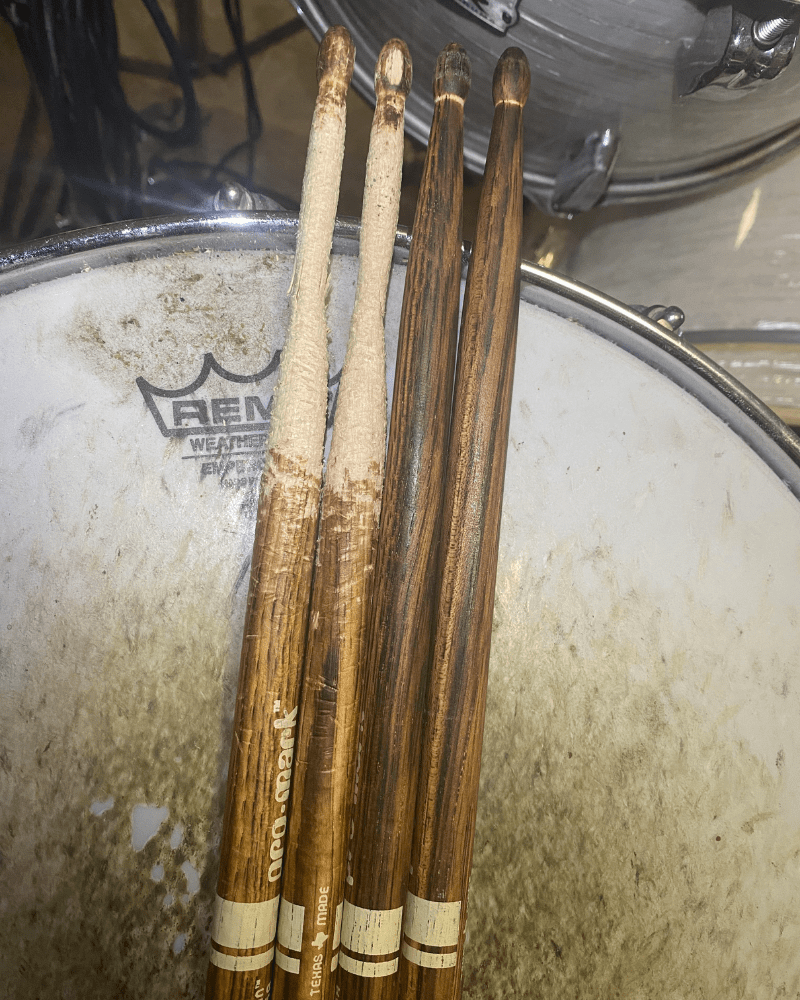 While the old sticks may hold sentimental value and memories of past performances, the new ones offer a fresh start and the confidence to play without worrying about breakage or inconsistencies.
Broom
Undoubtedly, the old broom has been through some tough times. It's barely holding on with its few remaining bristles that look like they've seen better days. Meanwhile, the new broom looks fresh and ready for action with its new bristles and sturdy handle. You might even be tempted to give it a twirl as if it's a baton.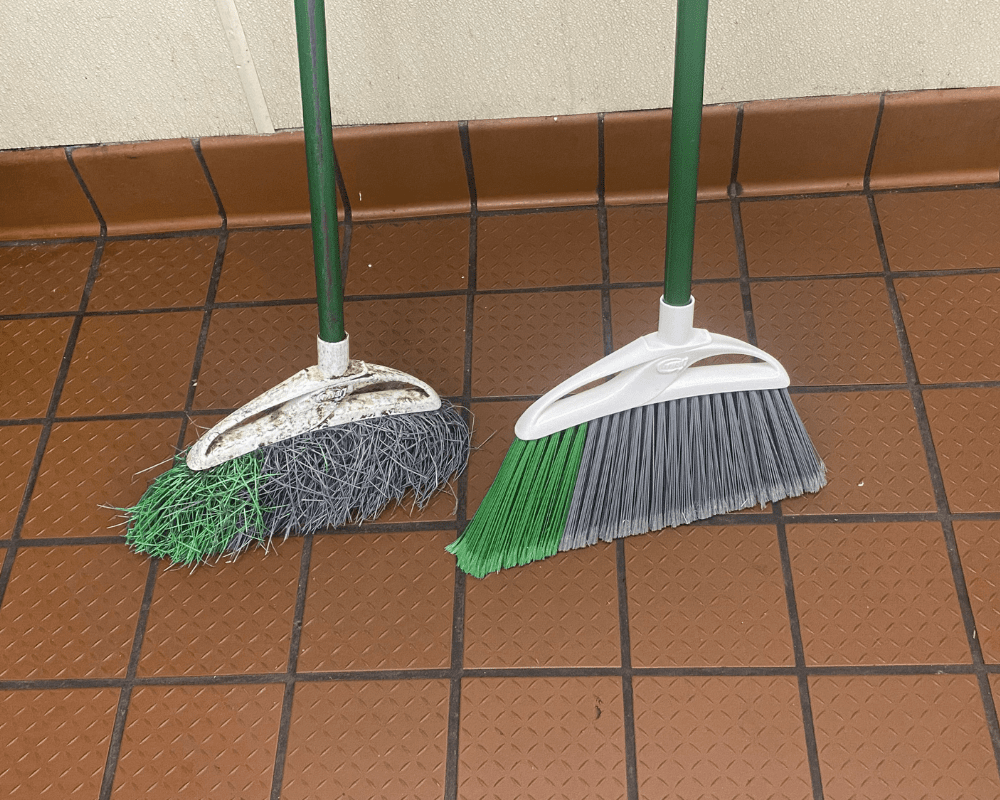 But let's not forget the old broom's hard work over the years! It may be worn down, but it's got stories to tell and memories to cherish. So, let's give the old broom a well-deserved retirement and welcome the new broom with open arms.
Backpack
The old backpack has undoubtedly been through serious adventures in the Pilbara desert for two and a half years. It has a rugged, weathered look that could tell countless stories.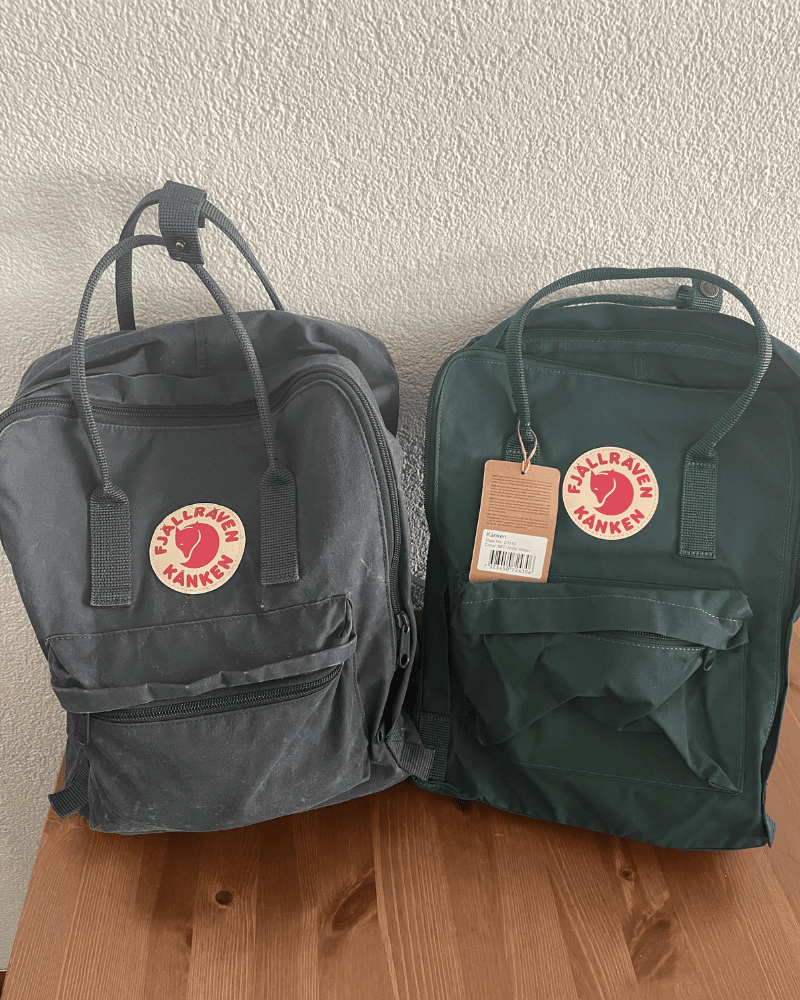 In contrast, the new backpack has a pristine appearance with bright colors and sharp edges. The new backpack has yet to experience the trials and tribulations of the open road. For those starting a new adventure, the new one is an optimum choice to make new memories.
Drill
When it comes to a 10-year-old drill versus a brand-new one, the difference is clear. The old drill has seen its fair share of use, and the wear and tear are evident. The motor may not run as smoothly as it used to, and the chuck may not grip as tightly.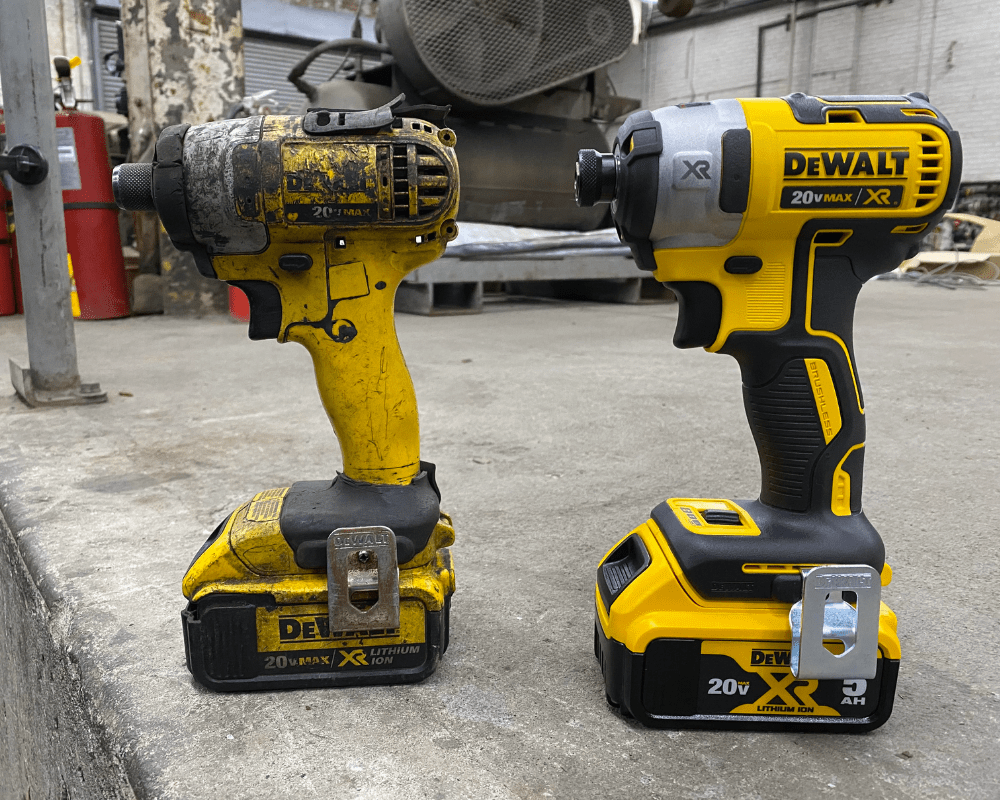 On the other hand, a brand-new drill is sleek and shiny, with all the latest features and technology. While the old drill may hold sentimental value, a brand-new drill is a way to get the job done quickly and efficiently.
Sketchbook
A fresh new sketchbook is like a blank canvas, pristine and full of potential. Every page is waiting for its first stroke of the pen or brush. On the other hand, a full sketchbook is a testament to an artist's hard work and creativity.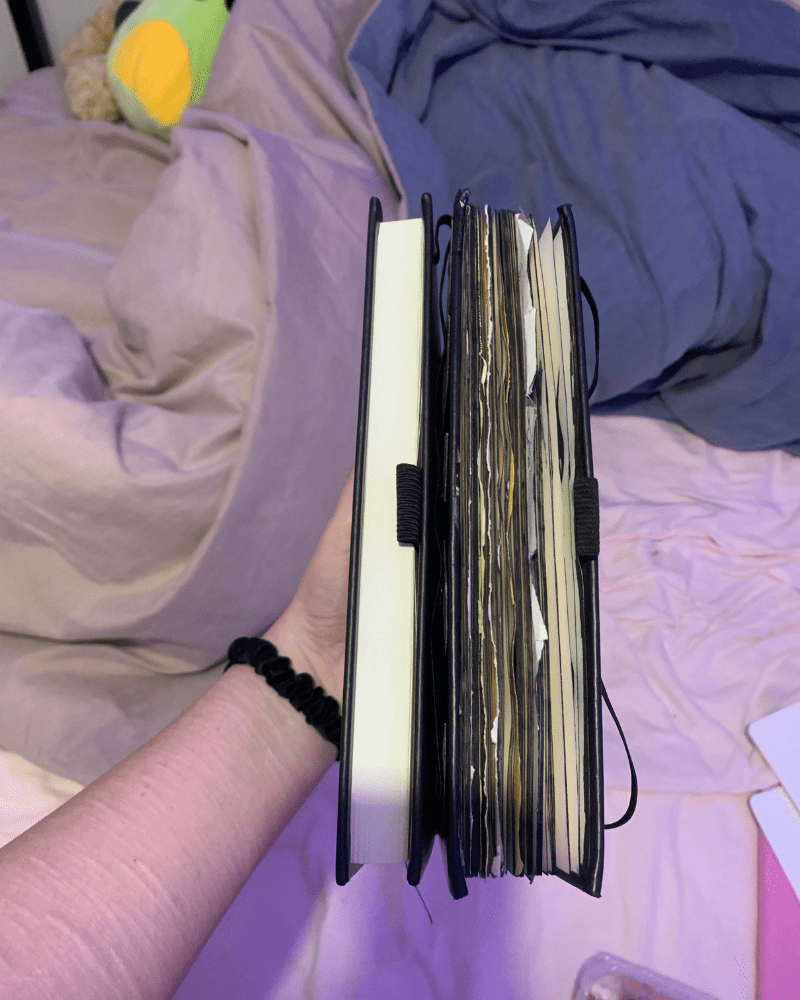 It's filled with ideas, experiments, and inspirations that have led to the artist's growth. While the new sketchbook is brimming with possibilities, the full one is a cherished treasure and a reminder of the artist's progress and dedication.
Hammer
Here's a brass hammer used until it broke. Alongside it, is a brand-new hammer. With its broken handle and chipped head, the old hammer has clearly seen better days, having been used tirelessly over time.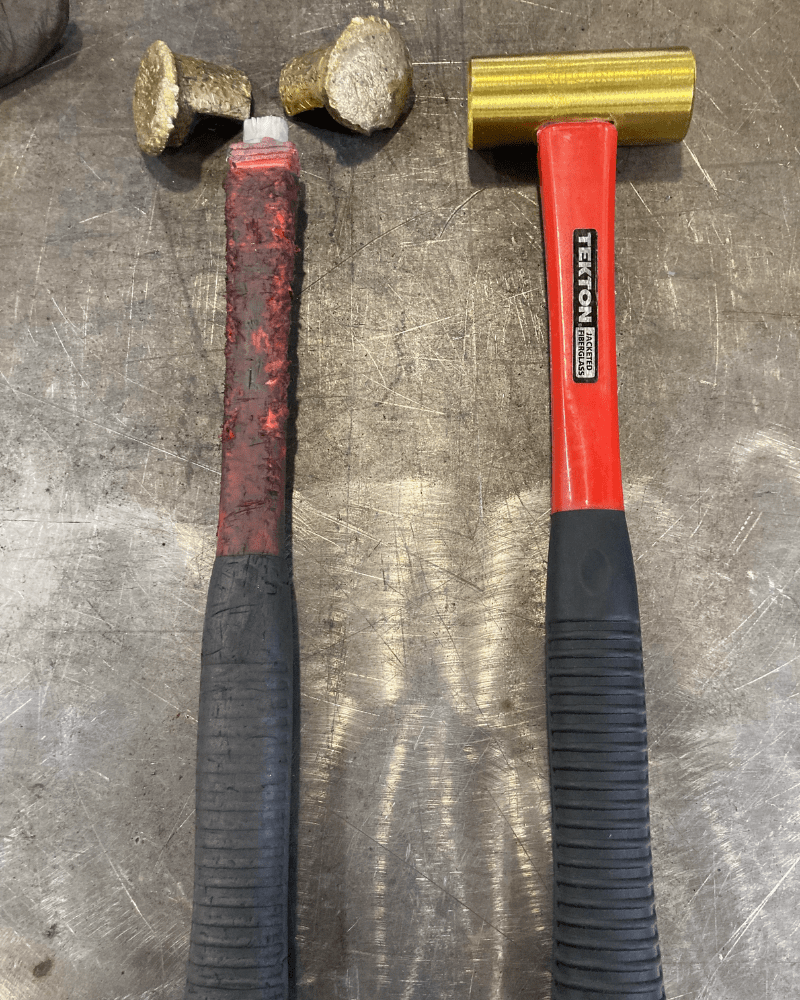 Meanwhile, the new hammer boasts a shiny, untarnished surface that suggests it's yet to be used for its intended purpose. It's a stark contrast between a tool that's served its purpose to the point of exhaustion and a pristine one ready to take on new challenges.
Tabletop Hockey Puck
A new tabletop hockey puck is smooth and shiny, gliding effortlessly across the surface of the game board. Its sharp edges and weight are perfectly balanced, making for a fast-paced and exciting game.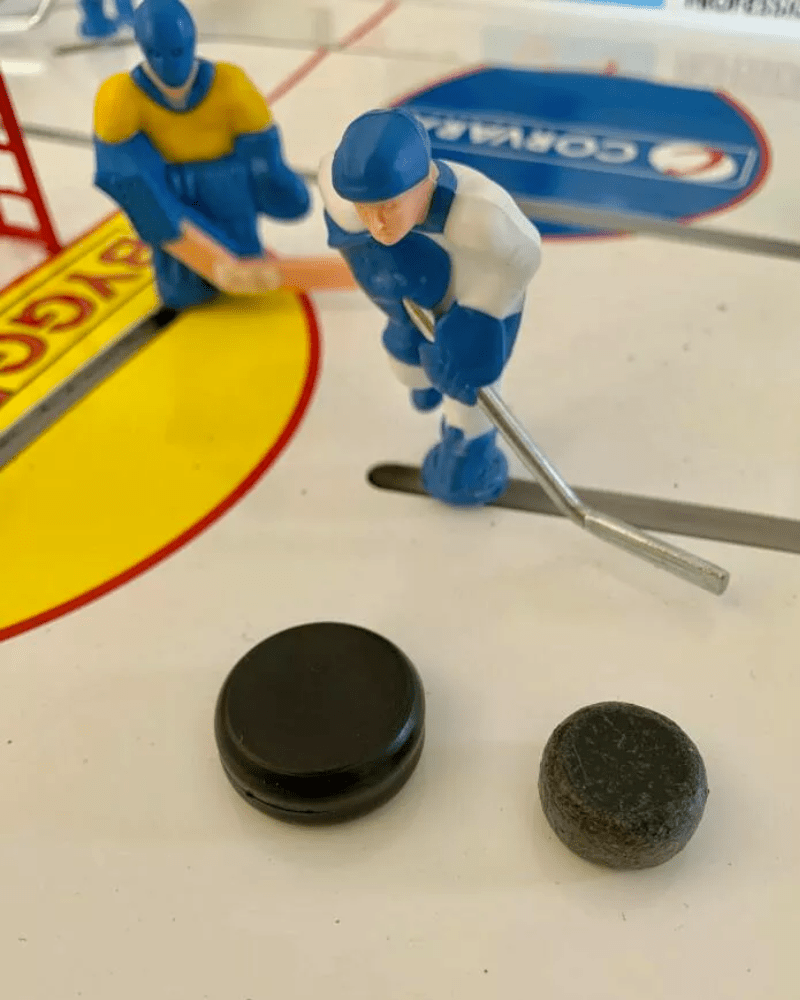 In contrast, a puck that's been in commission for half a decade is worn down and scratched, its once sharp edges now dull and rounded. The puck's weight has shifted over time, making it unpredictable and adding a new challenge to the game.
Key
A spare key and a primary key used for 12 years may not seem very different at first glance, but their conditions tell a different story. The spare key is likely never used, so it looks new and shiny.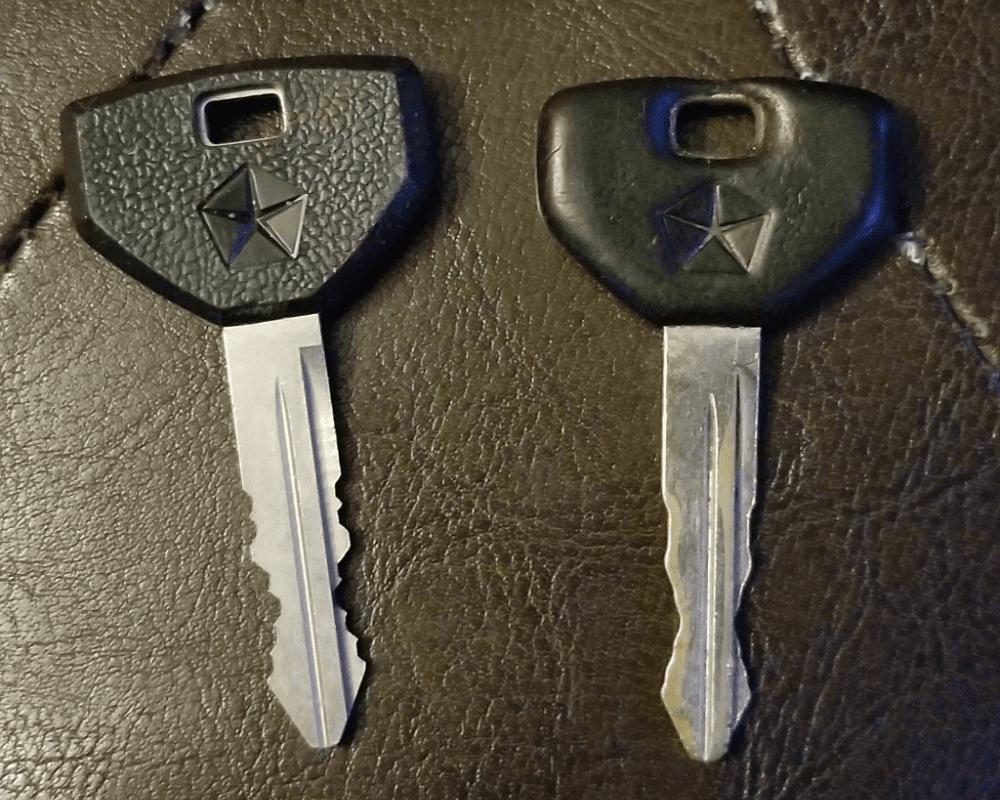 The primary key, on the other hand, may be scratched, worn, and even discolored from repeated use. While the spare key may offer security as a backup, the primary key's wear and tear is a testament to its importance and reliability.
Pillow
A brand new pillow is like a blank slate, without memory of past dreams or snuggles. In contrast, a pillow used every night for years is like a cherished old friend.
It's got a shape that's molded to your head and a familiar scent that brings a sense of calm. However, if your old pillow has finally decided it's past the days of holding your head high, you know it's time to say bye-bye.
Skateboard Wheels
Skateboard wheels are crucial for a smooth ride. A set of completely new wheels guarantees a fast and smooth ride. But there's something about a set of wheels that have been worn down over the years.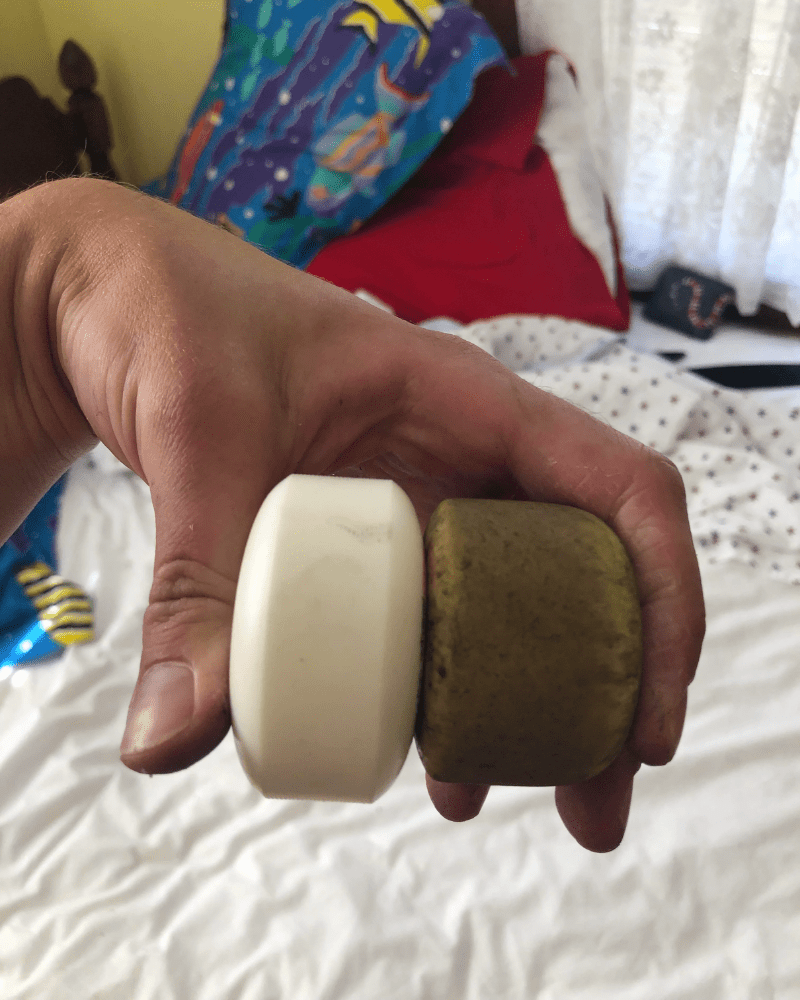 They've been marked by every pavement pebble, rock, and crack. They may not be as fast or smooth as the new wheels, but they have character and history. They have a story to tell, and you're a part of it.
Highlighter
A highlighter that's seen a lot of highlighting action is an interesting specimen. It may have a long string of memory of all the notes you highlighted, but unless you're a hoarder, it's best to let a fraying highlighter go.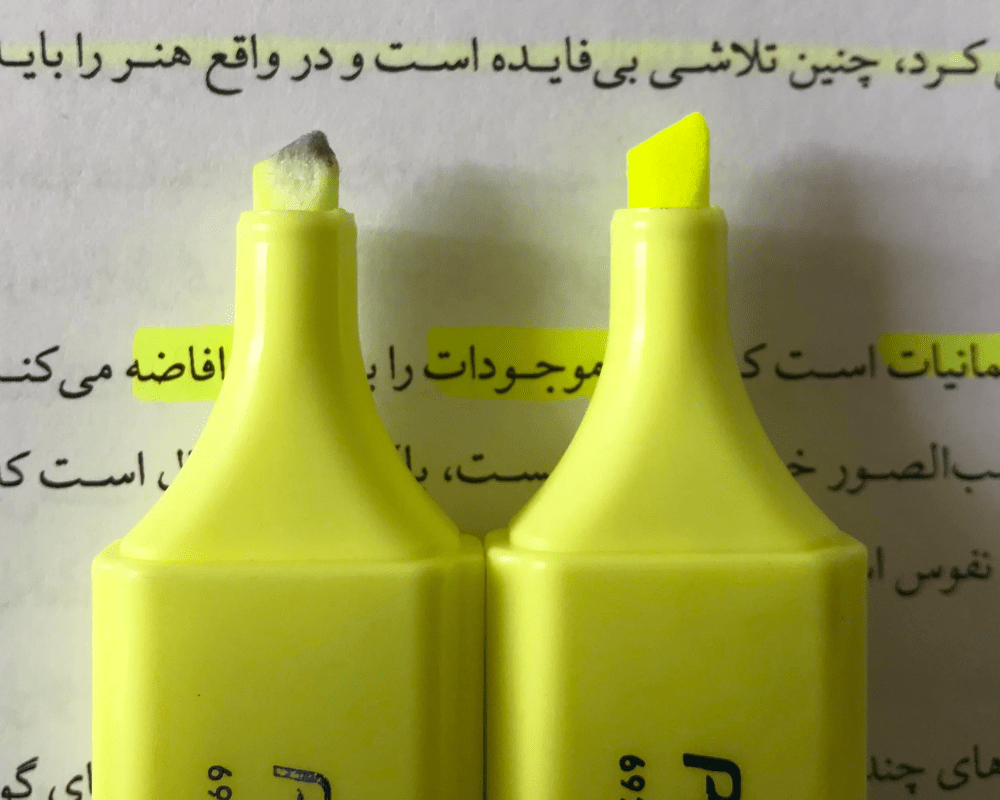 A brand-new highlighter is crisp and ready to mark up pages with its bright, fresh ink. The difference between the two is like night and day, and both have their own time when they serve their purpose.
Basketball
A basketball that's been used for five years has seen better days. Its once smooth surface is now worn and rough, with scuffs and scrapes marking its surface. Its once vibrant colors have faded, and its shape is slightly warped from countless hours of use.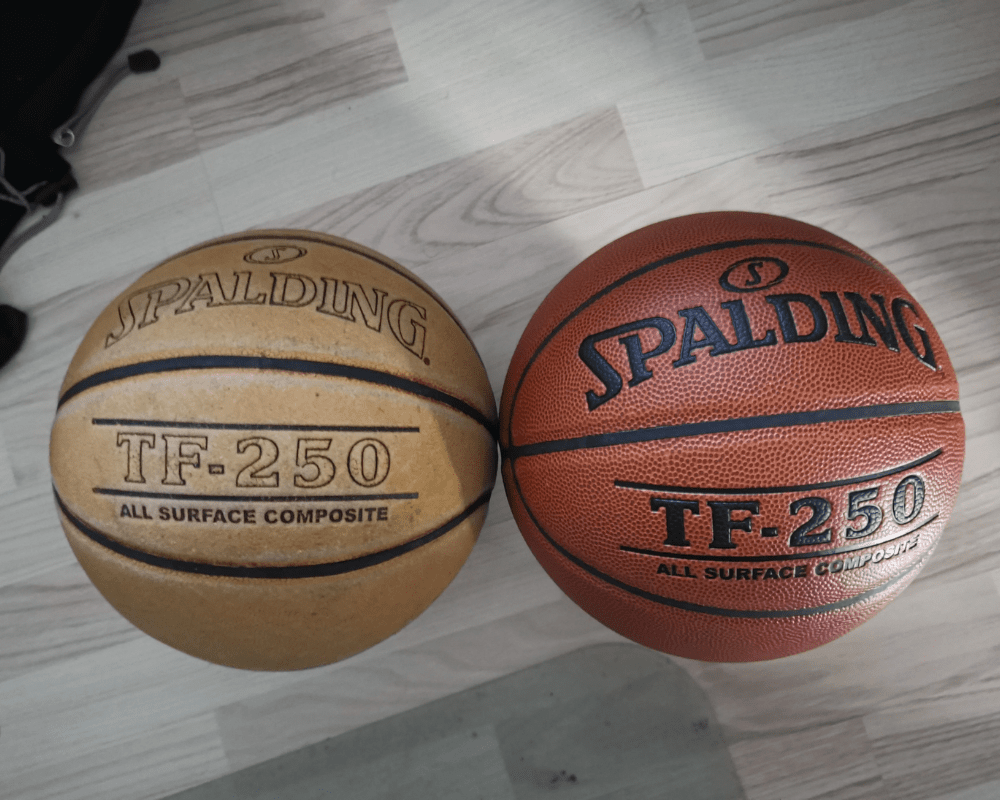 On the other hand, a new basketball is a thing of beauty. Its surface is smooth and unblemished, with bright, bold colors that practically glow. Its shape is perfectly round and ready to take on the court.
$5 bills
A stack of circulated $5 bills has seen better days. Their once crisp texture has been replaced with creases, wrinkles, and smudges. These bills have been around the block several times, exchanged hands, and were spent in various stores.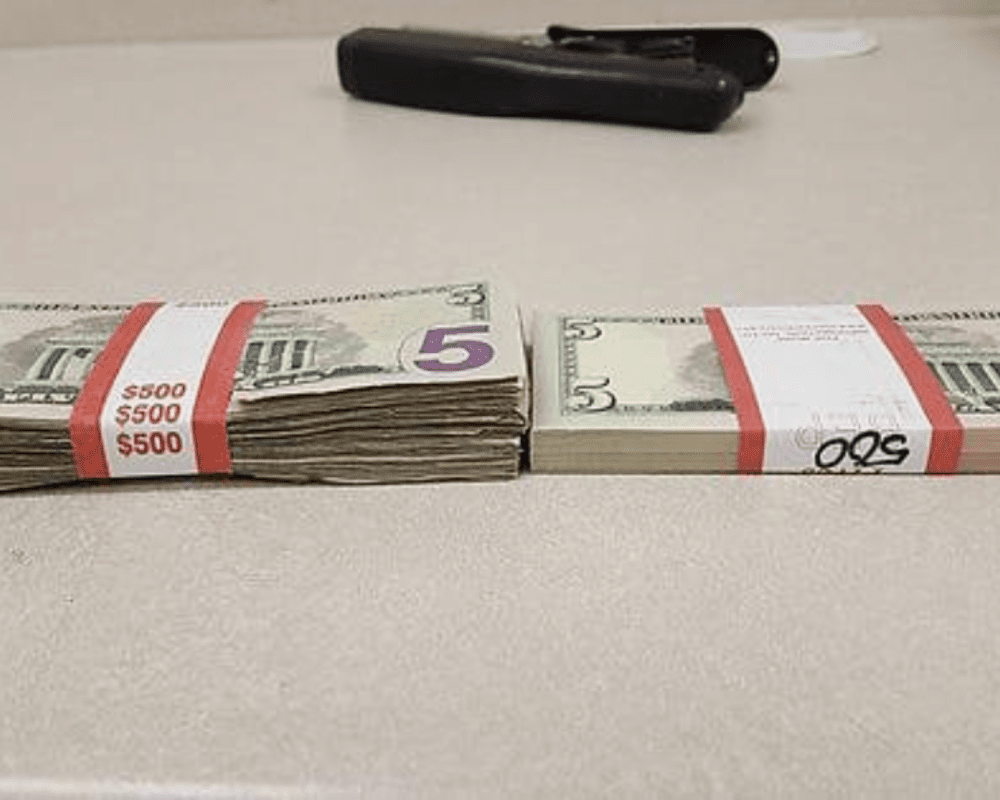 On the other hand, new $5 bills are pristine, unmarked, and almost seem too perfect to use. But as soon as they're spent, they too will inevitably begin their journey of wear and tear, making their mark on the world.
Bike Seat
A new bike seat can be a dream come true, especially when you're used to riding on a seat that's been around for a few years. It's comfortable and fresh so you don't have to worry about wear and tear. But there's something to be said for a seat that's been through the wringer.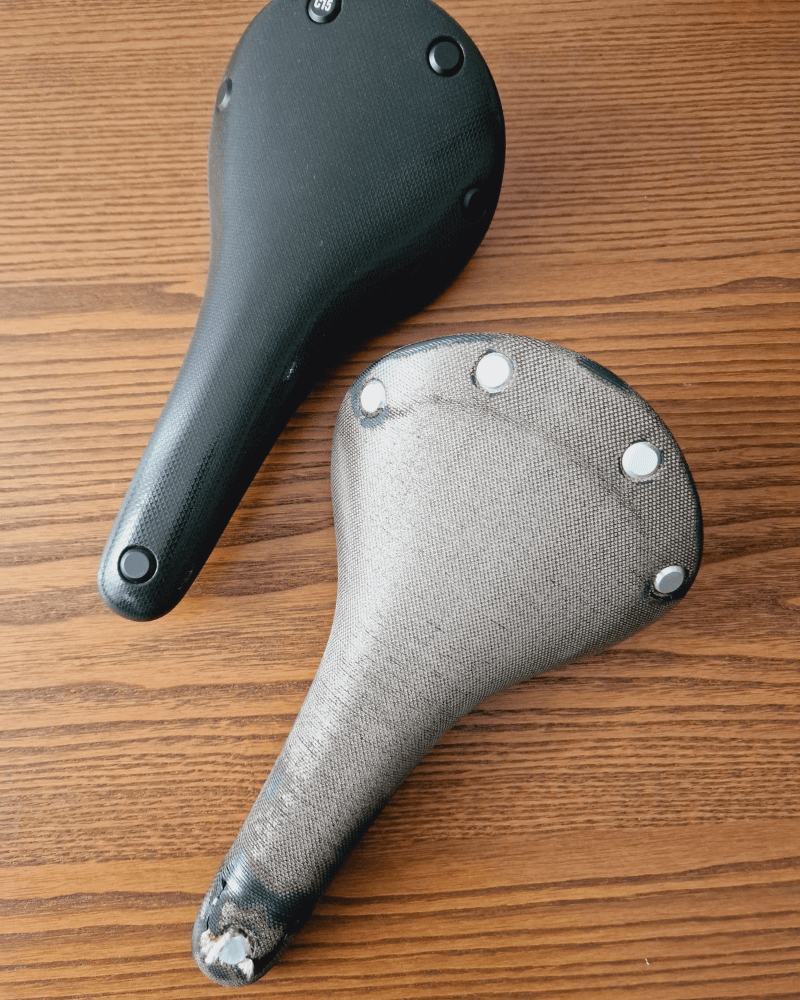 After five years of commuting, a seat may be scuffed and worn, but it's also broken in and molded to your body. It may be good for memories, but it definitely won't cushion your backside like a new one can.
Hockey Stick
For seasoned players, an old and used hockey stick is much more than a tool. It's molded to their hands, with countless adventures, wins, and losses seen together. An old stick that has served its time, now cracked and splintered, brings a tear to the eye of any hockey player, making them still reluctant to let go.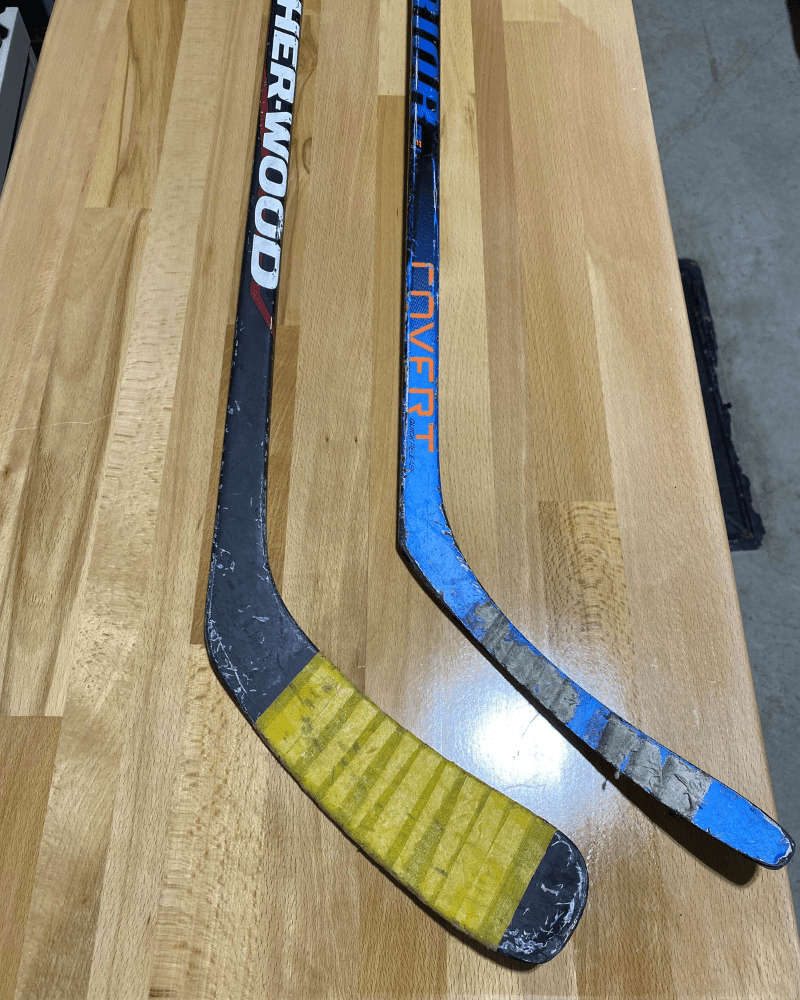 A new hockey stick is a sight, with its shiny surface and perfect curve. It feels crisp and powerful in your hand, but most players only want to switch when their old companions have nothing more to give.
Gardening Glove
Comparing a new gardening glove to a well-worn one that's helped birth many plants is like comparing a fresh-faced novice to an experienced veteran. The new glove has a crisp and clean appearance, unblemished by the dirt and grime of the garden. Its supple material moves easily with your hand, providing protection and grip.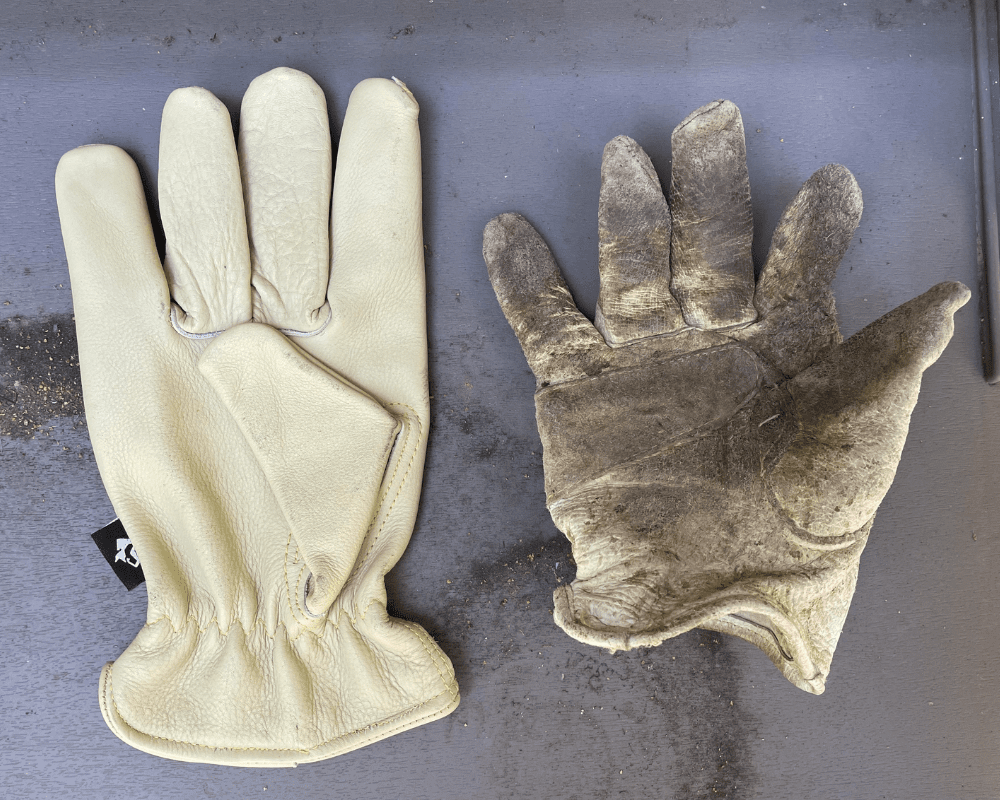 In contrast, the old glove has taken on a life of its own, bearing the marks of countless hours of digging, weeding, and planting. It's formed to the shape of the wearer's hand, offering a familiar and comfortable fit.
How the Grinch Stole Christmas
The old and new copies of How the Grinch Stole Christmas are like two worlds. The old copy has yellowed pages, a worn-out cover, and dog-eared corners. You can see the signs of being read and reread over the years.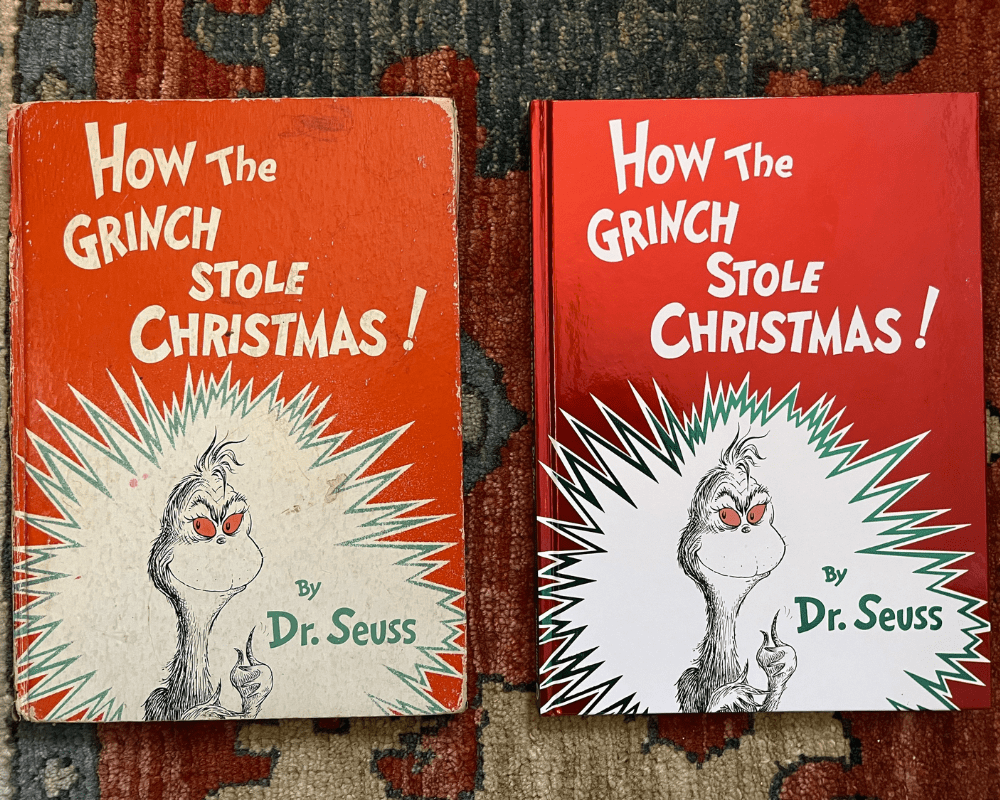 In contrast, the new copy looks fresh out of the printer, with crisp pages and vibrant colors on the cover. It hasn't been touched by anyone yet. Both books have the same story, but they carry different memories. The old one holds childhood nostalgia, while the new one promises the joy of discoveries.
Sponge
A new sponge may be fluffy and pristine, but it hasn't been tested. On the other hand, the sponge that's seen things has been through the wringer – quite literally. It may be worn and frayed, but it's repeatedly proven its worth.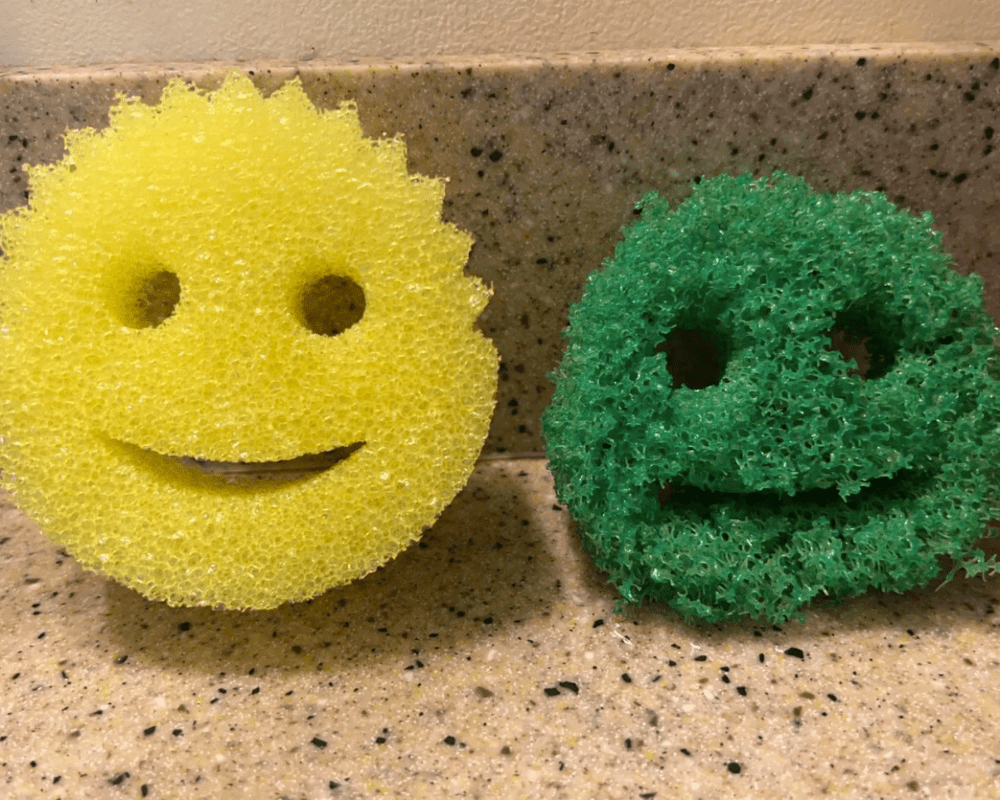 This veteran sponge has scrubbed off the toughest grime and mopped up countless spills, leaving its mark on every dish and countertop. The new sponge has yet to prove itself, but the old sponge has earned its stripes through years of hard work.
Toy Alpaca
These two distinct objects are a brand-new toy alpaca and a well-loved one that has been played with for six years. The new toy's wool is untouched, fluffy, and shiny, while the old one's wool is matted, worn, and loved.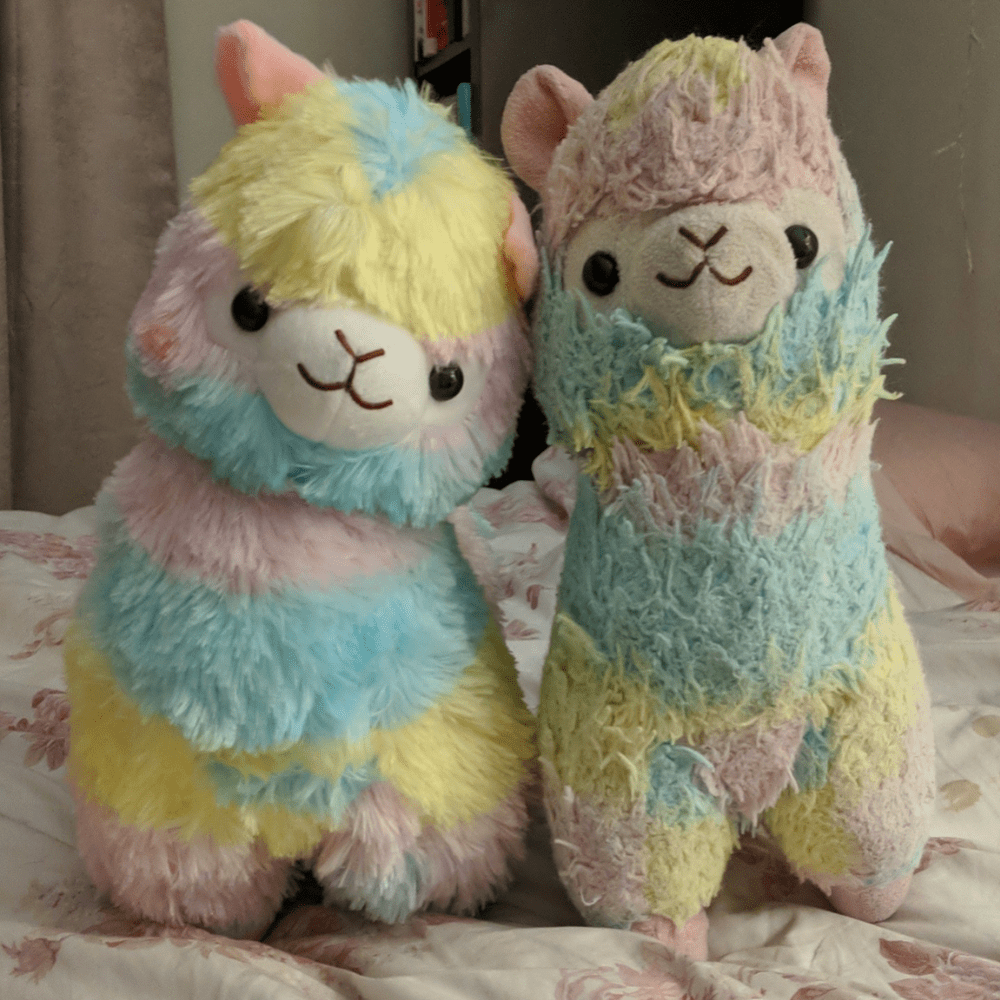 The new toy has a fresh scent and crisp texture, while the old one has a comforting, familiar smell and a soft, familiar feel. Although the new toy has an alluring charm, the old toy carries a wealth of memories and experiences that can never be replicated in a brand-new toy.
Leather Shoes
Saying goodbye to old Sperry shoes and welcoming a new pair can be quite an experience. The old Sperry shoes, worn and scuffed, have been a trusty companion. They've been through long walks, slippery docks, and sandy beaches.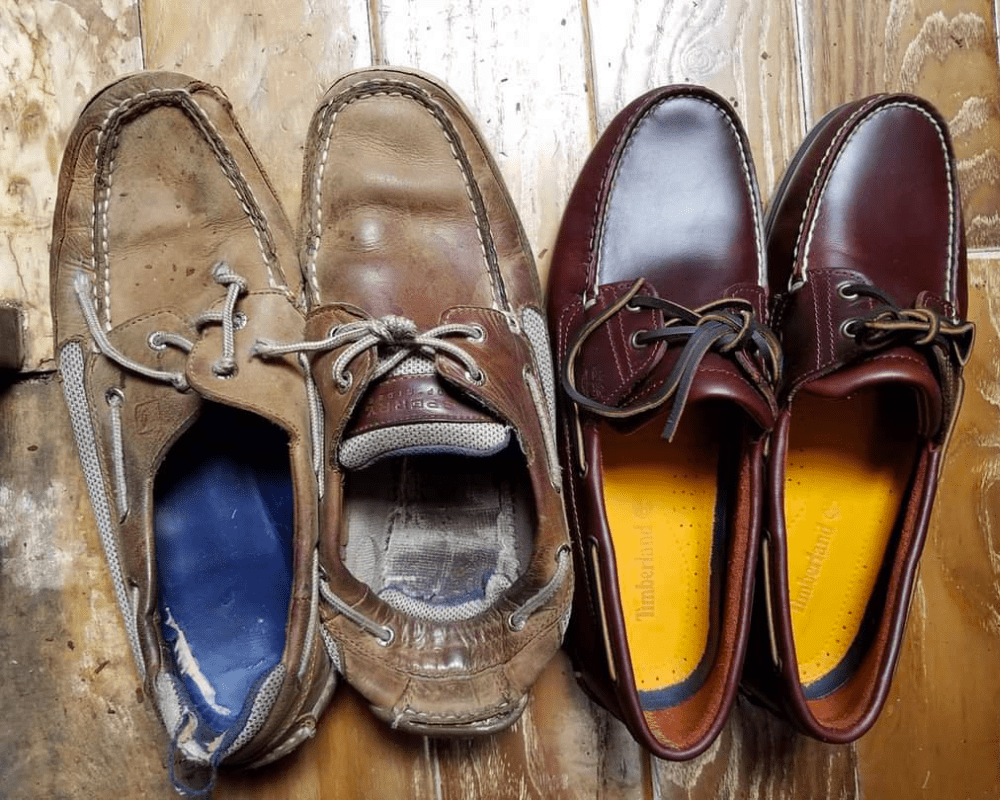 On the other hand, the new shoes are fresh and sturdy, eagerly waiting to take on new adventures. The old Sperry shoes may have sentimental value, but the new shoes have their charm and reliability. It's a bittersweet goodbye to the old but an exciting welcome to the new.
Smoke Detector
When it comes to smoke detectors, an old and a new one can make a difference. An old smoke detector might be worn out, have dead batteries, or not function correctly, which could put your safety at risk.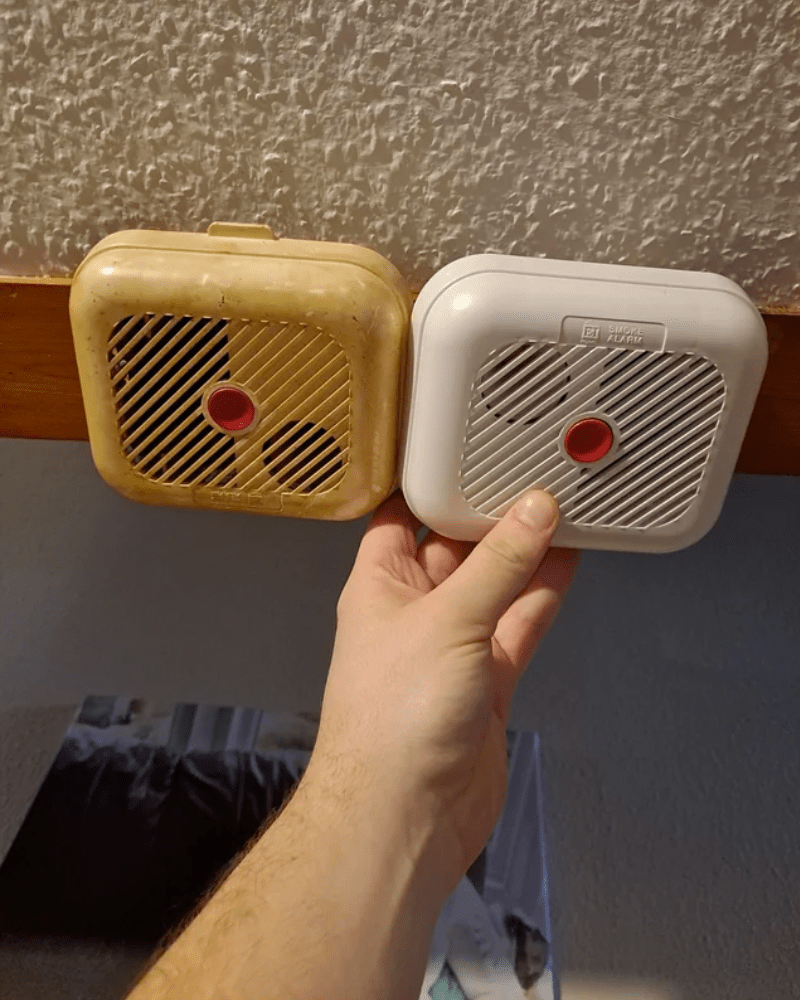 On the other hand, a new smoke detector comes with fresh batteries and cutting-edge technology that can detect smoke and fire faster and more efficiently. Investing in a new smoke detector can give you peace of mind, as you can rest assured that you and your loved ones are protected.
Yoda Keychain
Yoda, the legendary Jedi Master from the Star Wars franchise, has captured the hearts of many fans. The character has undergone many iterations over the years, and comparing a new Yoda to an older one can be fascinating.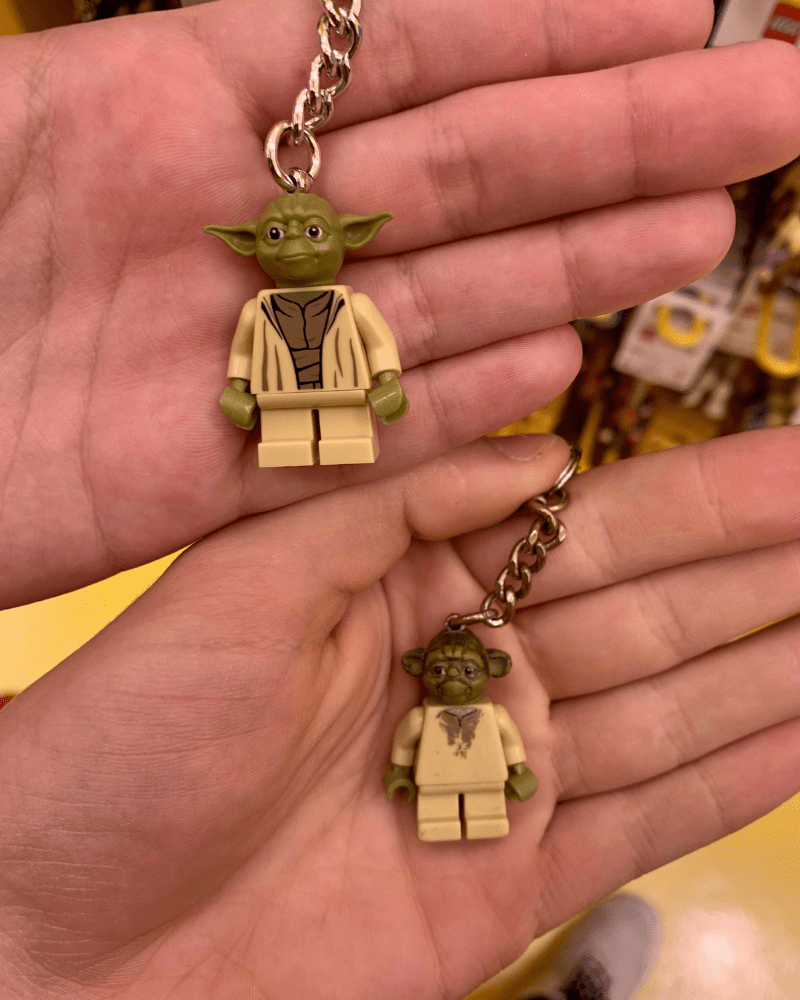 A new Yoda figurine stands tall and pristine, with its bright green robe and crisp details. Meanwhile, a two-year-old Yoda has seen its share of hardships, with scuffs and scratches covering its once-smooth surface. The fresh Yoda feels ready to take on any challenge, while the worn Yoda wears its history like a badge of honor.
Dog Harness
When it comes to dog harnesses, it's essential to consider the wear and tear of an old one compared to a brand-new one. The difference is even more pronounced when you have an old harness used regularly over the years. You may notice that the once bright pink color has faded, and the material has lost its shape.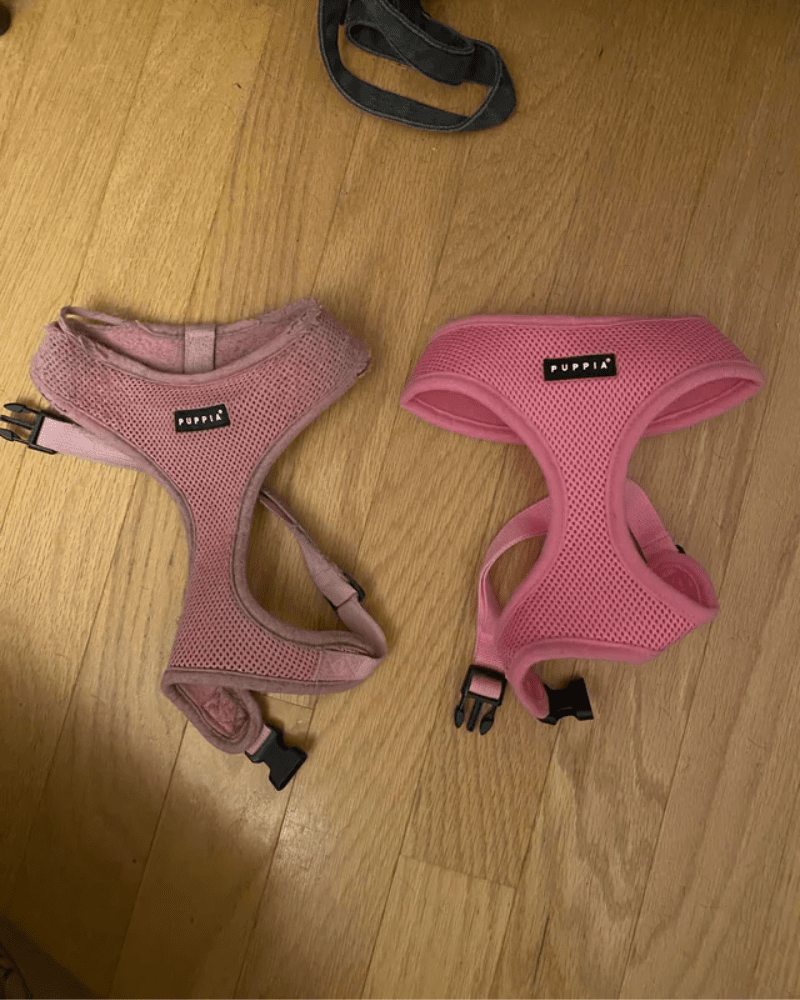 In contrast, a brand-new harness looks pristine and holds its shape. A new one provides peace of mind knowing that it's fresh and secure for your furry friend
Tool Box
The old toolbox, which has served its purpose for 30 years, has numerous dents and scratches, showcasing the wear and tear it's endured. In contrast, the new toolbox has a glossy finish and seems to be in pristine condition.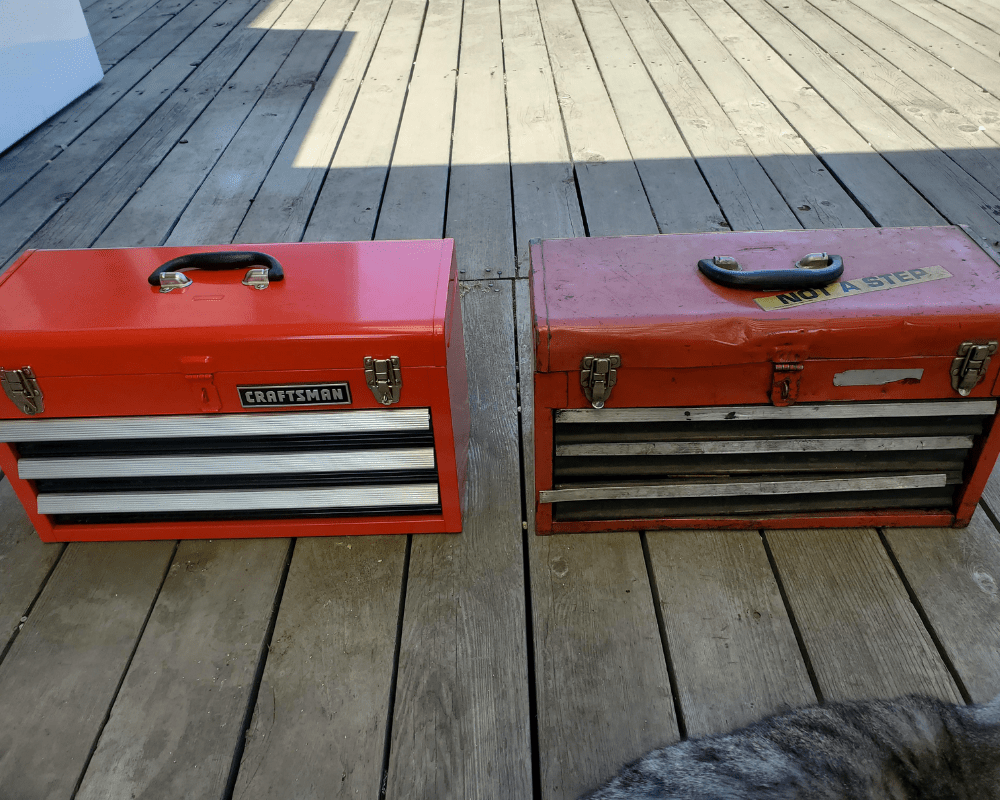 Despite the rugged exterior of the old toolbox, it holds a certain charm, showcasing the many projects it's helped complete. It can also be considered for a hand-me-down present from a parent to a child.
Work Boots
The contrast between old and new work boots can be striking! While new boots are clean and shiny, old boots can be tattered and worn, with scuffed leather and frayed laces.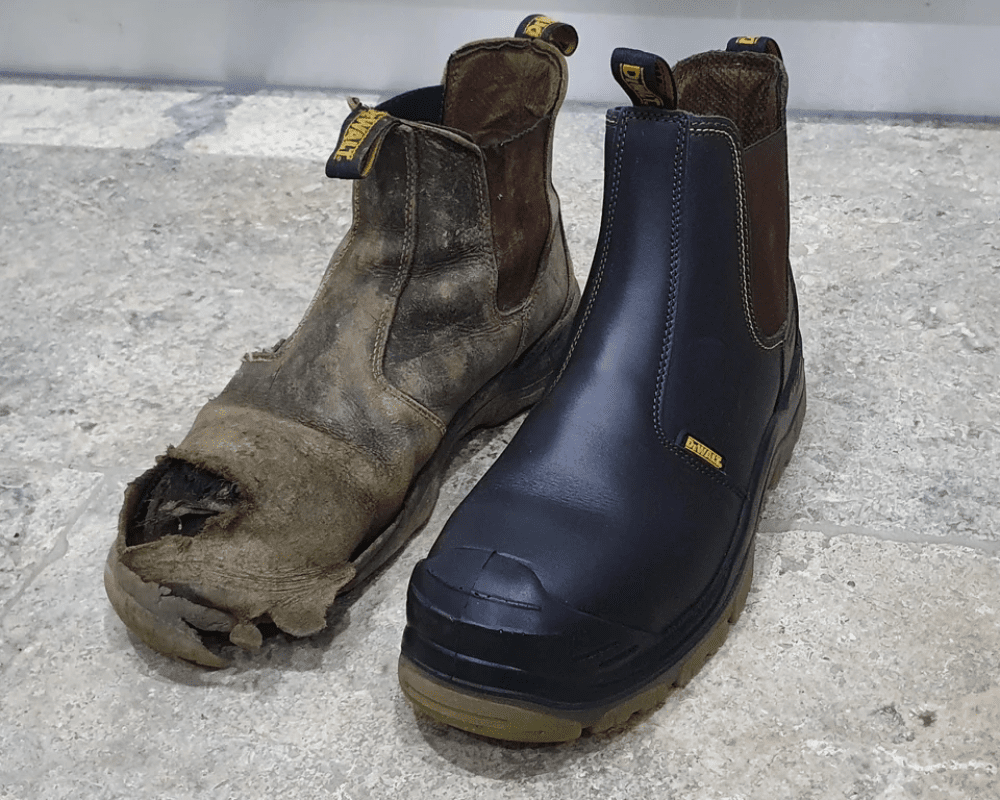 The old boots may lack the polish of the new, but they possess a rugged authenticity that can only be earned through use. They may not be as pretty, but they're a testament to the hard work and perseverance of the wearer, and a reminder that quality work requires sturdy tools.
Envelopes
There's something special about old envelopes, with their faded handwriting and vintage stamps. The paper may be yellowed, and the corners frayed, but they hold a sense of nostalgia and history.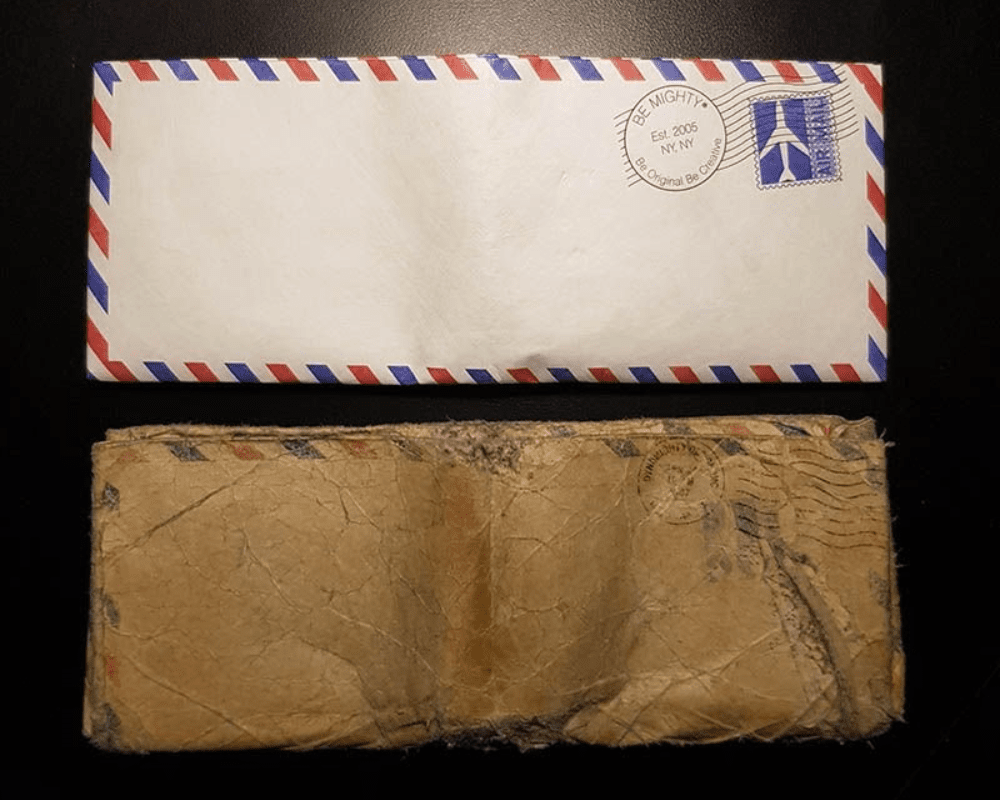 In contrast, new envelopes are crisp and clean, with bold, printed addresses and adhesive flaps that make sealing them a breeze. While they lack the character of old envelopes, new ones offer convenience and reliability. Ultimately, the choice between old and new envelopes depends on what you're looking for – a touch of the past or a reliable tool for the present.
Bowls
Two seemingly identical bowls from the same boxed set can tell a different story. The bowl on the right, used for two decades, bears the marks of daily wear and tear. The glaze is worn in some areas, with a few visible chips along the rim.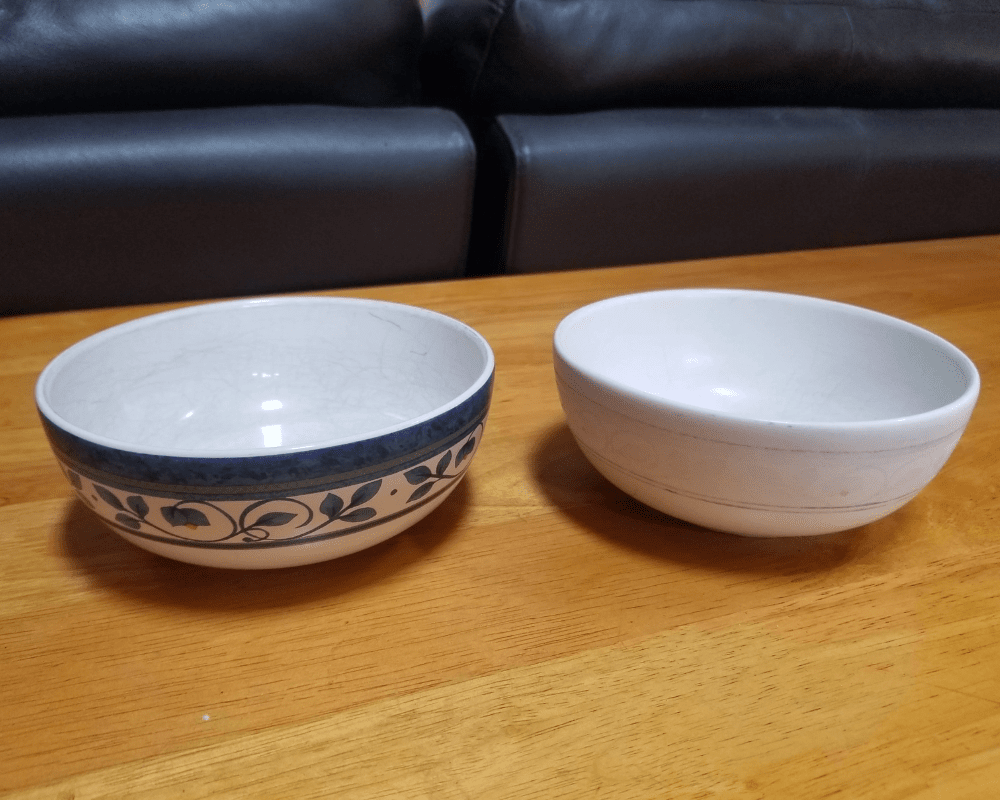 Its counterpart on the left is a spare, brought out to replace a broken bowl. It looks pristine, with a glossy finish and no visible signs of use. While both bowls have the same design and shape, their contrasting conditions remind us of the value of longevity and the memories of using familiar objects over time.
Oven Brushes
Old and new oven brushes are distinct in both design and function. Old brushes may be handmade, with natural bristles that have become worn and frayed over time. They may have a rustic appeal, with a wooden handle and a well-worn patina.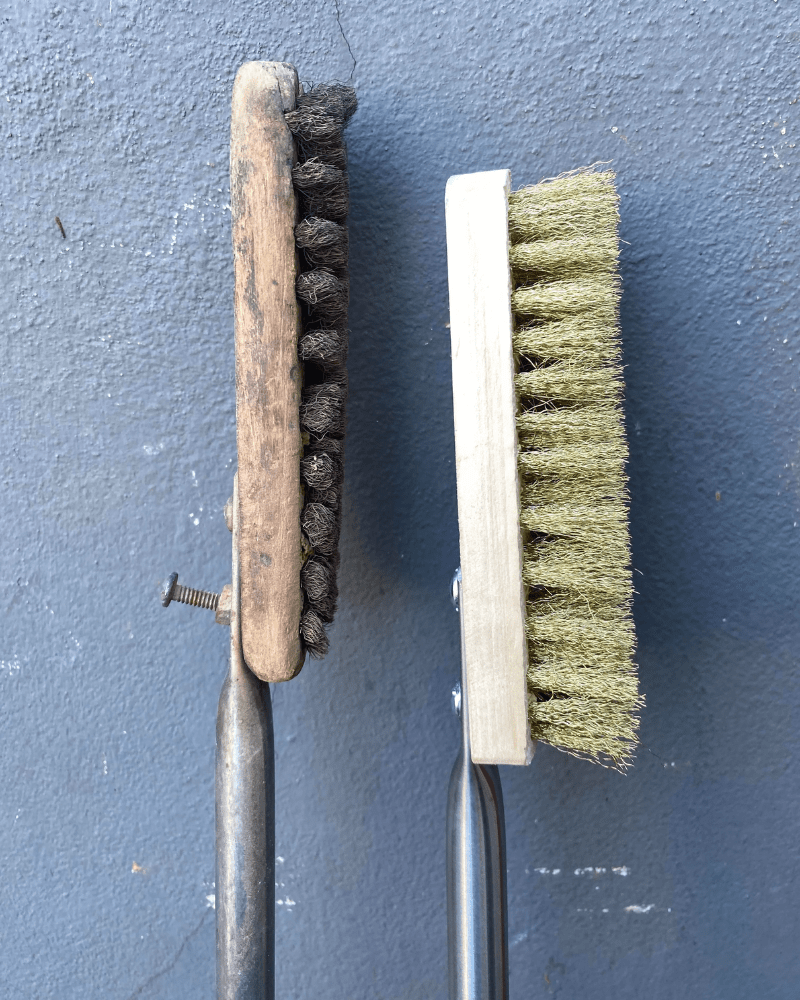 New oven brushes, in contrast, are typically mass-produced and designed for efficiency, with synthetic bristles that can withstand high temperatures and a metal handle for durability. While old brushes may have sentimental value and a unique aesthetic, new brushes offer reliable performance and convenience.
College Hats
Comparing a dad's college hat from the 1990s to his son's college hat from 2020 can reveal how times have changed. The dad's hat has a worn-in feel, with a faded logo and a curved brim shaped to fit his head.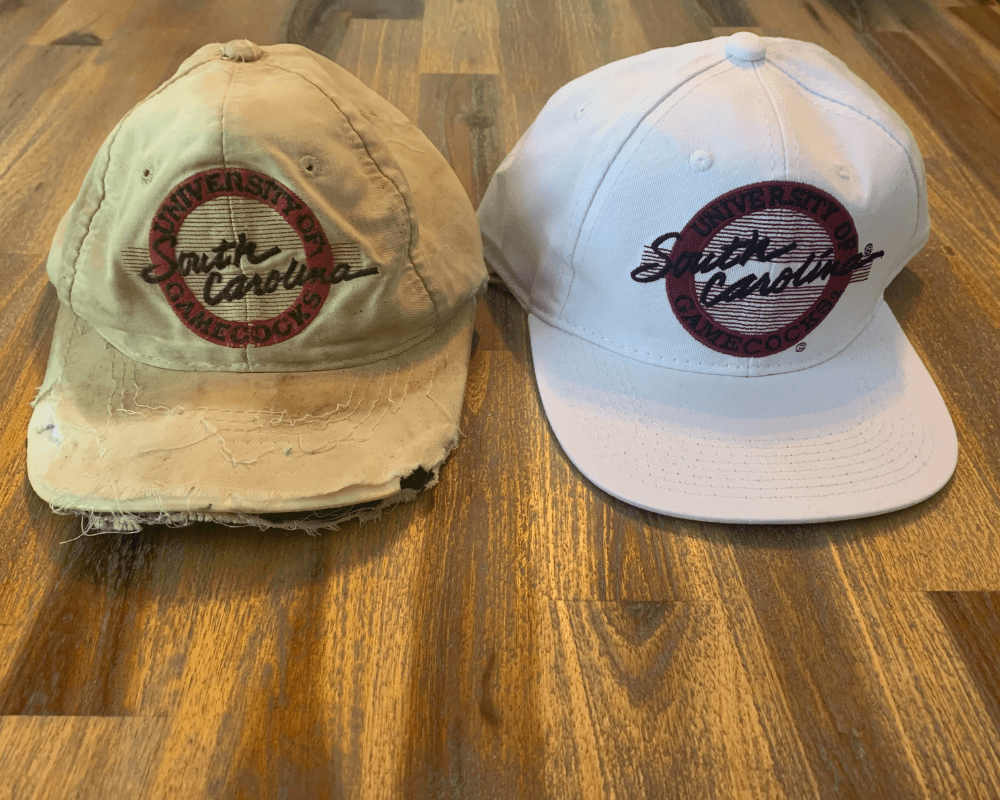 On the other hand, the son's hat is likely brand-new, with a crisp logo and a flat brim that reflects current fashion trends. While both hats connect to the same college, they reflect the different cultural and stylistic contexts in which they were worn.
Postal Hats
When comparing old and new postal hats, there are noticeable differences. A postal hat used for five years may show signs of wear, with faded colors and a brim that's molded to the wearer's head. Due to its frequent use, the hat may bear sweat stains and have frayed edges.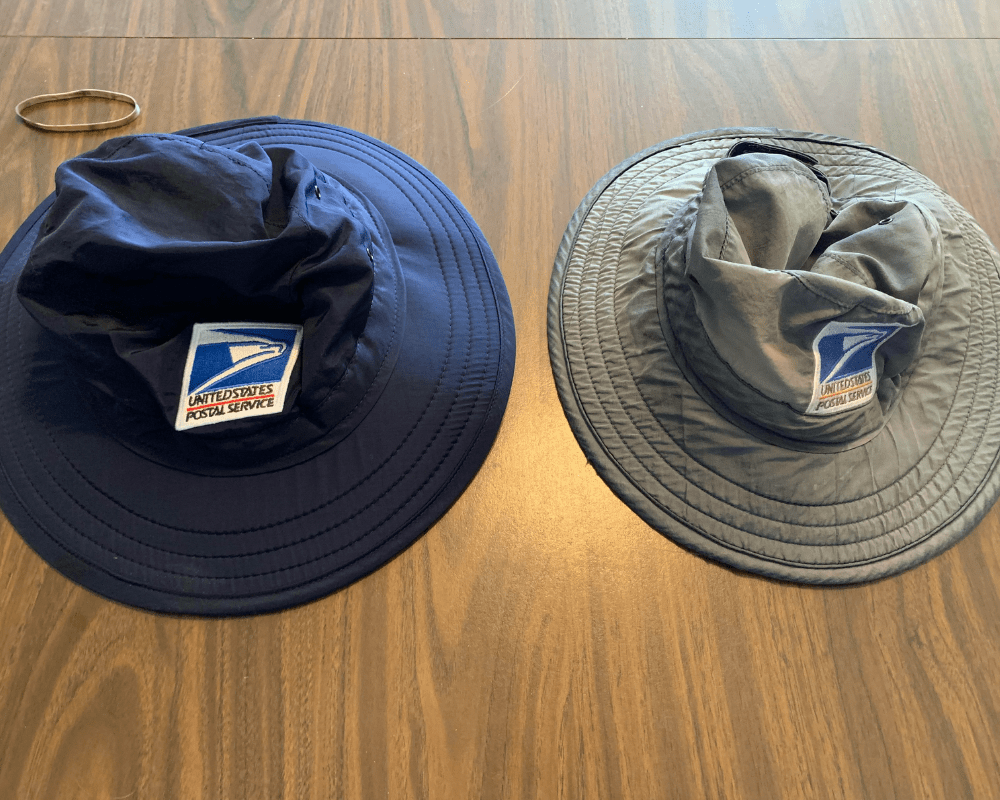 A new postal hat, in contrast, is clean and crisp, with a straight brim and bold colors. While a new hat exudes a sense of professionalism, an old one provides comfort and familiarity, having accompanied the wearer through years of hard work.
iPods
A 12-year-old iPod and a fully restored one can significantly differ in functionality and appearance. The older iPod has signs of wear and tear, including scratches, dents, and a faded screen. On the other hand, a fully restored iPod looks and functions like new, with all of its features and storage capacity restored.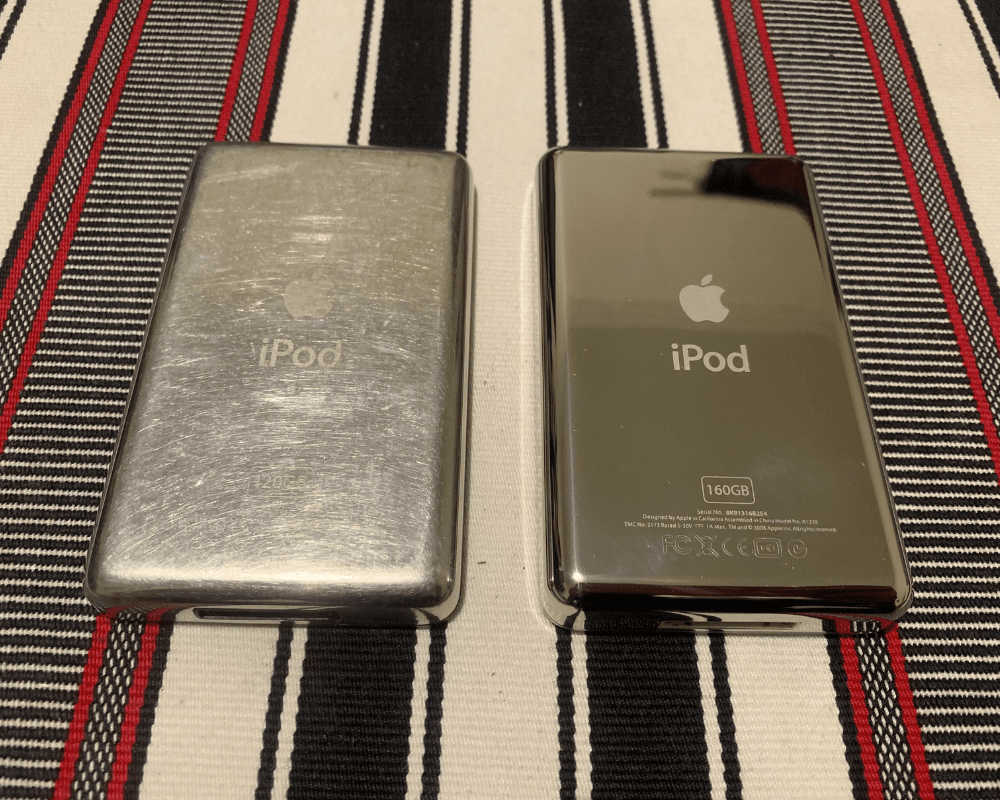 It has a bright, clear screen, a longer battery life, and even new accessories. Whether to keep the old or restore it to a new condition depends on personal preference and sentimental value.
45 Rare Albino Animals You Won't Believe Exist
Albino Alligator
Albino alligators are found in isolated pockets where the waters remain unfrozen during the winter. They're so unusual that many locals believe them to be sacred spirits.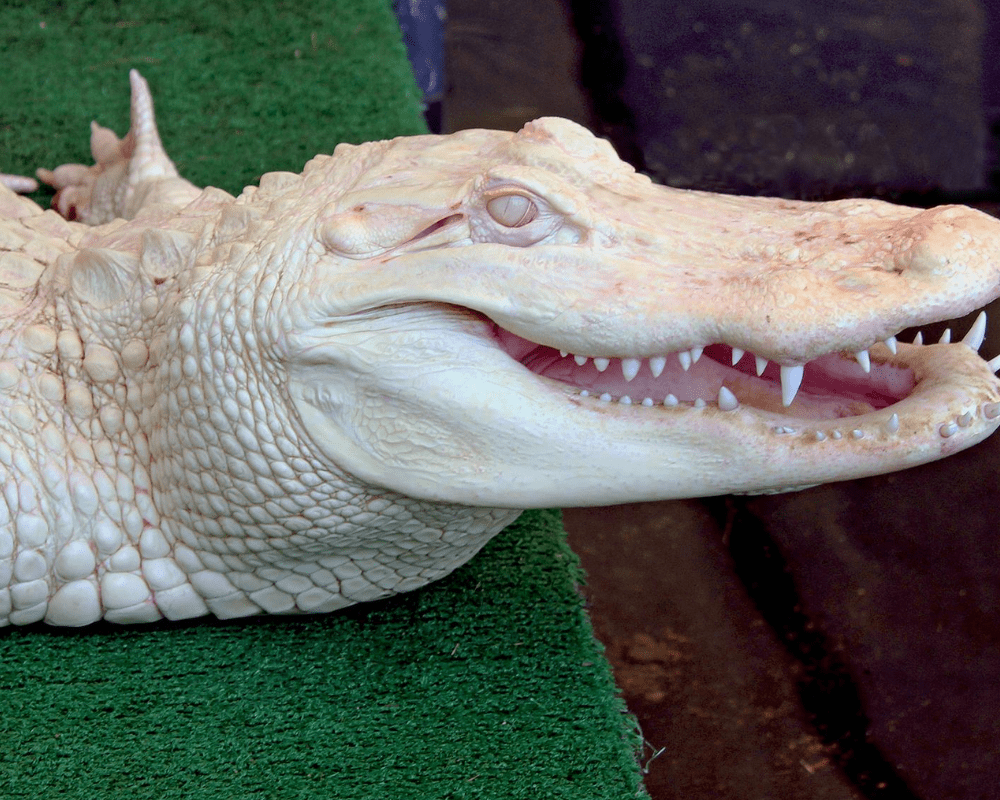 And when you see the photo of this albino alligator, you won't believe it exists. It has charm and grace and looks as if it's been painted on nature's canvas.
Albino Hummingbird
These rare birds feed on tiny insects and breed in warmer climates. The best chance to spot an albino hummingbird is from the middle of April through the beginning of July.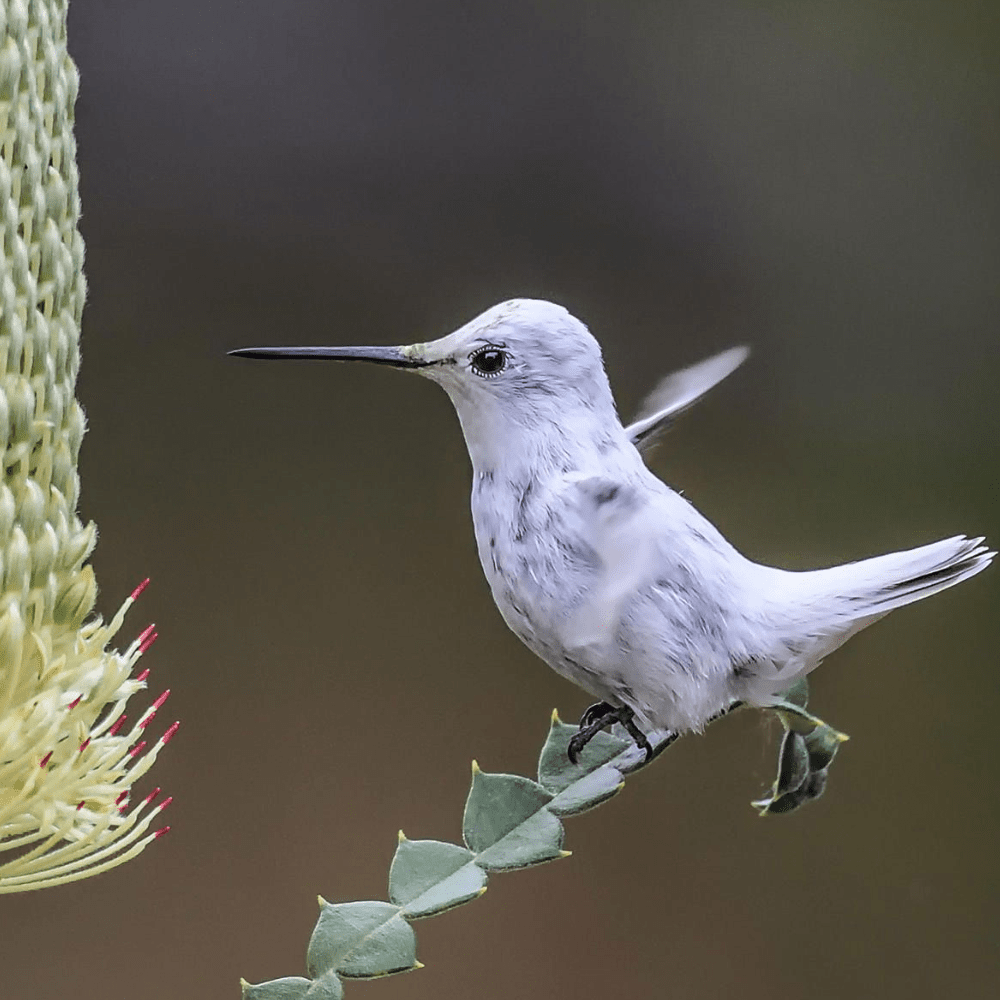 They tend to gather in groups near shrubs and trees for protection, so if you want to find one, look for several albino birds congregating together. This one was spotted while in mid-flight. We were just amazed at the beautiful creation of nature in its full glory.
Albino Ferret
The ferret is a small mammal with dense brown fur, similar to a weasel. What sets the albino ferret apart from its brethren? This unique creature has white fur that often has splotches of black or pink.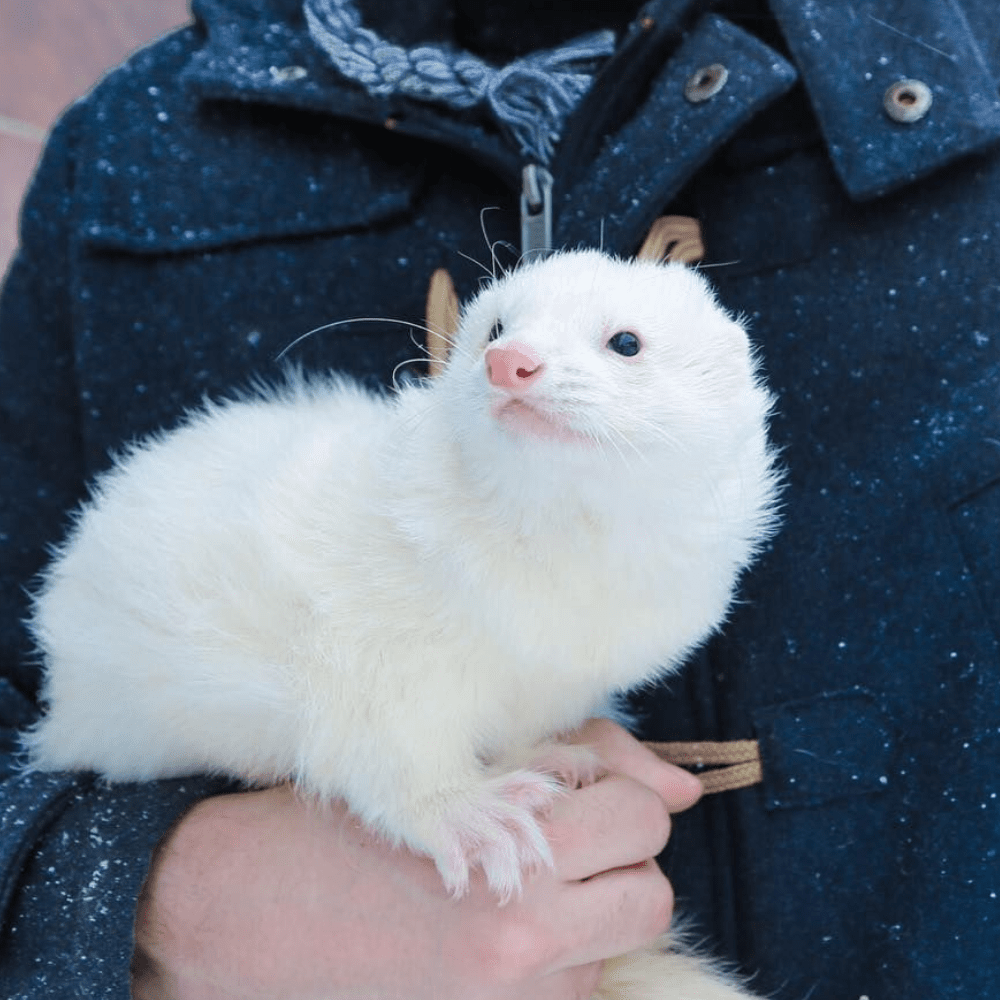 The rareness of this animal makes it highly prized by collectors and pet owners alike. The one in the picture, though, looks determined to face everything that nature offers. An adorable, brave heart indeed.
An Albino Squirrel
The all-white creature appears to be a cross between a rat and a squirrel, but with one key difference: its fur is snow white. Typically, an animal without pigment can live out their lives relatively unnoticed if they find ways of blending into their surroundings.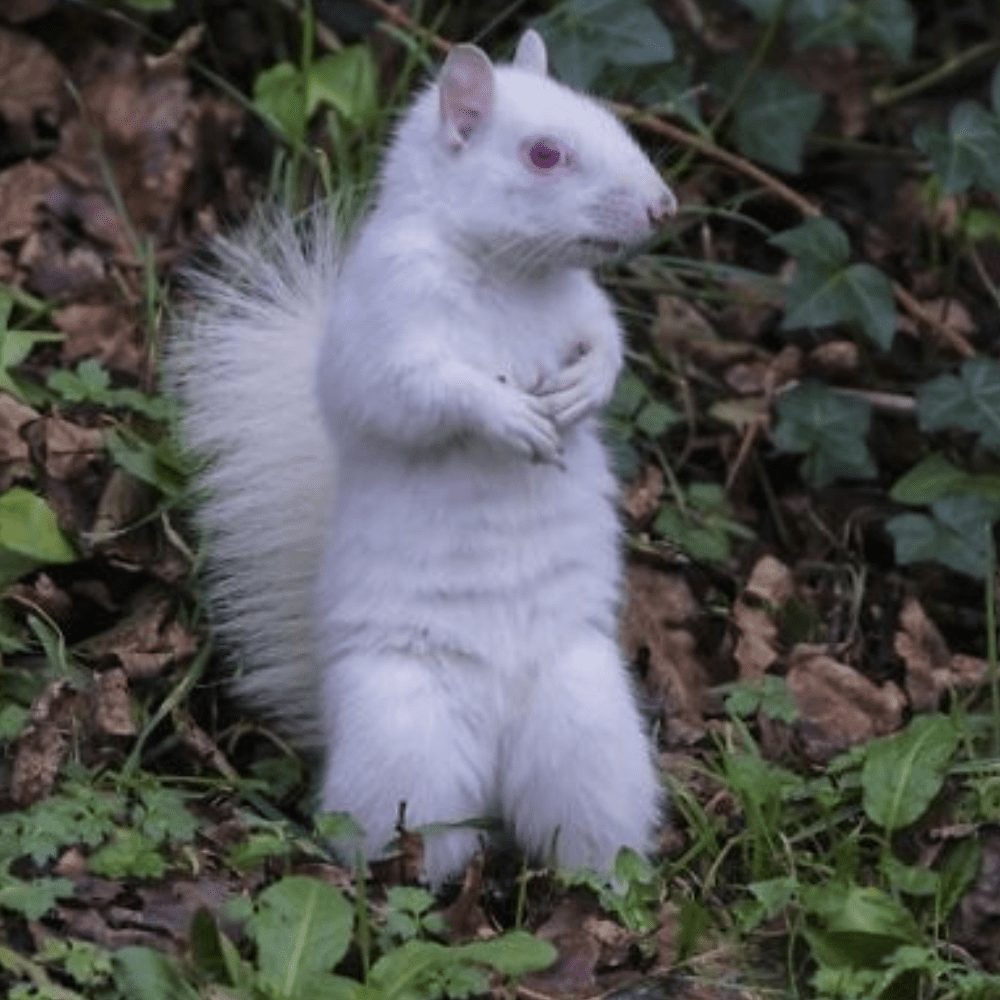 But not an albino squirrel. The one in the snap is snow-white and contrasts sharply with its surroundings. We fell in love with its beauty instantly.
An Albino Rattlesnake
You might be surprised to learn that an albino rattlesnake is an actual thing. When first hatched from its egg as a baby snake with red eyes and pink scales instead of white scales, an albino rattlesnake can seem nearly indistinguishable from any other type of rattlesnake.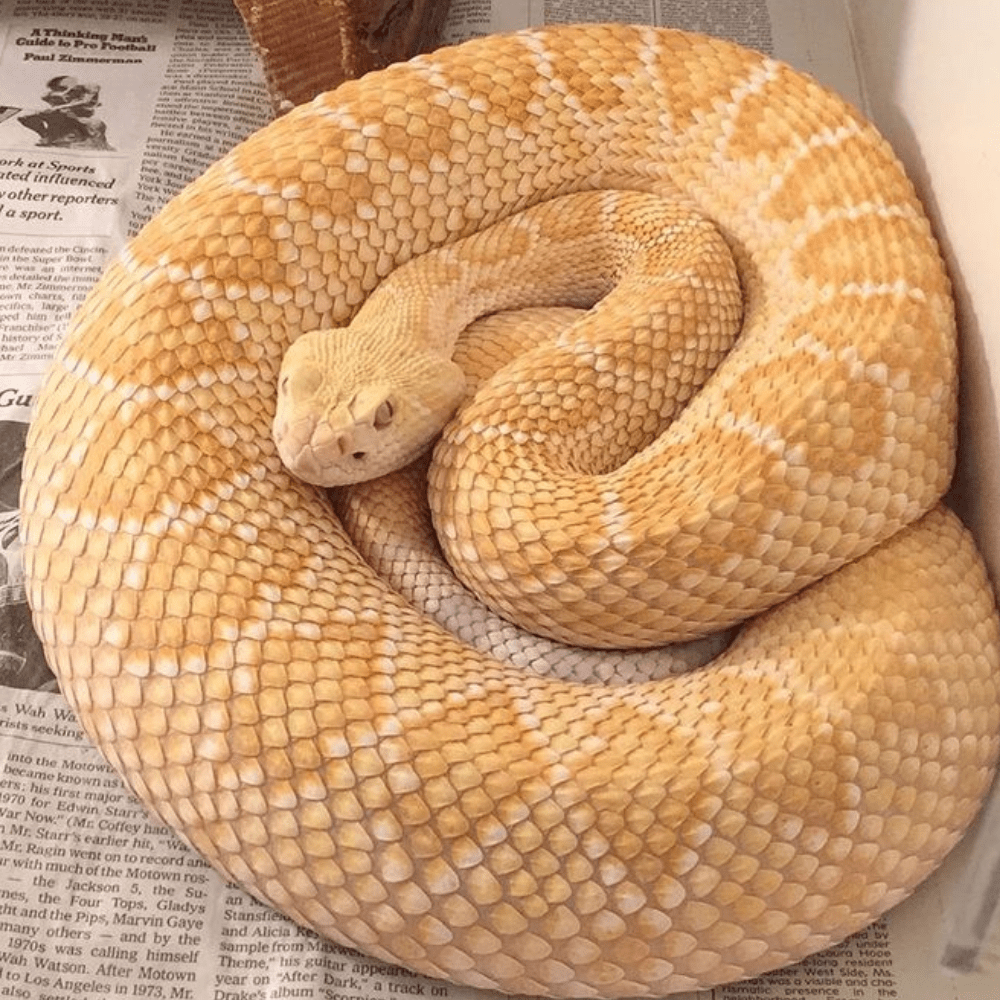 The one in the picture that's coiled up is in no mood to attack anyone, but you can surely see its majestic scales and dominating presence.
An Albino Gorilla
You've probably seen many rare albino animals in your life. But have you ever seen an albino gorilla? It might be shocking to see an albino gorilla among other members of its species.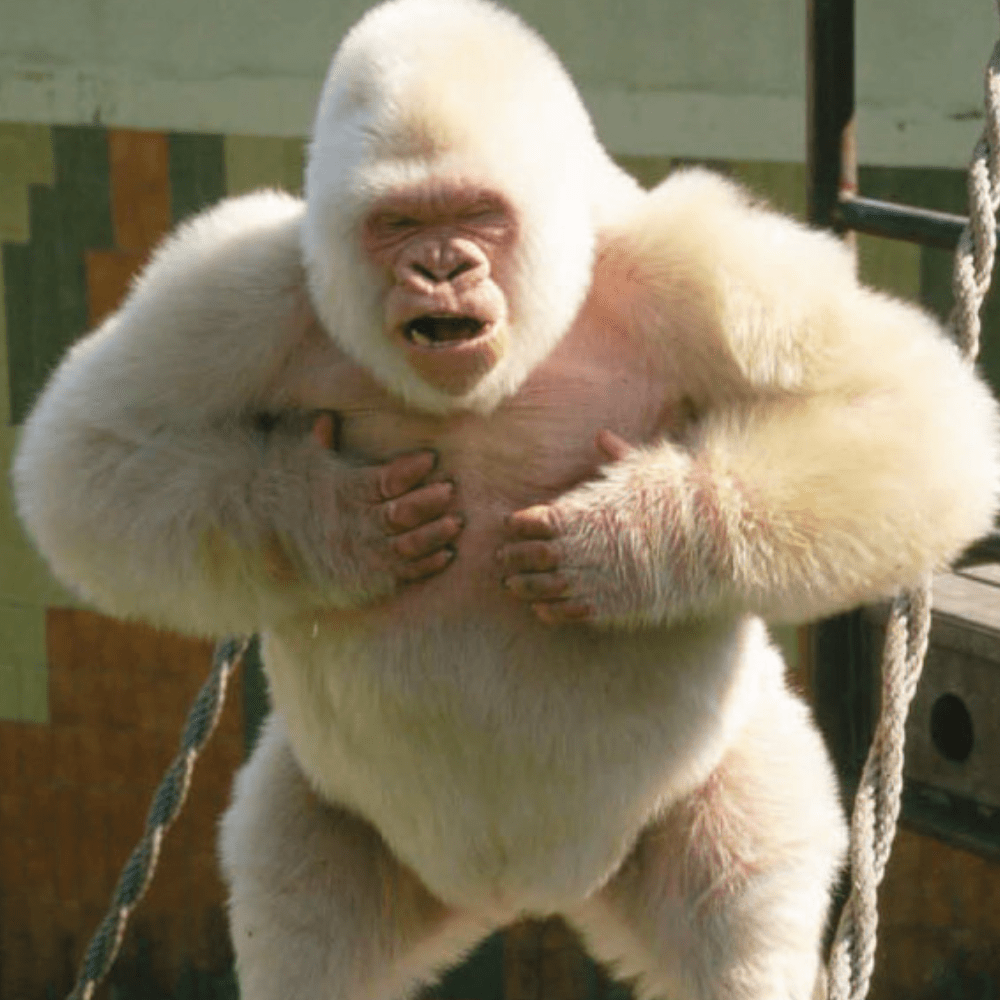 The one in the snap is Snowflake, who used to reside in the Barcelona Zoo in Spain. He's considered to be the world's lone identified white gorilla.
An Albino Turtle
If you've ever encountered an albino turtle, you know how rare they are. Only two species of turtles can be considered albino: painted turtles and red-eared sliders. The one in the snap was spotted immediately after it had hatched in 2016 in Australia.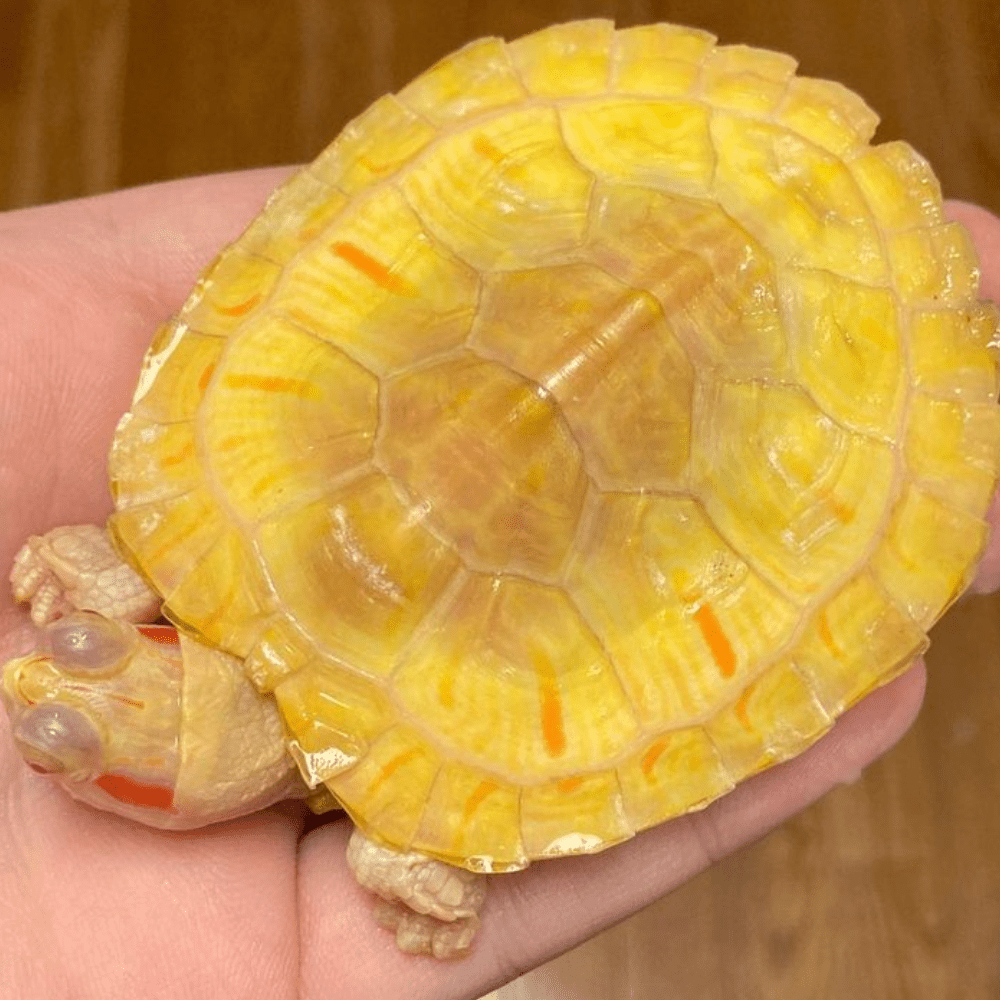 The lack of skin coloration made the onlookers wonder if it was due to the turtle staying in the nest for longer than was expected. Whatever the reason, this sweet little creature is undoubtedly a source of joy forever.
An Albino Kangaroo
In 1994, a group of tourists from Poland got the chance to witness something extraordinary: an albino kangaroo in the wild. Although sightings of white kangaroos are not unusual, this one was rarer because it was an albino, meaning that its fur is completely white.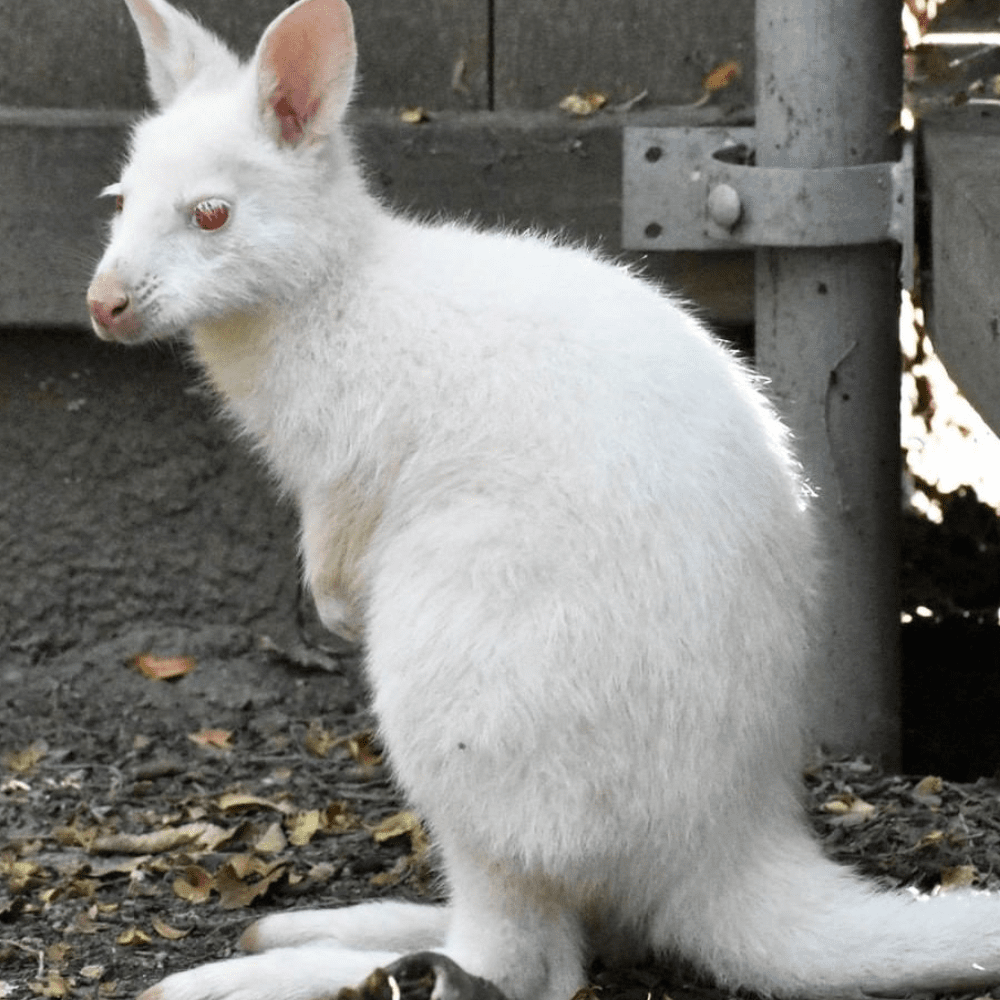 It looked terrific against Australia's green grass, trees, and red dirt. It's always amazing to see something new for the first time!
An Albino Zebra
One of the rarest animals in the world is the white zebra. An albino zebra is rare but looks majestic. The odds of spotting one are low; if you're lucky and spot one, be sure you have a good camera handy.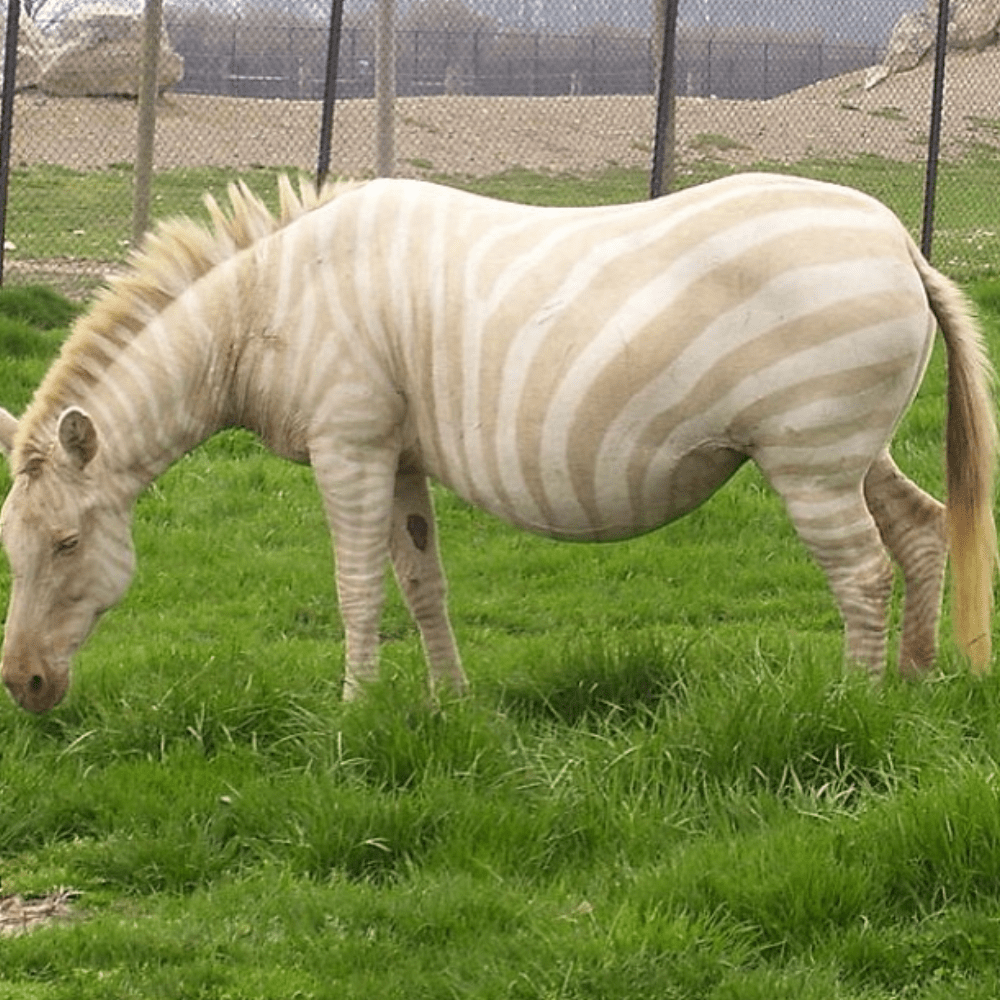 The photographer fell in love with it at first sight and was quick to click the snaps. It seemed unfazed by the photographer's presence and a perfect fit for the surrounding.
An Albino Buffalo
One of the most famous albino animals on the planet is arguably the white buffalo. This animal is so rare that it has become a massive symbol of good luck and wealth. The white albino calf in the snap is called Dakota Miracle and is at the National Buffalo Museum in North Dakota.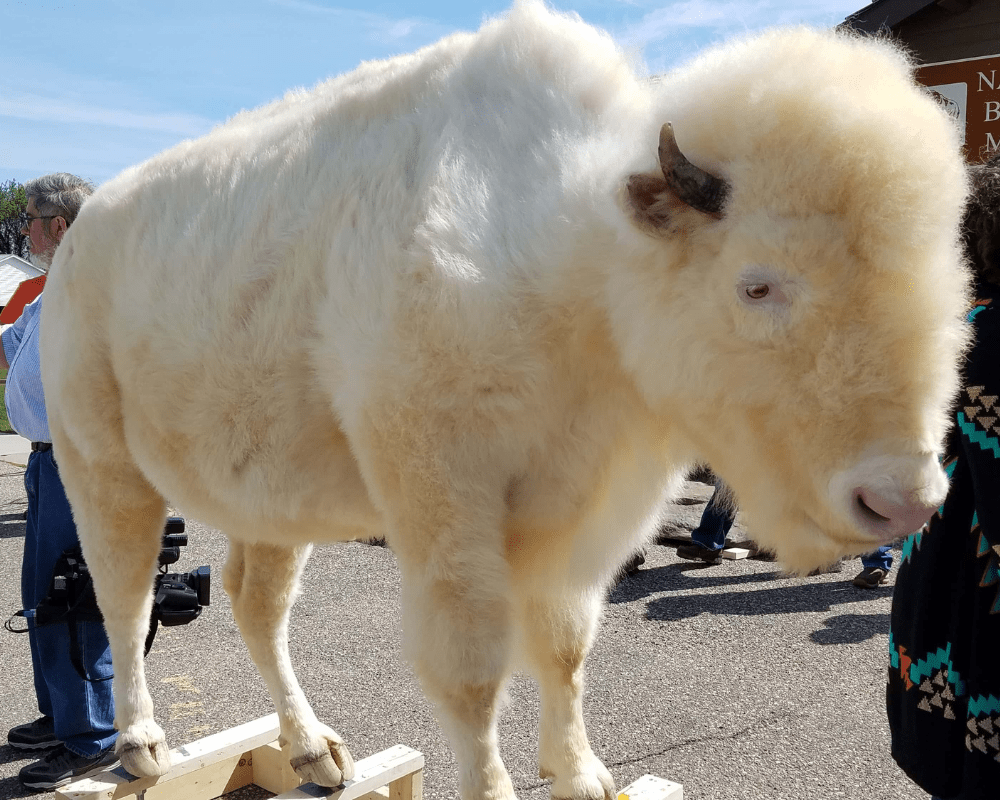 Its existence proves the fact that albinism can be transferred to the next generation as its mother, White Cloud, was also an albino buffalo.
An Albino Snail
You'll instantly fall in love with the one in the snap! It was found in 2011 and it's an albino snail spotted in New Zealand. This one is white and has a lavender or blue iris.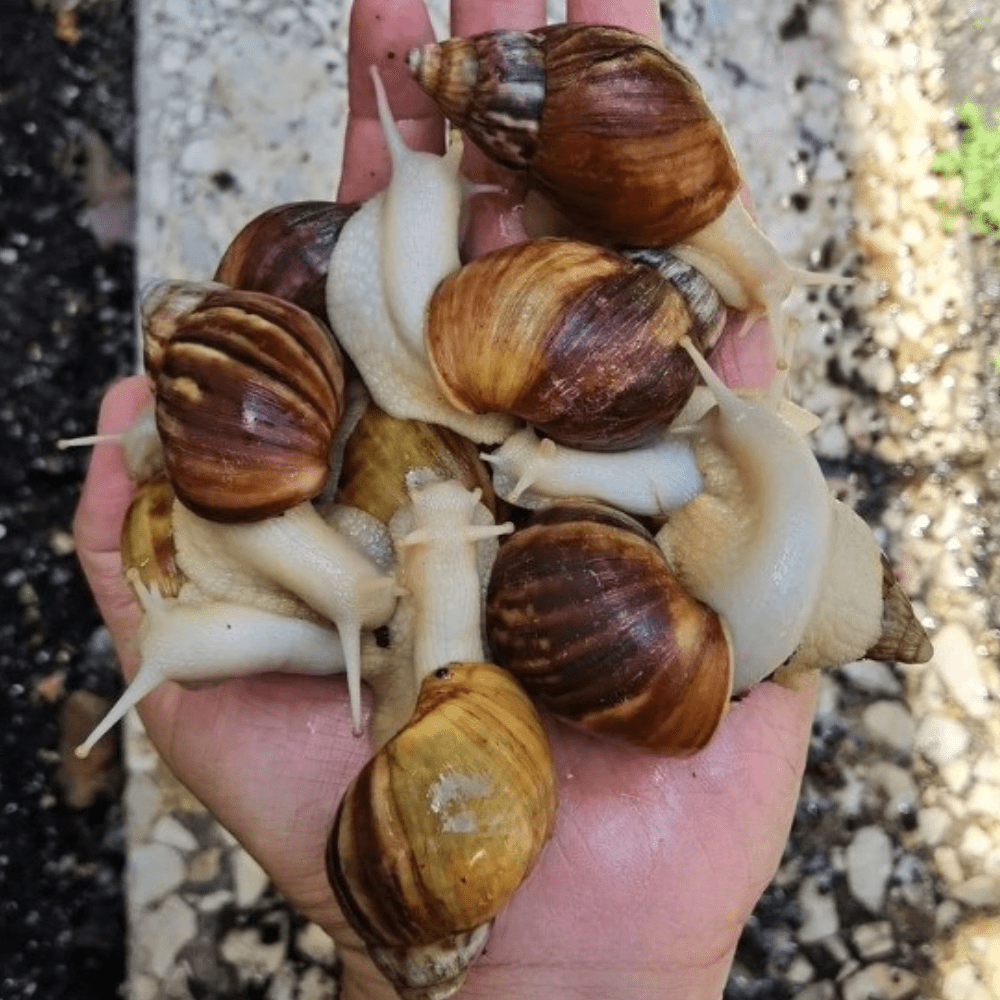 Although some albino snails are not just white but have patterns on their shells, like a sprinkling of brown dots, this one looks charming in its own right.
An Albino Lobster
Albino lobsters are incredibly rare. In fact, only one in 100 million lobsters in the wild have this condition. The lobster featured in this picture is so unique that she's being kept as a pet on display at a restaurant.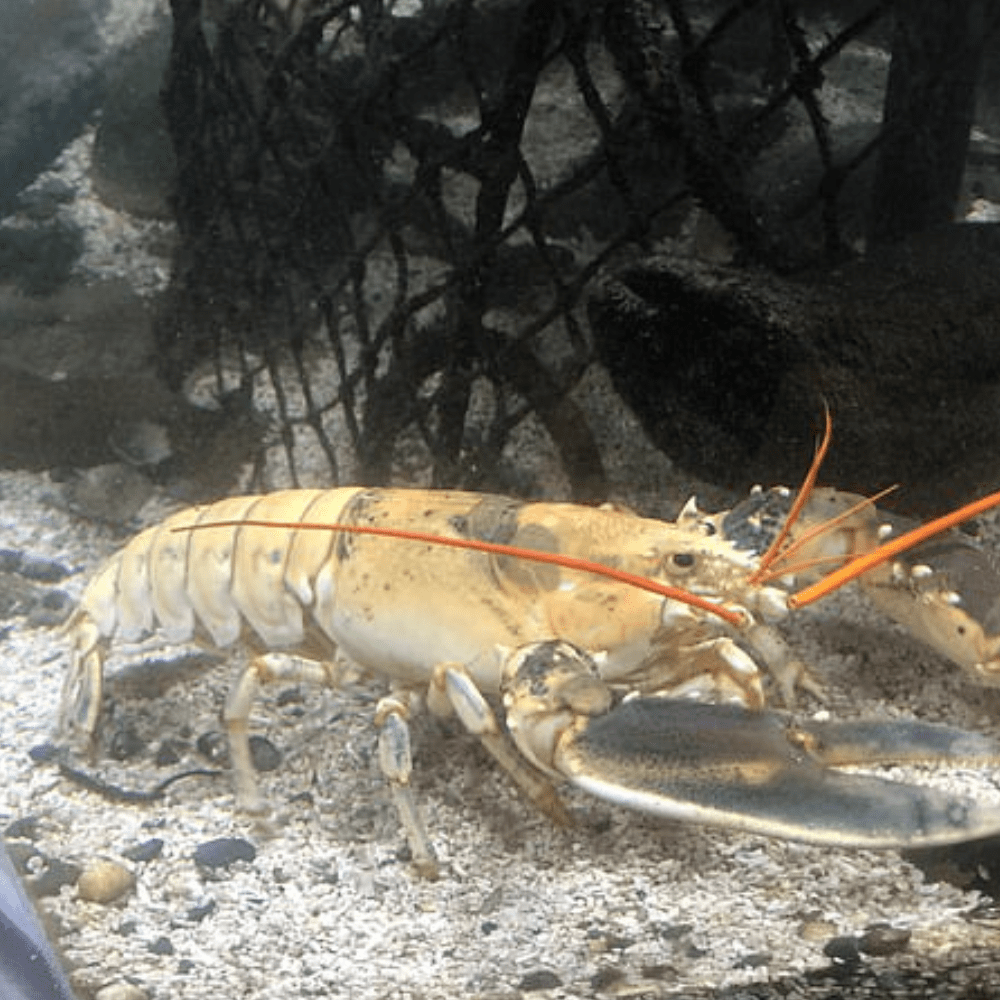 You'll never find an albino lobster at your local grocery store because they're too valuable and unusual to be used for food. The owner of this restaurant knows what to value. We must agree that the albino lobster looks impressive!
An Albino Cat
It's extremely rare to find an albino fishing cat that looks adept at pouncing on its prey. According to National Geographic, there's only one available report in the last 40 years in which an albino fishing cat was discovered.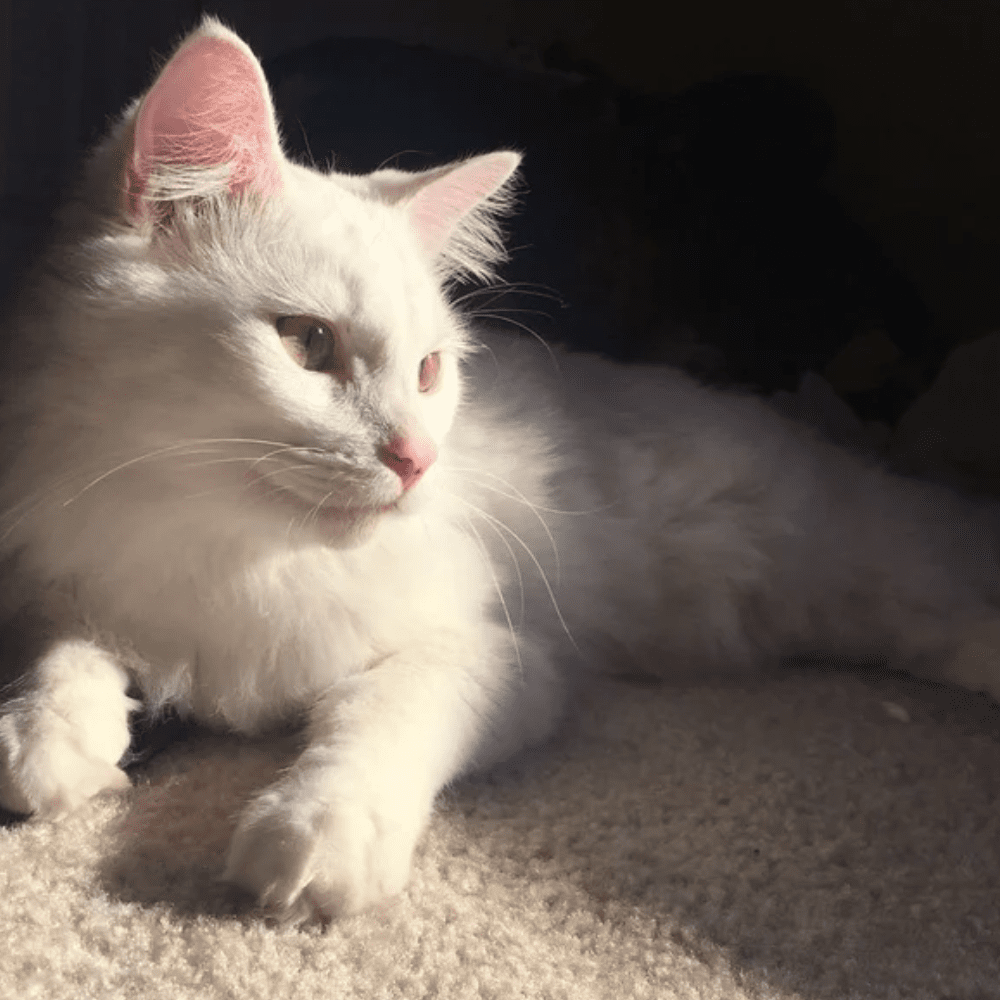 Don't expect to see these felines soon since their habitat ranges from Thailand through Malaysia. The one in the snap is one of the four captured around 2001 in a time span of 18 months in Bangladesh.
An Albino Blackbird
Albino blackbirds might not be as easy to spot when they're flying overhead, but the effects of sunlight make them very noticeable in trees. The one in the picture shows the mutation, primarily their feathers.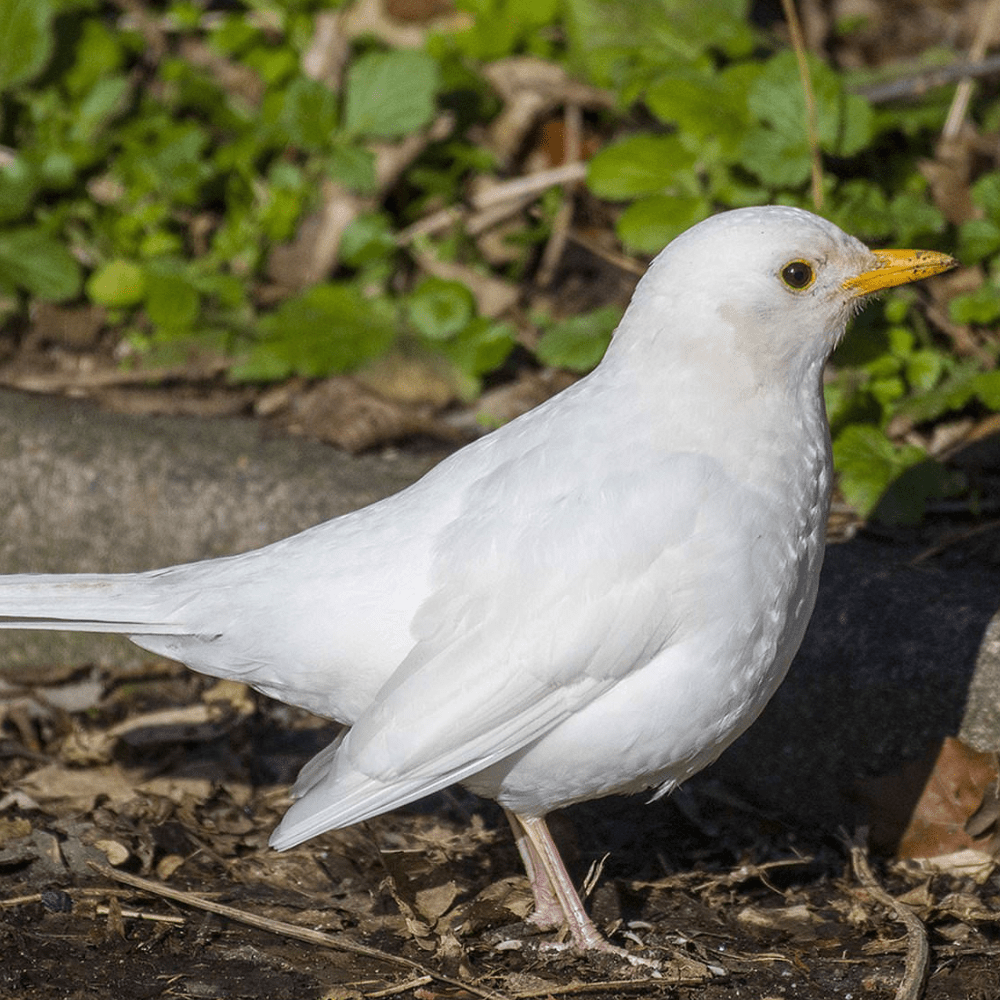 The plumage is pure white, with no green tinge or yellow hues. This one was found snow-white even during winter when blackbirds usually get their brown shades from lack of sun exposure and cooler temperatures.
The Albino Monkey
With its golden eyes and piercing stare, the albino monkey is one of the most striking animal beauties. It was once believed that light-skinned monkeys only existed in folklore. An albino vervet monkey was first observed in 2005 in Zambia.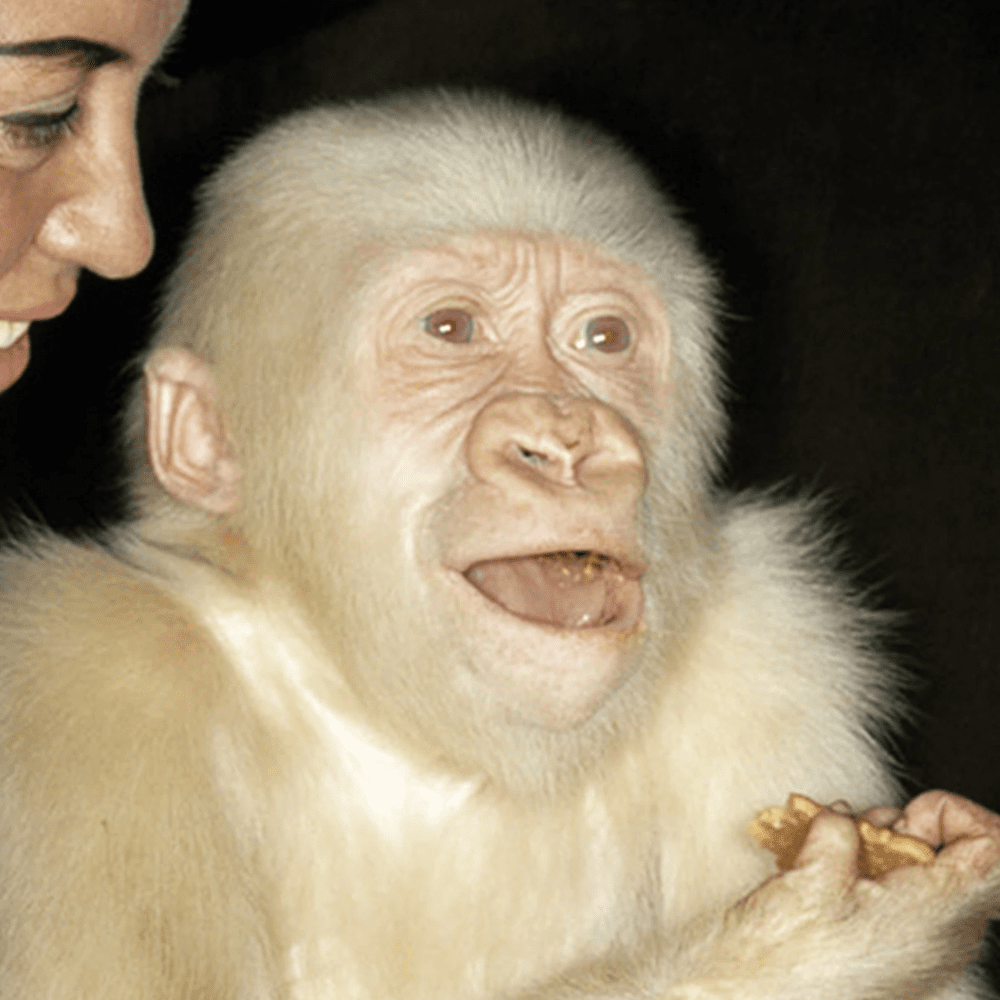 But unlike other monkeys, he liked to keep to himself and remained aloof at times. But when it came to running and climbing trees, he was at par with the others. We can't stop wondering how nature creates the most adorable beings!
An Albino Donkey
The rarest of all white animals is the albino donkey. To be classified as an albino, the donkey must have a very light pink coat and blue eyes. The adorable yet sturdy-looking guy in the snap lives on Asinara—an island near Italy.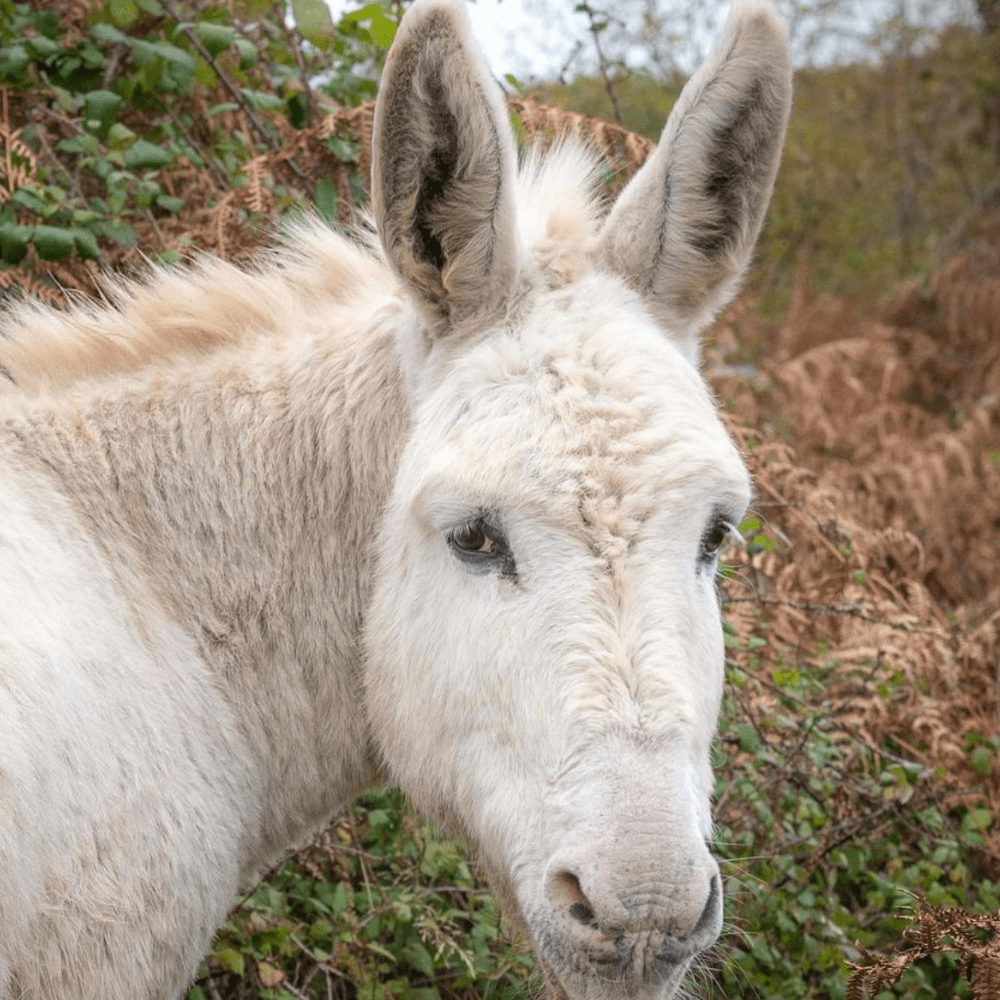 What's remarkable is that almost the entire herd of 140 donkeys are albino. The few gray ones are the ones carrying the albino gene. Albino donkeys are rare as they're not found in any other region.
An Albino Skunk
Even though this is probably the first thing you're thinking, these adorable albinos have nothing to do with cleanliness. The one in the picture has a rare genetic condition that makes its hair white and pale in color.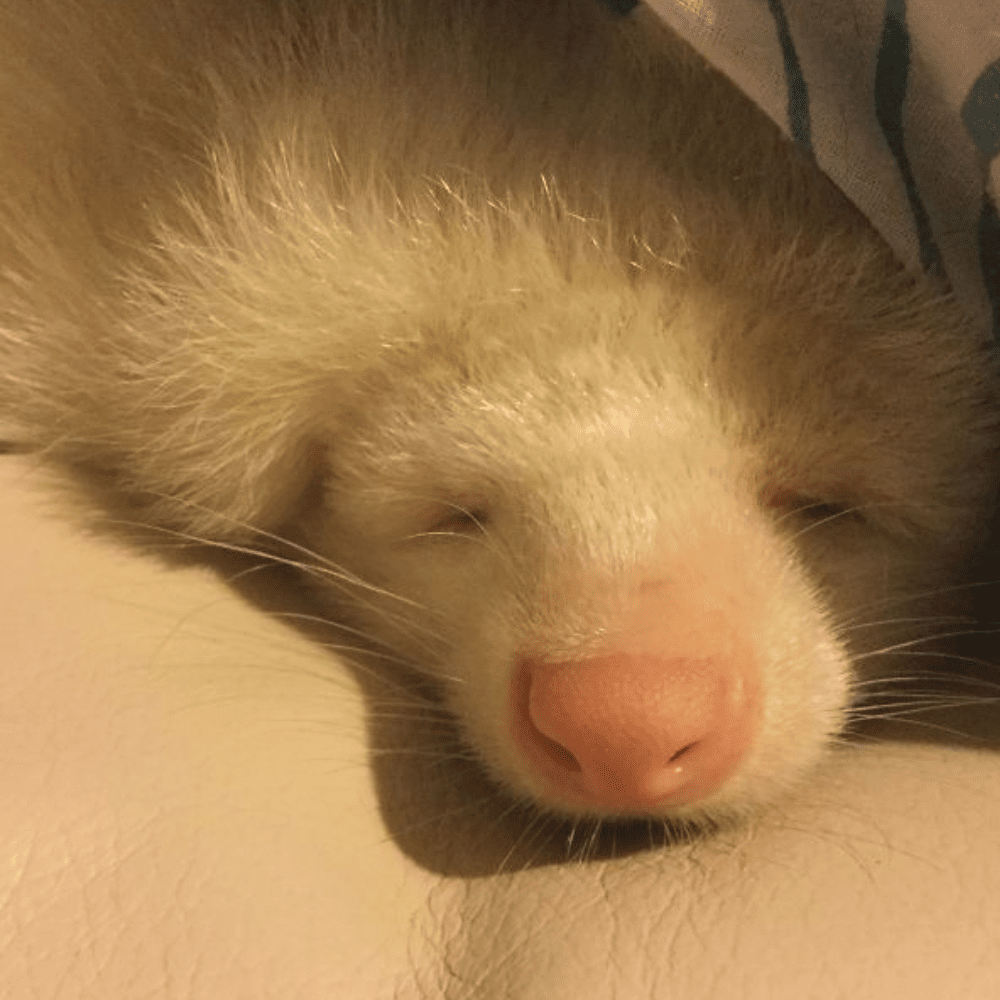 This rare appearance has led some people to call it a ghost skunk or a plain ghost. And while they may seem fragile due to their light hair, they're tough animals that often don't want anything to do with humans.
An Albino Raccoon
Meet Nelson, an albino raccoon from Florida. The photos were captured in early January by photographer Marissa Wienand on her way to work. She noticed the raccoon on a pile of debris during her morning commute and stopped to snap some shots.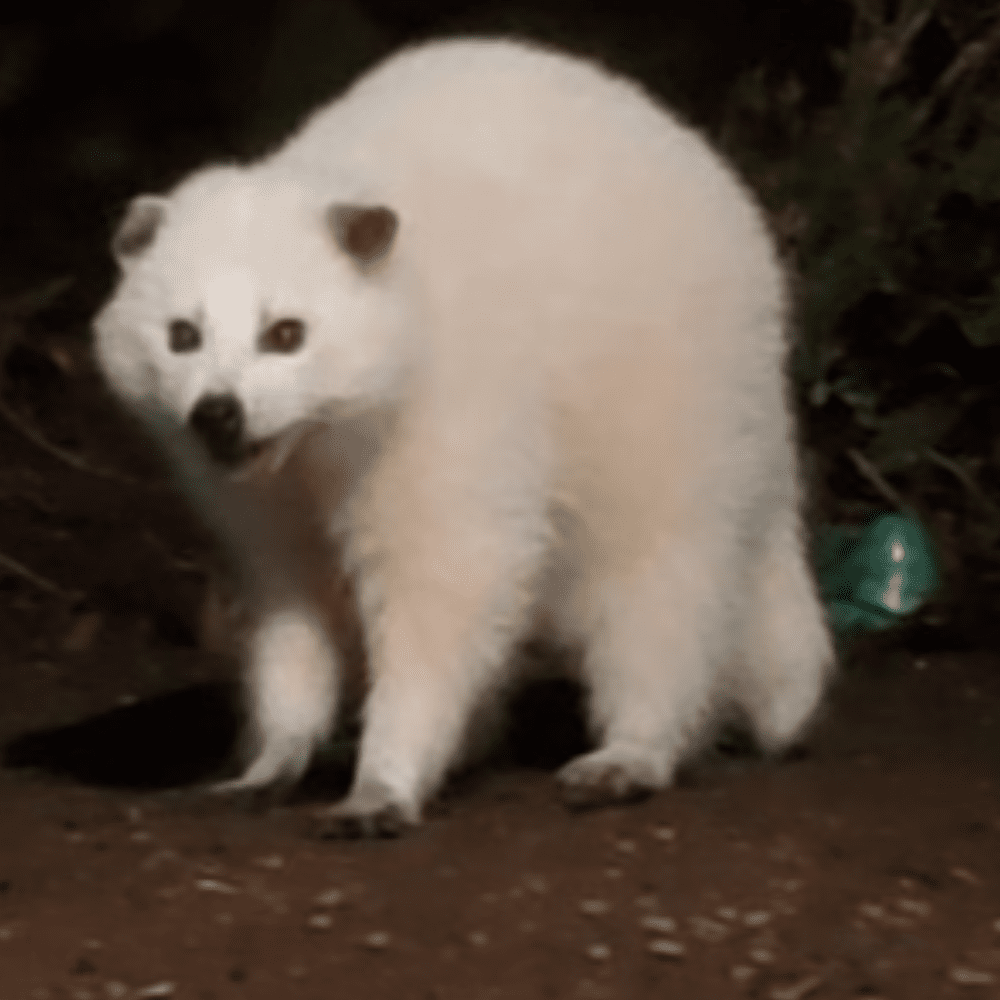 Nelson is a partial albino because he has black spots around his eyes and a bit on his tail. It's not entirely white, which is what makes him so unique. Partial albinism occurs when one parent carries a recessive gene for albinism, but not both parents are carriers.
An Albino Raven
Albino ravens have white feathers. These birds are usually gray but may also be black or white. In the absence of pigment, the natural colors of their irises will often shine through and create a variety of striking colors, such as violet, green, or gold, in their eyes.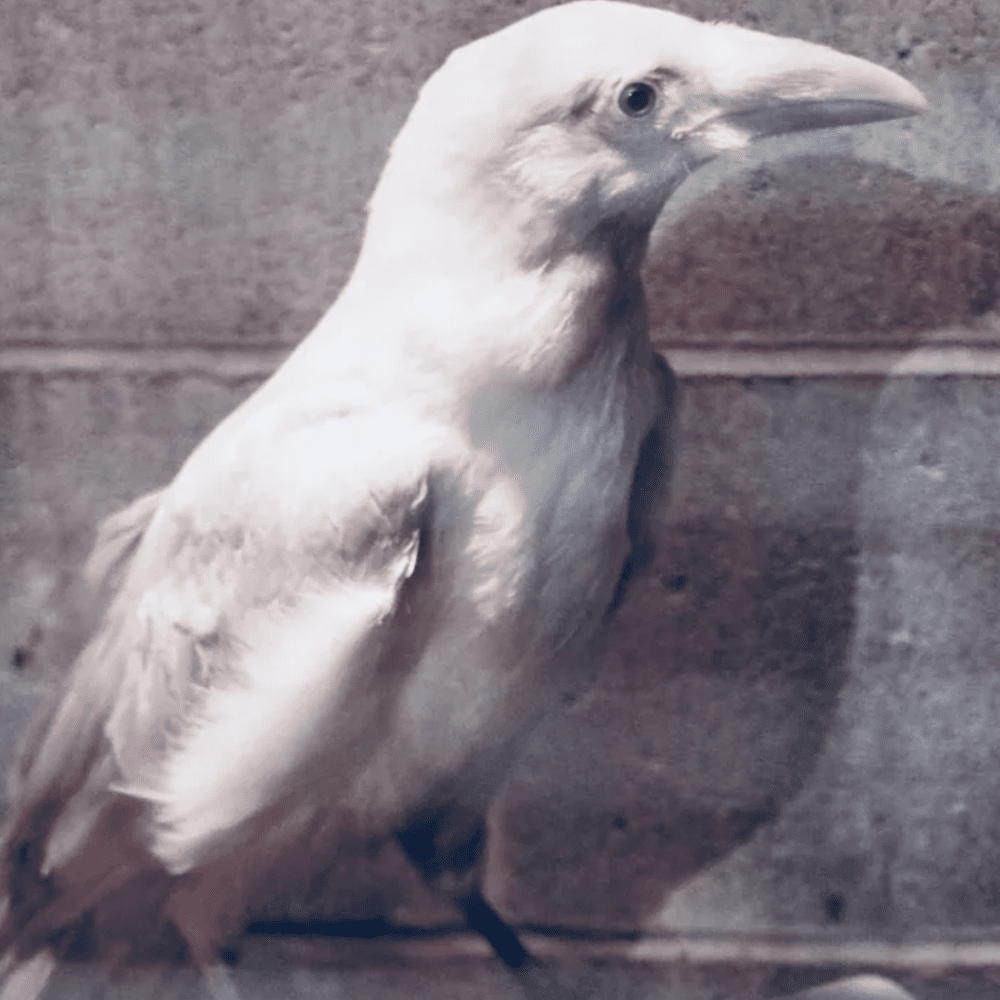 Albinism allows the one in the snap to gel with the background seamlessly. It has a high-pitched screech, good enough to scare anyone. We're sure that once you see the white-colored raven, you'll love its appearance.
The Albino Rats
Albinism is a genetic mutation that results in a lack of melanin production. This lack can cause creatures like rats to be extra sensitive to UV light from the sun or any artificial sources due to the lack of pigment protecting their skin and eyes.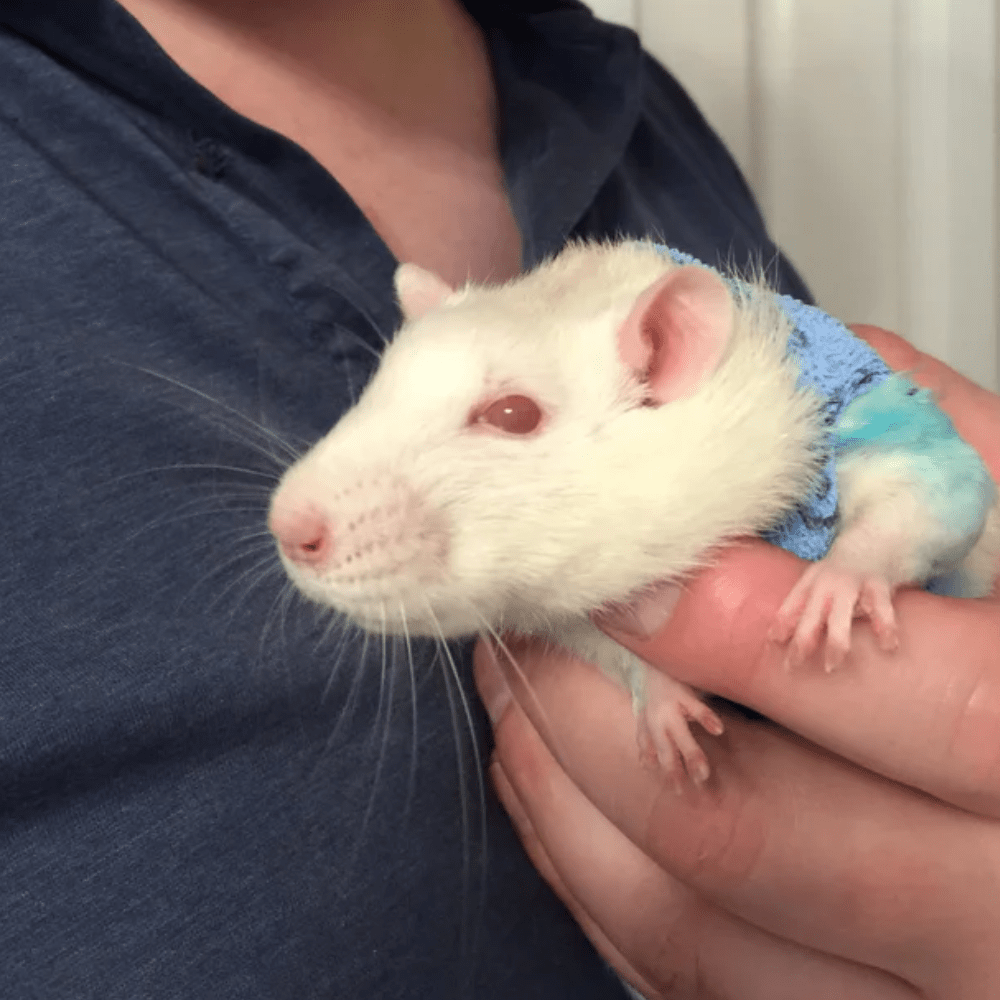 Rats with this defect may find it difficult to see or navigate dark environments or deep waters. The one in the snap looks curious to explore its surroundings and learn a thing or two.
The Albino Deer
Experts believe that the tiny population of these beautiful animals came about as a result of mating between two different species that resulted in offspring with a genetic abnormality – albinism. But how can one find such an adorable creature? The last sighting was reported back in 2000.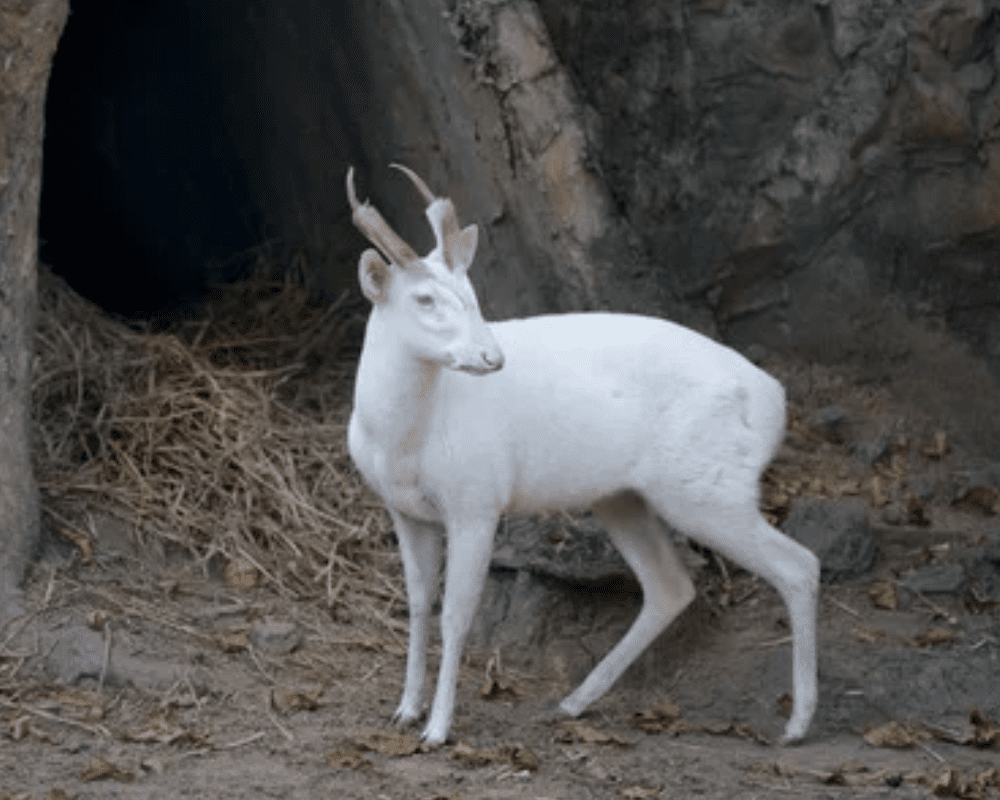 The one in the snap looks set to give off its customary bark to scare off animals. But in this case, it only makes us adore it more because of the cute expression on his face.
The White Moose
The white moose is a rare sighting. Some scientists say that their numbers might be growing, but their encounters with the white albino moose are still rare. The one in the snap was observed in 2005 and found roaming the woods in Sweden.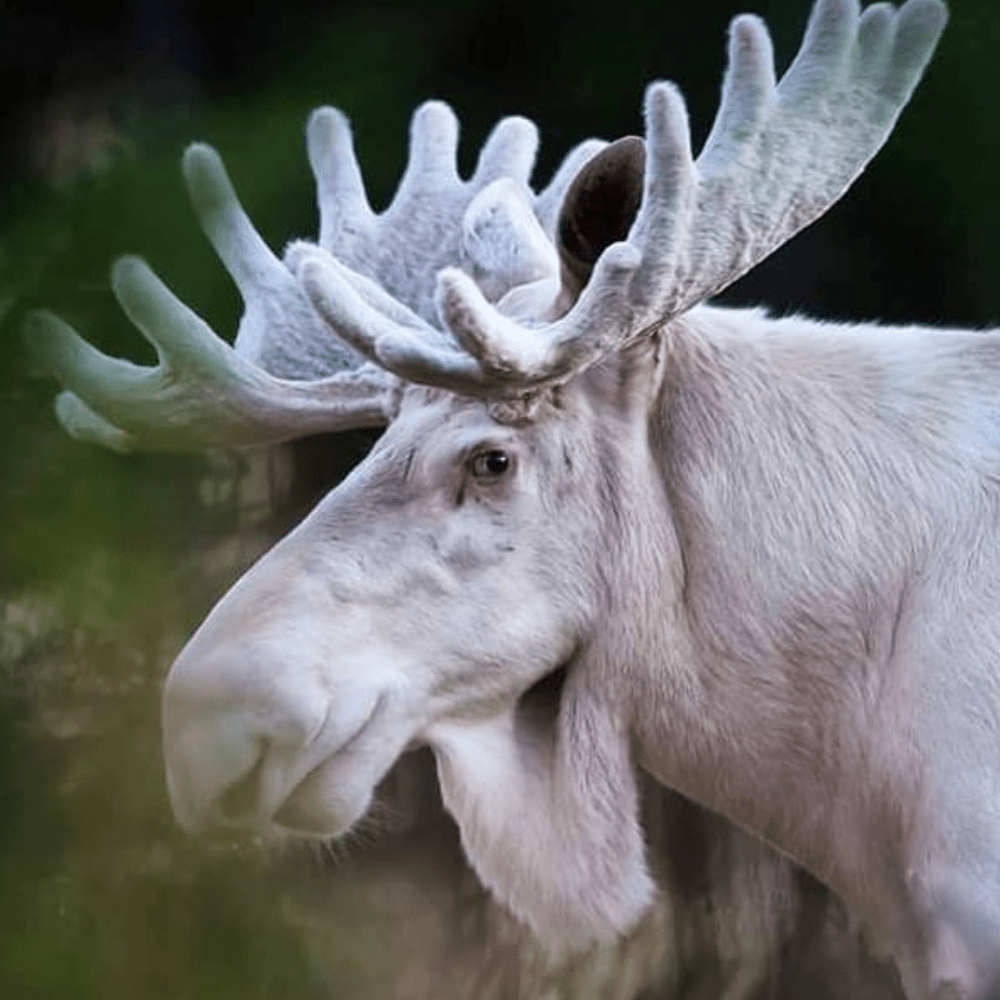 Biologists determined that the only plausible explanation for such an anomaly was if its mother had been stricken with a rare form of albinism that affected her nervous system and left her colorless. They were able to track down two other white moose, one from Norway and one from Scotland, and both were traced back to the same female ancestor who happened to be albino.
The Albino Deer
The albino white deer are very rare to find. It's one of the reasons why they're highly sought after by the scientific community to study the effects of albinism on living organisms. The one in the snap was found in New York as a stag and has been studied extensively by conservationists due to its unusual white fur and pink skin.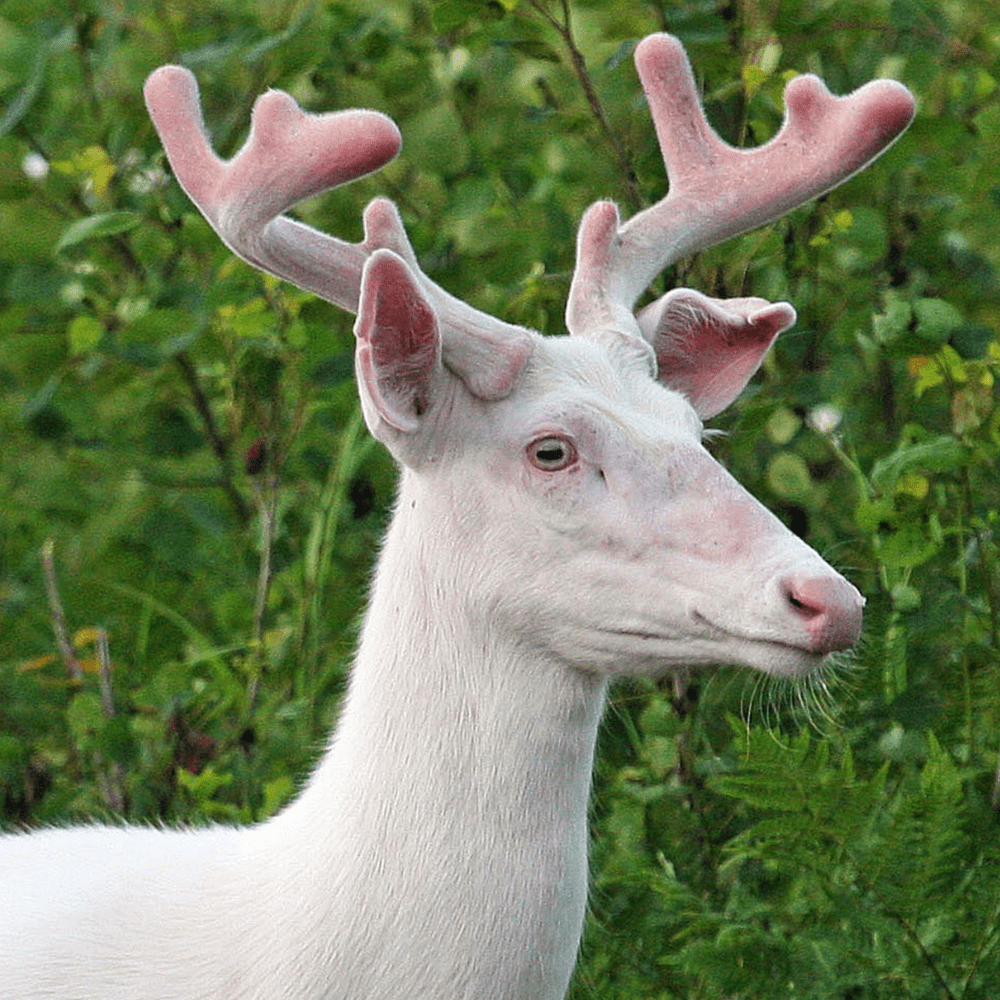 Interestingly, it seems to have passed the gene to the next generation as it grew older. Now, more albino deer can be seen roaming in the area.
The Albino Dolphin
Albinism typically makes animals turn white, but that's not the case with dolphins. This friendly-looking dolphin is a marvel of nature as its albinism turned it pink. Researchers found that the pink hue is due to the visible blood vessel of the dolphin. One thing is for sure, the pink-colored albino dolphin looks far more grand and majestic than the typical grey one.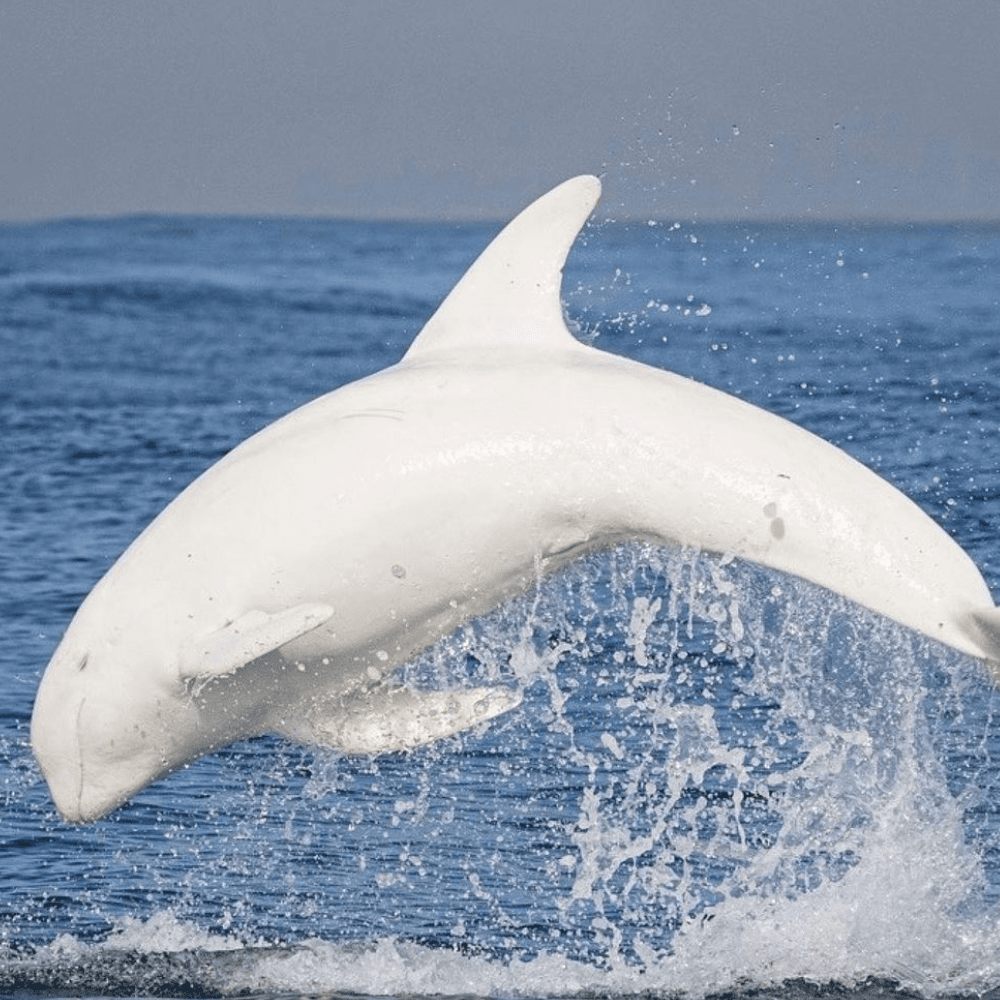 One of the most famous albino dolphins is Pinky in Louisiana. She's captured people's attention for over 10 years because of her unique pinkish skin. She's had a long life in contrast to other albino animals. May she live long and keep on charming people all over the world!
The White Gentoo Penguin
Only 2% of all penguins found are White Gentoos. These birds can be spotted by their white feathers and black feather tufts near the eyes.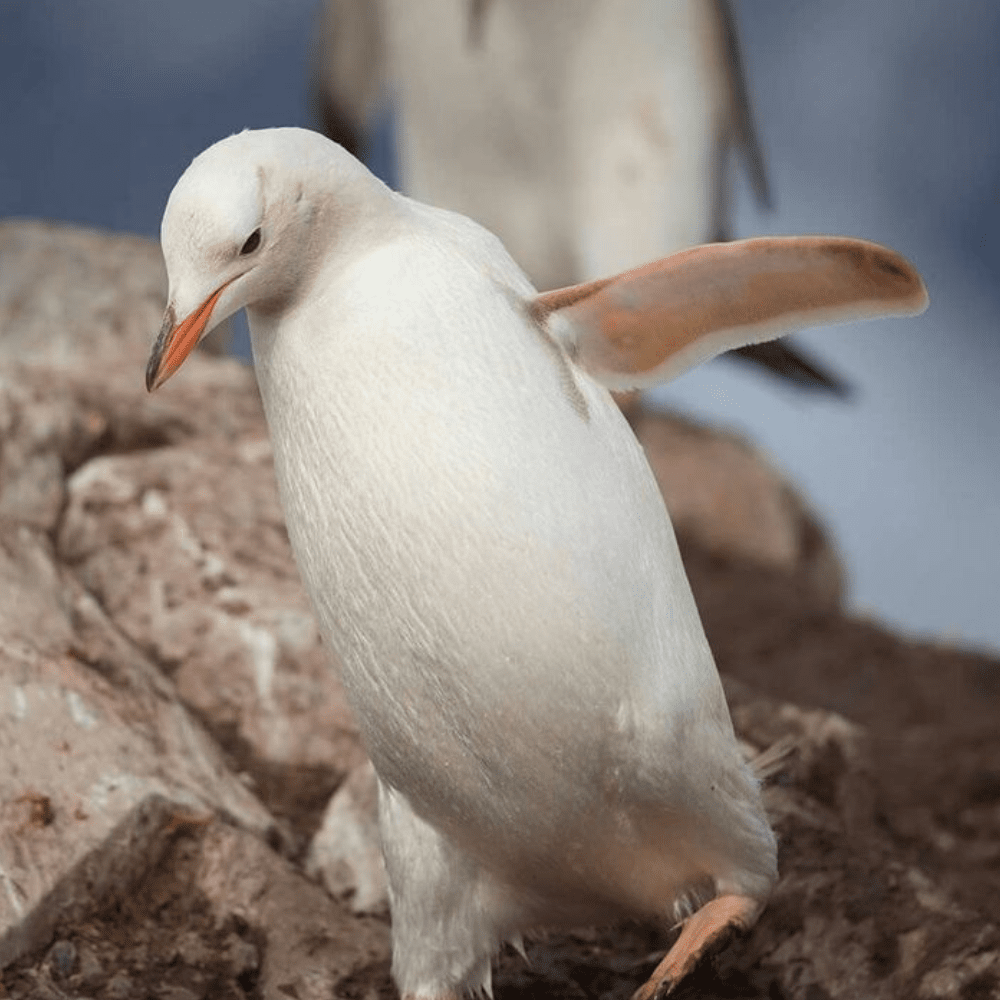 In stark contrast to the typical penguin, the one in the picture looks completely camouflaged in the white snow surroundings.
The Albino Koala
Koalas are already somewhat of a rare animal, but albino koalas are the rarest of the rare. One out of every 10,000 koalas born is white or albino with pink eyes. They have the same fur patterns as their counterparts and must be cared for like any other koala.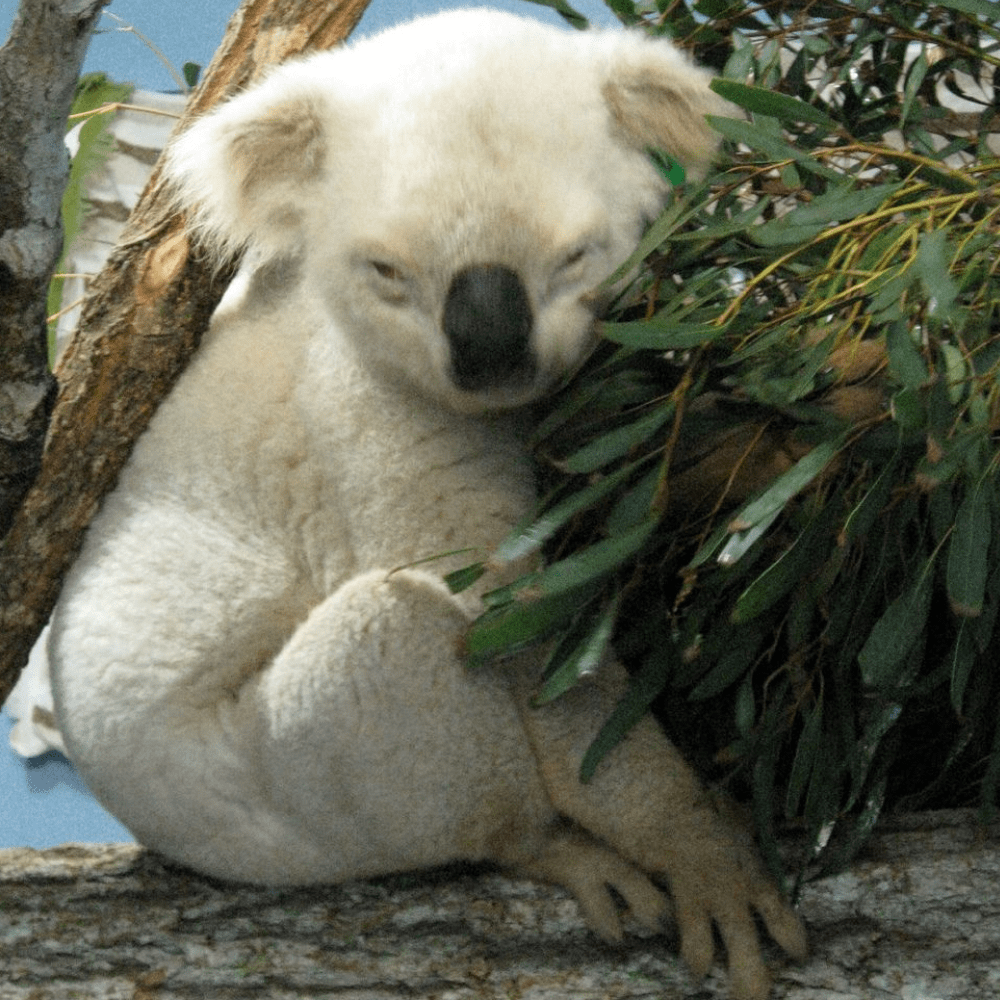 The one in the snap is unique as it was born in captivity and spent the first six months in the mother's pouch. It was only later that its albinism was discovered.
The Albino Kookaburra
A kookaburra is one of the most iconic Australian birds, but you might not know that some kookaburras are pure white albinos. Albino kookaburras have feathers without pigments, which leaves them completely white and their eyes pinkish-red. They're found in parts of Australia, including New South Wales, Queensland, and Western Australia.
They're pretty rare – about 10% of the population is believed to be albino. The one in the picture looks adorable, sitting on a branch ready to give its iconic screech that resembles human laughter.
The Albino Giraffe
Meet this all-white giraffe! Albinism usually affects an animal's skin, hair, or eyes and occurs when an animal doesn't produce enough melanin.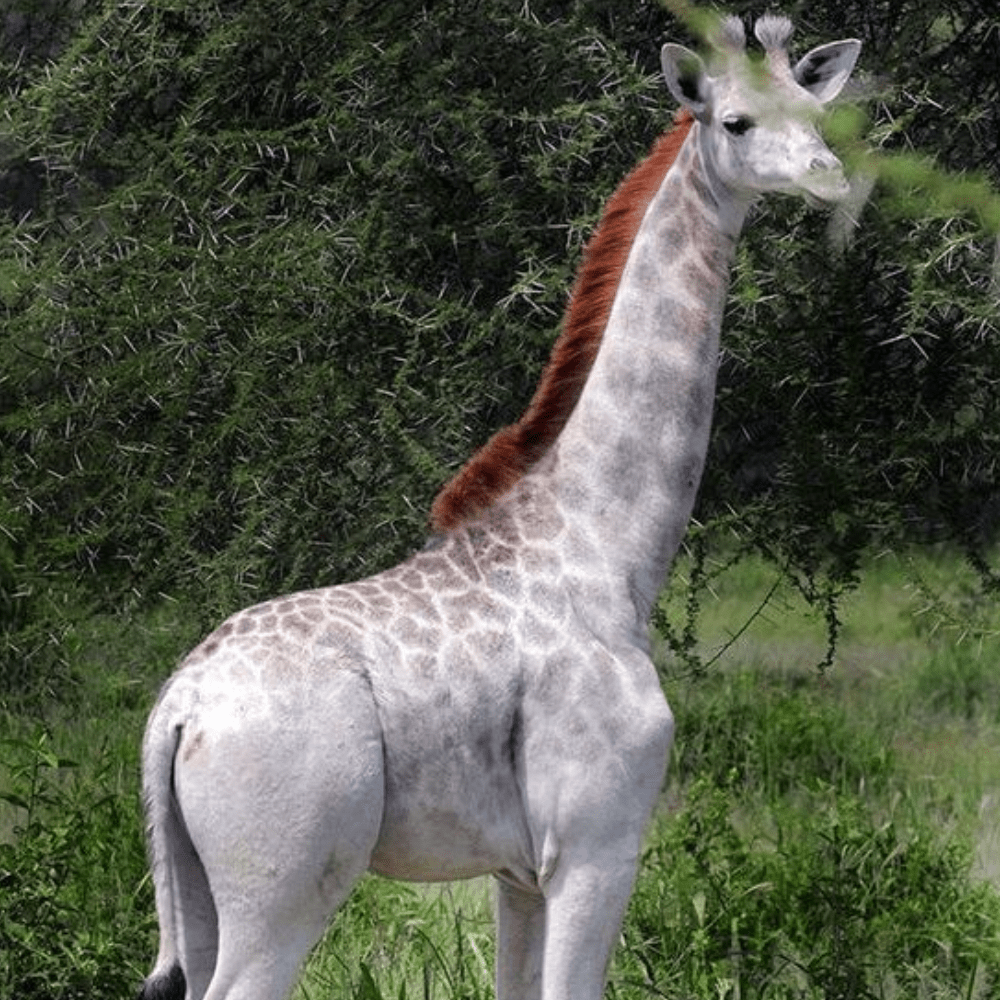 The one in the snap has a completely white fur coat that helps it absorb more heat than dark fur, so it doesn't need as much food to stay warm during cold months.
The Albino Porcupine
An albino porcupine is one of the rare albino animals that we can observe. The one in the picture is such a rare creature because it was born with complete albinism, making it snow-white.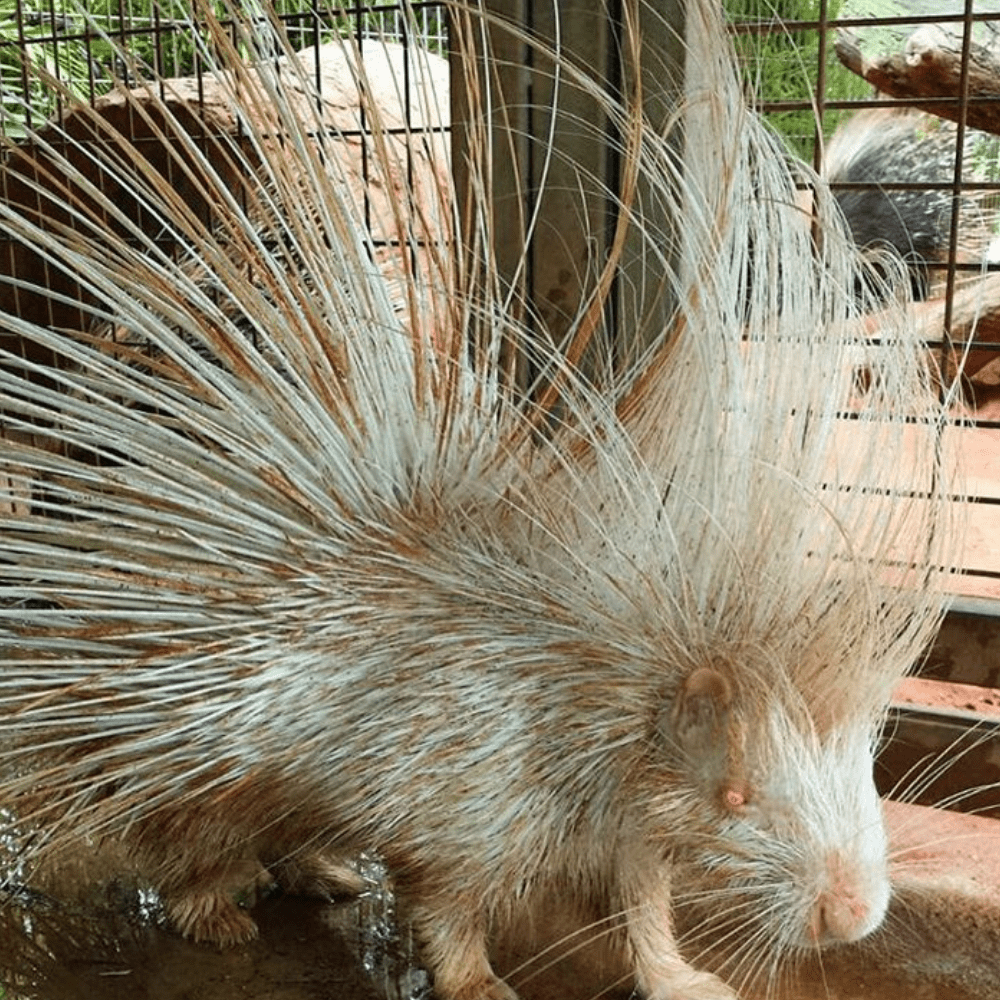 The pigmentation in the typical porcupine is made up of dark black and gray patterns on top of lighter skin that aren't present in this specimen's all-albino skin. Along with the lack of pigment, their eyes are pink due to a genetic mutation called ocular albinism.
The Snow White Kiwi
Snow white kiwis are not all that rare in the wild, but they're still strikingly unusual. When a kiwi is born with an albinism gene, it has no pigment, which means its hair and skin lack color. The one in the snap has all the features of an albino kiwi, but it's not typical. It's the eyes that make it unique.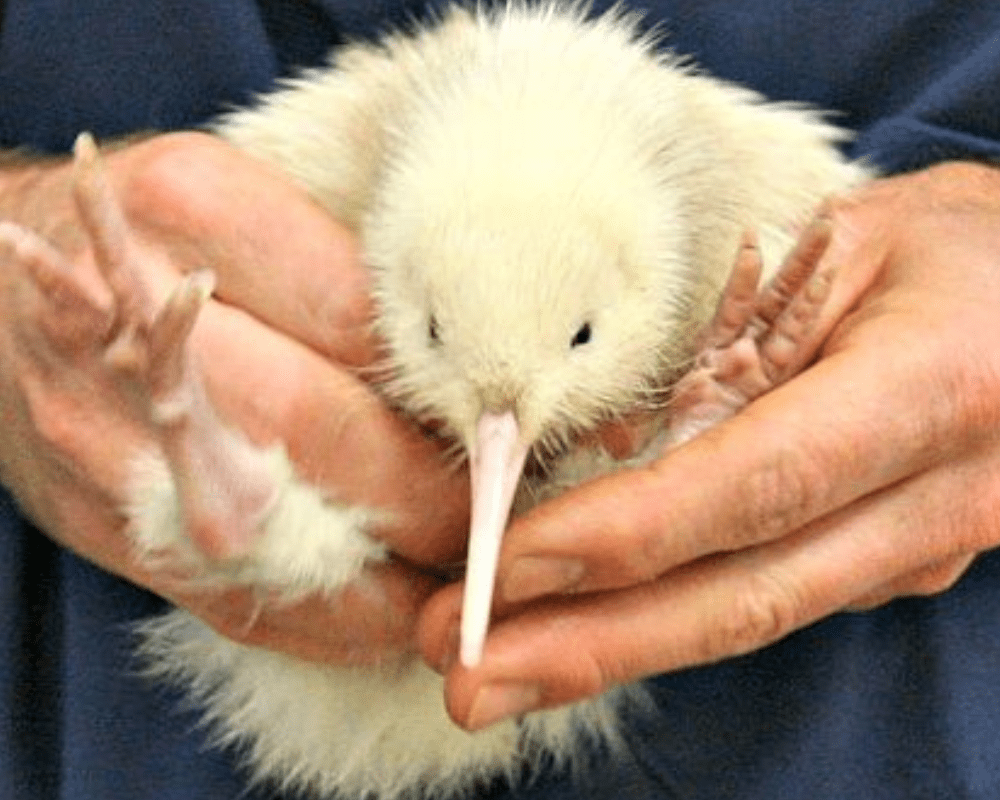 Its eyes are black, which presents a sharp contrast to its body color. It hatched in Pukaha Mount Bruce National Wildlife Center and has been a significant attraction since 2011. Any plans on the part of the wildlife center to breed more such kiwis remain unknown.
The Albino Python
This albino python was spotted in Boulder, Colorado, but you'll find it hard to believe it's a real animal. The serpent looks exquisite, with yellow spots on pale white albino skin. What makes it scary, though, are the red eyes.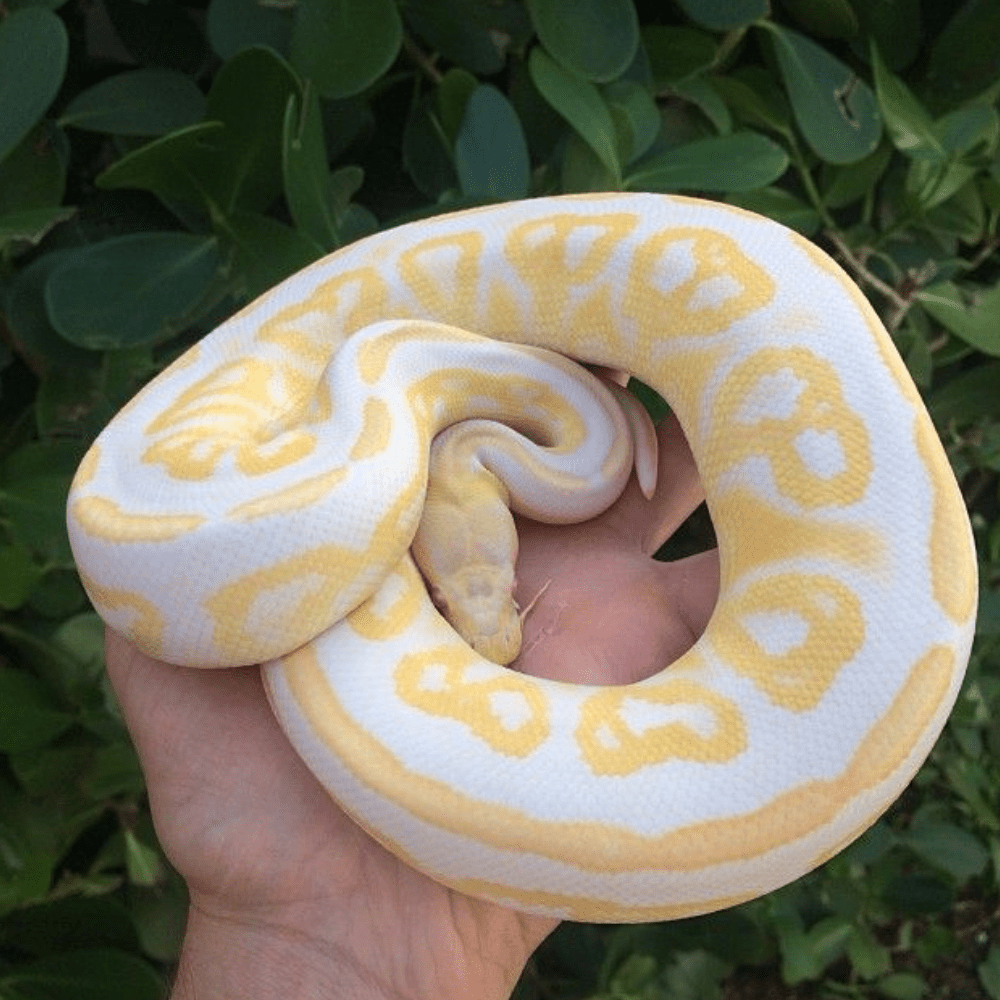 Unlike other animals, albino pythons are relatively common. Many people like to have them as their pets. We hope that this python's owner remains happy with their pet.
The Cute Albino Lion Cub
This rare lion cub is an albino. There are many reports of African lions with this genetic condition, but these sightings are sporadic, and it's been a long time since there was a new report of one.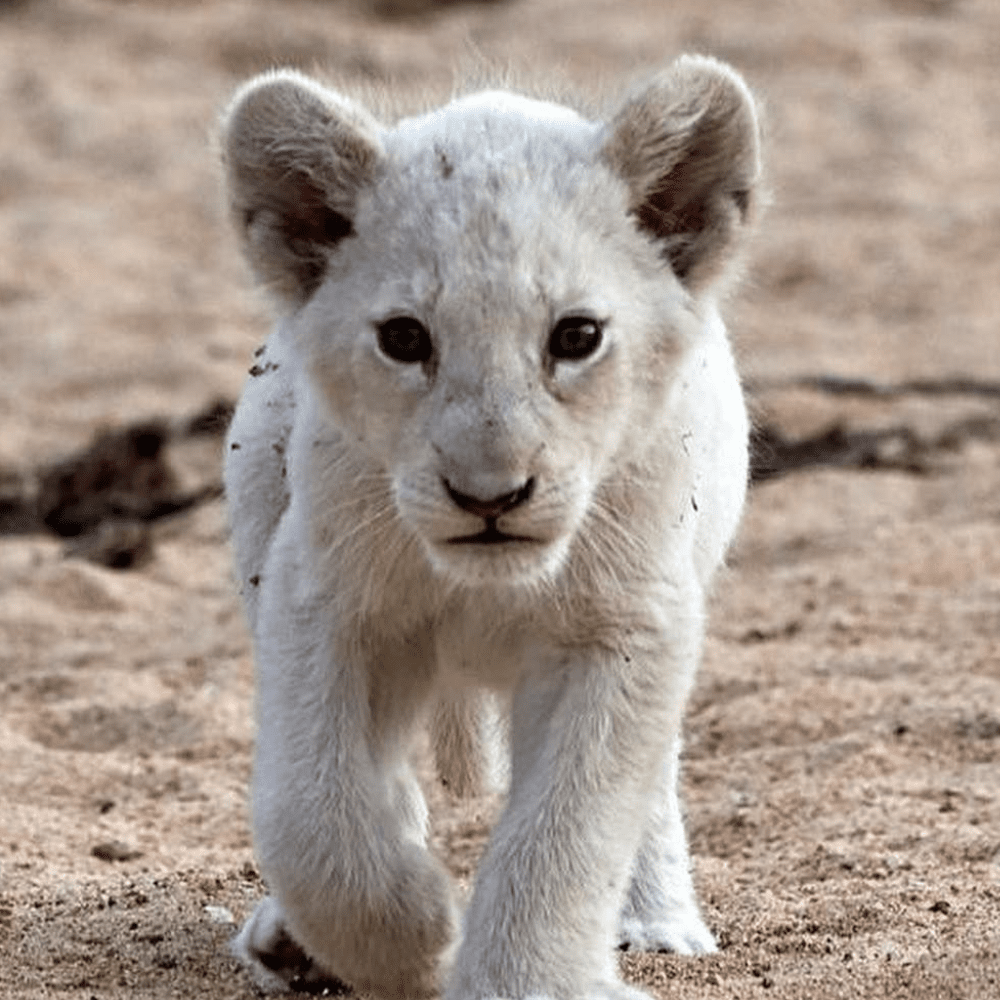 In 2014, we've not only had reports of an albino lion in Zimbabwe's Hwange National Park but also a report of one living in Tanzania! The one in the snap was sighted in 2014, and it seems to have formed a unique bond with a chimp after getting separated from its mother. Nature does work in unique ways!
August, the Albino Dog
An adorable dog named August is one of the stars of a National Geographic show. The 10-month-old albino pup enjoys a healthy, energetic life.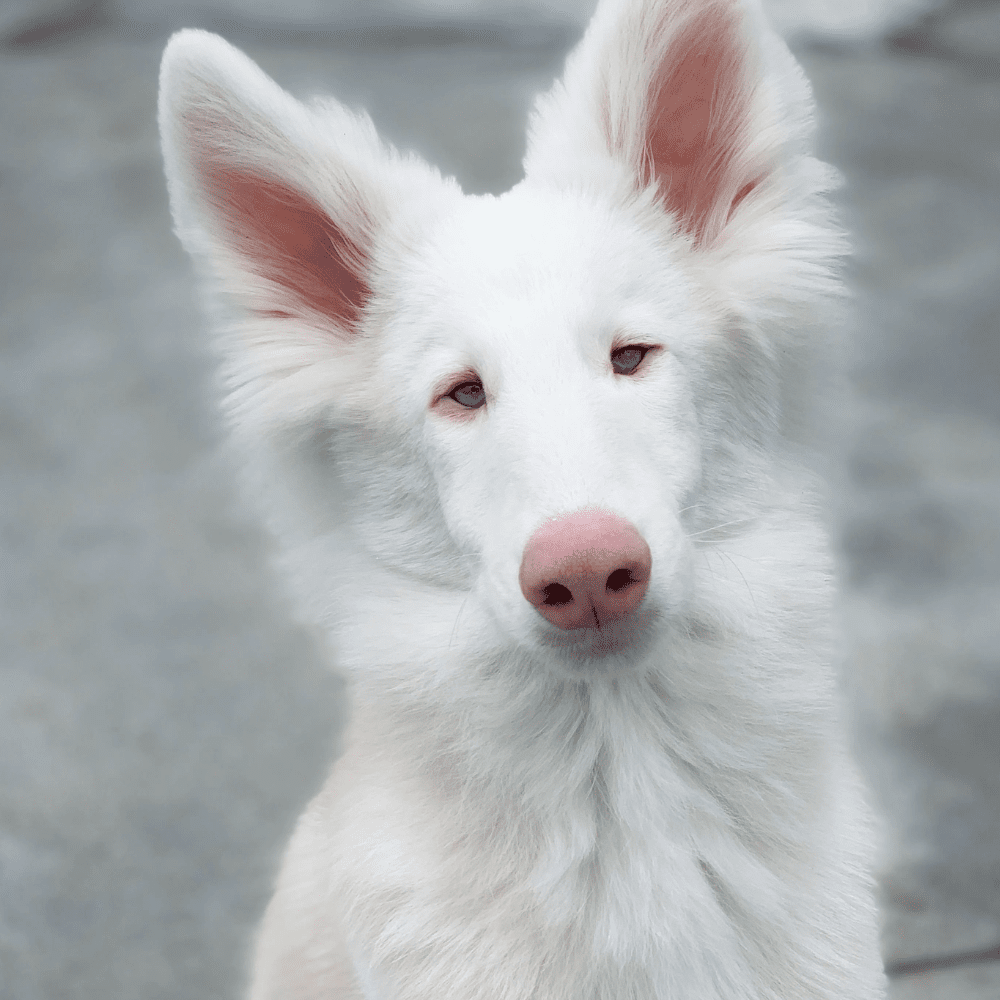 This beautiful creature is a local celebrity and an adorable dog. It seems that being born albino has seriously paid off for this particular pup!
The Albino Bearded Dragon
In the wild, the albino bearded dragon is extremely rare. With such distinctive coloration, it's rarer than other members of its species.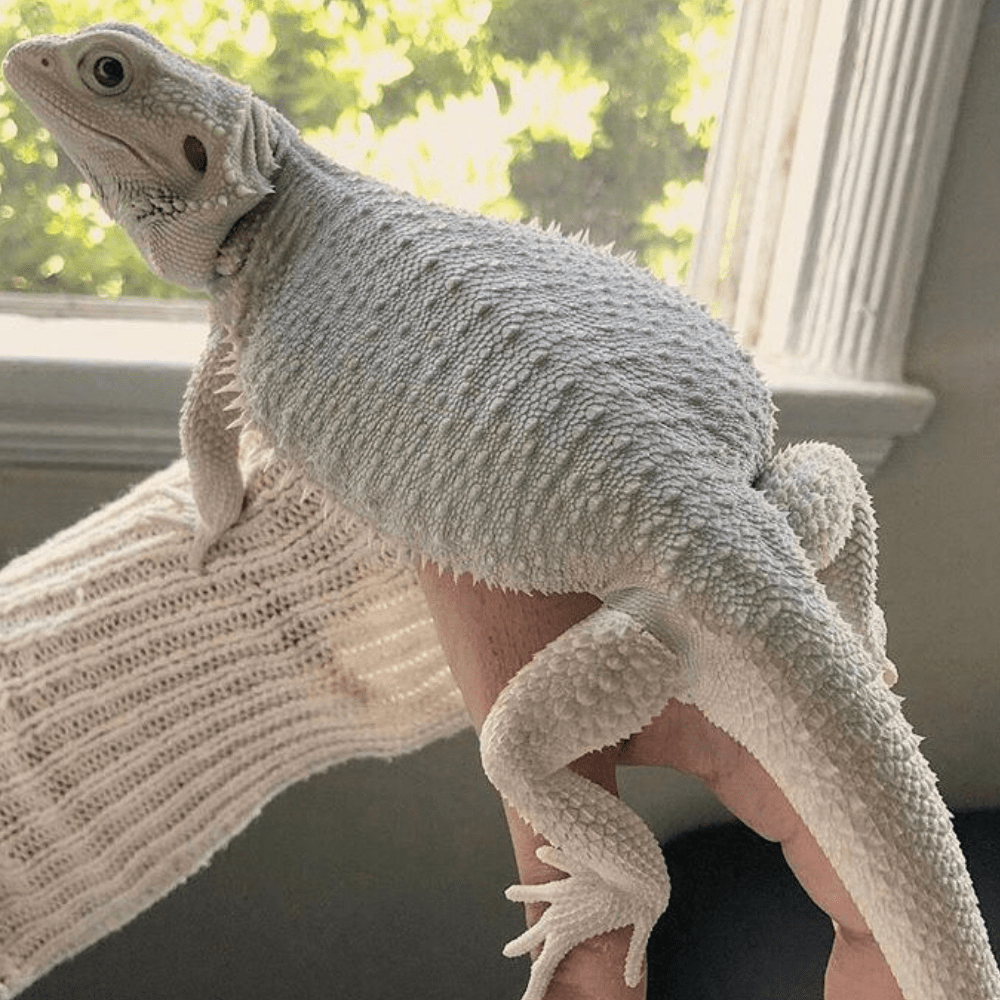 The one in the picture has been bred in captivity and is healthier than other bearded dragons because it's kept as a pet. You must agree that it looks like a wise old dragon from folklore!
An Albino Lowland Tapir Calf
These elusive white mammals are well known for their striking, ghostly white coats that turn heads wherever they go. Albinism is an inherited condition caused by a lack of melanin in the body, which reduces pigmentation and has a wide range of effects on an animal's appearance.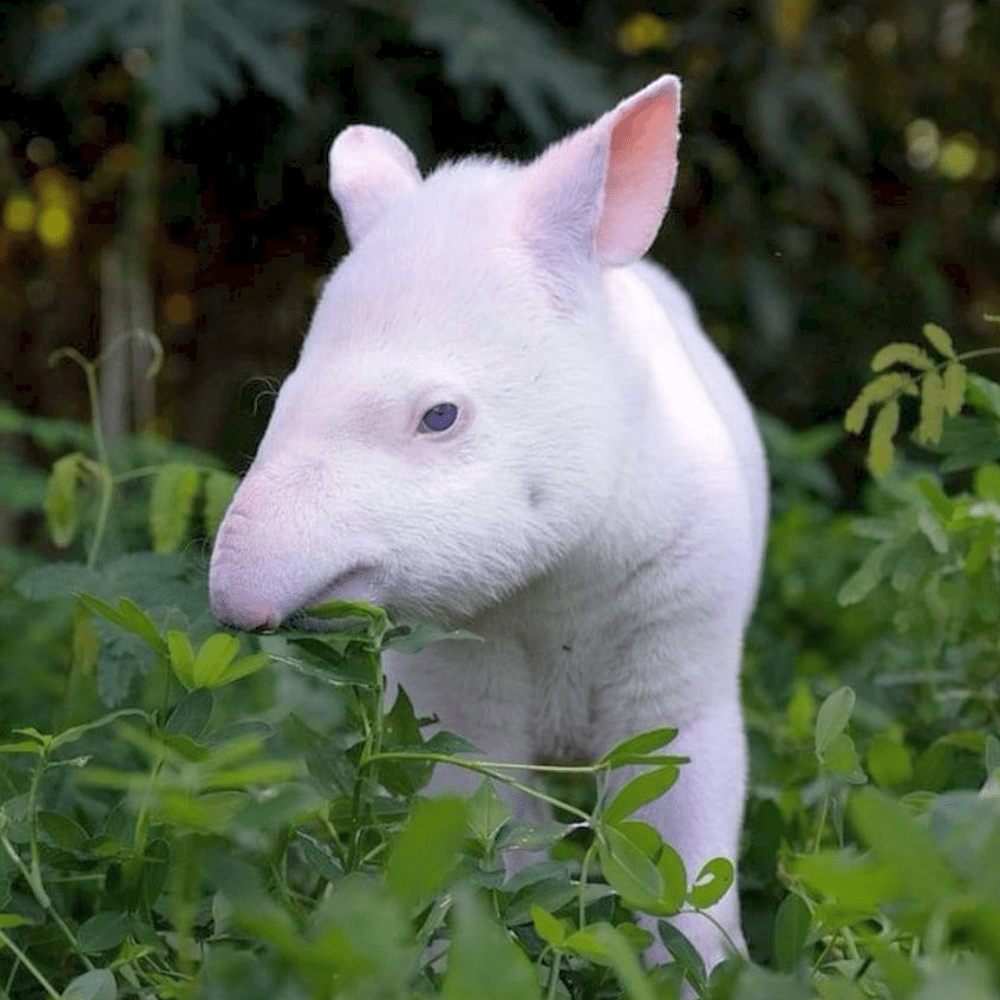 The one in the snap has other body parts, such as the eyes and hair, also affected by albinism. But we can't take our eyes off the little albino beauty and we can watch its cute expressions for hours on end!
An Albino Goldfinch
The albino goldfinch is a marvel of nature. Interestingly enough, a darker variety of this bird exists in Europe and Asia, known as cinnamon goldfinches. These rare birds nest in Russia during the warmer months and migrate southwards before winter sets in.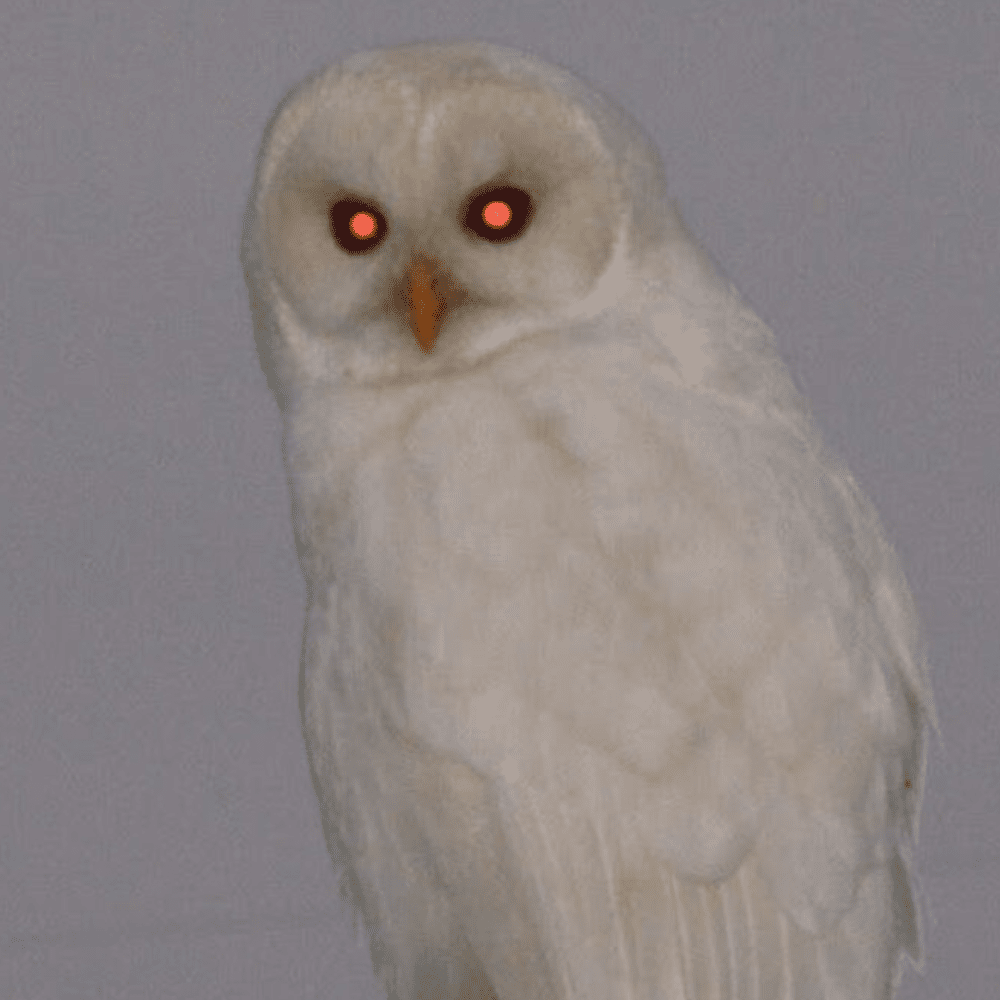 The one in the snap grabs our attention instantly as it has yellow feathers, black eyes, and white-gray beaks on its wings. The females are distinguishable by their rusty red eyes. This albino bird, indeed, has a presence that can make heads turn.
The Albino Serval
More than just a pretty face, these magnificent cats are fearless of humans. The most striking feature of the animal is its creamy white fur that glows in direct sunlight.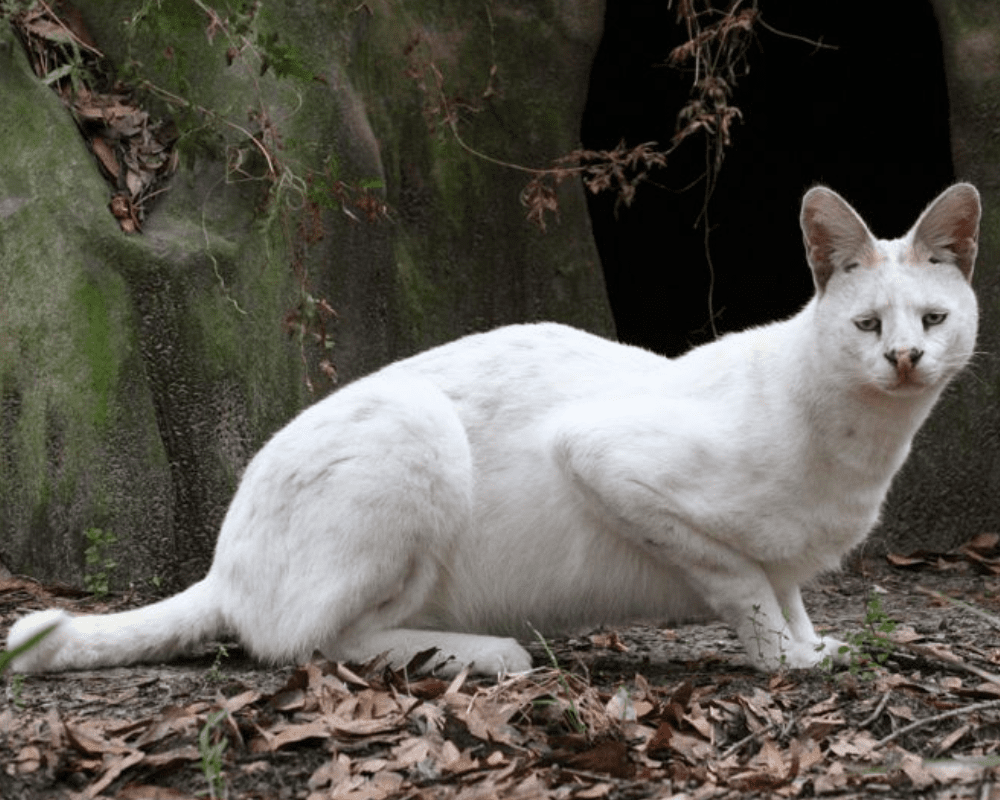 The one in the snap is distinct because of its long, black-tipped tail that it can use for counterbalance while jumping on high branches. Its ears point to the sky like satellite dishes to help them hear in tall grasses or dense brush. It's a wonder of nature!
The Albino Pink Pugs
The albino pug is a cross-breed with the added twist of being born without pigment, also called albinism. The one in the snap has a color that ranges from cream to apricot, and it has yellow or pink eyes due to a lack of pigment.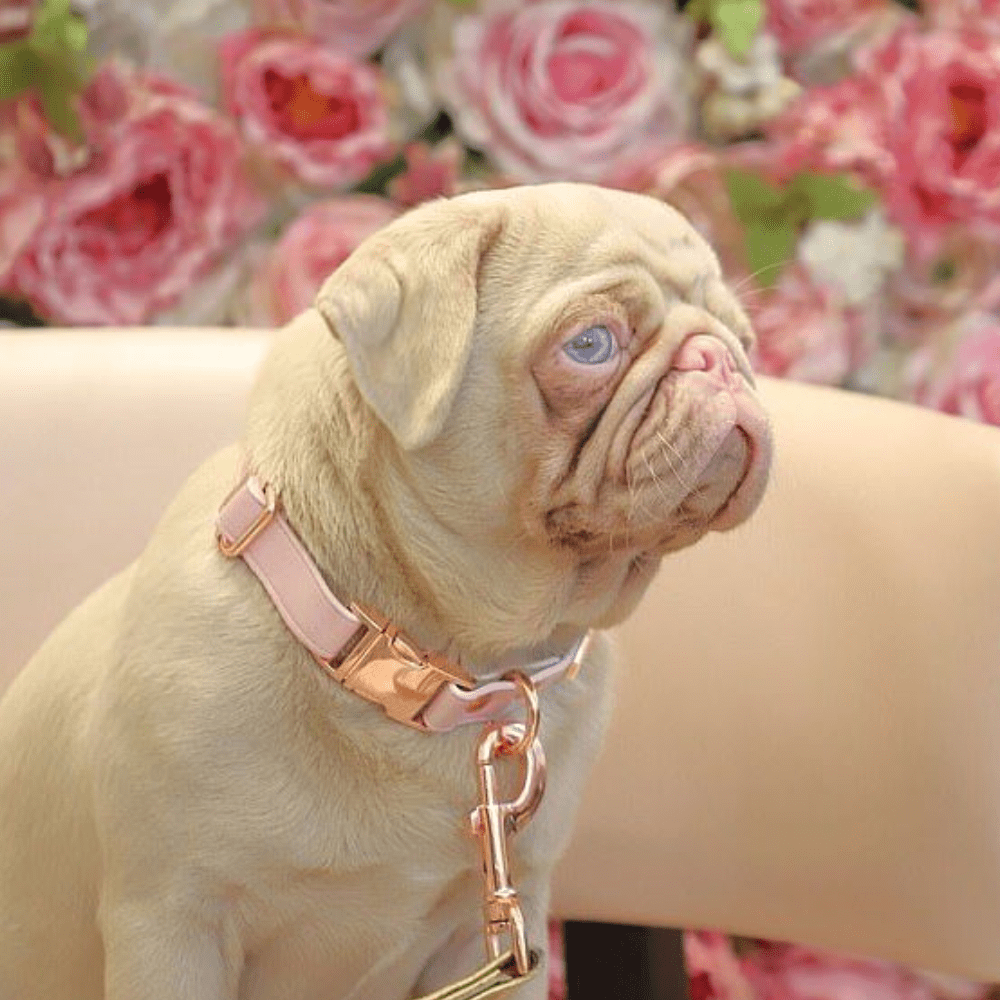 The owner shared that its hair can potentially grow up to eight inches long and is usually curly. Apart from its skin color, it's like any other pug and loves socializing and playing with other dogs.
The Albino Racoons
Albino raccoons are not all that rare in the wild, but they're still strikingly unusual. When a raccoon is born with an albinism gene, it has no pigment, which means its hair and skin lack color. The one in the snap has all the features of an albino raccoon, but the eyes make it unique.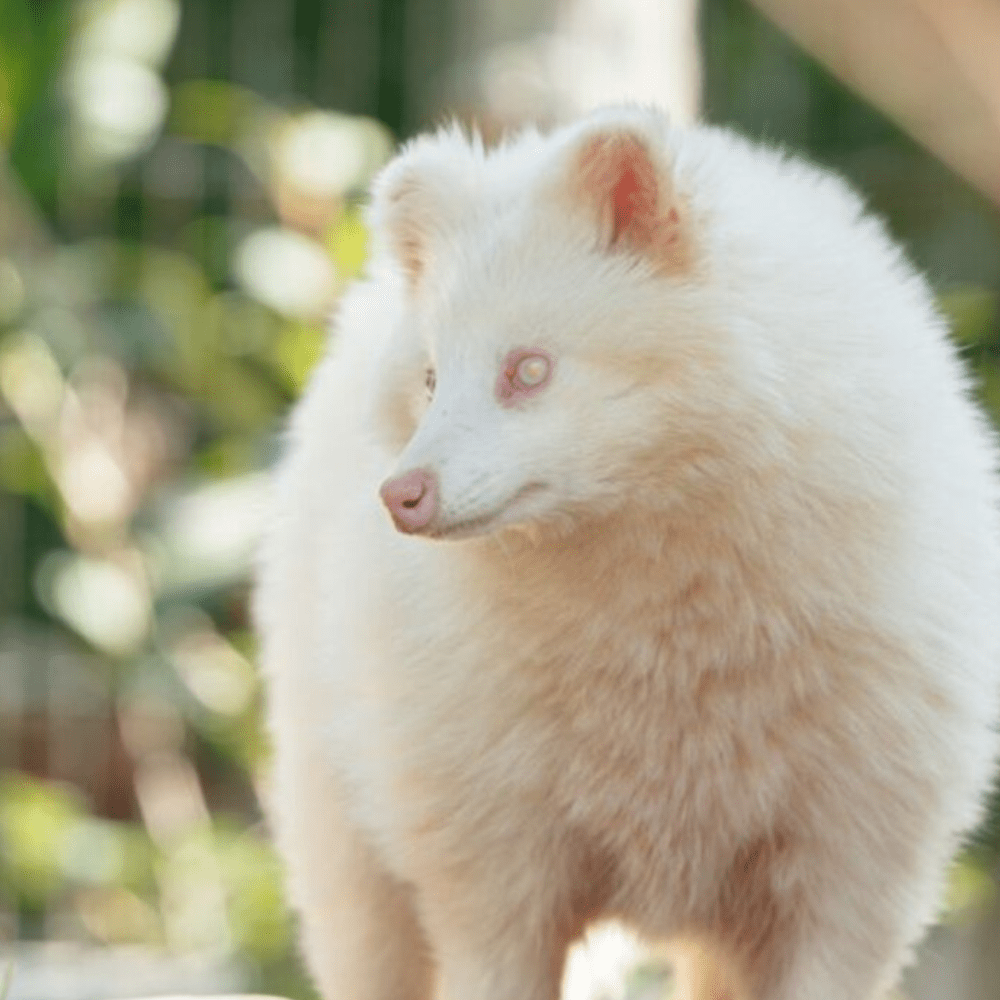 Its eyes are pink or red depending on whether they see the light at the red or violet end of the spectrum. In other words, these albino raccoons can get lots of sun without getting sunburned!
The Albino Horse
What do you get when you mix a horse with a zebra? A striped white and black coat. But what if your horse has albinism, which causes a lack of pigment in their skin and hair? That's an albino horse! And albino horses aren't that uncommon. They make up about 10% of the horse population.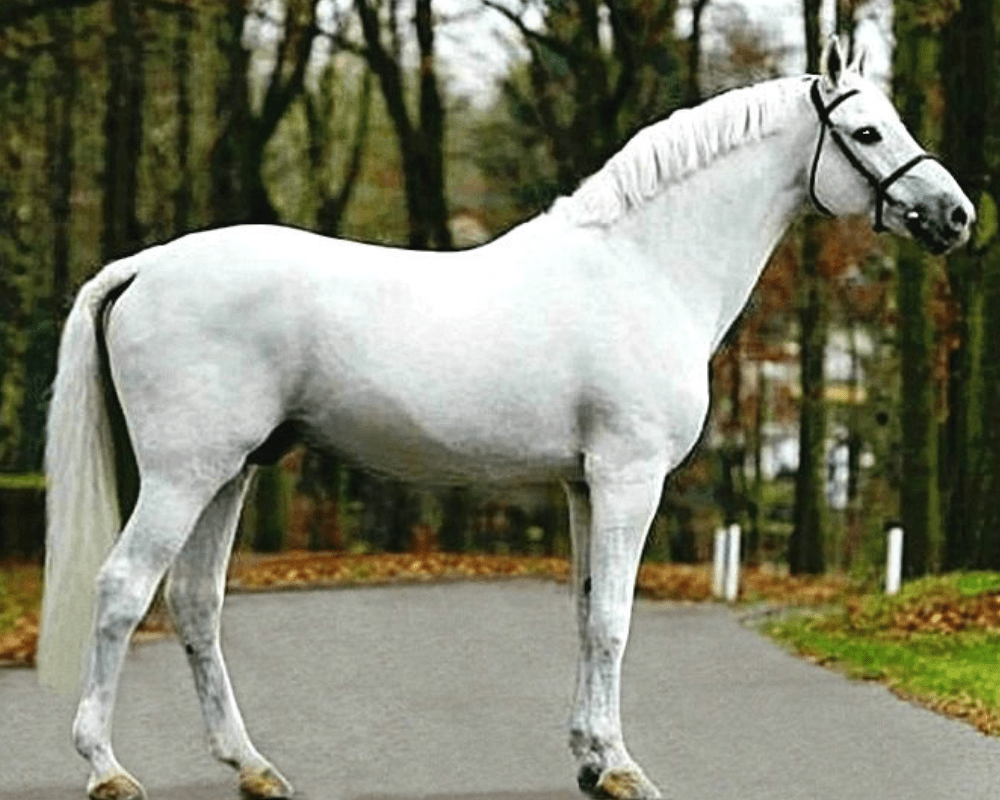 Most white horses are piebalds, not true albinos (meaning they have some pigmentation). Piebalds have patches of the standard color, while true albinos have completely pink skin. But the one in the snap is a true albino horse in full glory.
The Albino Camel
One of the rare albino animals you'll find is a camel. Theoretically, only one in 10,000 camels are born albino, but we've been able to see only three so far.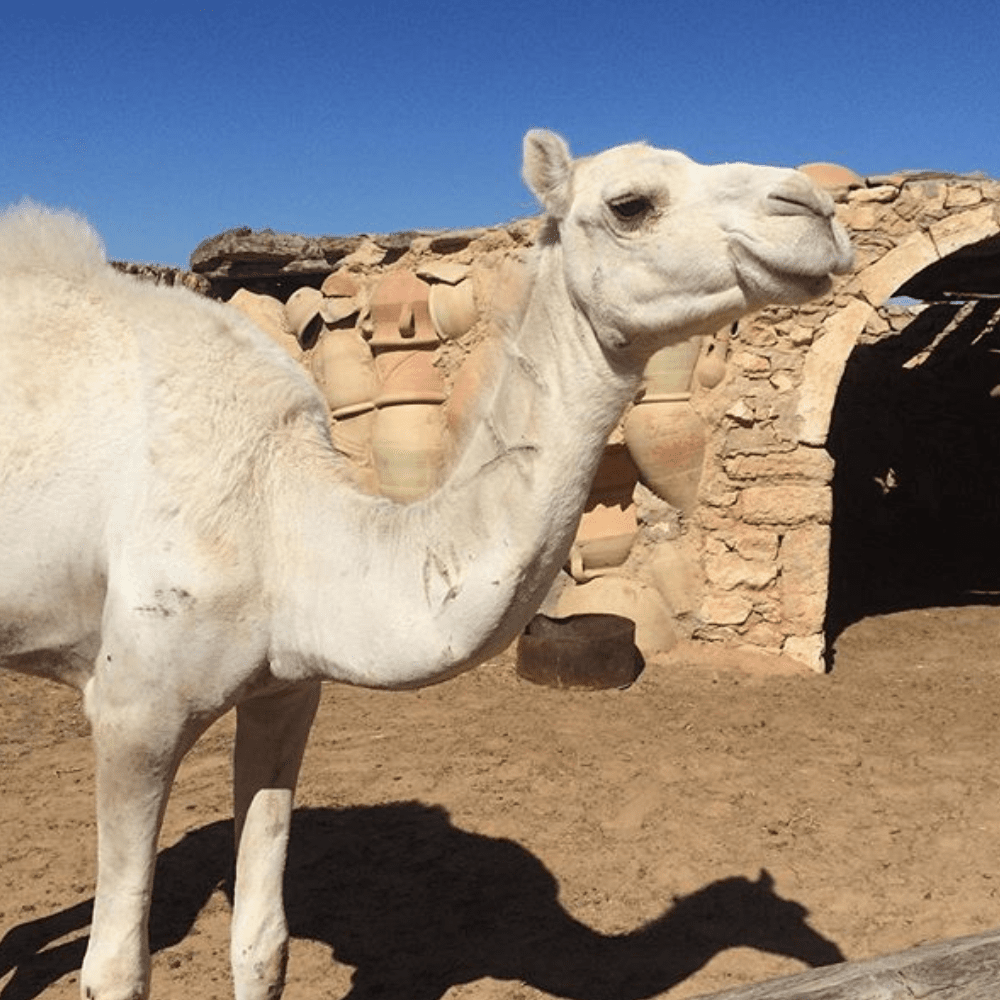 It makes the guy in the snap a scarce animal. It's white with pink eyes. We can't deny the fact that this albino camel looks distinct with a white colored coat in contrast to the typical brown.
The Albino Capybara
The white-colored capybara is about the size of a small dog; it has brown patches and a small tail. It lives in large groups, with the females and young at the center of their social group and males on the periphery.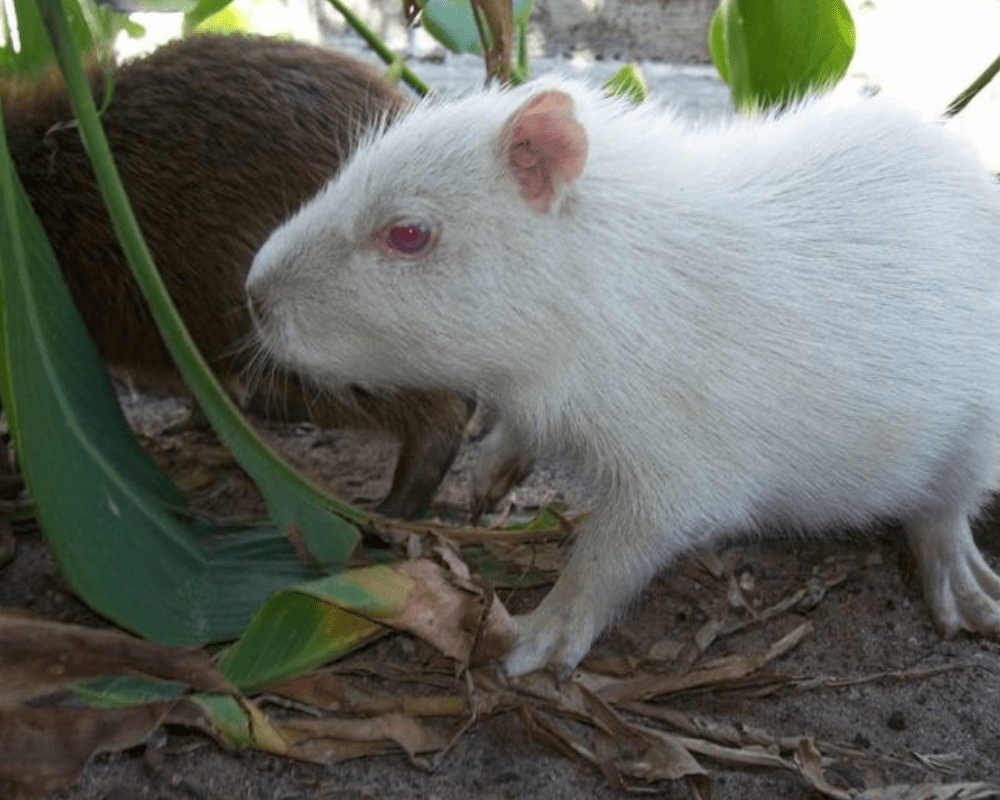 The capybara is an herbivore that feeds on leaves, grasses, fruits, and aquatic plants. It can hold its breath underwater for up to five minutes! The albino capybara pet is relatively rare but if you find one, ensure that you have a snap or two of the rare animal.
The Albino Bear
The bear is an example of one of the 45 rare albino animals you won't believe exists. It's a scarce species that are hard to spot. The fur on the bear's body is white, and its eyes are pink or red. It's easy to confuse the one in the snap with a polar bear.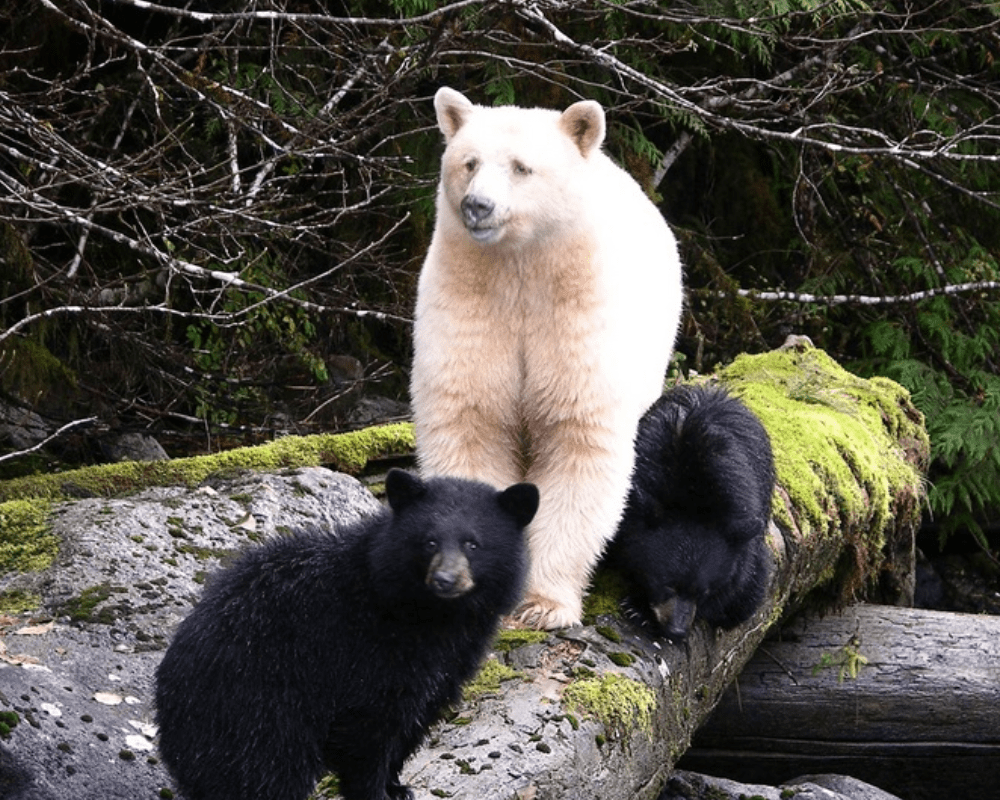 The fascinating fact is that it's not a polar bear but an American black bear with its two siblings playing in captivity. It indeed presents a stark contrast in appearance to black and brown bears.
The Albino Stag
Albino animals are both exciting and rare – the first documented albino deer was found in 1825. While this may be an old discovery, there's still much to learn about these fascinating creatures. The one in the picture looks amazing in its natural setting.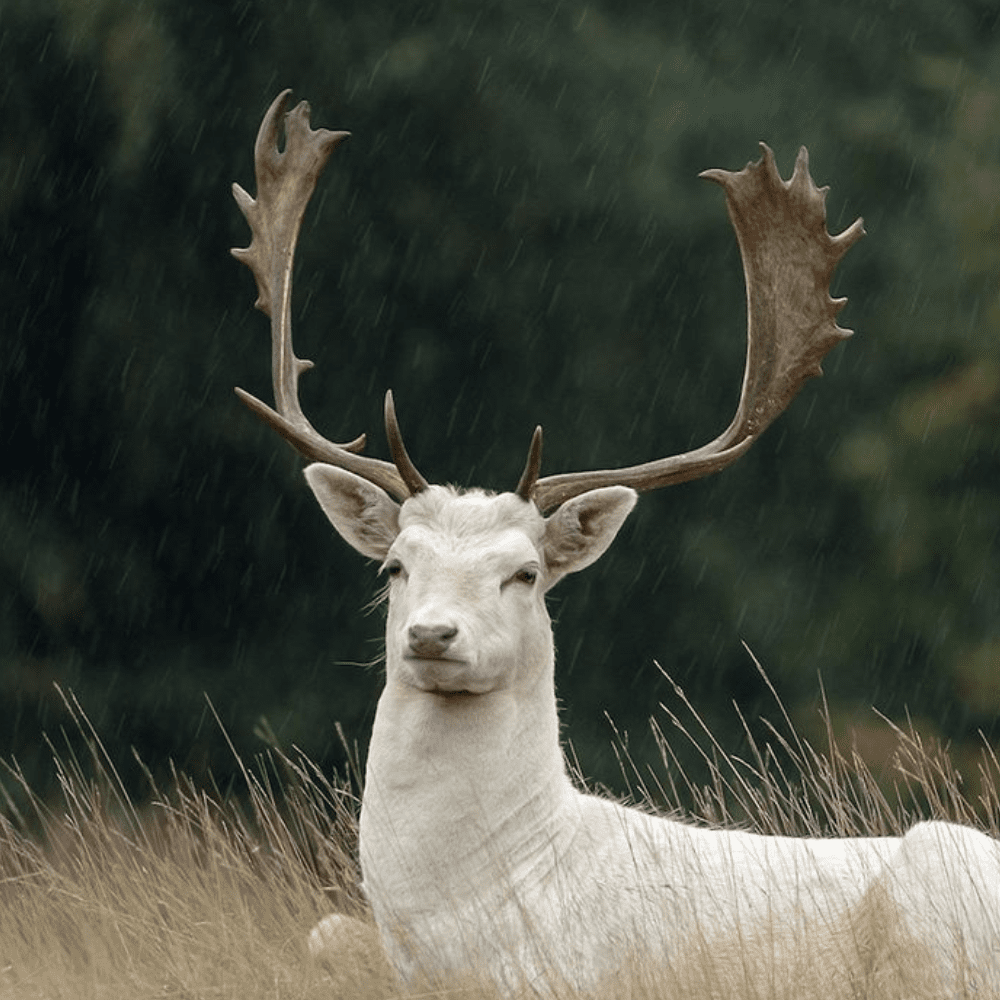 One can only wonder at the wizardry of nature! Whatever experts might say, the albino stag does provide some amazing photography opportunities.
The Albino Hedgehog
One of the rarest animals on earth is an albino hedgehog. Though they're a rarity, these white creatures have the same habits as regular hedgehogs and must be kept away from light, or they could get sunburned.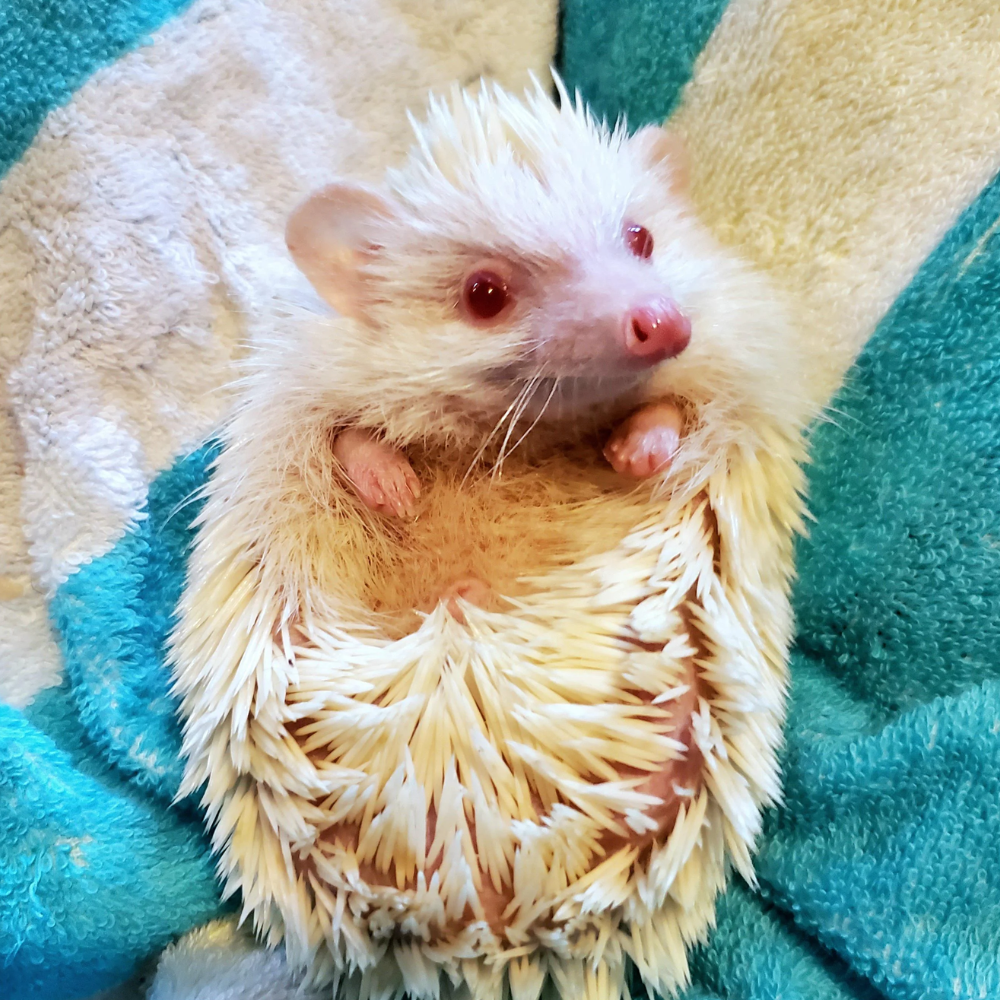 Their quills are sometimes black rather than brown, and they have red eyes because they lack melanin. Like other typical hedgehogs, the one in the picture is nocturnal, meaning it sleeps during the day and hunts at night. But it sure looks grand and majestic!