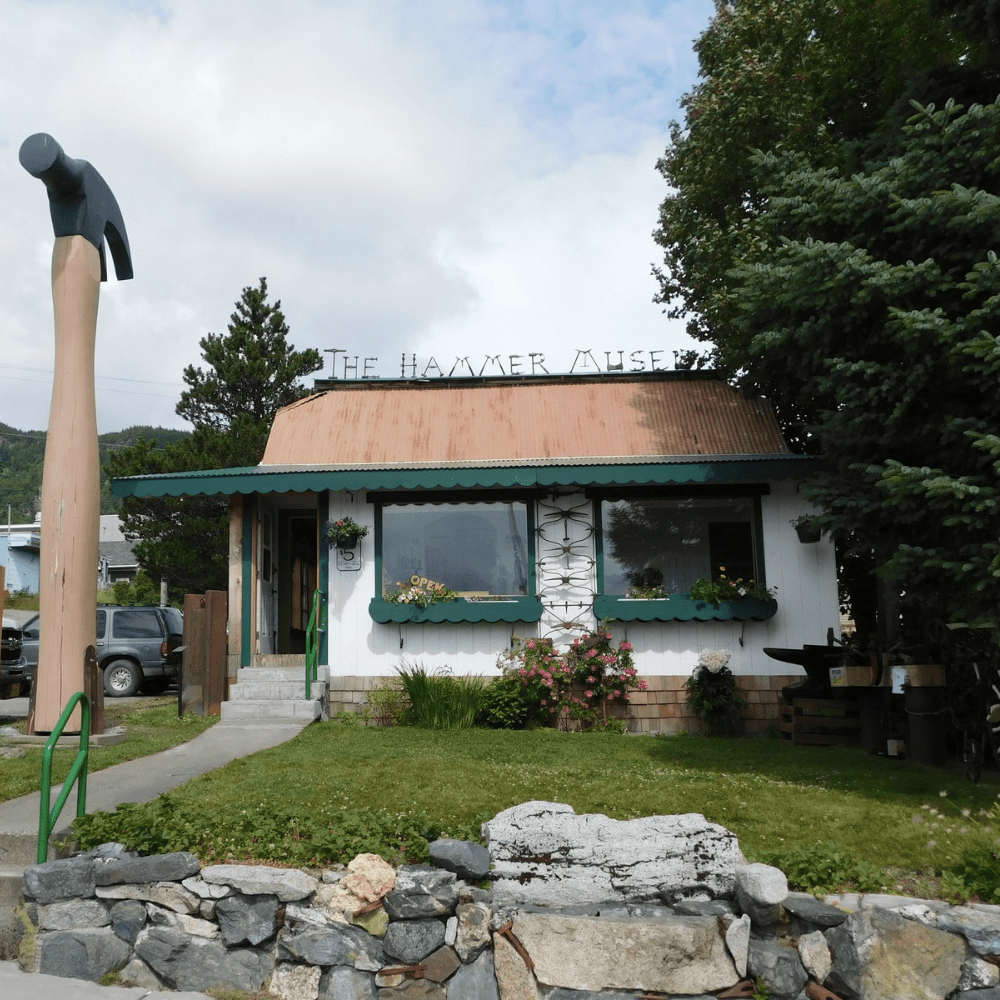 Dave Pahl's fascination for tools took a new turn when he began his life as a homesteader in 1980, in the small town of Haines, Alaska. While there, he built an off-grid, one-room log house for his growing family and soon found himself being fully involved in using tools for most things. Eventually, he was drawn to his muse, the hammer!
The Hammer Museum
By 2002, Pahl's vast collection of hammers, found in estate sales, eBay, and purchases on family vacations, led to the opening of the world's first hammer museum. His cataloged collection of over 2,500 hammers, each with its own fascinating history, is now housed in a 100-year-old cottage he and his wife Carol bought in Haines to house his precious curios. To mark the museum's location for cruise ship tourists and local visitors, he even erected a 19-foot tall hammer on the front lawn of the museum.
The Collection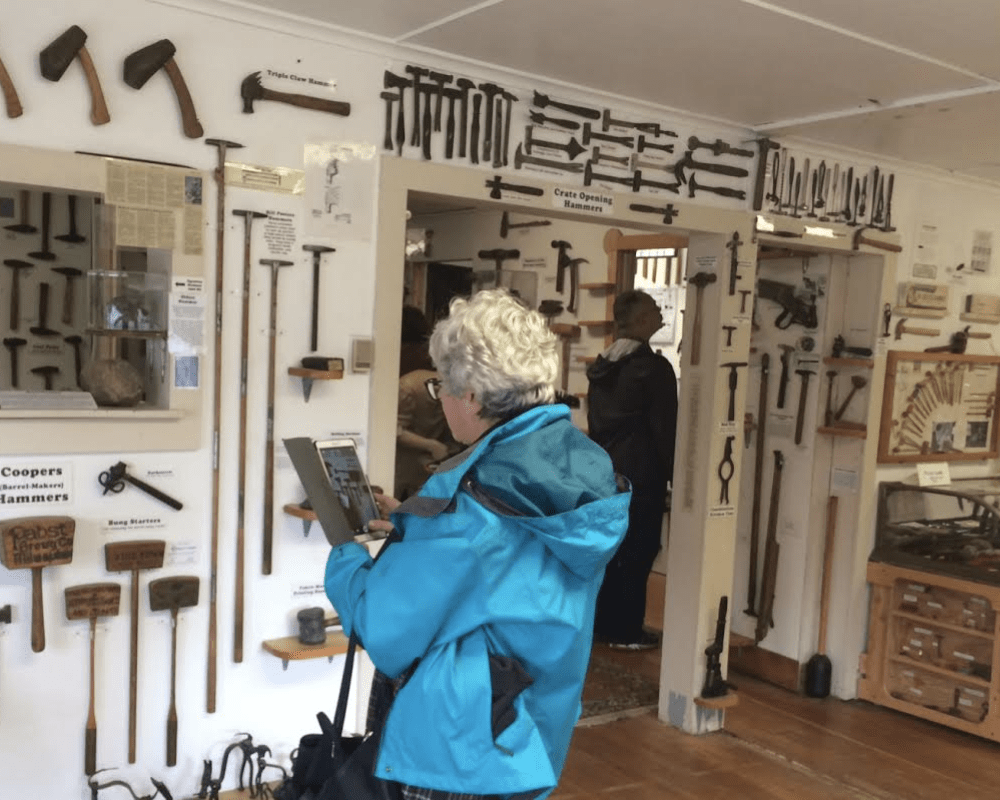 The collection holds the world's most ancient tool in its multiple forms, made from a variety of materials, like metal or wood, and designed for specific purposes or uses. In fact, as Pahl says, every profession had a hammer specific to its industry. Hence the museum has many varieties from a rock hammer used in the making of the Pyramid of Menkaure, Egypt, to 1960s small mallet drink hammers that New York's bar-goers used to summon refills. Pahl admits that his personal collection of hammers expanded when visitors contributed to it, and when the family of a hammer collector, Jim Mau from Arizona, donated his collection to the museum after his passing.
The Importance of the Museum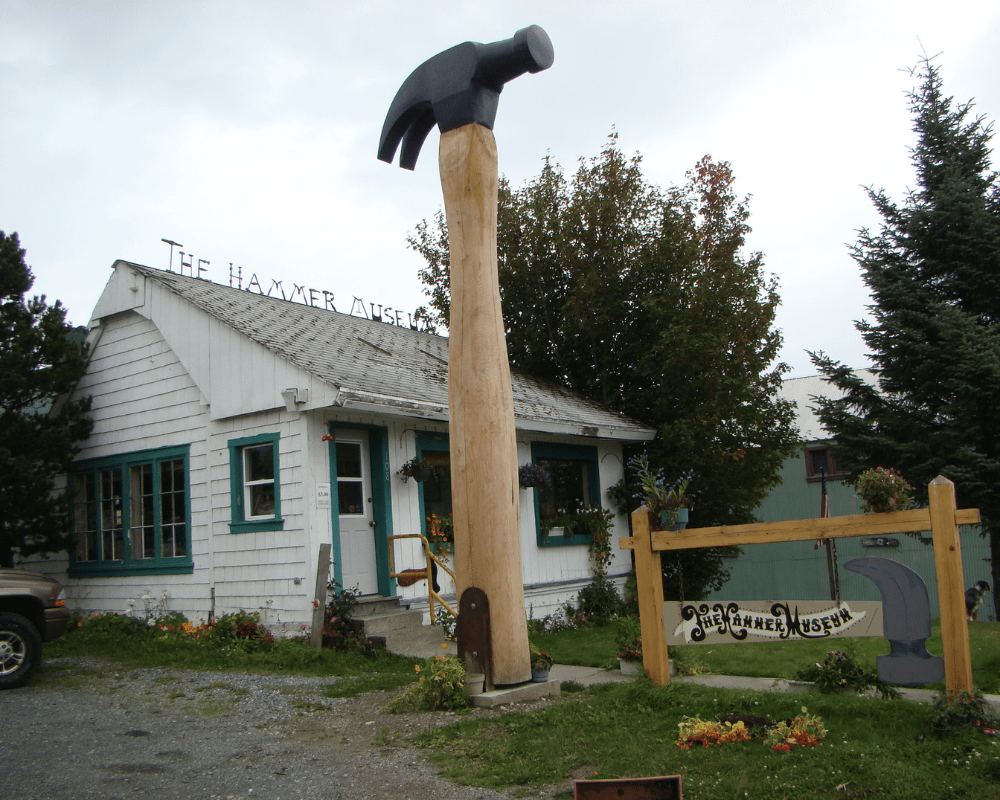 The fascination of the Museum is not the great collection, but the character that Pahl is able to bring to each of the pieces. He is known as one of the most knowledgeable hammer collectors in the world today and has an answer for every inquiry — a child asking to identify a hammer for a school project or an art director seeking validation of the type of hammer to be used in a reenactment. To help collectors and the curious to know more about hammers, he self-published a book of 200-pages titled, The Improved Hammer: A Guide to the Identification, History, and Evolutions of the Hammer. He concludes that the purpose of building the museum was to preserve the anecdotes and the history of hammers and secondly, to give youngsters today a hands-on experience despite their preference for automation!