King Alfred's Tower
King Alfred's Tower in Somerset, England is more decorative than anything. The structure is named after Alfred the Great, who won a battle there.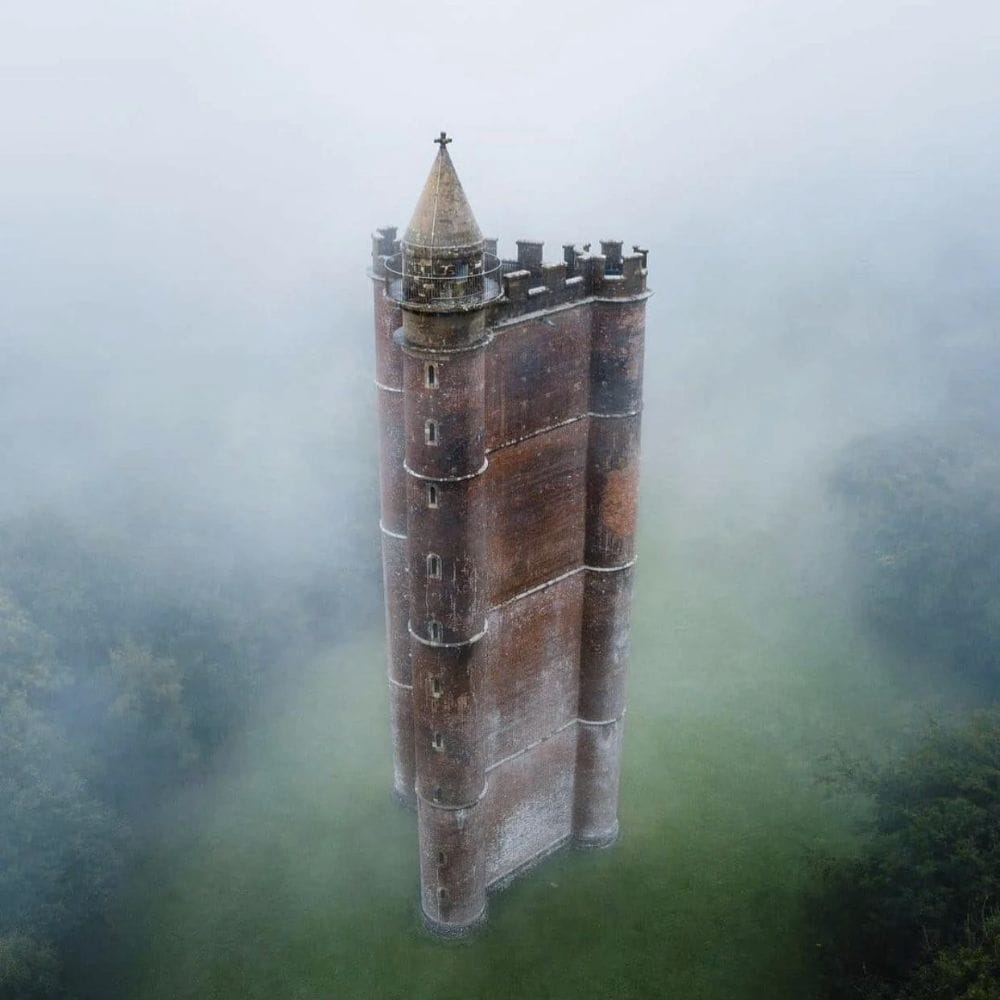 Giving off serious Rapunzel vibes, the castle's topmost level can be reached through a spiral staircase. With stunning views to feast your eyes on, this castle is a must-visit for all tourists. It's also a testament to how some buildings serve no purpose other than just being a mark of success and victory.
The Crooked House
Built in 1765, the crooked house is a building that's – as the name suggests – crooked. Standing on a mine shaft, it has slightly sunk to one side over time due to mining practices and it now appears lopsided.
The crooked house is actually a place where people can socialize in the UK and is a favorite among tourists and locals alike. Be careful though, if you suffer from vertigo, this building might not be the one you want to step in.
Hằng Nga Guesthouse, Vietnam
Also known as Dalat Crazy House, the Hang Nga Guesthouse resembles a giant tree and is as bizarre a guesthouse as it could be. The place was designed by Vietnamese architect Dang Viet Nga and is marketed as a fairy-tale-themed house.
The house has a lot of twists and turns, nooks and crannies, and other things that make it mysterious and magical. With handcrafted furniture and numerous sculptures, it truly is an experience you'll never forget.
Monsanto Houses, Monsanto, Portugal
The houses in Monsanto, which are in use even today, are a huge tourist draw for people visiting Portugal. These buildings are highly unique as they are built around, between, and under gigantic boulders that are scattered around the tiny village.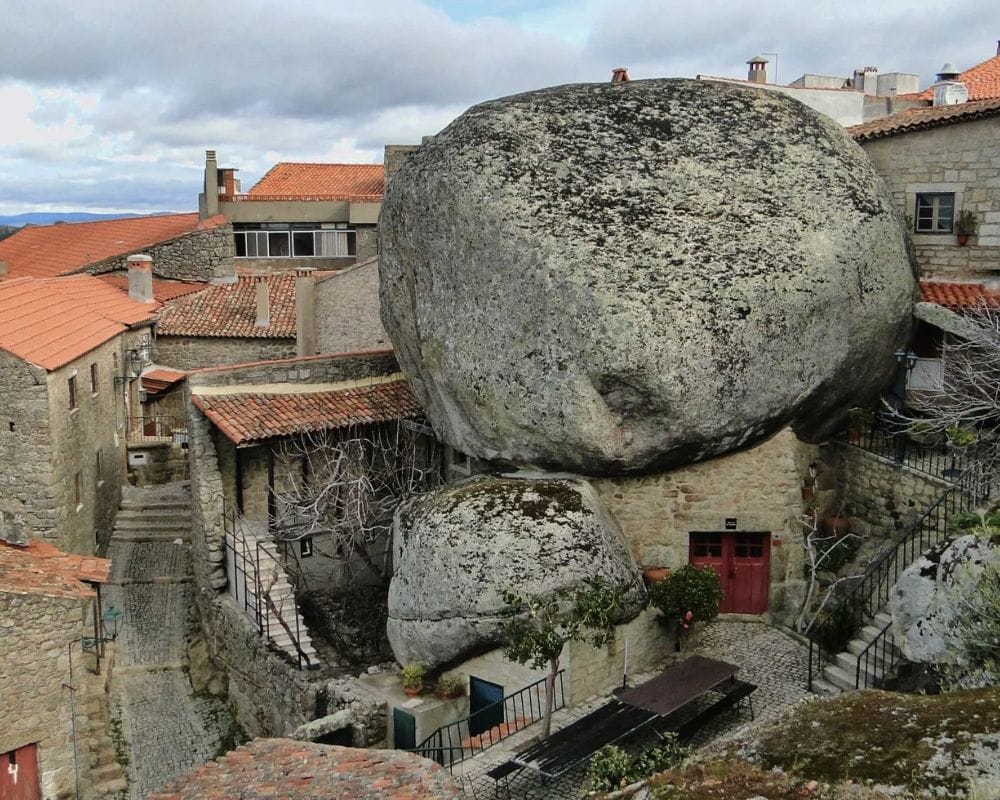 The boulders become everything, from the walls to the roofs of these bizarre and truly one-of-a-kind houses. Some of these boulders even have doors fitted into them! The village has been given heritage status, so it's here to stay!
Eliphante Art House, Cornville, Arizona USA
You know you've built a truly bizarre and unique house when tourists start flocking the place, even making appointments to visit and view it. This is the story of Eliphante Art House in Arizona.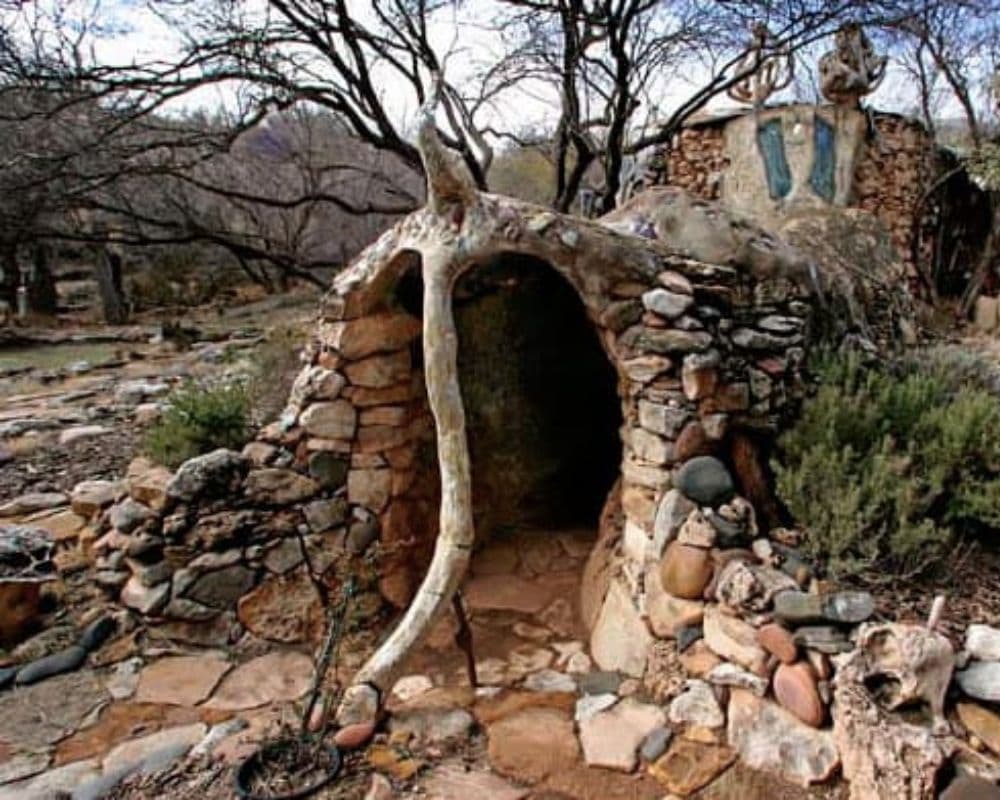 Named for its differently shaped entrance, the house was built by artist Michael Kahn and his wife Livant in 1979. The duo finished the house 28 years later. The house is filled with curves, stone mosaics, and intricate wood and is a true artist's abode.
Unzipped Building
The name of the building itself explains very well what the concept is. The Unzipped building in Milano, Italy is a piece of art wherein the building seems to be unzipping itself, like a pant.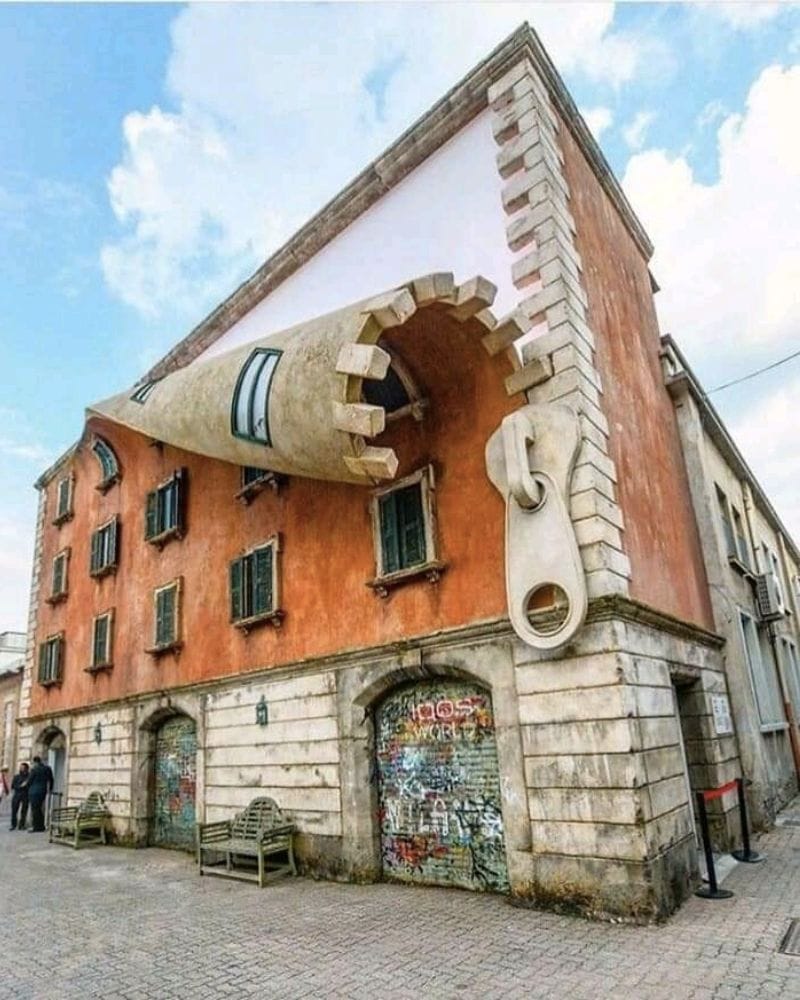 The building was a part of an art installation by Alex Chinneck in 2019 for the prestigious Milan Design Week. The facade is a front for a former car repair shop and is now being used for events.
Sanaa, Yemen
Yes, it definitely looks like a gingerbread house, but it definitely wasn't that easy to make it. This is the largest city in Yemen, and it's full of buildings that are made of rammed earth.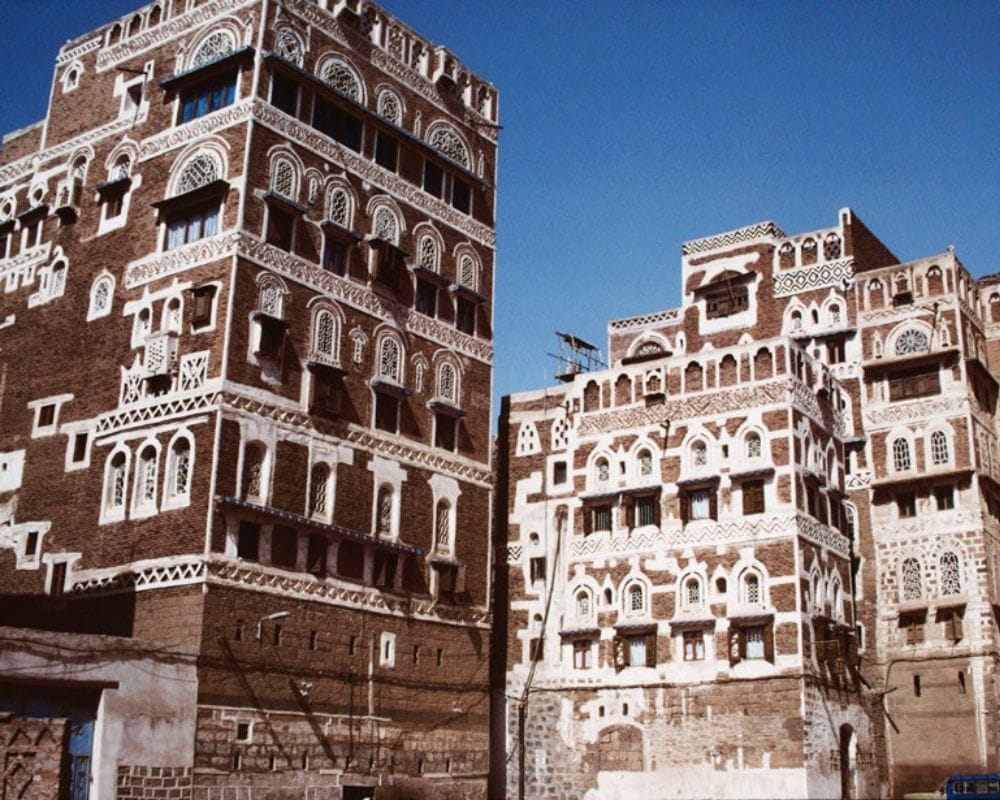 Red and white, the multi-storeyed tower houses make the city a beautiful vision to behold. The buildings date back to almost 2,500 years ago and have stood the true test of time while retaining their elegance.
The Ancient Cliff Houses, China
These houses, or rather rooms, are built into a cliffside, 57 miles from Beijing. Situated near a natural spring, the 110 ancient rooms on the cliff are also known as the biggest maze in China.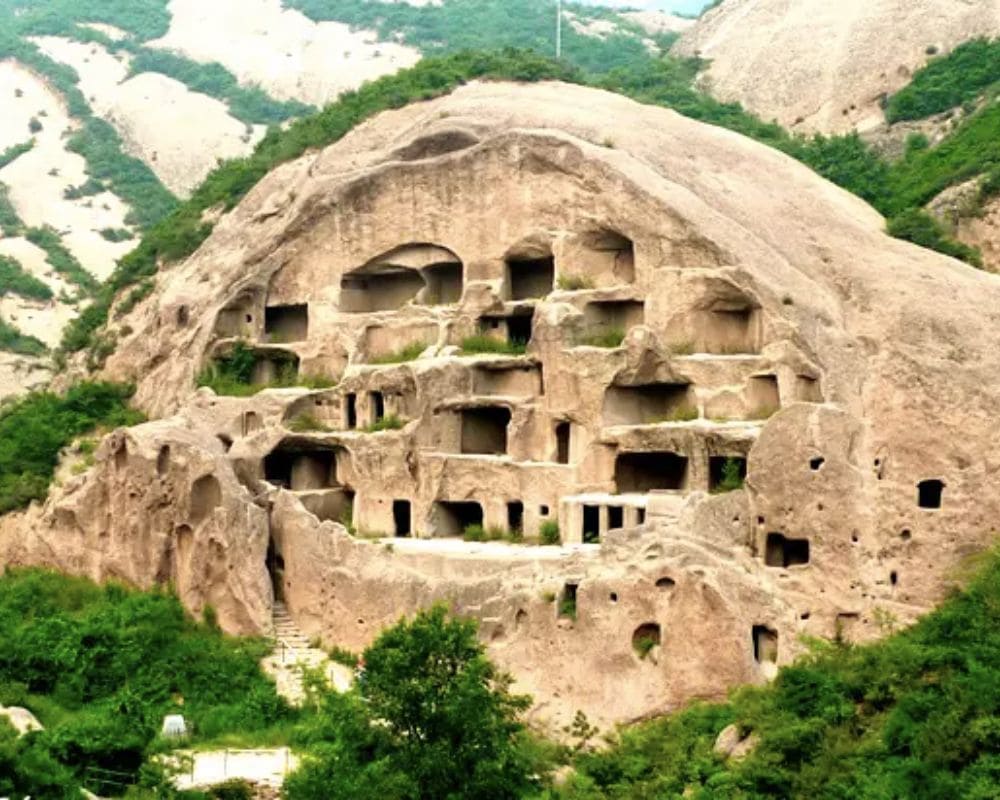 The largest cliff residence is connected by stone steps and ladders. On the inside, stone hearts, beds, and wardrobes were also discovered. These houses are true testaments of how advanced and resourceful ancient humans actually were.
Peles Castle, Romania
Just looking at the absolutely gorgeous Romanian castle gives the feeling of stepping into a medieval gothic place. But it exists in today's time, in Prahova Country, Romania, and is a site not to be missed if you're ever in the region.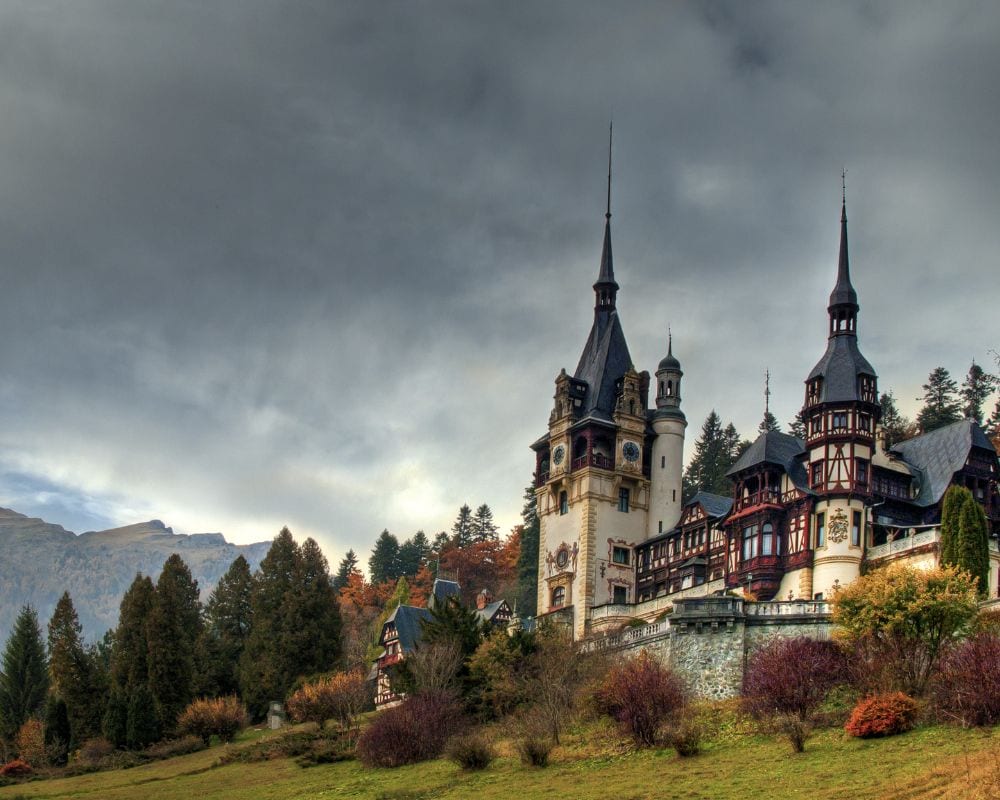 Owned by the Romanian royal family, the castle is known for its technology embracing history. This was actually the first European castle to have electricity, not to mention its own power plant.
The Hole House, Switzerland
This house is the brainchild of two architects, one with a dream of escaping to the mountains and one with a plot of land in the Alps. Seven years later, their union resulted in this gorgeous Hole House in the Swiss village of Vals.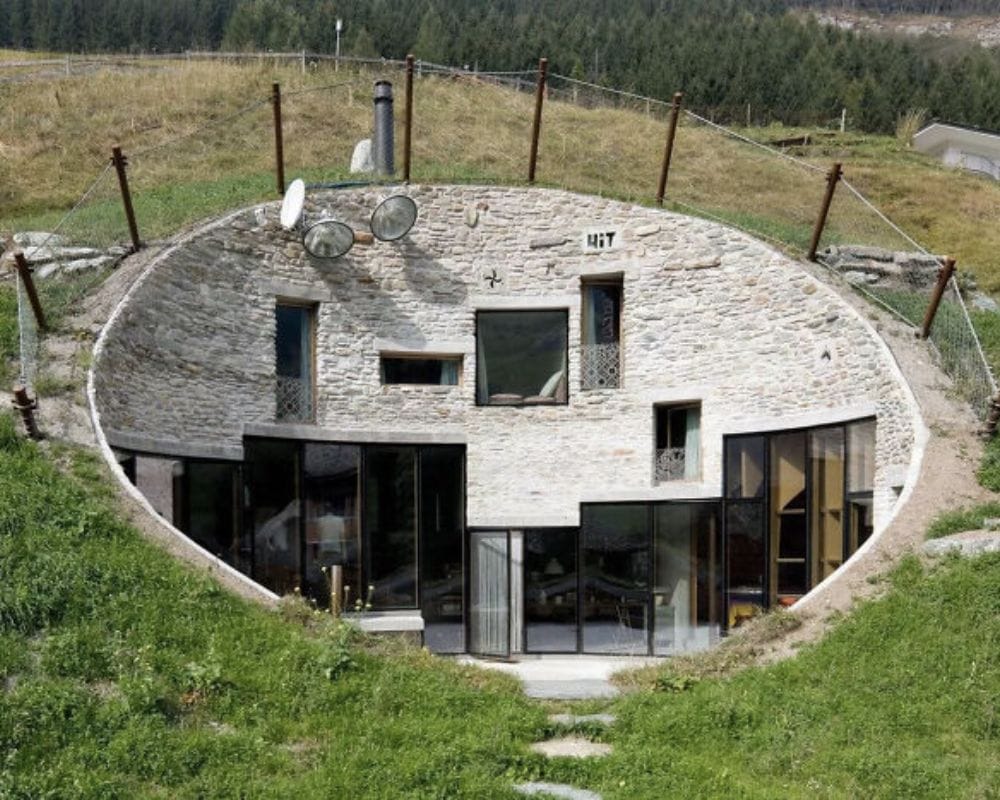 The house has four bedrooms, is flooded with light, and has views that you can get lost in. All in all, it's a pretty sweet house you won't ever want to leave.
Hang Nga's Crazy House
If Willy Wonka ever built a house, we assume it would look something like this crazy mess. Nestled in a relaxed mountain town in Vietnam, the house is a maze of spiral staircases, bright colors, hidden nooks, and sculptural bedrooms.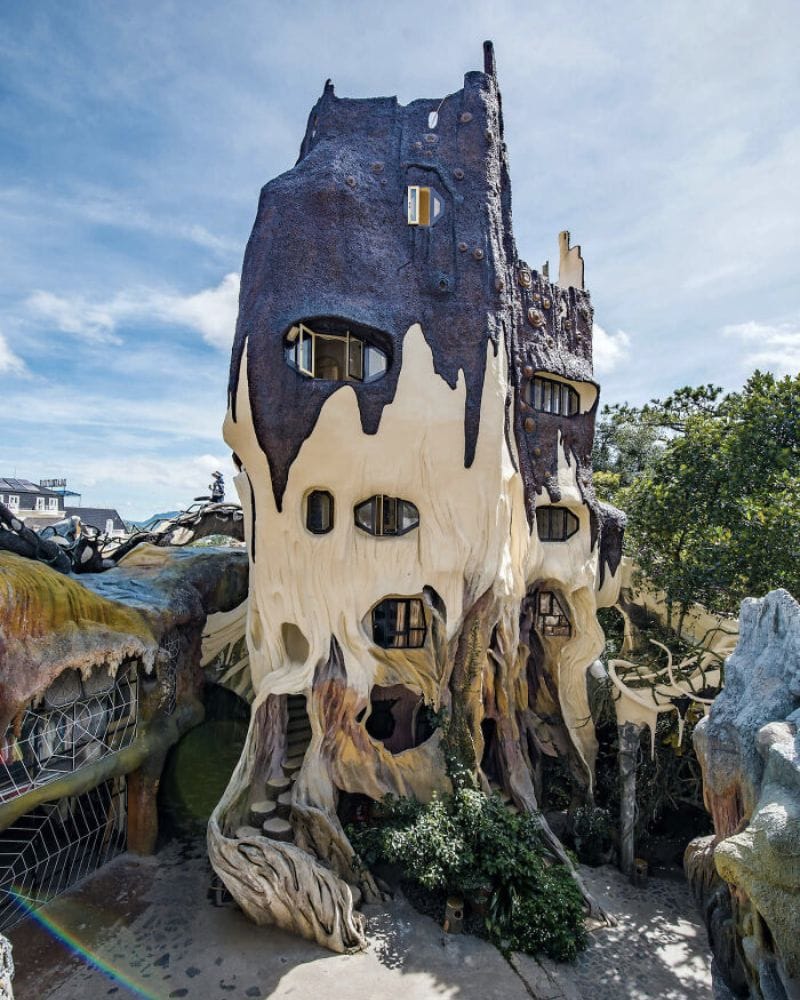 One thing is for sure, once you enter this weirdly beautiful house, you're certainly going to feel crazy yourself. Check the hidden nooks to see if there are any Oompa-Loompas hiding!
Inntel Hotel Amsterdam Zaandam
This four-star hotel is an impressive building with its many, many windows and gorgeous facade. Nestled in the Zaandam province of Amsterdam, the structure is actually built of stacked houses of almost 70 little houses.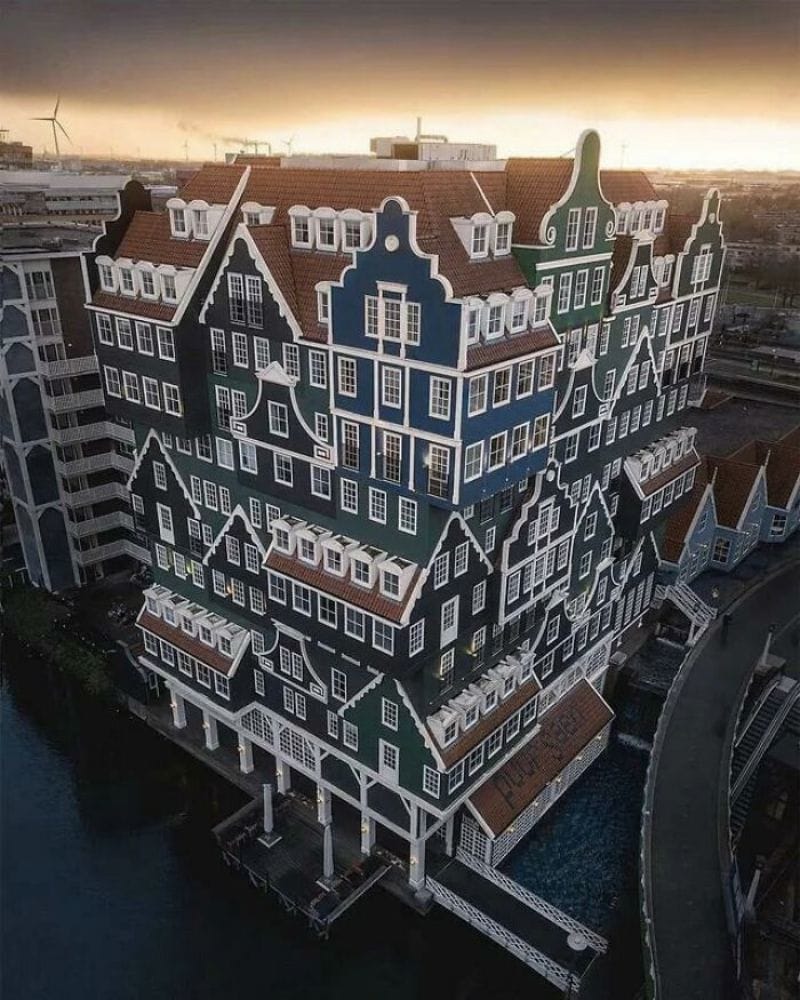 The four shades chosen for the building are actually variations of the traditional color of the region. This hotel is just one of the many stacked-house buildings in the area that are sure to delight you.
Lyon Airport Train Station, Lyon, France
There are many iconic train stations and airports in the world that are known for their beautiful designs. But hardly any of them beats the Lyon Airport Train Station in France when it comes to being beautiful but also pretty disturbing.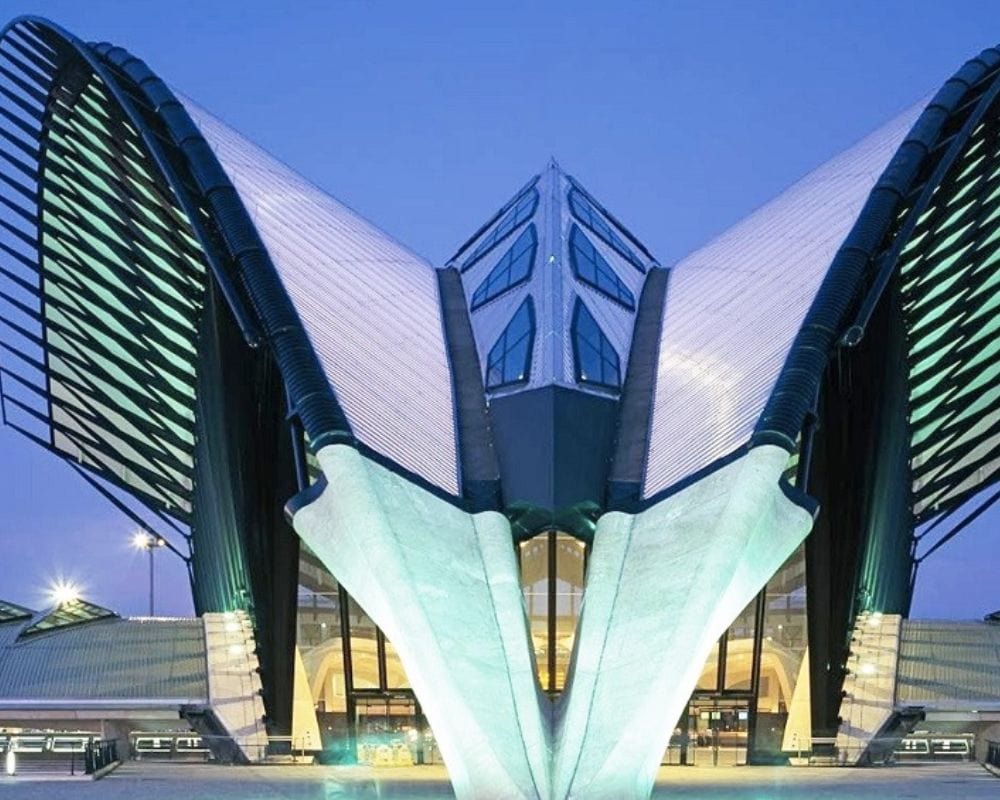 The inside of the station is a beautiful tapestry of blue, green, and yellow glass. But the outside looks similar to the helmet of a villain in a Power Ranger movie.
Jayson Fann Spirit Nest Homes, California
You might never be able to fly like a bird in the open sky, but thanks to artist Jayson Fann, you can now live like one. Fann invented these nest homes as getaways in California.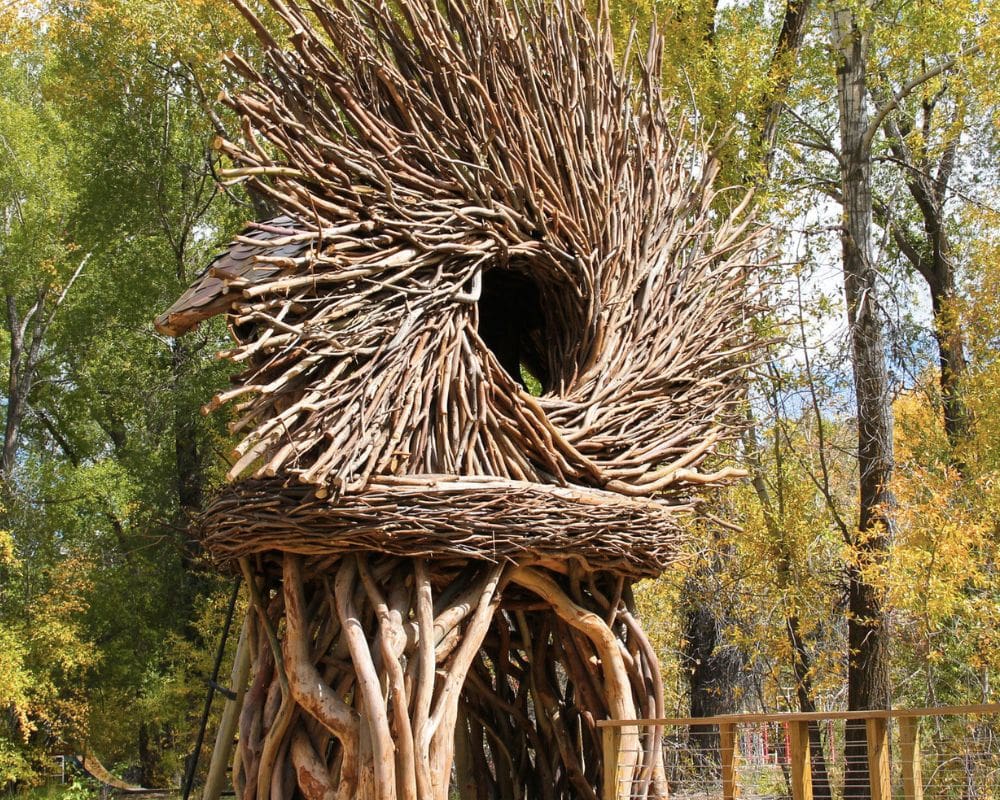 Doubling both as a forest getaway or a beach home, these houses are made with eucalyptus branches twined together to create sturdy small houses. These houses are also available for customization from Fann through his website.
Colin's Barn, Chedglow, England
This particular house looks like it started small and then grew over the years, alongside the forest. Which is exactly what happened! A very recent reconstruction that started only in 1989, the house was built by Colin, a farmer who got a little carried away.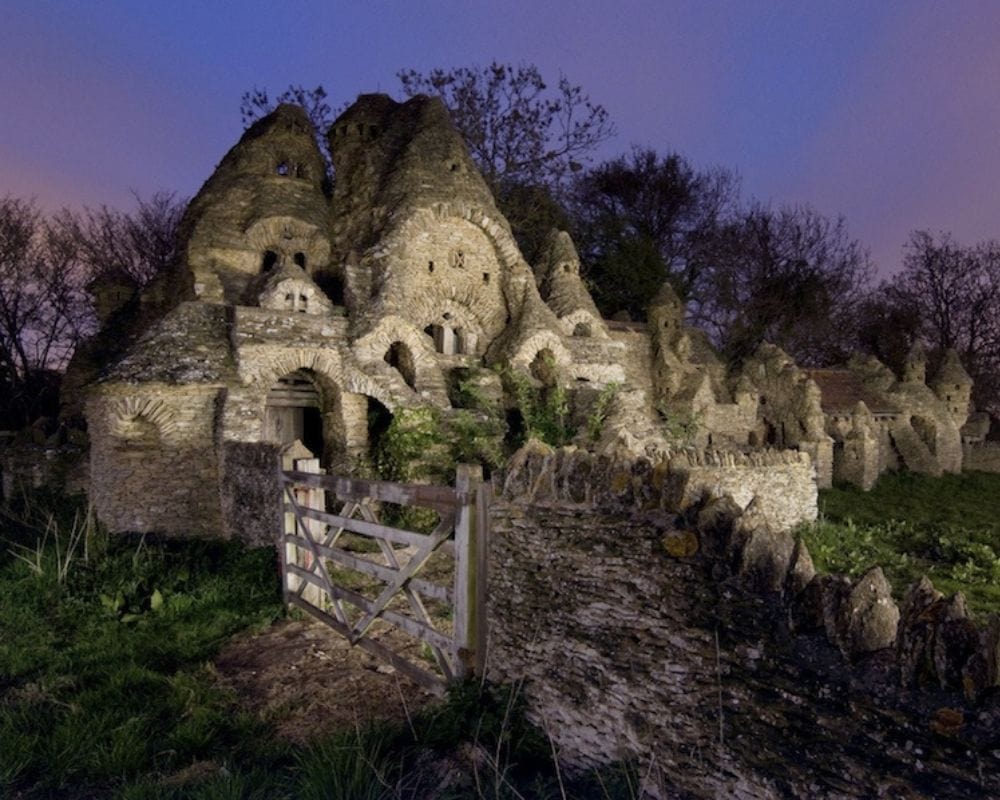 The house is also known as the Hobbit house, and is not accessible to everybody! The unfinished project lies in the forest, as Colin moved away in 2000.
Telescope House, Pennsylvania
This house has an ingenious design, as it actually looks like a telescope when it opens up. Built by Georgetown architect Hugh Newell Jacobsen, the house stretches towards the sky as each slanting roof gets progressively higher.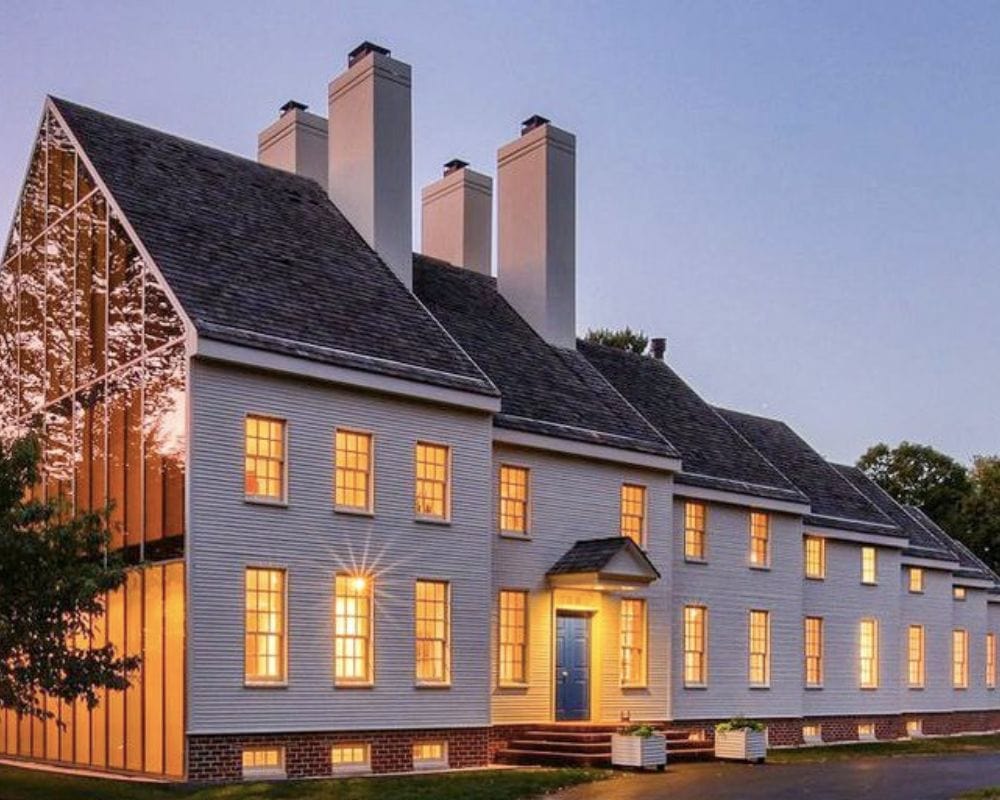 The $1.7 million house is made up of skylights, windows, and sliding doors that provide ample natural light to filter inside the walls. The unique design has made it a favorite amongst people of the region, and rightly so!
SelgasCano Office, Madrid
It is befitting that an architecture firm has an office space that's an absolute marvel, both to work in and to look at. This office is nestled in the woods and is a sure-fire way to get the creative juices flowing for the designers working inside.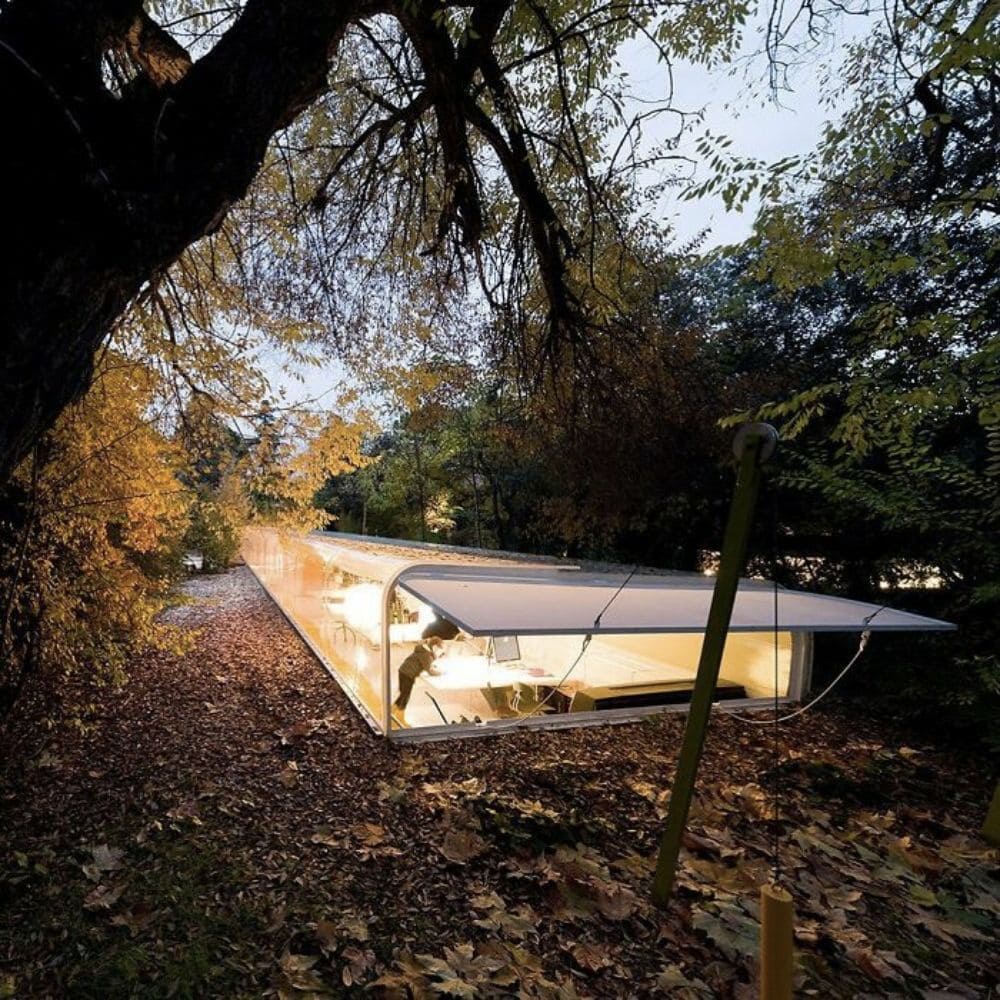 The tunnel-like office offers direct sunlight, thanks to the glass walls. Not to mention, it's a direct work testament of the firm itself.
Shenzhen Natural History Museum
The futuristic design for the Shenzhen Natural History Museum looks like something right out of a sci-fi movie and will soon be a reality. The design was chosen in 2020 and was shown to be a curved river-like structure.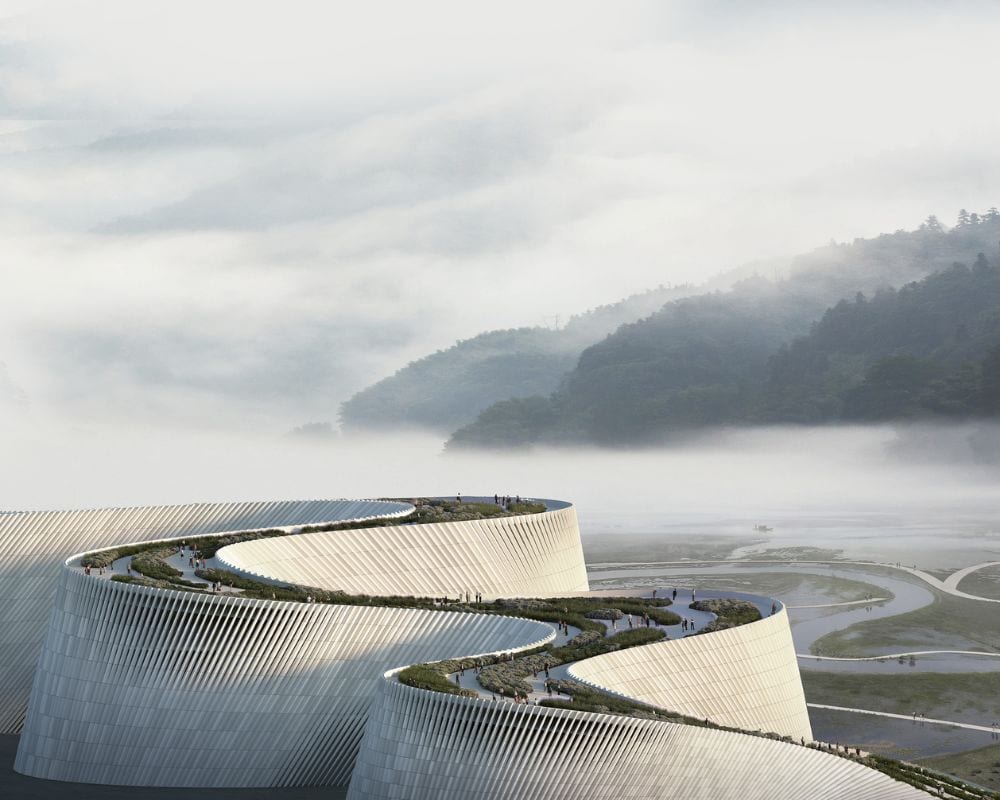 The design will be topped by a park accessible to the public and will act as a walkway along the curved building. A trip to this 42,000 sq ft museum is one you won't forget anything soon.
The Dunmore Pineapple in Dunmore Park
If you've ever wanted to stay in a pineapple, your wish can now come true. All thanks to the Dunmore Pineapple in Scotland. The summerhouse allows accommodation for up to four people and is a unique accommodation that's worth trying.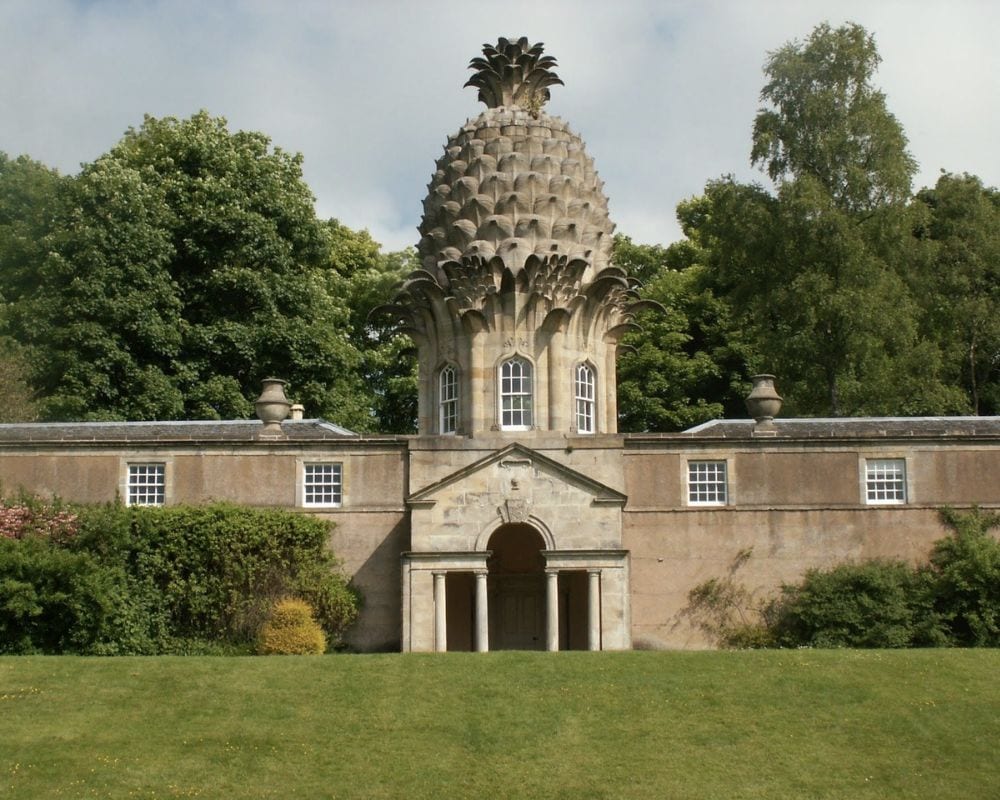 Built in the 18th century, the structure rises above the stone wall of a garden. It also has a private garden in the back, for those staying at the property.
Grasshopper's Dream Cafe, South Korea
Yes, you read that right. This absolutely bizarre structure is actually a cafe in Jeongseon in South Korea. Made by converting two train cars, the cafe resembles two grasshoppers joining together under the open sky.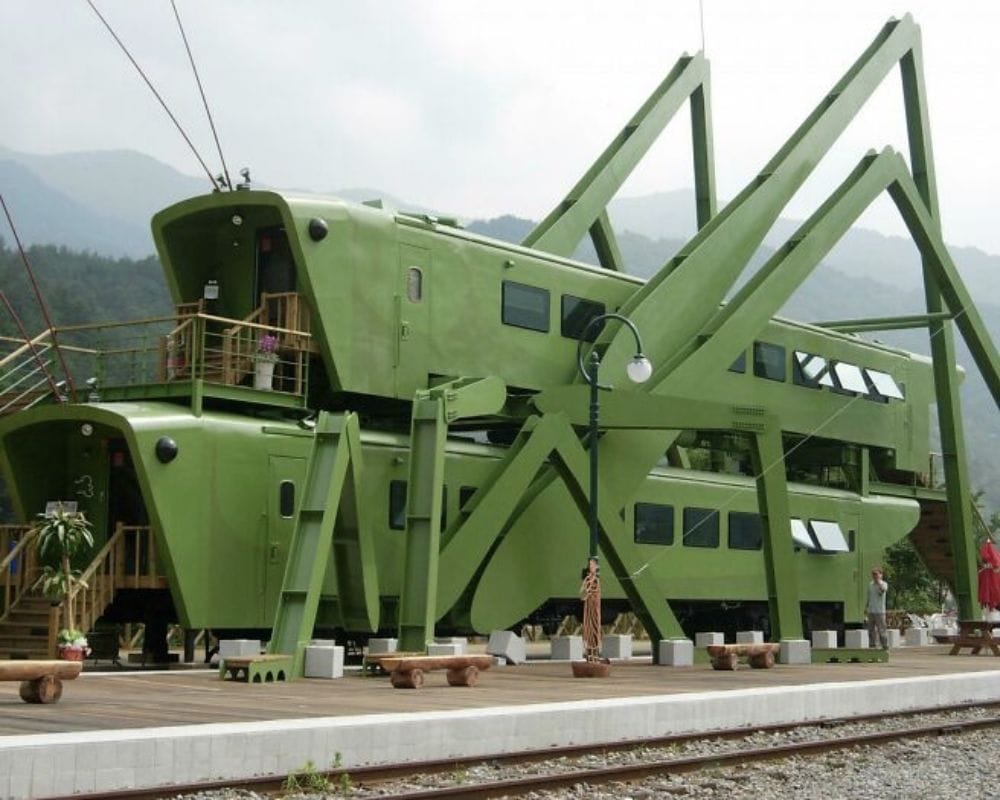 The giant insect-like structure houses a two-story restaurant inside. Situated next to a biking track, it's a definite moment of double-take for all riders when they lay their eyes on this weird mess.
Container House, California
Located in the desert, this container house became a viral sensation in 2017 when it was first unveiled. The house was already a part of many real estate listings back in 2020, even when construction was yet to begin.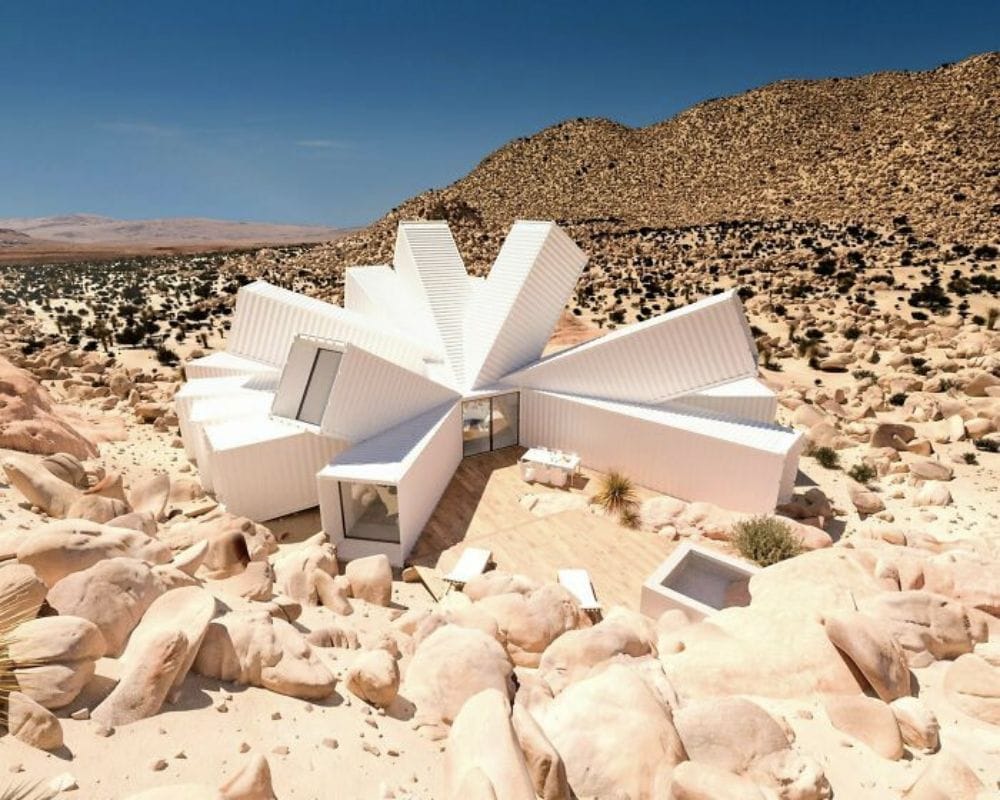 The property is made up of many shopping containers, painted white to reflect the light and keep the insides cool. The placing of the containers in the outward motions gives the appearance of the house looking like a starfish, with way too many hands.
Flintstone House, Malibu
This house was inspired by the beloved TV family the Flintstones and is all carved with rocks, befitting the Stone Age setting of the hit TV show.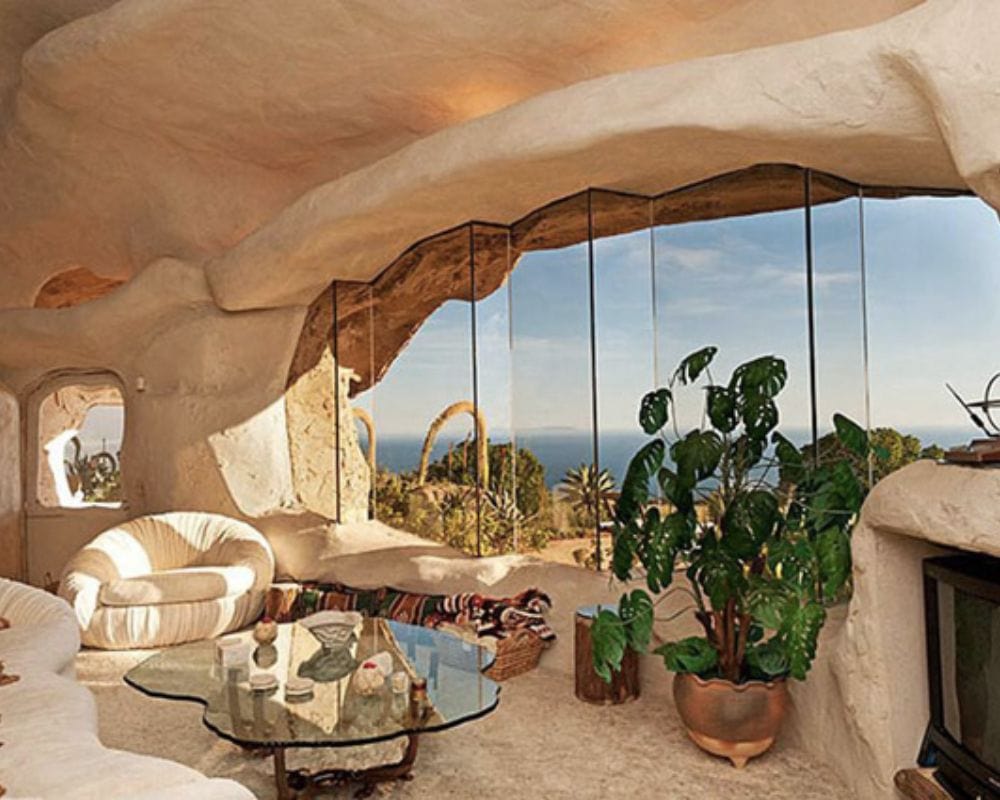 Built by radio personality Dick Clark, the house sits on a 23-acre land and is surrounded by beautiful views of the Boney Mountains, Serrano Valley, and the Pacific Ocean. The house is a step back in history, but with all the modern comforts of today's world.
Harbin Opera House
The Harbin Opera House in China is another building that'll blow your mind because of the way it's built. Designed by a well-known architect firm MAD, the building is the focal point of Harbin Culture Island.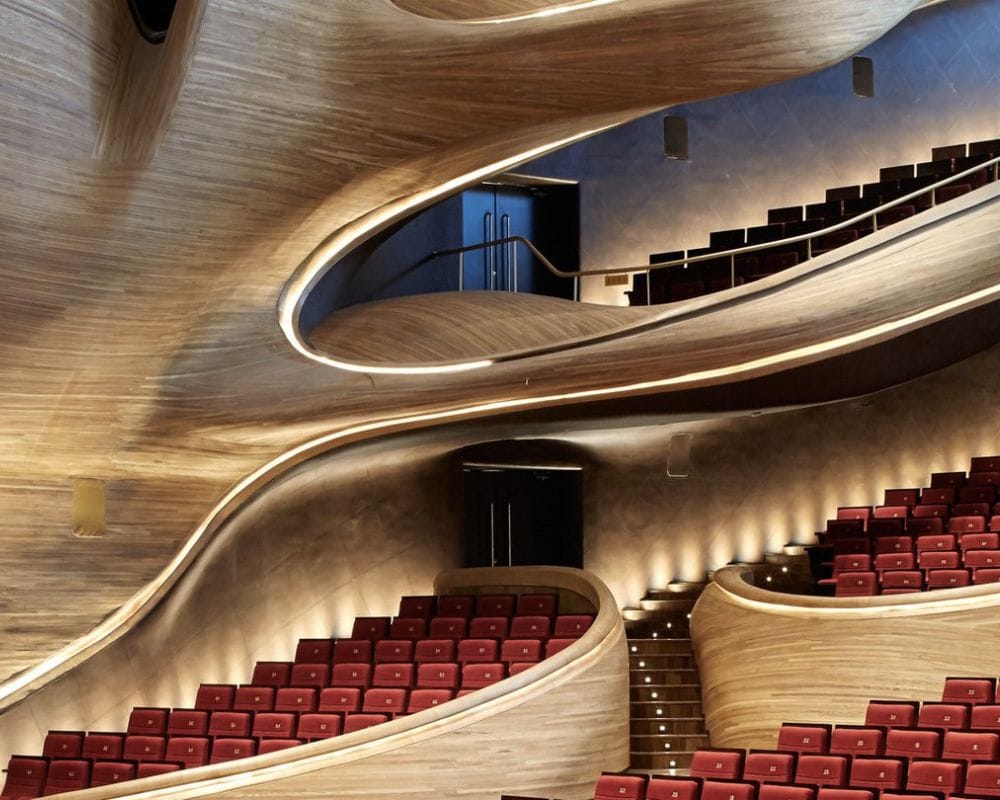 There's a grand theater that can seat over 1,600 patrons and a smaller one for 400 people. The mind-bending designs are minimalistic, futuristic, and a marvelous piece of architectural wonder. It's an Opera House like never before!
Flintstone House, California
The infamous Flintstone House of the Bay Area is a controversial piece of property. Owned by Florence Fang (yes, even the name is an eye-catcher), the house is a magnet for visitors with its colorful decor, Flintstone decor, and whimsy layout.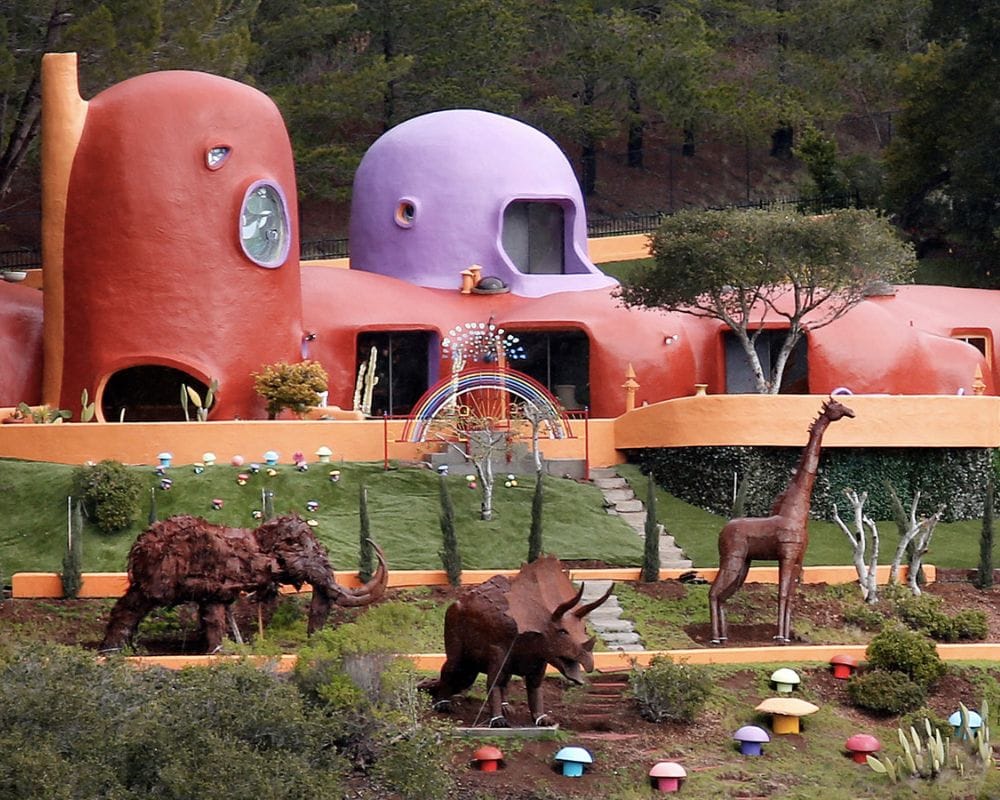 The Flintstone House has been served with papers for not having the necessary permits, but after all the struggles, Fang and her quirky house are free to run wild.
Beehive Houses, Syria
These really cool buildings are from way back in history, dating all the way back to 3,700 BC. Made from mud, straw, dirt, and stones, these Beehive Houses in Syria can be found in rural farming communities and deserts.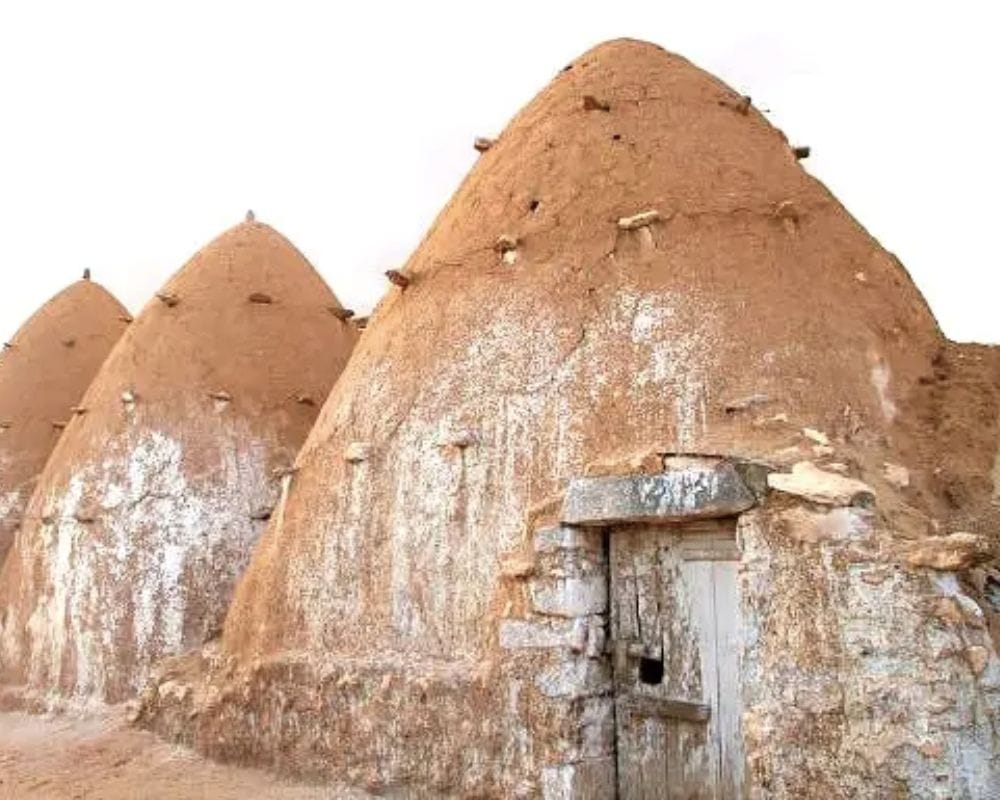 The conical shape on the top keeps the interior dry during rain, while the oculus hole at the top lets in light. These ancient houses are in use, even today, as storage barns and residences.
Leaning House, Canterbury
This is another whimsical building and another safe place for the book nerds to get lost in their fantasy land. This leaning house in Canterbury houses within it a second-hand bookshop that's a super-duper hit with all the tourists in the region.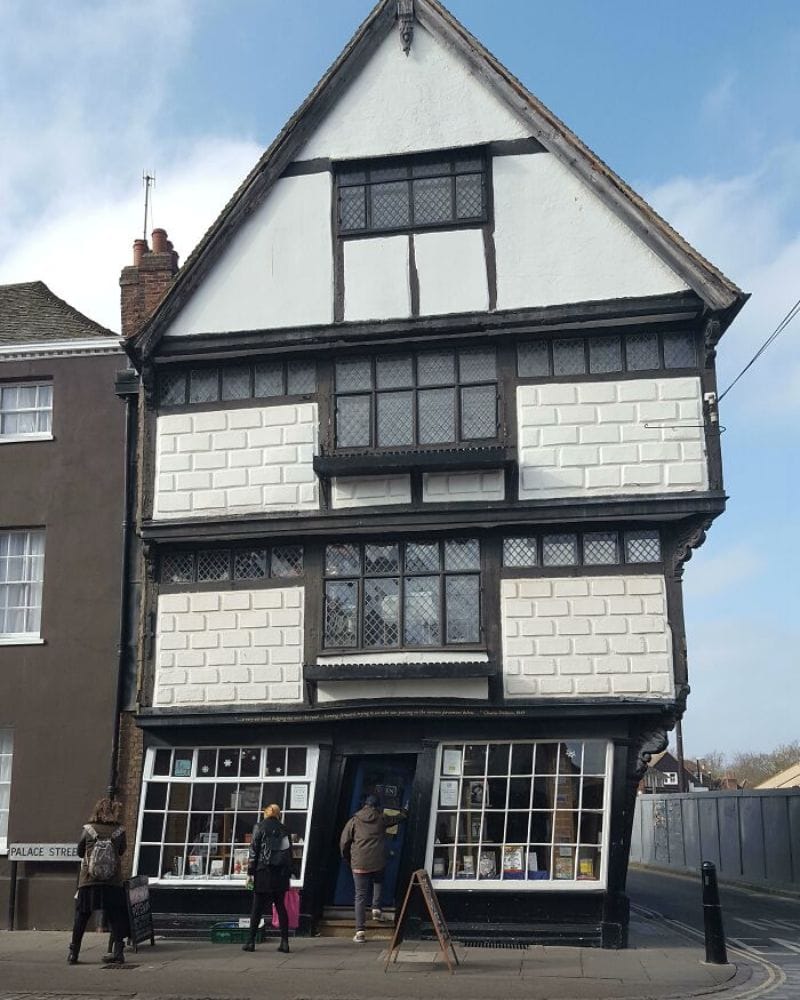 The crooked building seems to defy all the laws of physics with its slightly slanted structure. It's also rumored that it was actually inspired by David Copperfield, the book.
Casa Quinta, Colombia
If you've ever wondered what size the biggest drawer in the world is, we have your answer. The biggest drawers in this world are exactly the size of a building, which resides in Bogota, Colombia.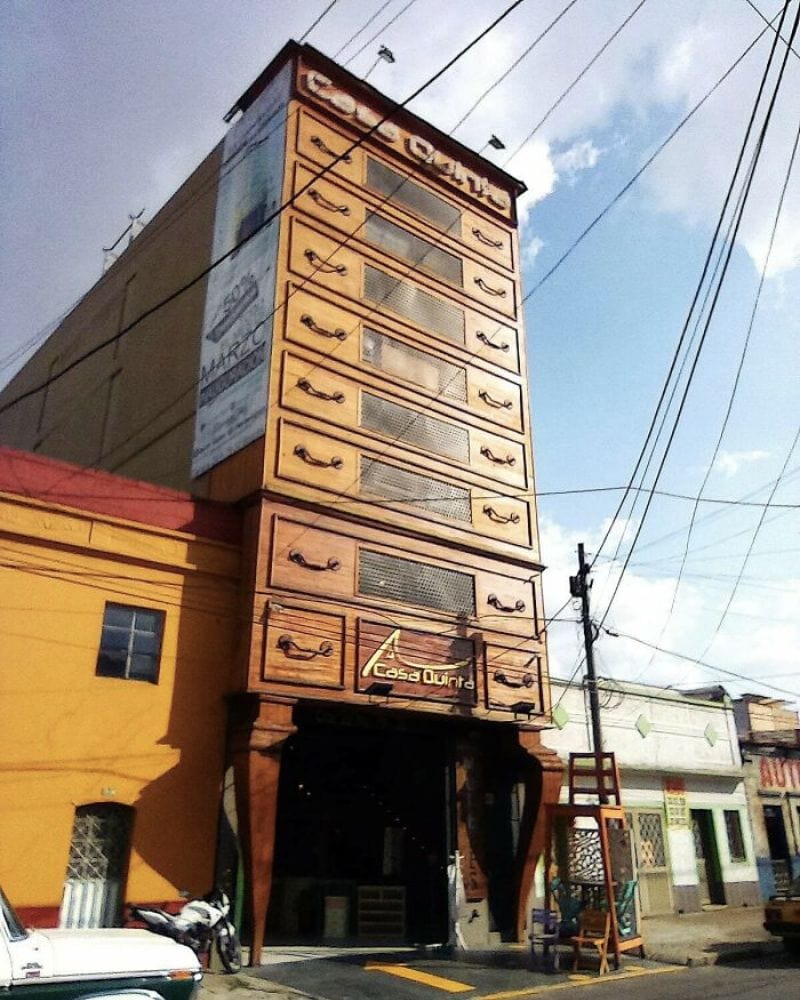 With the facade of giant drawers, it's a fitting design to house a furniture store. However, the building does have the internet divided on whether it's creative or an eyesore waiting to happen.
Grand Lisboa Hotel, Macau
The Grand Lisboa Hotel in Macau is a study of grandeur and opulence, standing at a height of 261 meters. The five-star hotel stands out even in the sea of hotels that is Macau.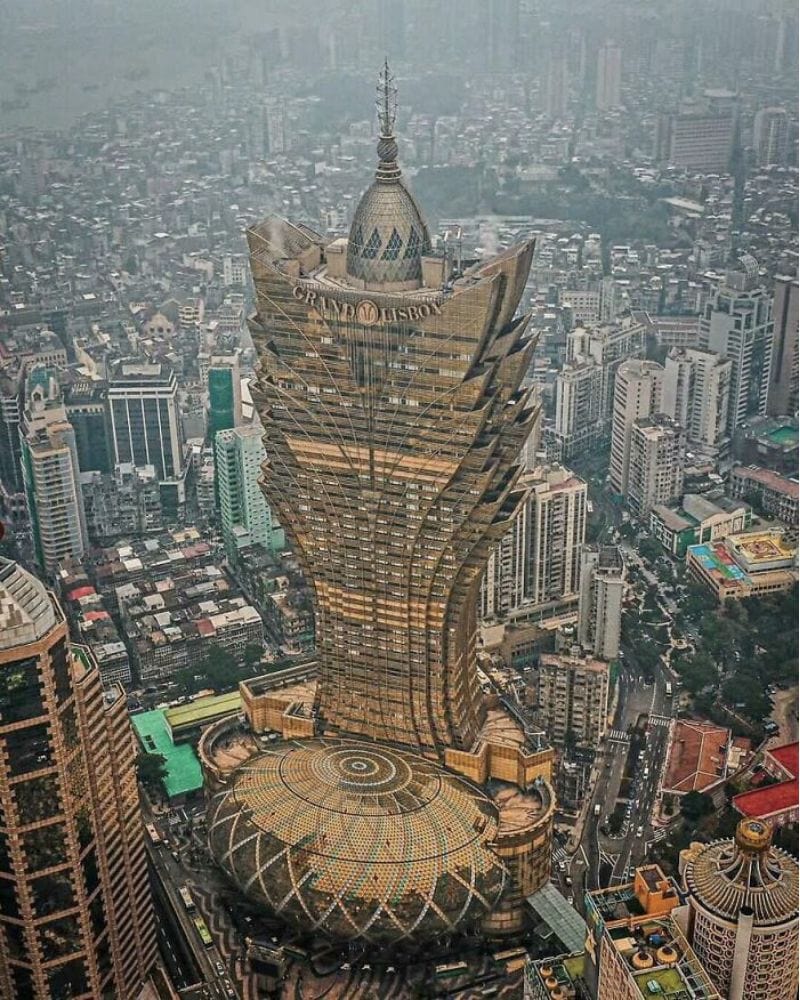 Just looking at the gold and sparkly building is enough to remind somebody of a disco ball. The only place this extended display of kitschy luxury looks like it belongs seems to be Las Vegas.
Keret House, Poland
This is an example of a unique house with modern architecture. The Keret House in Poland is the world's narrowest house, spanning only 48 inches in width. Architect Jakub Szczesny designed this house specifically for traveling writers.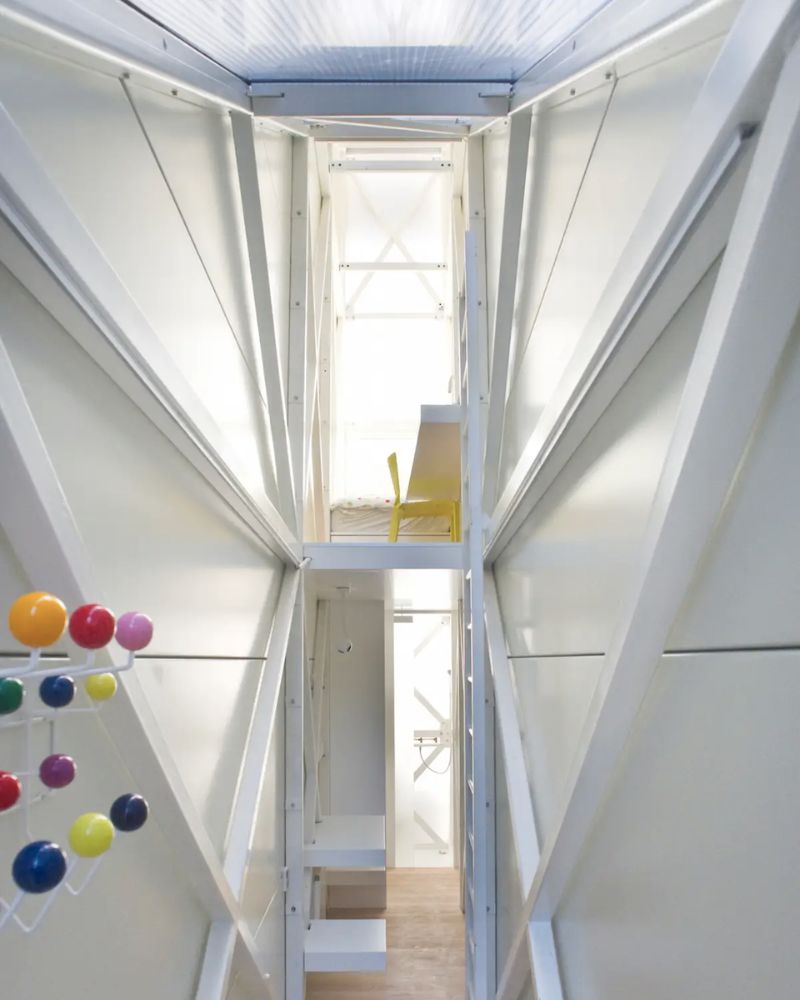 Squeezed in between two buildings, this building is in the center of Warsaw and is an iconic tourist destination in the city. If you're ever in the city and need a reason to appreciate open spaces, this place might just give you a reason to do so.
Seminole Hard Rock Hotel, Florida
Hard Rocks are all over the world. The hotel chain is known for being amazing, hip, and all-around one of the most trusted hotels. But none of them embody the spirit of Rock as well as their hotel in Florida.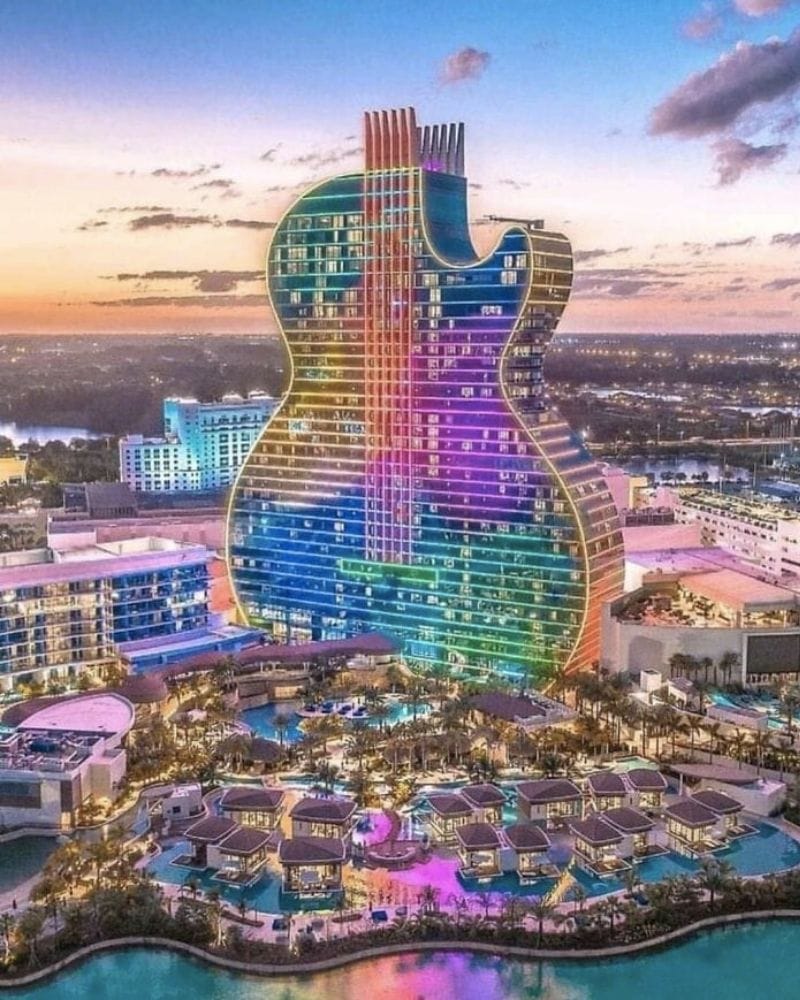 Shaped like a guitar, the hotel lights up in multiple colors and truly transports you to a rock concert with its exteriors. Either you love it or you hate it, there's no in-between for the Hard Rock in the sunshine state.
Industry City Building, Brooklyn
Take a look at the building below. Now look again. This isn't a screenshot from a 90's computer game but is actually a building situated in Sunset Park, Brooklyn.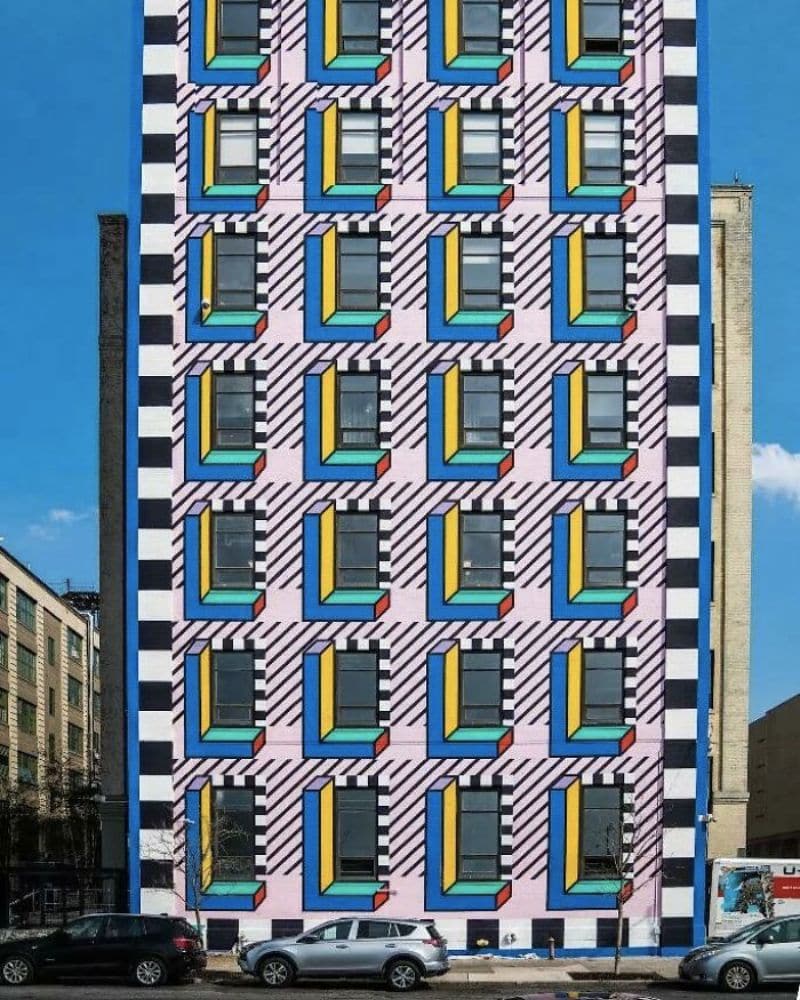 The Industrial Park Building is a favorite amongst the locals and a true head-scratcher for those who are just passing by. The building's exterior gives off the look of it being a part of a fun, digital game or poster.
Kvivik Igloo, Denmark
Yes, we have all seen and heard of the amazing creation of igloos, ice houses that are rounded on top. These modern adaptations of the design can be found in Denmark.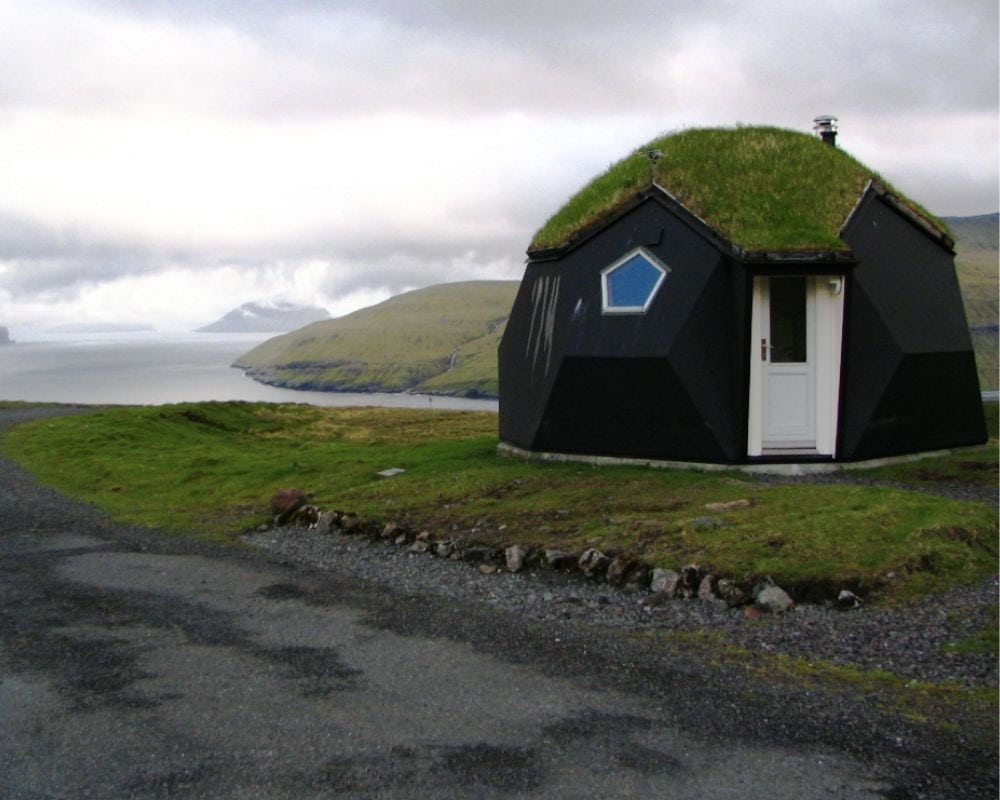 The houses, shaped like an igloo, are designed to accommodate tourists. Situated between the mountains and the bays, these houses are truly wondrous getaways for people looking to reconnect with nature with just the bare minimum.
Fallen Star, San Diego
There's always that one place in the house that your parents ask you not to go to. It could be the garden's edge or a particular room. For this house, we're pretty sure the kids just get told not to go in at all!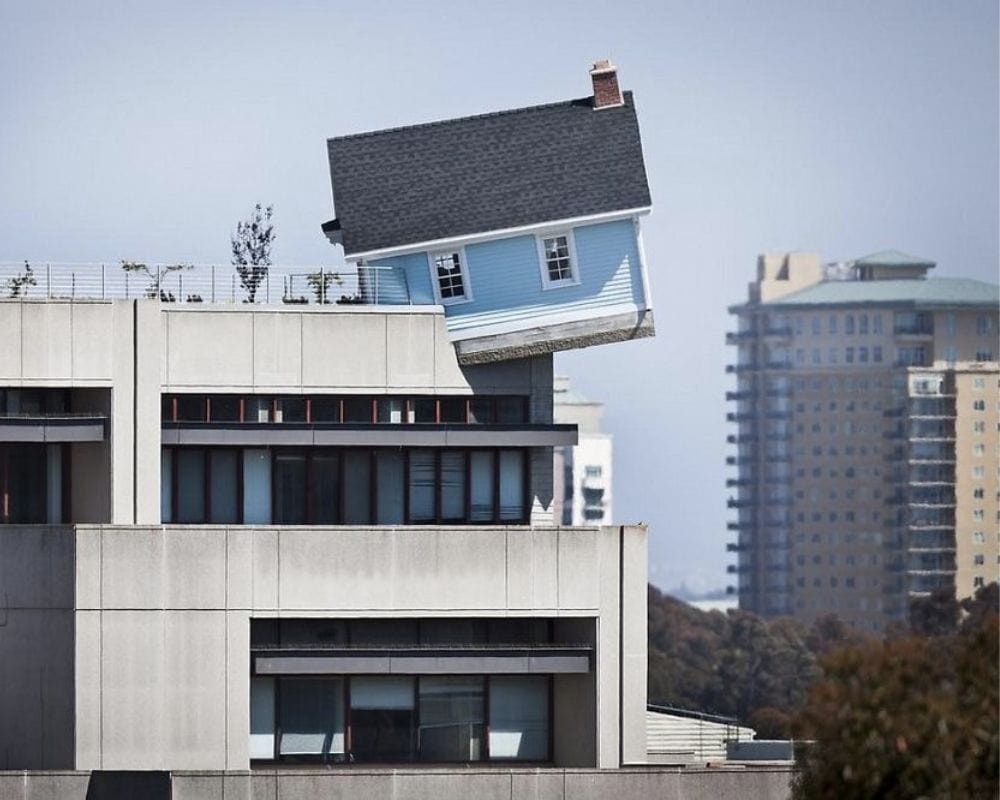 Thankfully, this isn't an actual house but just an art installation. People who've dared to venture inside this creative house have echoed feelings of awe, and vertigo, in there.
The Mobile Aquatic Pod, England
Designed by philosopher Stephen Turner as an experiment, the house was meant to just be an art installation but later turned into Turner's residence on water.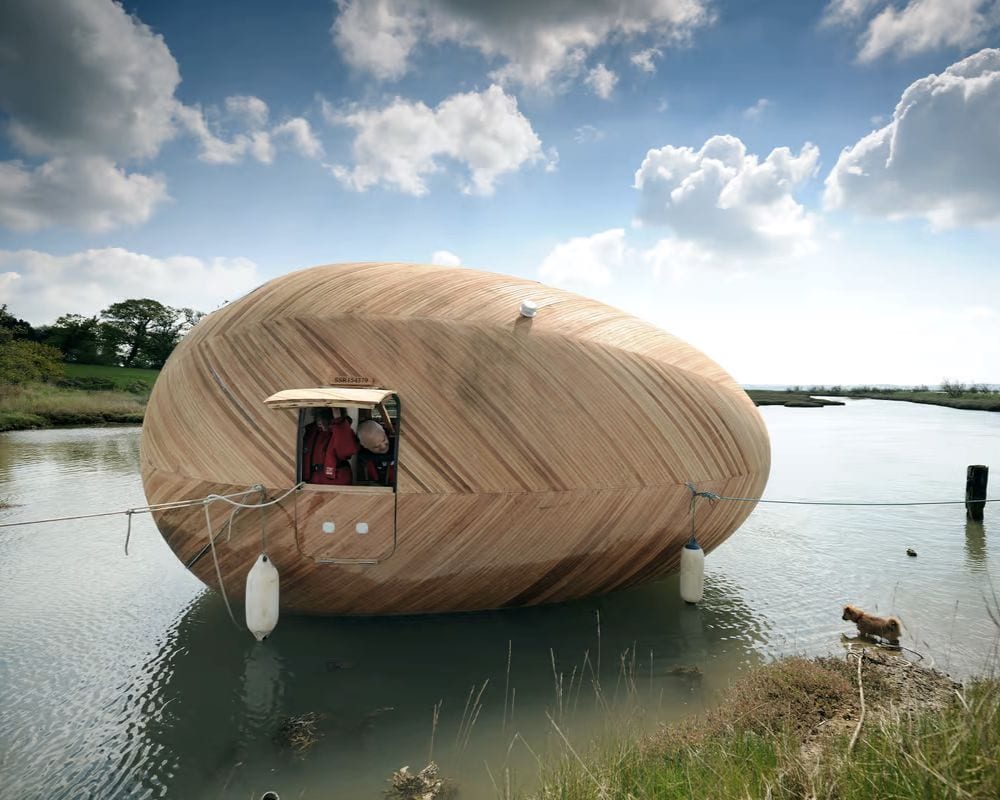 The Exbury Egg has a one-room living space, which has all the amenities for a minimalistic experience like a basic shower, a hammock, and cooking devices. The egg-shaped house has a wooden exterior and is moored to the dock with ropes.
Ship Houses, California
California is the city of stars, but it turns out it's also the city of extremely weirdly shaped dwellings. These houses, which are on land, are actually shaped like stranded boats.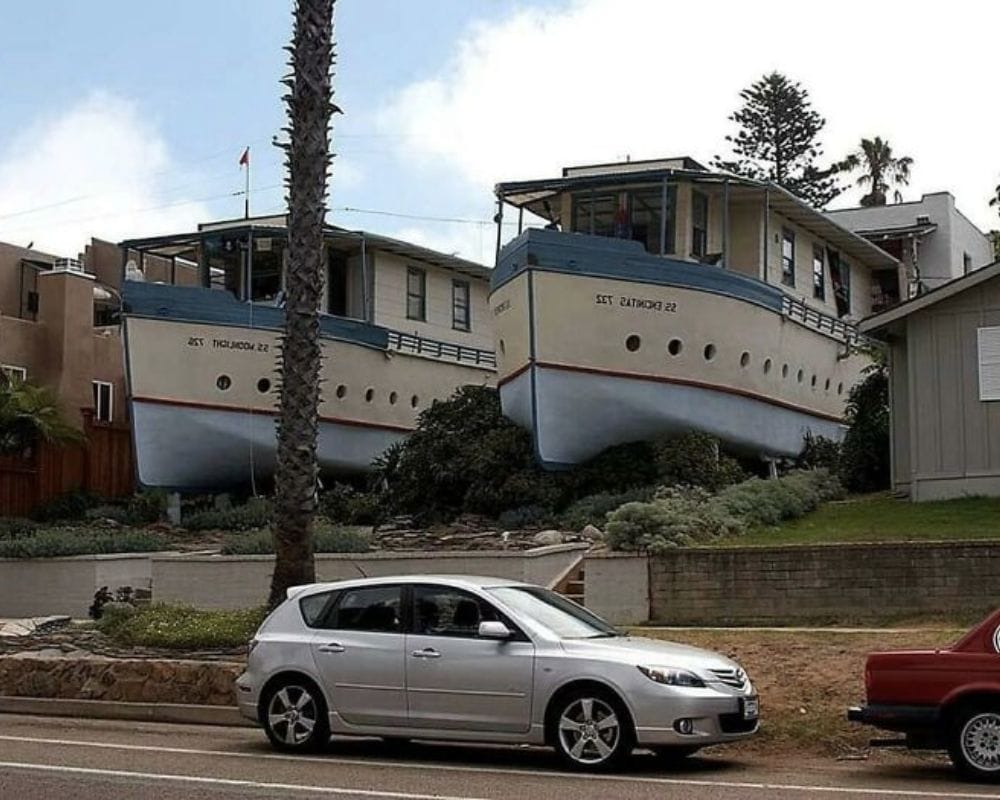 They can't be called houseboats either, since there is no water anywhere. However, these ship houses are a great addition to the anyway quirky California. Not to mention, they certainly stand out as a unique idea of how to change up your house.
Malator House, UK
Just one look at this structure, and it's impossible to not think of Po and Dipsy. Also known as the Teletubby House, this residence in Wales is built entirely underground, and is invisible from the top due to being covered in grass.
The only way to view this house is the tiny patch of front glass. The house was built in 1998 and is a unique take on how to blend nature with architecture.
Hotel Marqués de Riscal, Frank Gehry
This luxury hotel located in Spain is a true architectural splendor. Made up of stunning metal sheets of the colors red, silver, and gold, it's the best one in the region.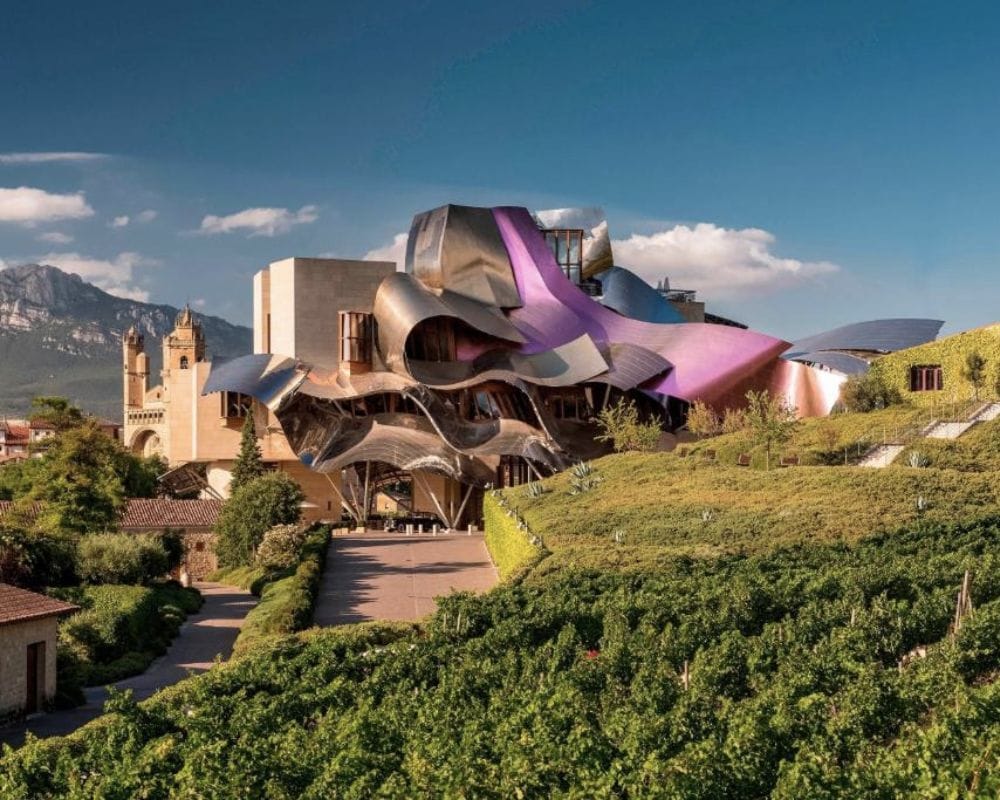 This is architect Frank Gehry's second most famous building. The interiors are a beautiful, serene design and the resort is a must-visit for anybody who likes architecture and experimentation when choosing their accommodation.
Studio City, Macau
Macau is a city that's teeming with high-fi resorts, each one better than the last. So doing something to get people's attention is a must. Studio City's strategy was to speak to people's love for pop culture by adding elements of it throughout their hotel.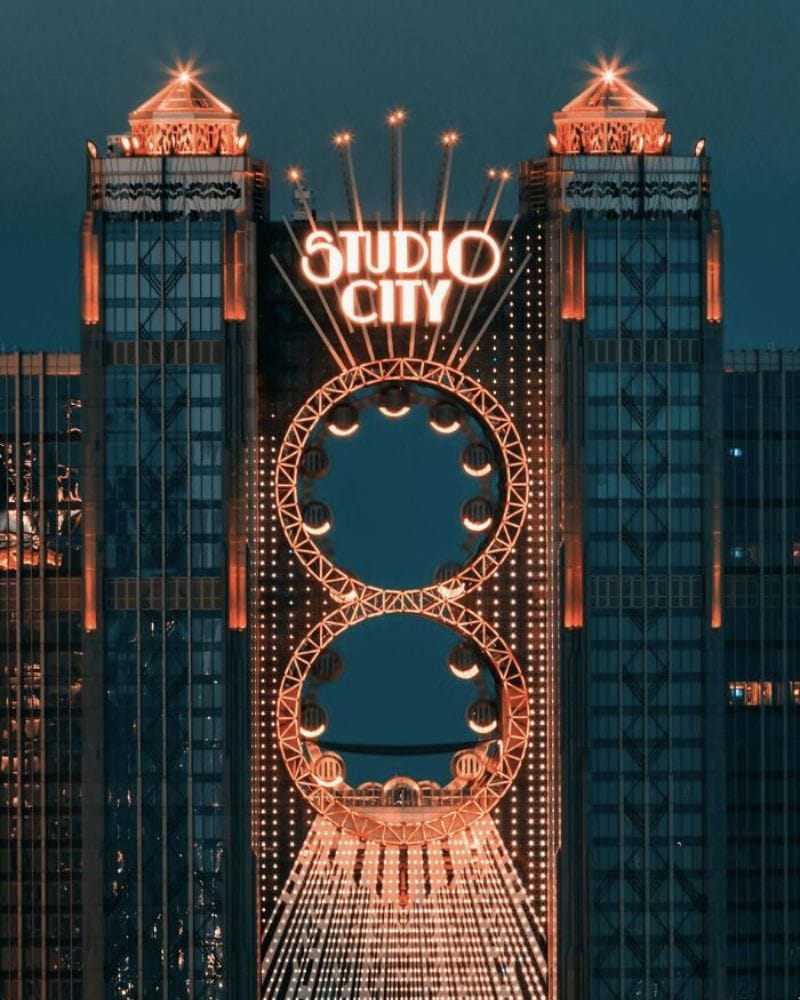 With a giant Ferris wheel, a 30,000-square feet entertainment center, a Michelin-starred restaurant, and many more things, this eye-catching building is something you can't miss.
The Window House
If you're somebody who likes your privacy and only wants to see people on your own terms, this might not be the house for you. Just looking at this house is enough to give a person the feeling of being watched.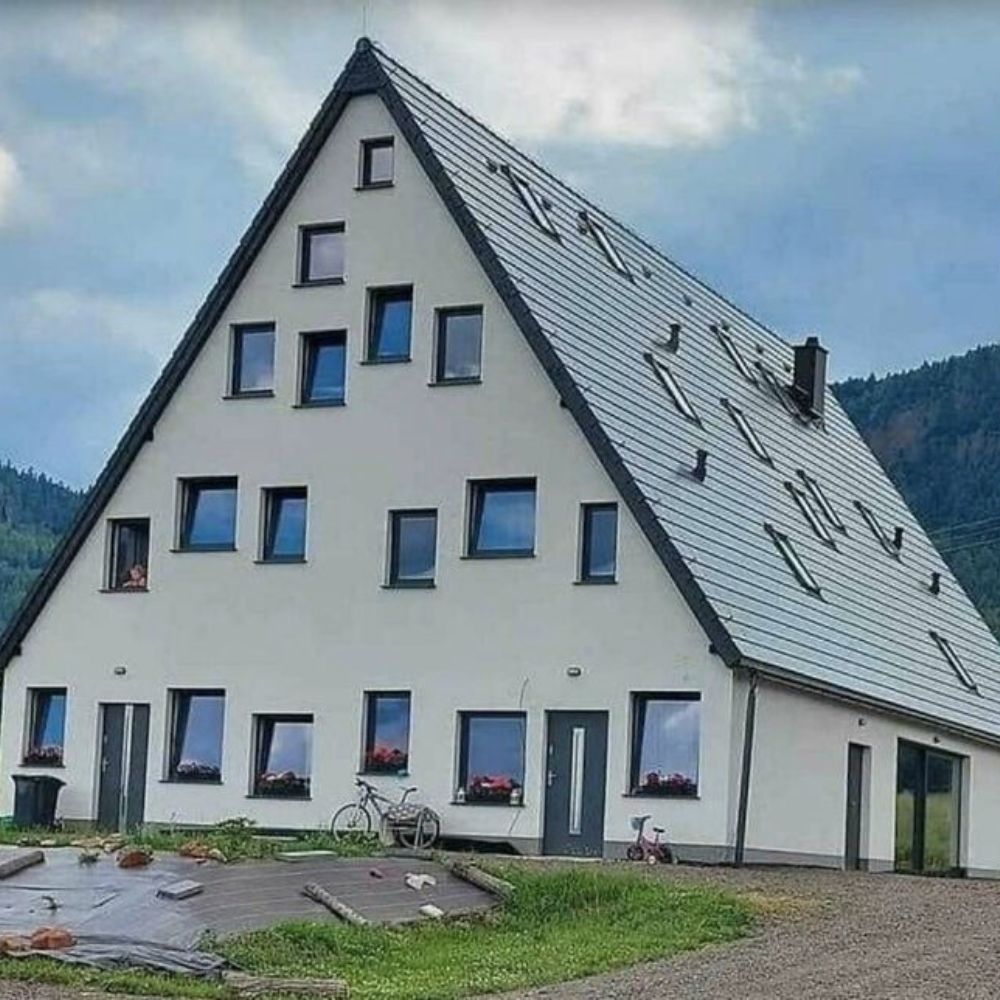 Multiple windows decorate every wall of the house, though it's hard to pin down what the reason for it could be. Just imagine how high their curtain bill must've been!
The Mushroom House, New York
These houses might not be as bizarre as the others, but they definitely warrant some quirk with their mushrooms. Built around the 1970s in New York, the structure resembles a mushroom from the outside and rests high above the ground.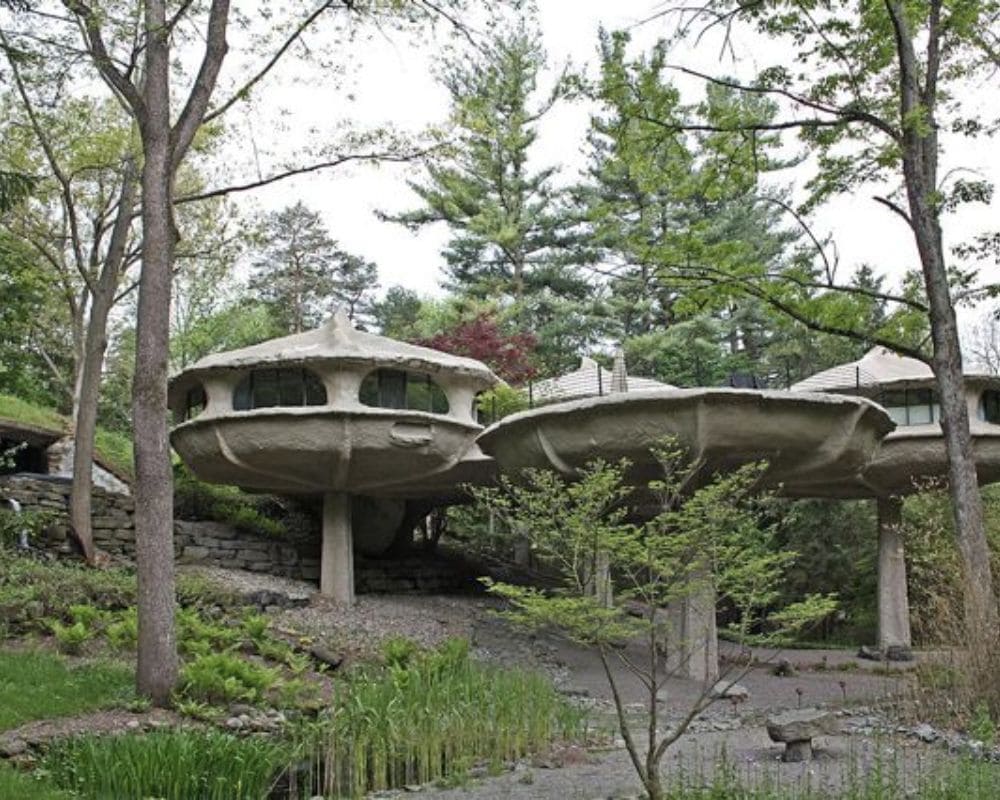 The interior is decorated with mosaic tiling. Overall, the house feels just different enough to be unique. Not to mention, it's surrounded by nature.
Hoola Hoops, Sydney
Imagine one hula hoop sitting on the ground. Now imagine hundreds of them laying on top of one another, slightly lopsided and making a pretty structure. That's what this building looks like – a stack of hoops.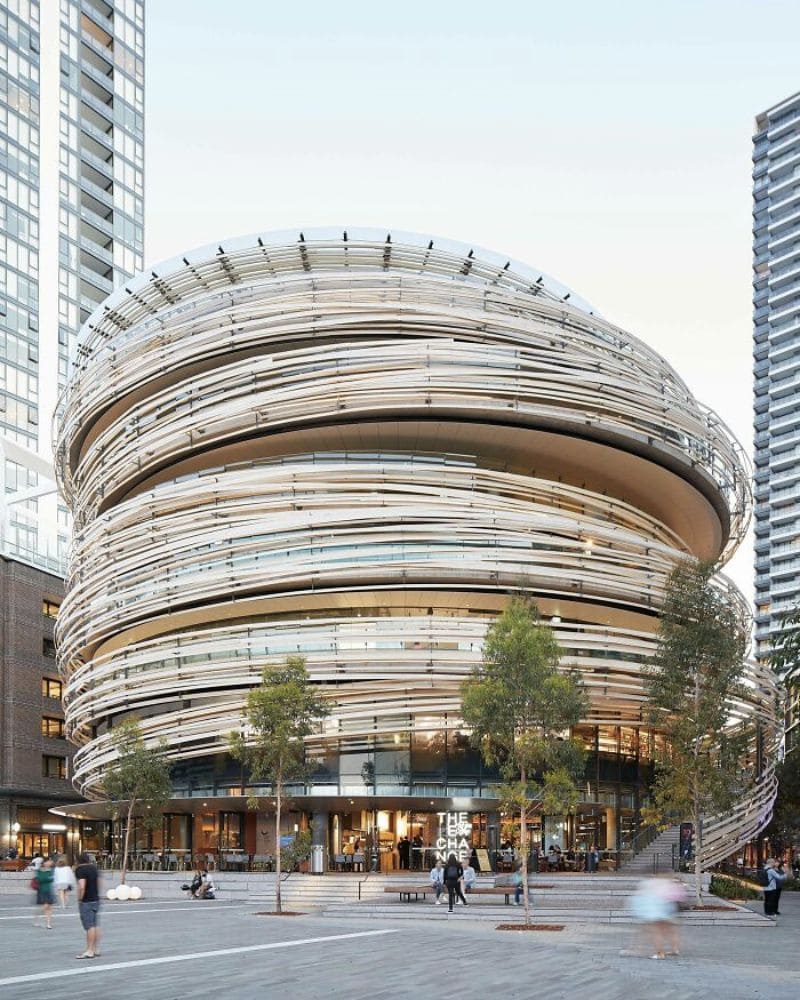 Either that or this quirky design can easily be the dust that Bugs Bunny leaves behind when he runs away from everything. Since it seems to be set in a corporate setting, we guess even the workers know the power of running!
Upside Down House, Germany
This house is very famous amongst tourists who visit Germany and it really is a must-visit place. The upside-down house is built like its name suggests – upside down. Everything inside the house is flipped upside-down.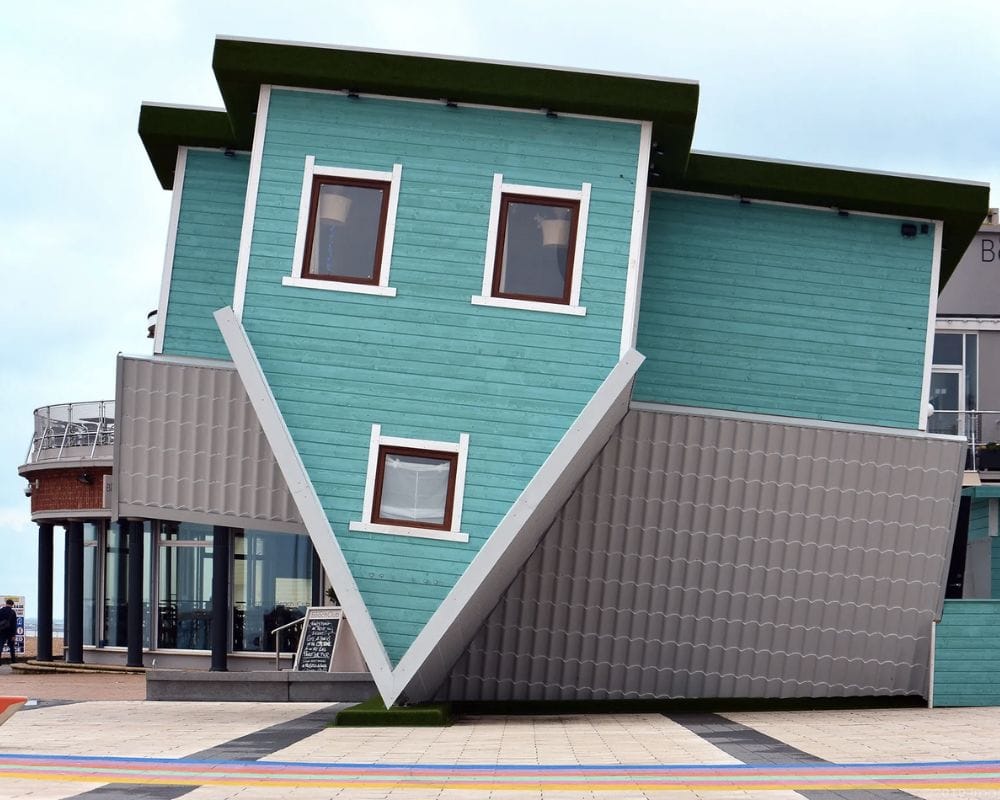 So if you suffer from vertigo, maybe venturing into this one might not be the best idea. The house has everything from tables to beds nailed to the ceiling, creating the perfect illusion.
House on a Rock, Belgrade
Some people like peace and quiet, but some just want to leave the world behind and live like a hermit. This house is an ideal choice for the latter.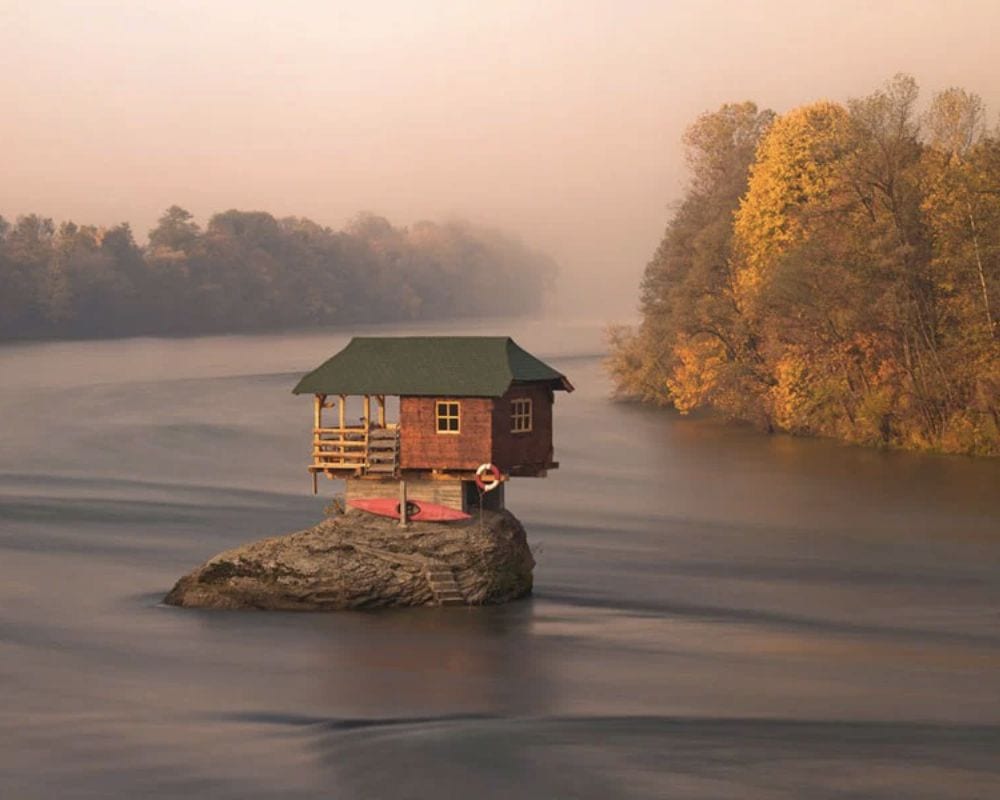 Built on a rock on the Drina River in Serbia, the house is a 1968 construction that was made with the purpose of serving as a shelter. It was made by a group of men who deemed a rock to be a good sheltering space.
M-Velope Transformer House
If you're a fan of Transformers and are fascinated by their transformations, this house is the one for you. Built by designer Michael Jantzen, these houses allow the occupant to rearrange them to suit their needs.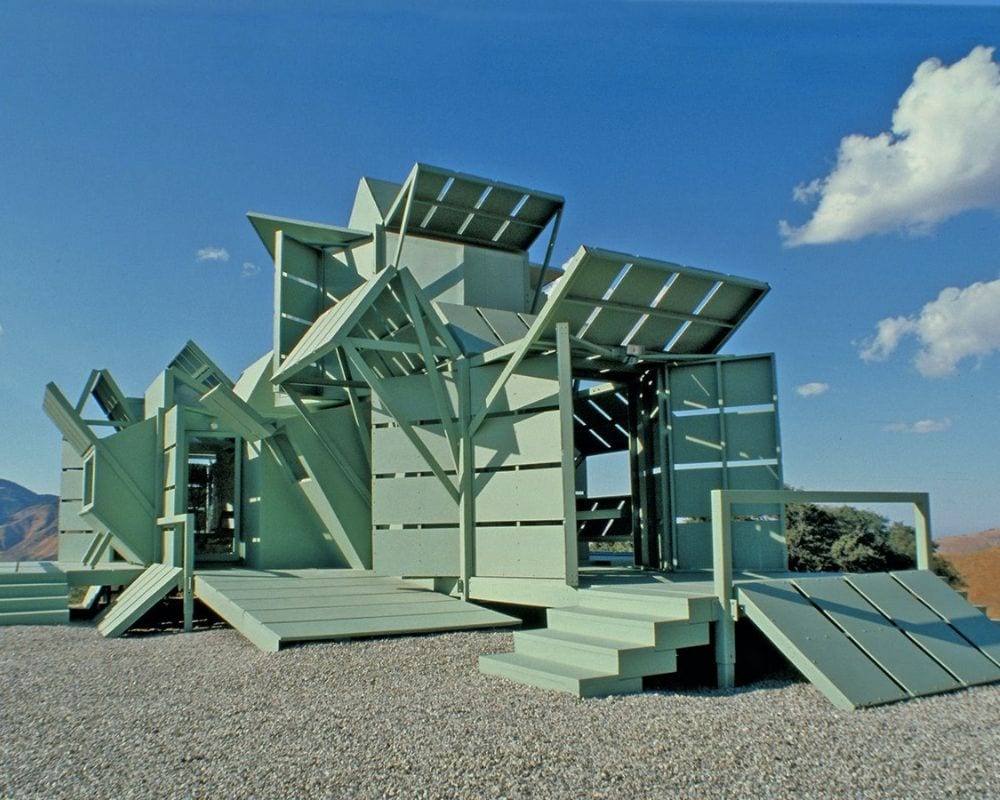 The wooden panels of the house slide along a steel frame to change the way the house looks. The bizarre but ingenious house is built at just 230 square feet and is present at only 10 locations around the world.
Transparent House, Japan
Say goodbye to privacy and solid walls if you decide that this is the house you wanna live in. The transparent house in Tokyo, Japan is as the name suggests – transparent.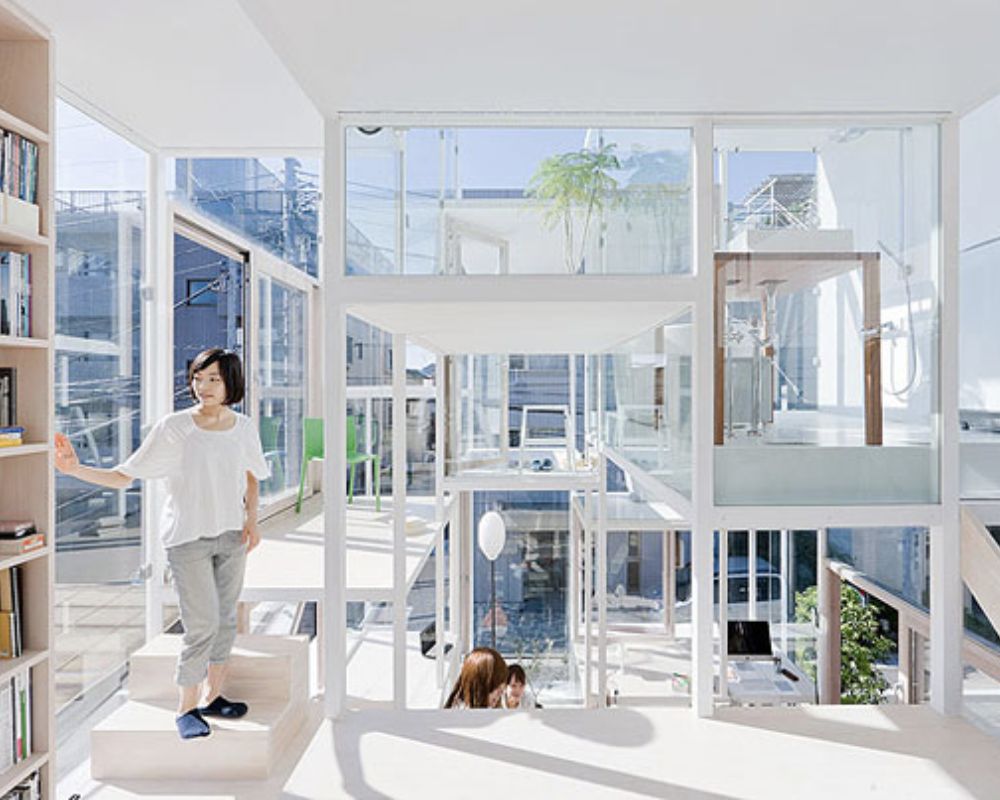 The transparent windows all around the house allow plenty of daylight to filter in. It's inspired by our ancestors, who lived in trees.
35 Unnecessary Things That No One Asked for But Someone Invented Anyway
Some inventions are so hilarious that we couldn't stop ourselves from putting together this list of the funniest inventions ever made for your entertainment.
Eye Drop Funnels
Eye drops are so tricky because your eyelids immediately want to close, but before that, you need to be able to hit your target. So much liquid has been wasted by near-hits around the eyes, and you want to make sure you make the most out of the medicine you buy. Red eyes will no longer have to wait for you to improve your aim, as these funnels conveniently guide the Visine straight into your eyes. The only improvement would be a Clockwork Orange-style eye braces to hold them open and you're set.
The Incogni-Shoe
Using a public restroom is quite a mortifying experience for many people, which is understandable. Even if you manage to sanitize it to the highest possible level, going number two at home is so much better because you're not announcing it to the public, half of whom is free to enter and identify you by your shoes. Then everyone knows exactly who did what in there. Avoid such situations with these shoe blinds, which allow you to relieve yourself in anonymity.
Croc Visor
Crocs, if you've been living under a rock for the past 15 years, are the fashionable footwear that has taken the world by storm. OK, so they might not be the pinnacle of haute couture, but the world wouldn't be the same without them. With holes on the top for ventilation and a strap at the back to secure it comfortably to your foot, it's an iconic look, for sure. Clearly, one fan of the shoe decided these features are exactly what we need in a visor.
DIY Oreo Supreme
Supreme is a fashion brand that sells random stuff for a lot of money just because it has the word "Supreme" on them. We all know this, but it needs to be stated to be fully appreciated. The Oreo-Supreme collaboration sold out in no time, which was totally foreseeable. Now people are auctioning them online for small fortunes, which means a stupid expenditure for some. Don't be that person to spend your grocery money on Supreme Oreos, just make them yourself.
The Calf Scratcher
Your heels are just as dirty and disgusting as the rest of the soles of your shoe, but when you get an itch down there on your calves, the first instinct you have is to use your heels to give it a little scratch. Later, you might touch the same area with your hands, spreading disease-causing microbes everywhere. Avoid those unsanitary moments with these convenient calf-scratchers, which remain clean by staying far away from the ground. Furthermore, you won't need to lift your leg as high to get a good scratch.
Furry Nose Warmer
It seems like they have an article of clothing for every body part to be covered in the winter, with one exception — the nose. For generations, humanity has suffered in winter where it snows with freezing noses. It's sad, but the truth is that our noses have been left exposed to the elements for far too long. That is, until now when this brilliant inventor created the first prototype. It's so perfect for when you need to go outside in the toe-biting cold.
TV Hat
Do you ever get sick of having to watch something on your phone, exerting unnecessary energy by holding it up when people around you want quiet? Luckily, headphones mean that we don't need to interrupt or be interrupted by the outside world when we zone out on our phones, but there is a much better way to do this. Holding the phone in your hand isn't a great idea, especially when you have inventions like this TV hat personal theater.
Spare Airpods in Storage
Airpods are such an awesome way to interact with the world, whose only way of knowing if you're insane or not is if they can spot the little white strips hanging out of your ear. The only real issue with having wireless earbuds is there is no wire to hold the darn things together, so they get lost really easily. Luckily, you don't have to wait to buy new ones if you just think ahead. Buy a supply and store it in bulk!
View this post on Instagram
Peaky Blinders
Do you know that feeling when you're peeking through a keyhole to a room someone thinks is private? It's pretty cool knowing that you can see other people interacting without them being aware of your presence at all, and this invention is an attempt to recreate that with this light and portable headgear. The only issue with these glasses is that everyone can see you and, instead of remaining unnoticed, they will surely attract people's attention.
Shoe Umbrella
Walking around when it's raining is fine for the upper part of the body, but somehow the bottom half always gets wet. You then need to spend time at your destination, once you get there, drying yourself off before you can get on with your business. This is a shame and time is money, they say. All you need to do to make sure your feet don't get wet is open up a couple of umbrellas for your feet.
Driver Desk
Commuting to work is such a pain when you just want to be at your desk already. Until we find a way to teleport, the best solution to these aggravating driving moments is this convenient work desk for drivers. It's retractable, can easily store pencils, and is conveniently placed under your steering wheel. The only issue we can think of is that it looks like the steering wheel wouldn't be able to make a turn while the desk is out. Other than that, no problems.
Air Con
The ad for these air-conditioned shoes makes them look like an ultra-futuristic dream available in our lifetime thanks to very modern ingenuity. Too bad they're just shoes with holes in the soles, and the soles are the last place in the shoe you want to have holes. They're more like windows-open shoes. One day, though, we might have figured out how to deck our kicks out with air conditioning units small and light enough to fit in a shoe.
Sleep-Walking Onesy
These are great for campfires that are inconveniently located far from your tent, but it might have other applications, too. Many sleepwalkers try to leave the city once in a while for some shut-eye out in the woods, as camping might be good for their condition, but it's a lot more dangerous than you think to try to stand up and walk while you're in a sleeping bag. You risk tripping over yourself instead of just hitting a tree head-on with these bad boys.
Pet Rocks Now With USB Ports!
Pet rocks were quite the fad back in the day, but kids nowadays won't be interested in anything that can't hook up to a computer. Remember when one of your parents gave you a toy they liked but it was too outdated? With this pet rock equipped with a USB port, you can share the most exciting toy you ever had as a child with your own kids! Can you put your pictures, music, and other files on it? No, but who cares?!
One Piece at a Time
Toilet paper is one of those simple household necessities whose importance can't be stressed enough. However, it's often the first thing to disappear from the shelves in times when people fear for their future. Luckily, you can stave off worrying about the impending apocalypse as long as you're frugal with your TP. Even in normal times, this makes sure pesky guests using your bathroom to do their duty don't take too much of your precious toilet paper.
Diet Water
A few decades ago, soft drink companies realized they could make a killing off of people concerned about the high levels of sugar and other natural sweeteners in their soft drink formulae. All they needed to do was add a zero-calorie artificial sweetener and put the words diet on it. People soon found pretty much every drink in diet form, but Sapporo soon found a drinking product that had yet to be labeled and sold in diet form: water.
Goldfish Walker
Goldfish really get the short end of the stick when it comes to pets. Besides being fed daily (we hope), they have very little interaction with the world outside their fishbowl. Even a pet with a memory of 15 seconds will soon get tired of the same old surroundings. But now, some brilliant genius invented a machine that can allow your goldfish to get some much-needed fresh air. Because isn't that what a fish deserves after spending all day in your living room, submerged in water?
Cut-Off Convertibles
Cut-off jeans are all the rage in summer, but we all know how quickly we can get cold again once we go indoors. Long jeans are much more fitting for the air temperature indoors, and now we can all have the comfort of the right length in one article of clothing. For a long time, we've had cargo pants that we could easily convert into shorts, which might be the greatest invention since rivets in jeans. Now, though, we have the convenience of convertibles with the style and feel of cut-offs.
Fast Floss
Flossing is one of the best things you can do for your teeth, as it releases all of the food particles, plaque, and cavity-causing bacteria that settle in between your pearly whites. The biggest issue facing those who don't floss, though, is that it's just too darn time-consuming. Rolling up a string and going in between each and every tooth takes ages, but we don't have to slave away for those long minutes any longer. Now, we can floss our whole mouth in mere seconds.
Infection Prevention Belt
People are warier than ever of coming in contact with one another, and for good reason. There is a slew of guidelines that must be followed to ensure your safety, yet these are really hard to do. You have to wash your hands every time you touch anything and shouldn't touch your face. This belt has all the features needed to keep you safe, including a cord to prevent you from touching your face, water on hand for washing on the scene, an extra hand for handshakes, and a fake arm to use the elbow to sneeze.
Carbon Monoxide Cooking Method
This exhaust-powered grill is perfect for those non-stop road trips when you just want to bite into some delicious barbecue. As the exhaust travels through the pipe, it warms up the grill and you can cook delicious meat in there. It's truly a way to travel while being as environmentally friendly as possible. After all, no coal or wood was used, and we all know how much smoke and terrible chemicals are spewed into the atmosphere when we cook with them.
DVD Rewinder
Finally, someone invented something that we could all use. Chances are you've never rewinded a DVD in your life. Can you imagine how DVDs would feel if they had feelings and knew how you used to rewind all your old VHS tapes? There was so much care we used to put into things to make sure they ran well. You made an important life decision when you made the transition to digital, but that doesn't mean that there's no room for love and care for your new things.
Conveniently Placed
The gloriousness of toilet paper can't be written about enough. Think it's only for post-bowel-movement clean-up? Not so. In fact, you can use it to blow your nose just the same as you would use a tissue. Now, you never have you rummage through your pockets for a lint-filled handkerchief. Disposable rolls of paper like these are much more sanitary, and they can always be used when you run out of the precious material in the bathroom stall after you'd already done your business.
Extra Protection
In some ways, we have never been safer than we are now, with emissions control on cars, incredible medical knowledge, and a slew of stringent laws to protect us. That being said, the fact that we have the whole world at our fingertips the second we unlock our phones can also be extremely dangerous. No, we're not talking about 5G conspiracies, but rather about running into things and hitting your head. With this head guard, you can browse around the internet looking at cat pictures while walking around without worrying about tree trunks.
Something for Times of Crisis
You know when you need to hit control, alt, and delete together at the same time because the computer froze or something, but you just can't figure out how to do it right? Those of us with sausage fingers know that the struggle to hit three different keys accurately so far apart is easier said than done. Thankfully, some genius invented this wand that can hit all of these buttons at the same time, and boy is it satisfying!
Stick of Avocado
Avocado on a stick is exactly what you need to make sure your toast is getting the right amount of the delicious fruit spread all over. It's an elegant solution to an age-old problem that has confounded our greatest scientists for years. You scoop up some avocado, but once it's on the piece of bread you can't exactly put it back. You're forced to eat it all and, even though it has healthy fats, there are so many calories in it that some of us would like to eat a bit less.
Lens Wipers
It's not easy to be cool in this world, and nothing's a bigger drag than getting water all over the fly lenses dangling on your nose. There's water everywhere, and it's so annoying to take off your shades because you can't see. Wiping with your shirt means you have a wet shirt and that's just as much of a bummer, yet now there's a solution. You don't need to let wet lenses get you down any longer, as these sunglasses wipers are the answer.
iPotty
Kids nowadays are fussier than ever before, and it's never been harder to teach your kid how to use the toilet. Thankfully, there's something to attract them to the toilet so they can concentrate on something else while they relieve themselves. Want to really train your kids fast? Don't give them any screen time at all unless they're on the potty, and you'll see how fast your kid learns. That'll train them in no time, all that's needed is positive reinforcement.
Work While You Commute
While there have been many advancements that allow for the labor force to fully realize its productive potential by working while in transit, there wasn't an option available for those who prefer greener methods of transportation — until now. Why waste all that time coming to and from work when employers can utilize their staff more efficiently? Attach to your bike or scooter and see how many TPS reports you're able to finish before you even walk through the front door of the office in the morning.
View this post on Instagram
Swiss Army Shovel
The one issue with farming tools is you can only pick up one at a time. Do you want to use a hoe? Well, then, better drop that pickaxe because there's no way you can till that soil with a tool in each hand! That's all changed, as this brilliant inventor took the idea of a Swiss army knife and applied it to farming tools. It's got shovels, rakes, and more — the first and last tool every serious farmer will ever need!
Elon Musk Toast
Elon Musk is one of the most colorful and public entrepreneurs around today, and there's nothing more inspirational than seeing assorted images of the legend when you eat breakfast, the most important meal of the day. This toaster burns several different images of Musk, so it's always a surprise to see which one you're going to get!
Retractable Butter Stick
Buying a stick of butter doesn't have to be so boring, and spreading it on toast doesn't have to be so hard. Butter usually comes in rectangles that lie motionless, dull, and boring in your fridge, yet someone invented an interactive way to enjoy smearing butter on toast. Merging the latest chapstick technology with delicious goodness, this way you put just the right amount. Use this to grease your pan without worrying about putting too big or small a chunk in.
Barefootwear
The sublime feeling of walking around barefoot, sensing the earth under the soles of the feet, is one that societal pressure has taken away from us. Some places won't serve you if you have no shoes on. With this shoe, you can look right for any occasion, all the while enjoying the experience of a bare foot underneath. No one needs to know you went to their wedding barefoot, as long as you can keep the magnificent feeling of dancing barefoot on the marble floor at the venue to yourself.
Improving the Classic Design!
Chopsticks are messy to eat with because they're so thin, but they are what many cultures use for their meals. Confucius, the great ancient Chinese philosopher, said, "The honorable and upright man keeps well away from both the slaughterhouse and the kitchen. And he allows no knives on his table." However, if you've ever tried chopsticks their shortcomings become clear. Using the thin end of two sticks held in one hand to grab food isn't nearly as efficient as this brilliant engineering from Instagram user @unnecessaryinventions, which satisfies both the Confucian code and bellies hungry for more with each bite.
iCook
There are incredible chargers nowadays that use induction technology to charge batteries without using a wire at all. Induction uses electromagnetic fields to produce heat or currents and has quite a lot of applications to this very day. It's quite a fascinating technology that dates back almost 200 years, and today it's often used in stoves. This was a connection a brilliant inventor made, as there's no reason why the same technology that you use to charge your phone can't heat up your food without fire whatsoever.