It's rare, but women do give birth later in life. These celebs managed to have their happy family despite being over 40.
Alyssa Milano
Alyssa Milano welcomed her second child, Elizabella, when she was 41. Milano finally confirmed on Access Hollywood in 2014 that the couple was "actively trying," and it proved successful. Speaking of pregnancy in her 40s, Alyssa admitted that she enjoyed it, "I loved waiting a long time to be a mom, I'd had my ladies' lunches and my shopping days."
Gwen Stefani
Gwen Stefani, the celebrity and No Doubt singer, gave birth to her "miracle" baby, Apollo, when she was 44 years old. Speaking of getting pregnant in her mid-40s, Stefani said it put her in "a whole new spiritual place."
Helen Hunt
When Helen Hunt gave birth to her daughter Makena Lei in 2003, she was 40-years-old. Hunt later opened up about her infertility to Ladies Home Journal saying, "It turned out to be tougher to get pregnant than I thought it would be." She expressed, "I tried for a long time, and it just didn't happen, to the point where getting pregnant became the greatest wish—and the greatest challenge—of my life… My boyfriend and I were on our last big try, and if the baby hadn't come, we would have adopted."
Nicole Kidman
After struggling to get pregnant during her first marriage to Tom Cruise, Nicole Kidman gave birth to her first biological child, Sunday Rose, when she was 41 years old. Although she never spoke about using IVF, she did say in an interview, "I've done all the stuff you can possibly do to try to get pregnant. So, the way it just happened with Sunday was like, 'What?' The percentages were so low. It is the miracle in my life." The couple welcomed their second child three years later via surrogate.
Mira Sorvino
Academy Award-winner, Mira Sorvino, welcomed her fourth child with husband Christopher Backus when she was 44 years old. Speaking of her pregnancy, the Mighty Aphrodite actress explained that is was a high-risk pregnancy, and she nearly miscarried twice. In fact, the famous star admitted she spent weeks on doctor-mandated bed rest as a result but explains it was all worth it when she held her baby boy for the first time. This was the second son for Mira, who also has two daughters.
Rachel Weisz
Rachel Weisz bagged one of the most eligible bachelors when she married James Bond star, Daniel Craig, and, after seven years of marriage, the couple announced they would be welcoming their first child together. In an interview with The New York Times, the 48-year-old said, "We're going to have a little human." She continued, "We can't wait to meet him or her. It's all such a mystery." Craig is already a father to 25-year-old daughter, Ella, and Weisz is a mother-of-one to 11-year-old, Henry.
Naomi Watts
Naomi Watts welcomed her two sons when she was 39 and 40, but seems to have regretted having kids at an older age. Speaking to People magazine in the October 2014 issue, Watts discussed how she wished her and her then partner, Liev Schreiber, had more children. She stated, "I should have had more kids, started younger." The King Kong beauty and Liev got together in 2005 and had their first son, Sasha two years later in 2007. The couple later separated after 11 years together.
Julianne Moore
Julianne Moore welcomed her second child in 2002, a daughter named Liv when she was 41. The Crazy, Stupid, Love star had given birth to her son Caleb five years earlier, and she shares both her children with Bart Freundlich. The couple got married a year after Liv was born but met when Bart was her director on The Myth of Fingerprints in 1996. This was just one year after her divorce from her previous marriage was finalized, where she admits she got married too early.
Halle Berry
Halle Berry was busy playing a beautiful Bond Girl before having her first child, and we can't really blame her for this decision. The A-list actress welcomed her daughter Nahla at the age of 41, followed by her son, Maceo, when she was 47. Speaking on The Ellen DeGeneres Show, Berry explained her shock when she fell pregnant for the second time. "I was, you know, on my way…this is probably way TMI, but I was really, you know, kinda premenopausal so to have this happen was a huge [shock]."
Brooke Shields
Brooke Shields welcomed her second child with her husband, Chris Henchy, in 2006, when she was 40-years-old. Fertility Today reported that in the years prior to their daughter, Grier's, birth, Shields had great difficulty in conceiving. "I was about ready to call it quits," Shields revealed. "I was growing weary of the anticipation and the pressure, and Chris said he wasn't sure he could handle seeing me rip off another estrogen patch in frustration… At wit's end, we decided to try one more time," she explained.
Geena Davis
Geena Davis welcomed all three of her children after turning 40. Her first child, Alizeh, was born in 2002 when Davis was already 46 years old, followed by twin boys two years later. Speaking to Good Housekeeping magazine, she said, "I felt 100 percent that I would be such a better parent than I would have been even five years earlier and certainly 10 or 20 years earlier." She continued, "I became a parent with exactly the right person, at exactly the right time."
Rachel Zoe
Rachel Zoe welcomed her first child, a son named Skylar, when she was 39-years-old. While she announced that this pregnancy was unplanned, three years later, at the age of 42, Zoe gave birth to her second child, Kaius. Before Kaius was born, Zoe admitted that she was unsure if she would be able to get pregnant again and explained her thought process was, "If we are lucky enough to have another one, we will have." Fortunately for her and her husband, Rodger Berman, they were.
Celine Dion
After multiple failed cycles of IVF, award-winning singer Celine Dion welcomed twin boys, Eddy and Nelson, at the age of 42. Before getting pregnant with her eldest son, René Charles, Dion struggled for six years trying to conceive. She and her husband eventually enlisted a fertility specialist, and Dion was able to get pregnant. Before welcoming her twins, Dion had suffered a miscarriage, and four failed IVF treatments but was determined to keep going, with her fifth try finally proving successful.
Eva Mendes
Actors Eva Mendes and Ryan Gosling made headlines when it was rumored that the talented pair were an item. They made even bigger headlines when they welcomed their first daughter, Esmeralda, together when Mendes was 40 years old. Two years later, the power couple welcomed their second daughter, Amada. Speaking with The Violet Files, Eva discussed motherhood and how it completely changed her. She admitted, "I'm completely exhausted. I thought my wild nights were over, but these are some of the wildest nights I've ever had."
Iman
Iman welcomed her first daughter when she was in her twenties, but following her marriage with Bowie nearly 25 years later, she welcomed her second daughter, Alexandria, when she was 45 years old. Speaking in an interview with Parade in 2009, shortly after giving birth, she explained how her baby was a "miracle." "People talk about the miracle of birth. No. There's the miracle of conception. I did IVF, but nothing happened. So, I began to think of adoption, and then I got pregnant. It was definitely a miracle."
Beverly D'Angelo
Beverly D'Angelo was soon to reaching 50 when she welcomed twins Anton and Olivia with her husband, Al Pacino, in 2001. The couple admitted that they were able to conceive their twins using IVF, but there were reports that D'Angelo was nervous about giving birth at her age. Since there is more risk in getting and being pregnant later on in life, D'Angelo may not have had the easiest of times when she was pregnant with her twins. Fortunately, however, she gave birth to two healthy baby boys.
Christine Brinkley
Christie Brinkley admitted that she went through various miscarriages before getting pregnant with her third child in 1998. "After the first miscarriage, I tried to take the attitude that it was my body's way of telling me that this pregnancy wasn't meant to be," she told Good Housekeeping. "After the second one, we decided to try in vitro, because both Peter and I felt we couldn't handle another failure." At the age of 44, Brinkley was successful with IVF in getting pregnant with her daughter, Sailor Lee.
Janet Jackson
At the age of 50, Janet Jackson announced she was pregnant. This was the first and only child Jackson has welcomed, and she has kept details of her pregnancy private. While there is no confirmation if the singer had any difficulty in getting pregnant at 50, she did welcome a healthy baby named Eissa. Speaking of motherhood, Jackson said, 'Day after day and night after night, holding my baby in my arms, I am at peace. I am blessed. I feel bliss. In those moments, all is right with the world.'
Tina Fey
30 Rock star, Tina Fey, welcomed her second child, Penelope, in 2011 when she was 41. Speaking to People magazine, the Golden Globe-winning actress revealed that getting pregnant in her 40s was a conscious decision made by herself and her husband, Jeff Richman, for the benefit of their family. She explained, "My husband and I really decided that we felt rather than risk having 30 Rock end in several years and feeling like part of our family is missing that we were going to prioritize our family."
Kelly Preston
Kelly Preston admitted that she was shocked when she found out she was pregnant at the age of 48. Speaking to Health Magazine, the Jerry Maguire actress, who is married to John Travolta, said, "When I found out I was pregnant, I was floored. I'd snuck out of bed and then came back and woke Johnny up in bed. We both started crying. It was wonderful." The couple welcomed Benjamin Hunter Kaelo in 2010, a year after the tragic passing of their eldest son.
Mariah Carey
Pop diva, Mariah Carey, welcomed her twins, Moroccan and Monroe when she was 42 years old. At the time, the Grammy Award-winning singer was married to Nick Cannon, and the couple struggled to get pregnant. Eventually, Mariah started hormone therapy after suffering a miscarriage, explaining, "The main thing I did that was tough, was to go on progesterone like every month . . . when I was pregnant, I had to stay with the progesterone for 10 weeks. It minimizes the chance of miscarriage by 50 percent."
Sarah Jessica Parker
In 2002, Sarah Jessica Parker and her actor husband, Matthew Broderick, welcomed their first son, James Wilkie Broderick. When it came to having more children, the Sex and the City starlet opted for a surrogate, who delivered their twin daughters. Marion Loretta Elwell and Tabitha Hodge were born in June 2009, when Parker was 44 years old. SJP revealed that surrogacy was "one of the things we discussed with seriousness that had real possibilities for us" after struggling for many years when trying to expand their family.
Nancy Grace
Nancy Grace welcomed her twins, Lucy and John, with her husband, David Lynch, when she was 48 years old. Speaking to People in 2007, the tough-talking CNN anchorwoman said, "I always said I wanted a family. I grew up in a happy, loving family [and] I wanted it too. But until now, I just thought it wasn't meant to be for me. And as part of God's mysterious plan, I'm given this wonderful blessing late in life — and I could not be happier."
Kim Basinger
Before their divorce in 2002, Kim Basinger was married to fellow actor Alec Baldwin, and the couple welcomed a daughter named Ireland. At this time, the Oscar-winning actress was 41 and, following her divorce, she admittedly took a non-traditional approach in raising her daughter. She explained, "I just wanted her to be free. If she wanted to have her friends over and write over the walls with pen, that was fine. I wanted her childhood to be full of love and light and animals and friends."
Kristen Davis
Sex and the City star Kristen Davis first became a mother in 2011, when she adopted her daughter, Gemma Rose. At the time, Davis was 45-years-old and, it has since been reported that Davis adopted her second child, a baby boy, in 2018. Now 53, Kristen has never been married, nor is it believed that she is romantically linked to anyone, so it made sense for the single mother to adopt. If she is anything like her character on the hit HBO series then we're sure she is a great mother!
Madonna
Madonna was already a mother-of-one when she met director Guy Ritchie, and the pair welcomed a son named Rocco in 2000. The Queen of Pop was 41 at the time and had complications from the birth due to her experiencing placenta Previa. Madonna is now a mother of six, having adopted four children after the birth of Rocco, sharing only her son David with her ex-husband. Her most recent adoption was of twin girls in 2012, when the singer was 53.
Molly Ringwald
Molly Ringwald welcomed her daughter, Mathilda, in 2003, but only gave birth to her twins, Adele and Roman, in 2009 when she was 41. Speaking to People magazine, the actress explained how her second attempt at getting pregnant was more difficult than the first time. "After Mathilda was born, I had some things fixed"—surgery to remove fibroids—"that made it easier to get pregnant again," she revealed. "There were some other issues, too. But I was so, so lucky to be 41 and to be so healthy during this pregnancy."
Meryl Streep
Just before her 42nd birthday, Oscar-winning actress, Meryl Streep, welcomed her youngest child. Having had three children before this, it is unknown whether Streep struggled to conceive in her forties. In fact, The Devil Wears Prada actress has never publicly spoken about or gone on the record about whether or not she had any struggles. Without any doubt, her children would have inherited great genes from their mother and, currently, her eldest son is a musician, her daughter Mamie is an actress, and her youngest, Louisa, is a model.
Kenya Moore
The Real Housewives of Atlanta star, Kenya Moore, accidentally revealed that she was pregnant on the Season 10 reunion episode. The reality star told host Andy Cohen, "We will definitely be welcoming a boy or girl in late this year," when he posed the question if a baby was on the way. Having already spilled the beans, 47-year-old Moore went onto say, "We have been really upfront about wanting to expand our family, and we have definitely been taking the proper steps to try to make that happen."
Susan Sarandon
Although Sarandon gave birth to her first child in 1985, Sarandon had her second and third child when she was 42 and 45 respectively. On her decision to have children later on in life, she told Time Out New York, "I wasn't in a hurry, but I actually had a medical condition and was told I could never be a mother." Having been diagnosed with endometriosis, the actress explained, "It was just such a freak [thing] that I got pregnant that I thought I can't ignore this. And so I jumped."
Audra McDonald
At 46-years-old, Audra McDonald welcomed her second child, Sally James McDonald-Swenson. Sally was McDonald's first child with her second husband, Will Swenson, who she married four years earlier in 2012. When they discovered that they were expecting a child together, McDonald wrote, "Who knew that tap dancing during perimenopause could lead 2 pregnancy?" she tweeted. "@thewillswenson & I are completely surprised but elated 2 b expecting." McDonald was already mother to 15-year-old Zoe at the time and stepmom to Bridger and Sawyer.
Sheryl Crow
Nine-time Grammy Award-winner, Sheryl Crow, announced she adopted her first child, Wyatt, 2 weeks after he was born in 2007. At the time, Crow was 46 and went on to adopt her second child three years later when she was 49. In 2010, Crow adopted her now 8-year-old son Levi, making her a proud mother of two. Following her first adoption, Crow didn't win over a fan, telling PEOPLE, "I want to sing to him, but right now he's like, 'Mommy, no! All done! All done!'"
Geri Halliwell Horner
She made up one-fifth of the biggest girl band in the world during the '90s, but Ginger Spice, Geri Halliwell, got one of the second best moments in her life when she was 44. Following her marriage to Christian Horner, the couple welcomed their first child, and Geri's second, a son named George in 2017. The singer took to Instagram to tease her fans with a post that showed a sketch of a pregnant woman with the caption, "God bless Mother Nature #mamaspice."
Angela Bassett
American actress Angela Bassett married her husband Courtney B. Vance in 1997, but faced years of fertility struggles. It was not until 12 years ago, when the now 60-year-old turned to surrogacy, that she welcomed her twins, Bronwyn and Slater. Having waited for years to have children, when the day finally came, there was no leaving their side. "There were so many offers to go to this party and that party," she said. "It was a lot more fun to sit and gaze at my two little stars."
Diane Keaton
The same year Diane starred in the film, The First Wives Club, the then 50-year-old actress adopted her daughter, Dexter. Five years later, in 2001, the Academy Award-winner adopted her second child, a son named Duke, now aged 18. "Before kids, if I worried, it was only about myself," Keaton told More, "But that's all you do is worry as a parent." Keaton revealed that it was her father's death which made mortality more apparent to her, and she then decided to become a mother at the age of 50.
Jennifer Connelly
By the time Jennifer Connelly was 40, she already had the title of "mom" to two bundles of joy. However, at age 40, she and her husband, Paul Bettany, welcomed their third child into the world. This time, they introduced a little girl named Agnes Lark. Connelly later told Allure magazine that after their third child, "I knew we were going to be done after number three. That's enough for us."
Mary Stuart Masterson
Mary Stuart Masterson is an accomplished actress, most recognizable from roles such as Idgie in Fried Green Tomatoes, as well as a mother. She and her husband, Jeremy Davidson, welcomed their first child when Masterson was 43. Only 17 months later, the parents made a second announcement that Masterson was pregnant with twins. She noted that "We are going to have three kids under the age of two. We are in happy shock about it."
Marcia Gay Harden
Marcia Gay Harden is a talented actress with notable credits, such as First Wives Club. She married her husband, Thaddaeus Scheel, in 1996 and they were together until 2012. When the actress was in her early 40s, the couple had their first child – a daughter named Eulala Grace. However, this wasn't their only child. A few years later, Harden was pregnant again. This time with twins named Hudson and Julitta Dee.
Jane Krakowski
Fans will recognize Jane Krakowski immediately from 30 Rock. However, you might also recognize her roles in The Unbreakable Kimmy Schmidt or Ally McBeal. She's also a mother of one – a young boy named Bennett Robert Godley. He's named after his father, Robert Godley, a clothing designer that Krakowski was engaged and subsequently married to for a time, but they separated in 2013. He was born nine years ago when Krakowski was 42. As of now, he's the actress' only child.
Annette Bening
Annette Bening is an actress that started her career on the stage with an iconic performance of Lady Macbeth in Macbeth. She then branched out onto the silver screen. You can catch her in cult classics such as American Beauty and even newer movies like Captain Marvel. She married actor Warren Beatty in 1992 and the pair has four children together. The youngest child was born in 2000. At this point, Bening was already 42.
Tamron Hall
Tamron Hall is a well-established broadcast news anchor who married Steven Greener and had their first child when she was 48. This pregnancy led to her son, Moses, but up until his birth, Hall kept her pregnancy mostly quiet. The reason for this was a fear that if something went wrong, she would have to come back and tell everyone the bad news if she celebrated too early. Luckily, even though she had more risk factors than age to worry about, Hall gave birth to a beautiful, healthy baby boy shortly later.
Joanna Gaines
Joanna Gaines is known as an author and for her role in the TV show Fixer Upper. She didn't have her first child after she hit 40, though. Actually, Gaines already had four children by the time she hit the big 4-0. However, she was 40 when she welcomed her fifth child, her son Crew, into the world. She's since shared that having a child at this age made her feel young again and that it made her more laid back. She says she's even jokingly nicknamed "Fun Jo" since then.
Alanis Morissette
Alanis Morissette is best-known for her career as a musician and almost anyone would recognize her hit song "Ironic." She's also a great parent, alongside her husband Mario "Souleye" Treadway. She's currently a mother of three. Her middle child, a daughter named Onyx Solace, was born in 2016 when she was 42. She also gave birth to a son, Winter Mercy, three years later in 2019 when she was 45.
Chloë Sevigny
Chloë Sevigny is an Oscar-nominated actress with notable credits in popular productions such as American Horror Story: Hotel. In the past, she mentioned that she wanted to have a daughter in part to pass on her clothes to a "mini-me." In 2019 at 45-years-old, she and her husband announced a pregnancy and welcomed in the new decade with a baby on the way. Lucky for Sevigny, she got her wish – a little mini-me named Raddix Madden.
Marcia Cross
11 years ago, Desperate Housewives star, Marcia Cross, welcomed twins named Eden and Savannah, when the actress was 44 years old. Soon after her marriage to stockbroker Tom Mahoney in 2006, Cross underwent in vitro fertilization, which resulted in her fraternal twin daughters being born soon after in February 2007. Speaking of her girls, Marcia told PEOPLE, "I was more scared to have girls – probably from having been one." She continued, "Now I'm just delighted. There's nothing closer than the female bond."
Laura Linney
Laura Linney and her husband, Marc Schauer, welcomed their first child when the Love Actually actress was 49 years old. While Linney may have appeared on many television shows and movies, this award-winning actress was able to keep her pregnancy a secret the entire time without the media finding out until she gave birth. In fact, Linney even missed out on the Emmy's, the same year she won, since she had already started showing. Linney eventually gave birth to a son named Bennett Armistead Schauer in January 2014.
Brigitte Nielson
At 54 years old, Brigitte Nielson announced on Instagram and Twitter in May 2018 that she was pregnant with her fifth child. Fast forward one month, and the actress welcomed a daughter named Frida with her 39-year-old husband, Mattia Dessi who she married in 2006. Speaking of their newborn, Nielson told People magazine, "We are overjoyed to welcome our beautiful daughter into our lives." She continued, "It's been a long road, and so worth it. We've never been more in love." Nielson is already a mother to four boys aged 23-34.
Donatella Arpaia
Celebrity chef Donatella Arpaia gave birth to her first child on her 40th birthday in 2011 and has since been open about her struggles in trying to conceive another baby. However, Donatella and her husband, Allan Stewart, drew inspiration from new mom Hoda Kotb, who adopted a daughter in 2017, in considering other options to expand their family. After one final round of IVF, Donatella became pregnant at the age of 46 and announced on May 28, 2018, that she is expecting twins.
Salma Hayek
Salma Hayek's pregnancy was complicated by gestational diabetes, meaning she had a nauseous nine months, but the famous Spanish actress said she wouldn't have traded the time of the pregnancy if she had the chance to. Speaking with WebMD, the Frida actress explained she didn't need help getting pregnant at the age of 41, and said of getting pregnant at this time, "I'm a more fulfilled human being now, and I probably wouldn't have been 10 years ago. She gets a better mother for being born now."
Uma Thurman
While in a relationship with her ex-fiancé Arpad Busson, Uma Thurman welcomed her third child at the age of 42. The couple welcomed a daughter named Luna in 2012, but two years later, Uma and Arpad called off their engagement for the second time. In 2017, the former couple began a child custody negotiation, which resulted in Thurman receiving primary physical custody in January 2017. Thurman was already a mother to her daughter named Maya, and a son named Levon, from a previous relationship.
These Are Without A Doubt Hollywoods Most Glamorous Wedding Dresses
While we can all try live vicariously through celebrities glamorous lives, the same can be said for their wedding choices. Check out some of the most gorgeous celeb wedding dresses of all time!
Gisele Bundchen
Brazilian supermodel Gisele Bundchen and football quarterback Tom Brady are one of the power couples of the century. It's hard to believe the dynamic duo have already been married for ten years, and have a daughter, Vivian, and a son, Benjamin. Recently, to mark their anniversary on Instagram, Gisele posted: "I love learning and growing with you. Happy anniversary love of my life! Te amo muito!" The last part of her message, in her native Portugese, means "I love you very much."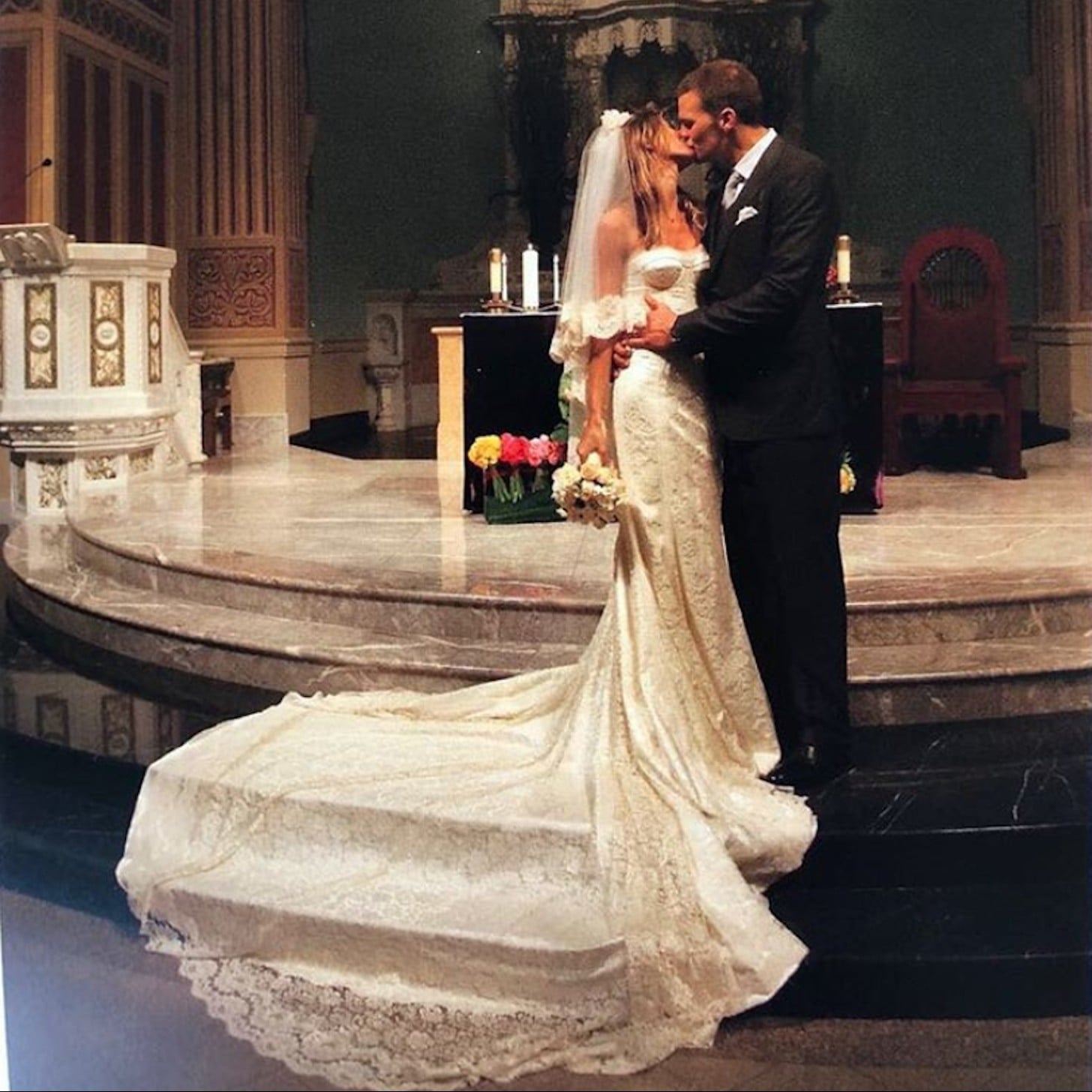 Jessica Biel
Actress Jessica Biel opened up to Elle magazine about her wedding dress: "I wanted the dress to be very romantic and feminine and a shape that I very rarely wear. I have never been crazy about all-white wedding dresses, for me at least. [Giambattista Valli] had created that same fabric in a fuchsia-and-pink combination for a dress in a previous collection, and I asked him if he could create that same pattern in a white combination, and he suggested pink."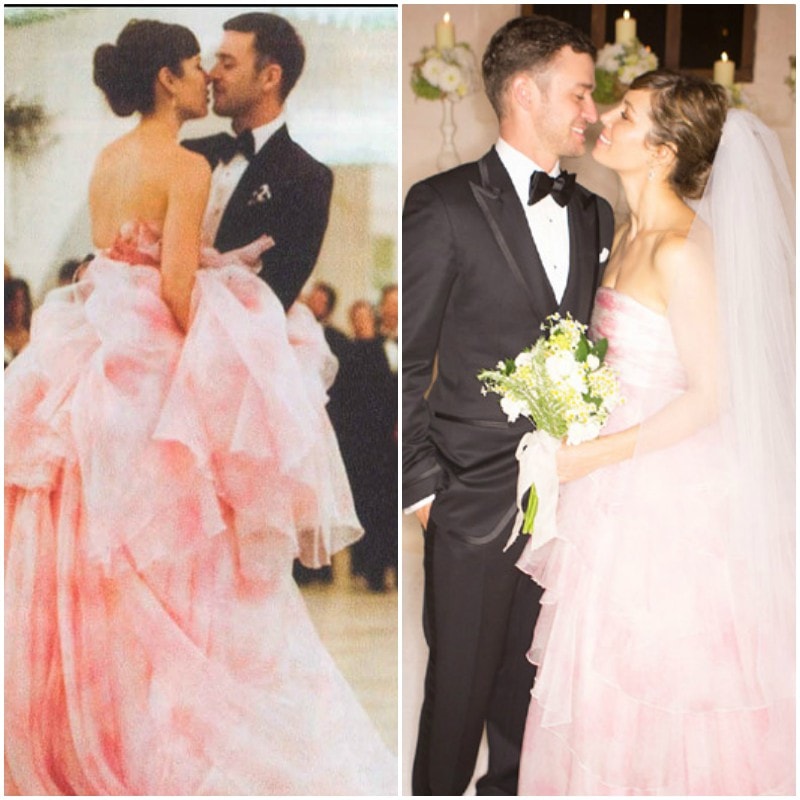 Eva Longoria
Eva Longoria appointed famous fashion designer and close friend, Victoria Beckham, when it came to choosing her wedding dress, and she couldn't have picked a better dress if she tried. The simple white gown fit the Desperate Housewives star perfectly when she married for the third time to José Bastón. It was also quite the contrast to her choice of wedding dress to her marriage previously to Tony Parker. Eva and José married in 2016 and have since welcomed their first child together, a son named Santiago Enrique Bastón.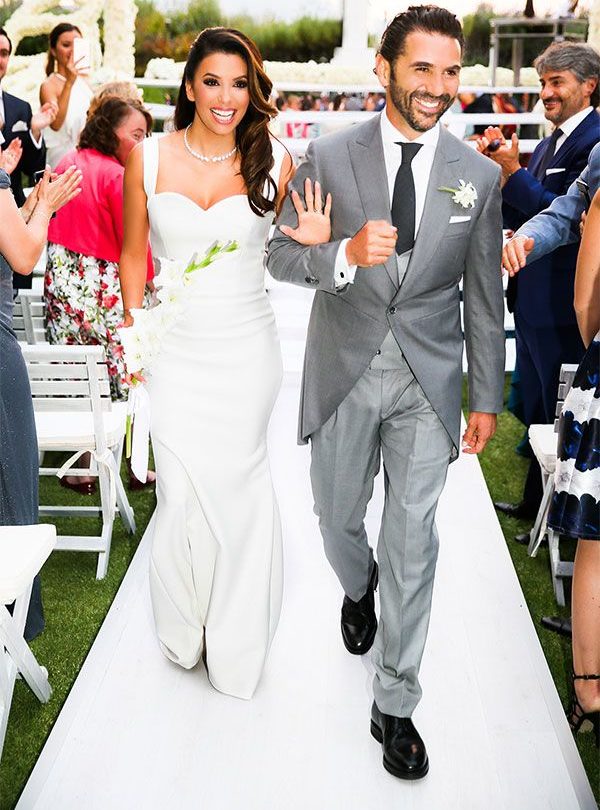 Chrissy Teigen
For her wedding to songbird and piano player John Legend, former Sports Illustrated swimsuit edition model Chrissy Teigen wore not one, not two, but a grand total of THREE separate Vera Wang gowns. Bearing in mind that the iconic wedding dress designer's frocks range from $8K to $23K, it's safe to say that Chrissy spent more than a pretty penny on her wedding looks. We especially love the drama of this particular dress. She looks like a princess!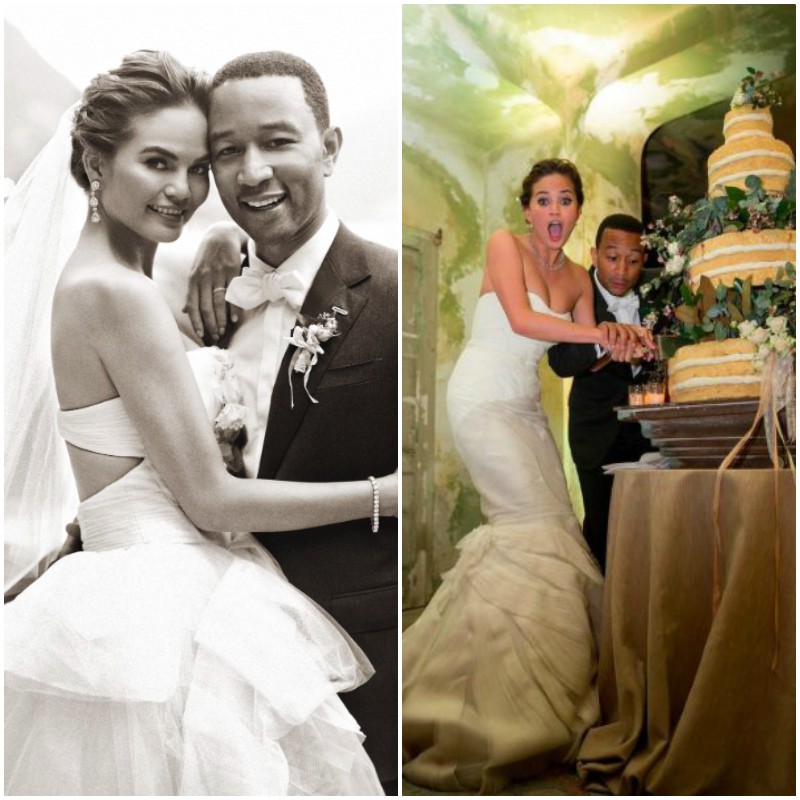 Whitney Port
When talking about her wedding, reality TV star Whitney Port said, "We wrote our own vows and had members of our family marry us, we didn't do a sit down dinner because we are way more casual than that and wanted everyone to have little bites of everything, including all of our favorite things like a bread bar! We named cocktails after our nicknames for each other, we choose all the music by making a playlist for the two years we were engaged."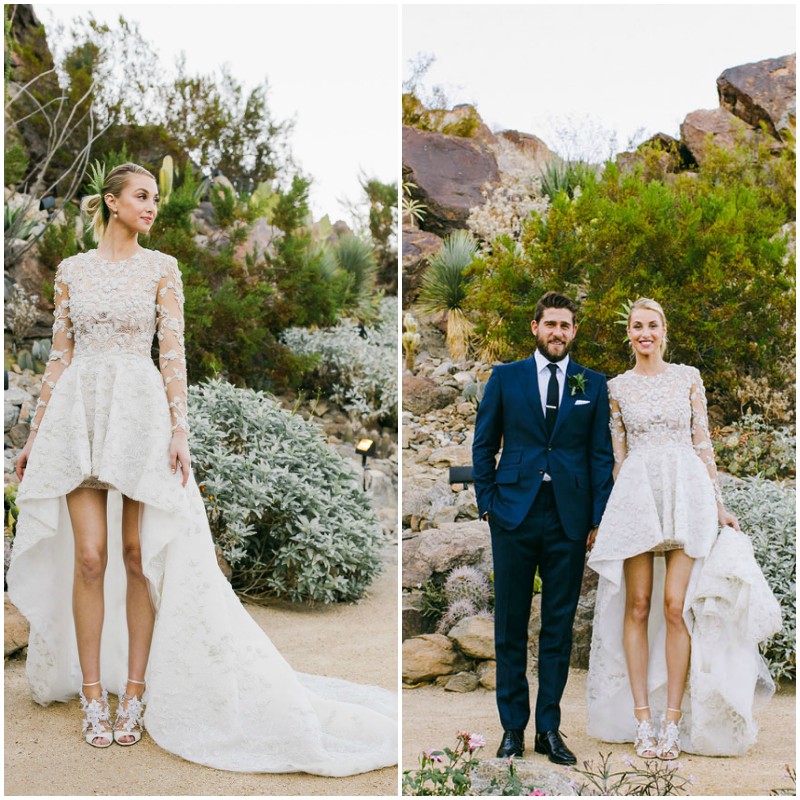 Ciara
R&B songstress Ciara and her husband, Seattle Seahawks football player Russell Wilson, indulged every little girl's fairytale wedding fantasy when they held their nuptials at the medieval Peckforton Castle in Cheshire, United Kingdom. The pair flew in 100 of their closest family members and friends along with Pastor Judah Smith to perform the ceremony. The bride wore a stunning custom gown with gorgeous lace accents by Roberto Cavalli Couture. Ciara's son, Future Zahir, even served as the ring bearer for the lovebirds.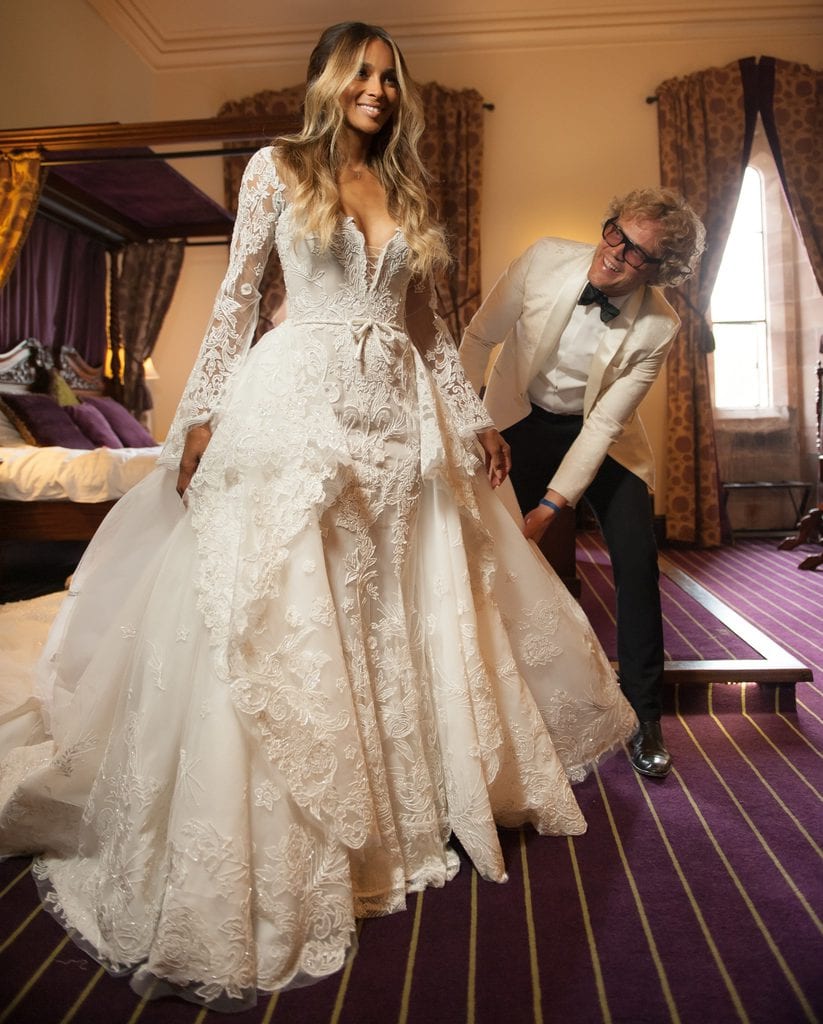 Chanel Iman
Chanel Iman and Sterling Shepard got married at the Beverly Hills Hotel just three short months after getting engaged. The star-studded crowd is exactly what you would expect for one of the world's most in-demand supermodels and the New York Giants' wide receiver – Chrissy Teigen, Gabrielle Union, Odell Beckham Jr., Tiffany Haddish, and Shanina Shaik all attended! Chanel chose a Zuhair Murad gown: "I feel very lucky to have gotten married in one of his gorgeous creations."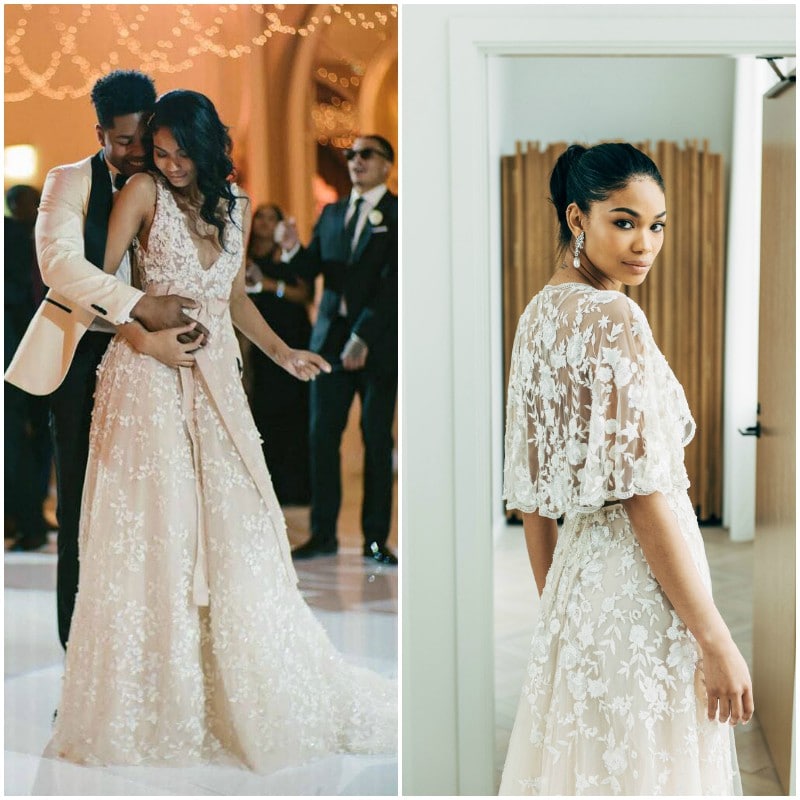 Lauren Conrad
California native Lauren Conrad rose to fame on Laguna Beach: The Real Orange County and its spin-off, The Hills. Lauren had a staggering ten -that's right, ten – bridesmaids by her side on her special day. Why such a large number? Isn't it improper wedding etiquette? "It's really a personal choice," she said. "I think as long as the number doesn't distract from the nuptials, you're fine. Also if you have a large group, having them sit during the ceremony works well," she added.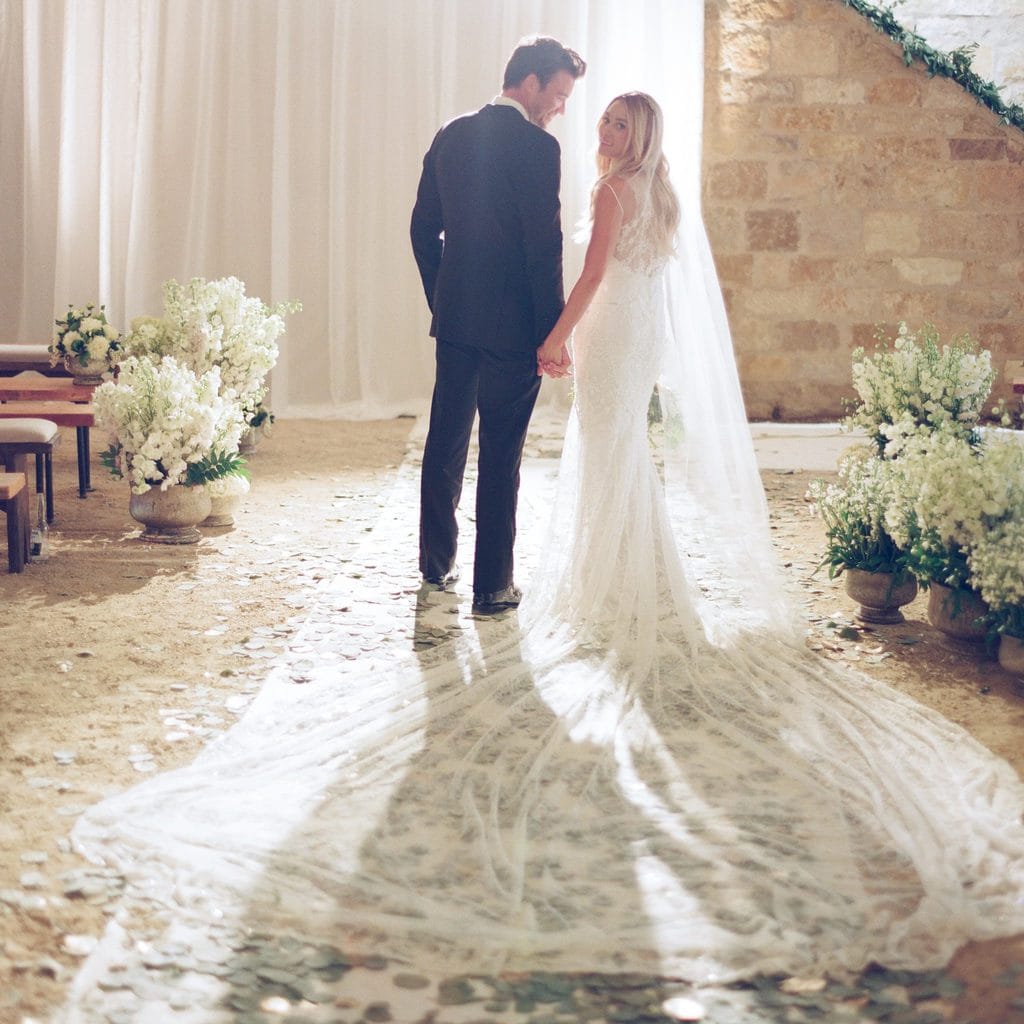 Sofia Vergara
Sofia Vergara looked absolutely stunning in a bridal gown by Zuhair Murad, a top choice for many of the celebrity brides on this list. The Colombian born actress, who rose to fame on the sitcom Modern Family, had a fairytale wedding to Magic Mike beefcake Joe Manganiello. No expense was spared for the big day, which brought the total cost of the wedding up to a whopping $3 million. The ceremony was held at Breakers Palm Beach resort in Florida.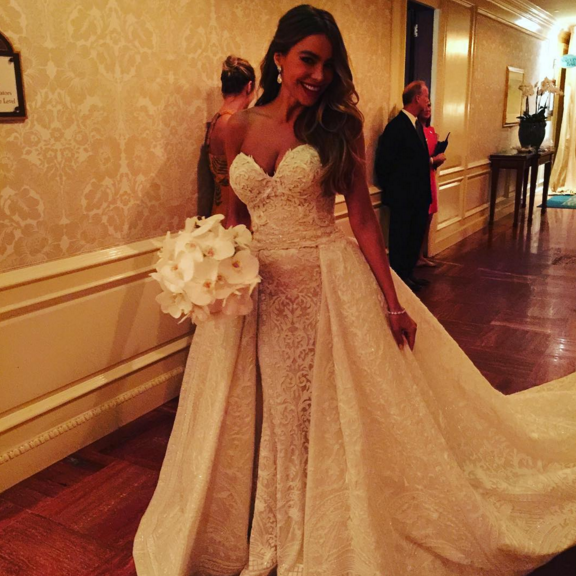 Kim Kardashian
For her Italian nuptials to rapper Kanye West, Kim Kardashian chose a fairly conservative floor-length gown. She looked stunning!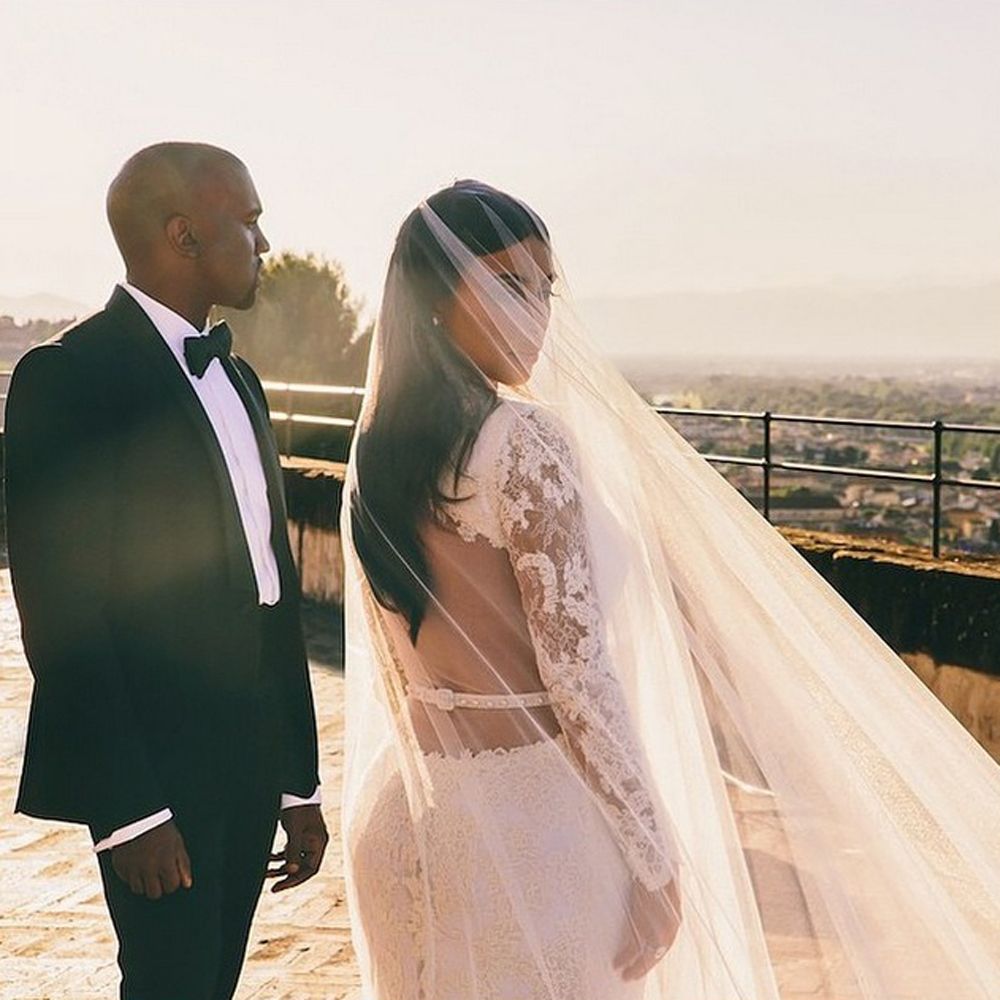 Pippa Middleton
She might not be married to Prince William, but Pippa Middleton's wedding was (nearly) as big as her royal sister Kate's. The day that she tied the knot with James Matthews, Pippa arrived at St Mark's Church in Englefield, Berkshire, England, wearing a beautiful dress with a high neck and an ivory gown. With bespoke lace that added to the fine detail of the gown, Pippa was guaranteed to stand out from the crowd on her big day.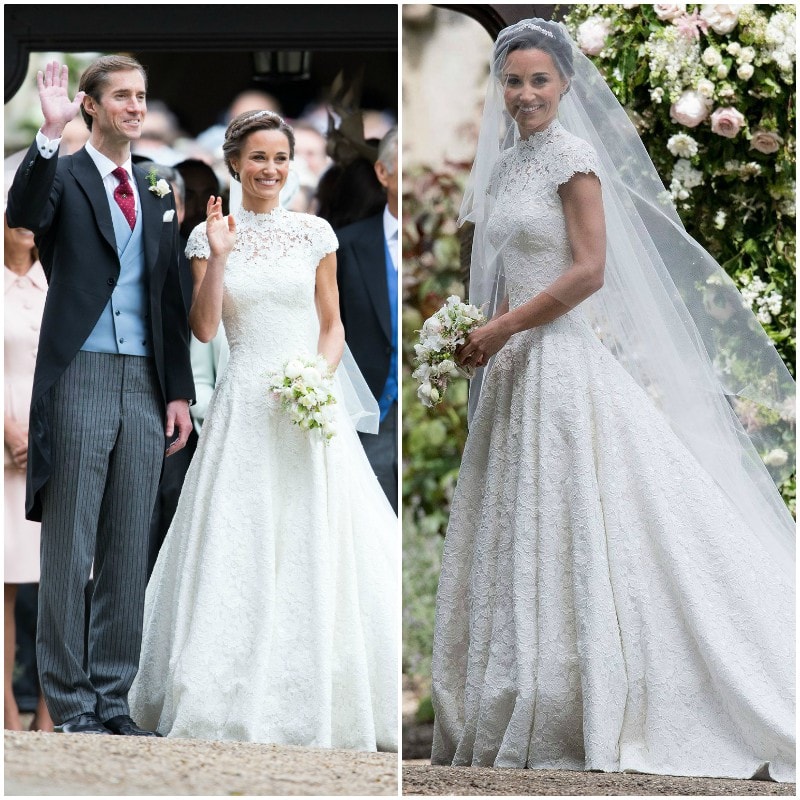 Renee Zellweger
Some of the most iconic bride gowns that Carolina Herrera has designed have included those of Jessica Simpson and Idina Menzel. Another actress who got the five-star treatment from Herrera was Renee Zellweger. The star of Bridget Jones' Diary wore her stunning dress on her wedding day in 2005 with many loving the minimalist style of her dress. The photos of her beach wedding with Kenny Chesney were stunning. However, the couple had an annulment just four months later.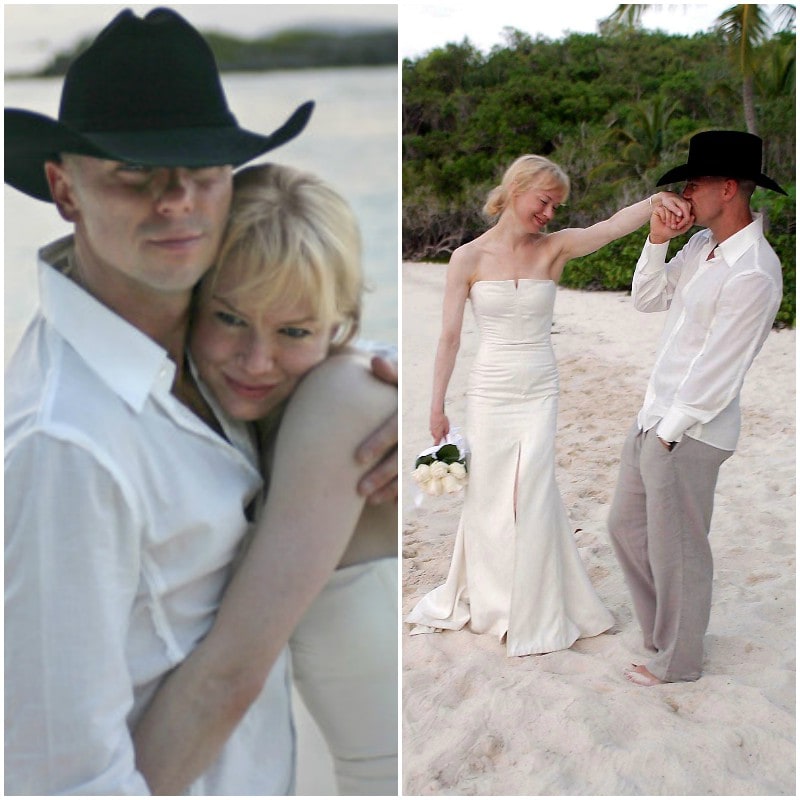 Kate Upton
Kate Upton married Justin Verlander in a romantic Tuscan wedding in November 2017, and the actress, as ever, was a vision in white on her big day. The actress and Sports Illustrated model couldn't hide her happiness as she walked hand-in-hand with her new husband, and her smile went perfectly with her gorgeous dress. Kate opted for a more classic, long-sleeved lace Valentino gown, with a long white veil, and a bouquet of peach, light pink, and ivory flowers.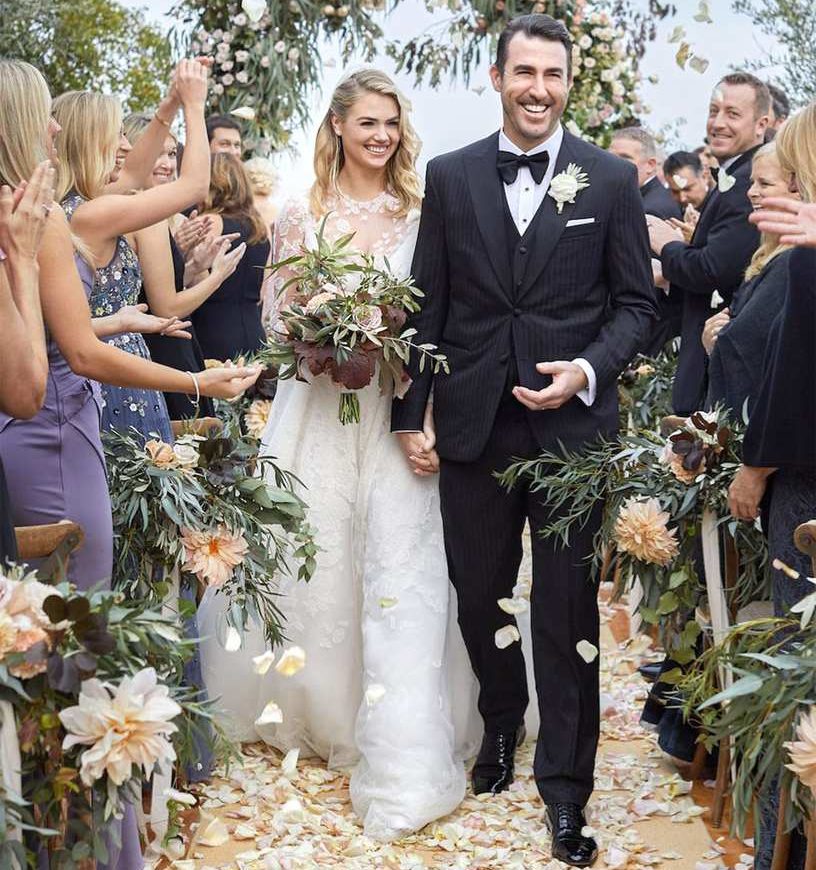 Britney Spears
Britney Spears shocked the world when she married her back-up dancer Kevin Federline. But you may not know that she was the one who actually proposed! "Then all of a sudden I said, 'What if you want to get married?' And I kind of went from there to asking him if he would marry me. I asked him… He said no because he thought it wasn't the right way to do it." A week later, Kevin bought Britney a ring.
Nicky Hilton
They have just recently celebrated their third wedding anniversary, but on July 10, 2015, Nicky Hilton shone in this elegant white, lace gown when she was set to wed James Rothschild. The couple got married at The Orangery in Kensington Palace Gardens in London, England, and Nicky wore this Valentino Haute Couture gown pictured below, which set the socialite back $77,000. Meanwhile, Nicky is heir to the Hilton Hotel empire, and James Rothschild is a member of the wealthy Rothschild family.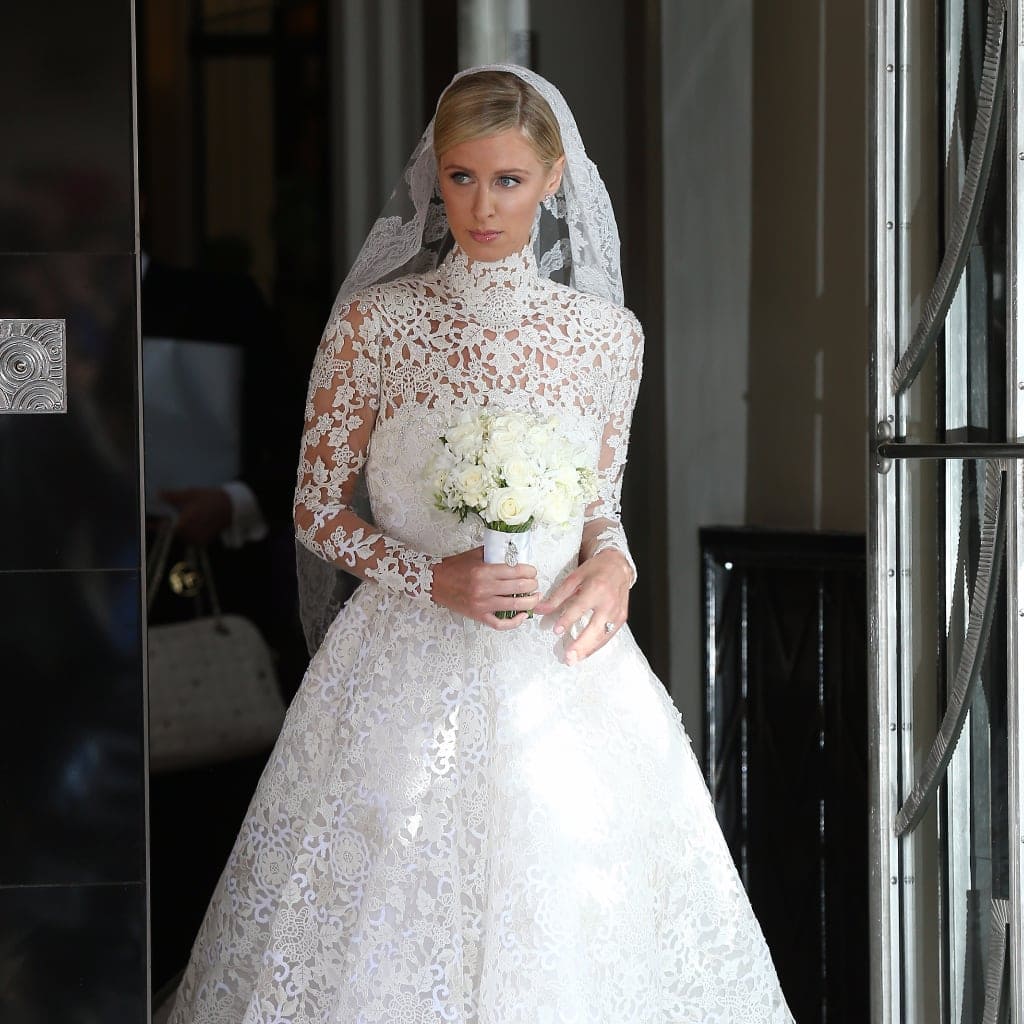 Amal Clooney
When you're marrying Hollywood's most eligible bachelor (who has been the pursuit of actresses for decades), you better look stunning on your wedding day – and that's exactly what Amal Alamuddin did! The celebrated Lebanon-born, London-based human rights lawyer made it clear exactly why George Clooney decided to finally settle down. The bride looked like a fairytale princess in a custom gown by Oscar De La Renta. For the reception, she switched into a cascading red Dolce & Gabanna gown.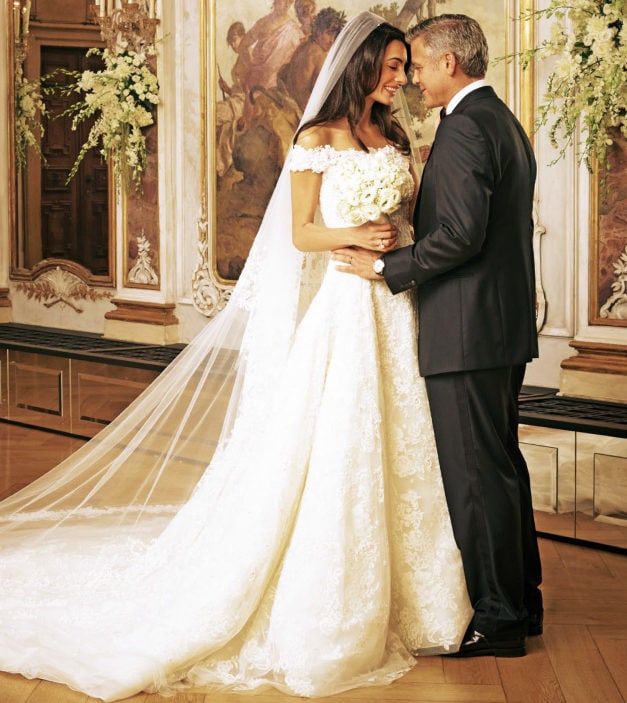 Miranda Kerr
Victoria's Secret supermodel Miranda Kerr found the man of her dreams in Snapchat founder and CEO Evan Spiegel. The bride wore a custom gown by famed French design house Dior Haute Couture. It was the second trip down the aisle for Miranda, who had previously been wed to actor Orlando Bloom. The couple had a low-key affair at their home in Los Angeles in front of 45 of their closest friends and family members. The couple shares one child.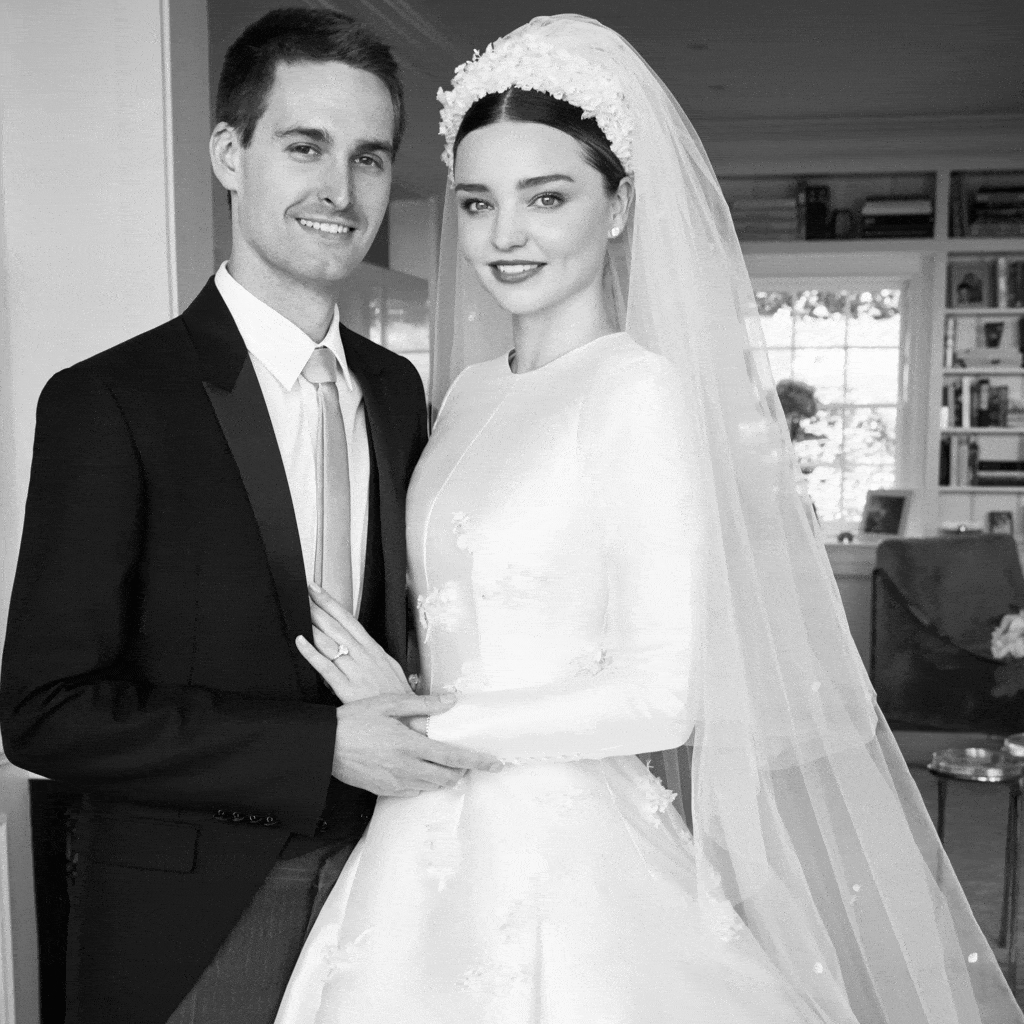 Victoria Beckham
Hey, Victoria and David Beckham, the 1990's called, and they want their…everything back! The couple married back in 1998 Luttrellstown Castle, Ireland. The Bishop of Cork conducted the ceremony, which cost millions of dollars. All jokes aside, the power couple, consisting of one of the most highly paid soccer players in the world and the singer-turned-fashion icon formerly known as Posh Spice, is still going strong more than two decades later. The couple has four children together.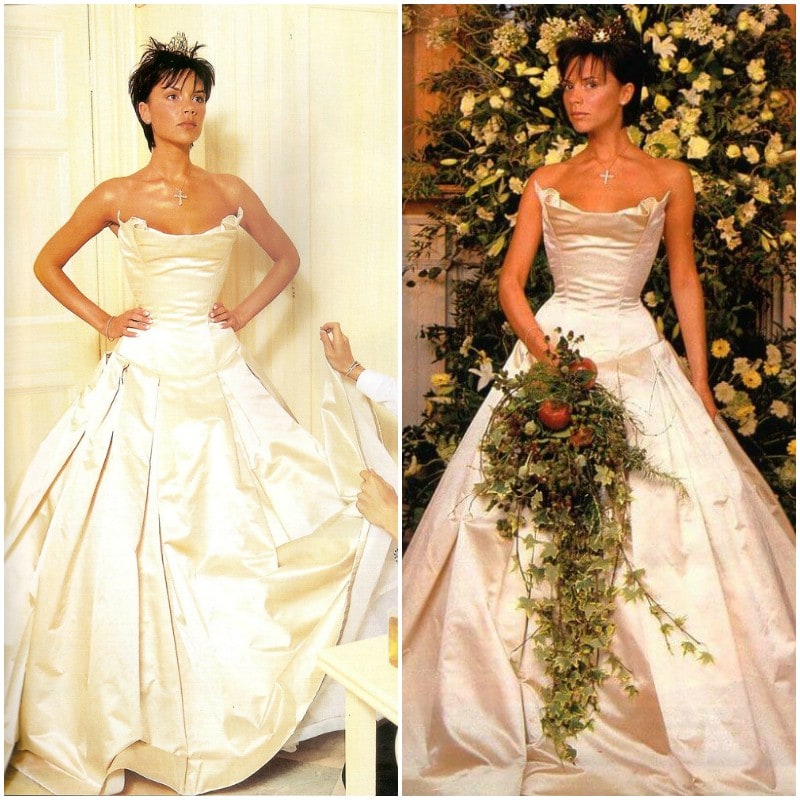 Kim Kardashian
Yes, this is Kim Kardashian's second appearance on the list. Though we strongly prefer her iconic look in a Vera Wang gown during her wedding to rap superstar Kanye West, we can't forget her first wedding to NBA player Kris Humphries. The marriage only lasted for 72 days, but Kim still went all out on the special day – the ceremony cost upwards of $10 million. Kris gave Kim a 20-carat, $2 million engagement ring that had to be transported via an armored truck.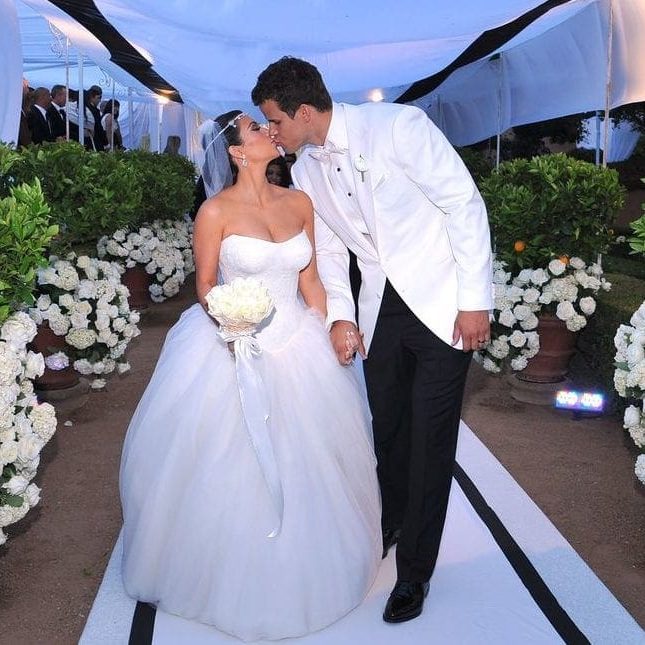 Kaley Cuoco
Kaley Cuoco previously got married wearing a pink, princess-like, gown, but unfortunately, that marriage was not to last. The Big Bang Theory actress recently wed for the second time, and this time she wore a custom-made Reem Acra 1920s inspired gown. The lace detailing and the way it fit perfectly on the actress made this one of the most beautiful wedding gowns. In fact, it took 50 yards of pure silk chiffon and ten seamstresses who hand embroidered the gown, to get this perfect finish.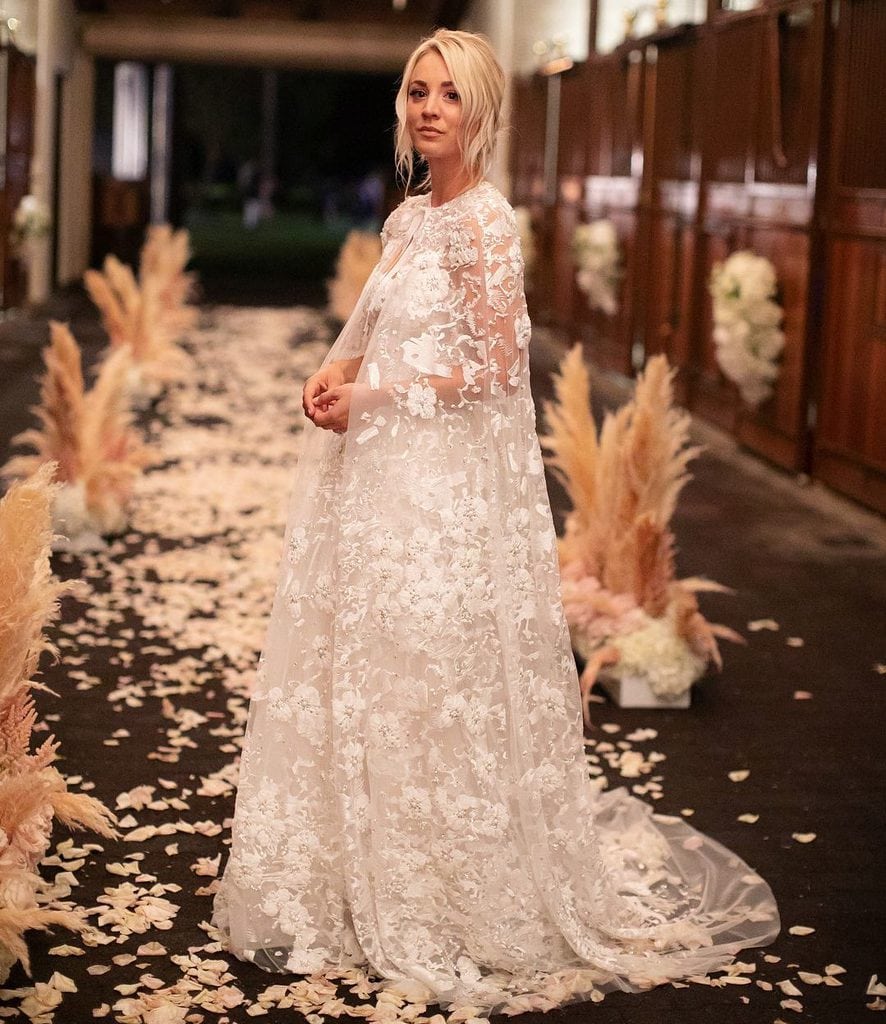 Heidi Montag
Reality stars Heidi Montag and Spencer Pratt shocked fans when they eloped in Mexico in 2008. But, as expected for these two fame-hungry pop culture personalities, they had a second, televised wedding (which was shown on The Hills) in Pasadena a few months later. Lauren Conrad, Heidi's former best friend and co-star, attended the wedding amid speculation that she wouldn't show up, since she famously didn't get along with Spencer. Lauren allegedly "had a fit" at her friend's nuptials.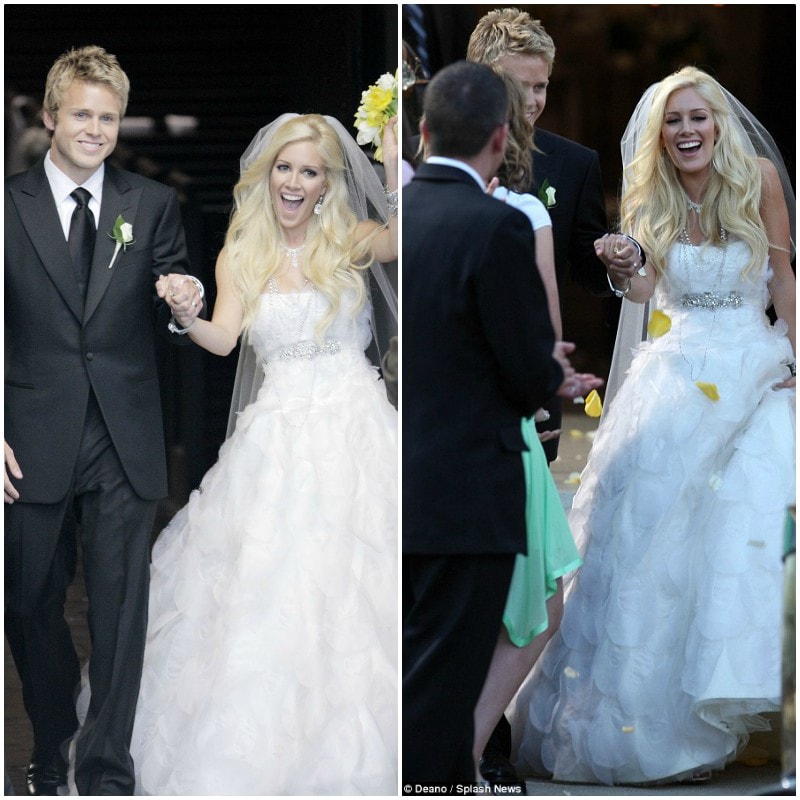 Snooki
Snooki – real name Nicole Polizzi – married her husband in front of 500 guests. Of her big day, she said, "I had the worst jitters. I was nervous, I had to have a little vodka. I was like, 'Where's my vodka? I need my nerves to calm down."' She added, 'It was honestly the best day of my life. I want to renew my vows next year just so I can have a wedding again and relive that experience because it was so amazing."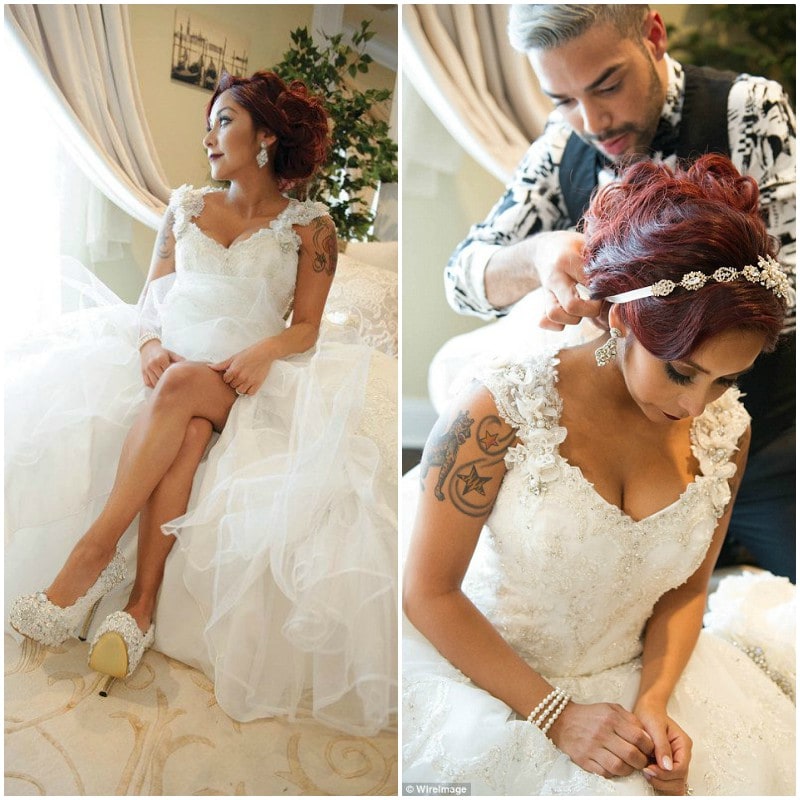 Christina Aguilera
Grammy award-winning songstress Christina Aguilera married her manager Jordan Bratman at the age of 24. However, things didn't last for the couple after their $3 million Santa Barbara ceremony. In an interview about the breakup with People Magazine, Christina explained "I've grown as a woman and he's grown as a person. We were both looking for different things. We just weren't right for each other. I couldn't face living another five years together and feeling that I wasted that time being unhappy."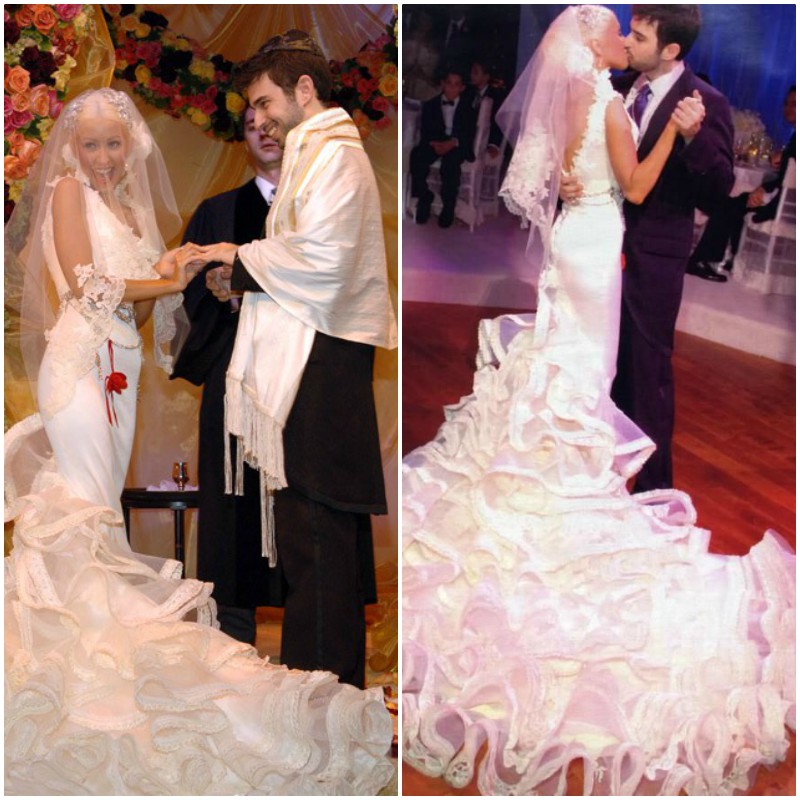 Allison Williams
Allison Williams married Ricky Van Veen in 2015 and chose Oscar de la Renta when it came to her wedding dress designer. Best known for her role in the hit HBO series, Girls, Allison and her new husband had invited guests to the Brush Creek Ranch in Wyoming and she chose Peter Copping as her dress designer. She said she had one request for Copping, who she knew would be the best man for the job, stating, "I wanted sleeves because I'm always cold."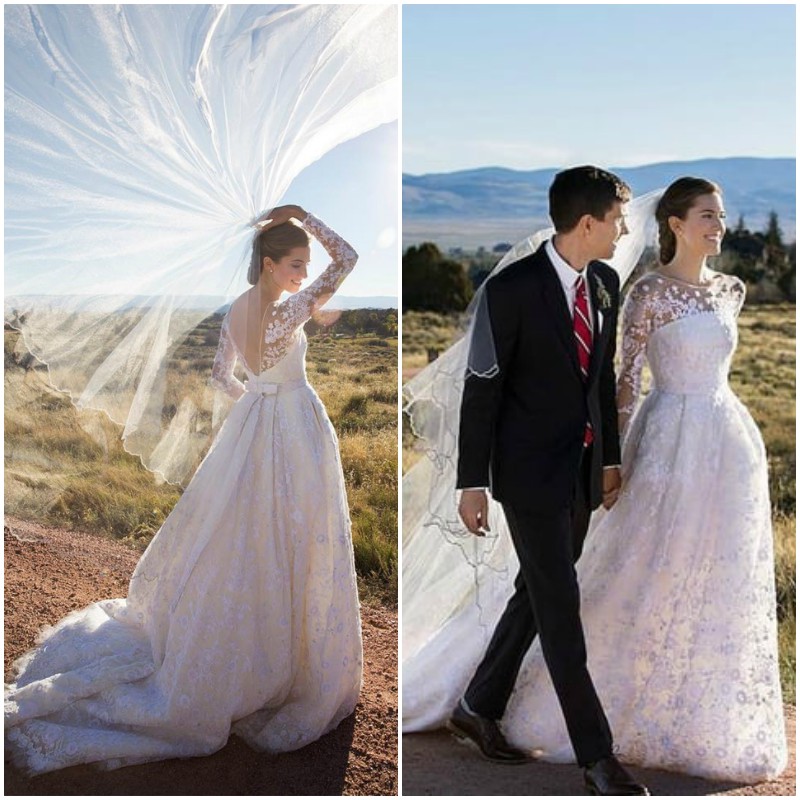 Ashlee Simpson
Ashlee Simpson is another bride who chose to stay away from tradition when it came to her wedding dress. In fact, the American singer chose a Houghton Bride crop top, bralette, and lace skirt, when she married Evan Ross in 2014. Evan Ross is an actor known for his role in The Hunger Games, while also being the son of the very famous singer, Diana Ross. Shortly after the couple celebrated their year anniversary, they welcomed a daughter named Jagger Snow Ross.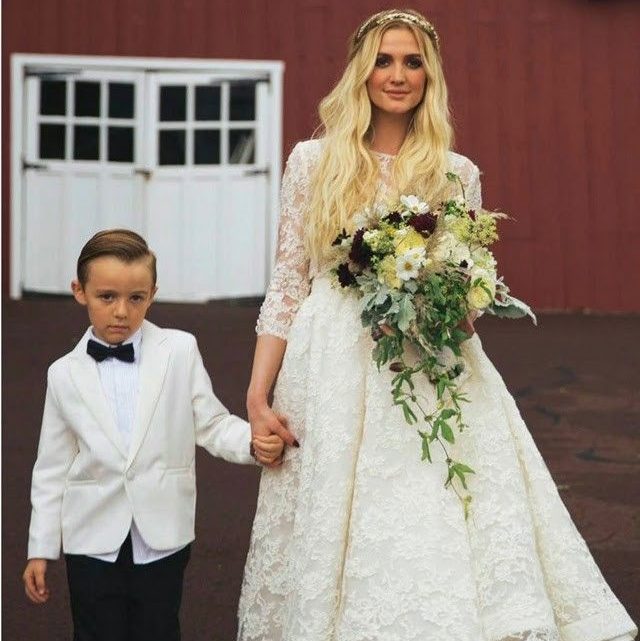 Arlenis Sosa
Arlenis Sosa proved she was every inch a supermodel when she married basketball player Donnie McGrath in 2015. The couple married in the model's native home of the Dominican Republic, where they invited 150 guests to watch them say their vows in a beach ceremony. Arlenis shined in this Reem Acra dress, which fit her model figure to a tee. The design consisted of a lace top with a simple and elegant finish. The bride looked sensational as she walked down the aisle with her veil blowing behind her.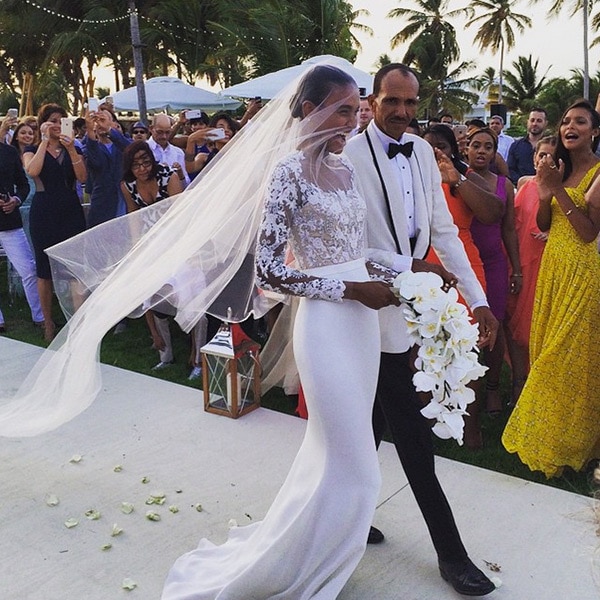 Gabrielle Union
Gabrielle Union has graced the silver screen time and time again, looking effortlessly beautiful every time. Once again, the famous actress was a vision when she married Dwayne Wade in 2014. This was the second marriage for the Bad Boys II star, and she chose to wear a custom Dennis Basso for the occasion. Dwayne was already a father of three at the time of marrying Gabrielle, and the new bride chose her step-sons to walk with her down the aisle.
Jamie Lynn Spears
Jamie Lynn Spears, who rose to fame as Britney Spears' younger sister, shocked the world when she became pregnant at the age of 16. At this time, her popular television series, Zoey 101, had to be canceled, but Jamie Lynn welcomed a beautiful baby girl named Maddie. In 2014, Jamie proved she was all grown up when she married Jamie Watson in New Orleans. The former child star wore Liancarlo for her big day and had Maddie as her bridesmaid.
Jamie Chung
When Jamie Chung married Bryan Greenberg in 2015, the actress wore two dresses. The former reality television personality wore a Jonathan Simkhair gown for pre-vow photos, and then Monique Lhuillier for the ceremony. The couple exchanged their vows on Halloween in front of their family and friends at El Capitan Canyon in Santa Barbara, California. In fact, the wedding was a three-day event and started with a welcome dinner on Friday night in the woods where guests were encouraged to wear costumes.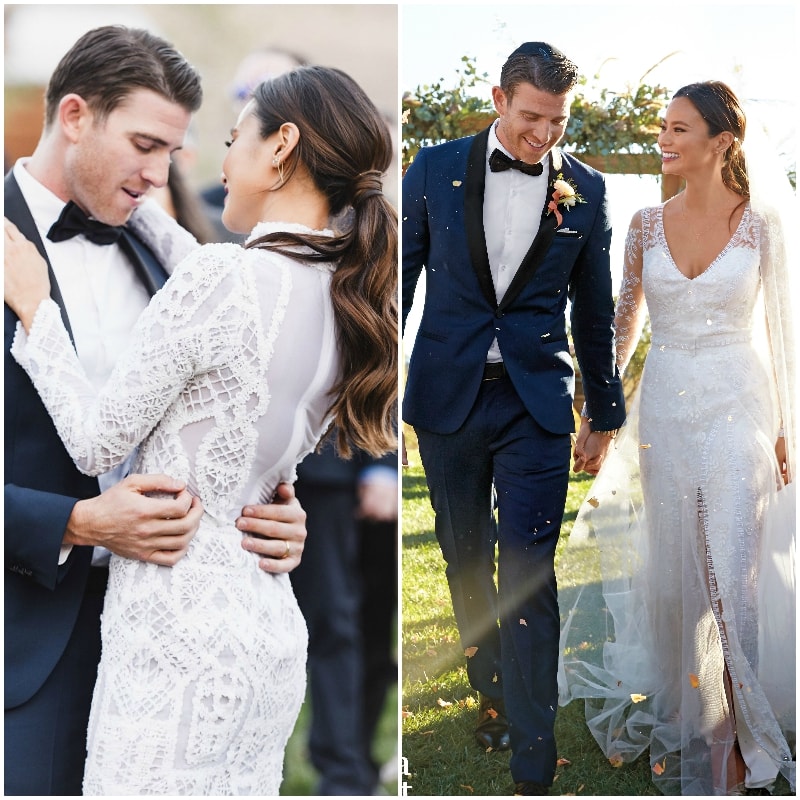 Anna Camp
When Anna Camp and Skylar Astin married in 2016, it sent Pitch Perfect fans into a frenzy. The co-stars began dating in 2013 before officially tying the knot three years later. They invited their guests to watch them exchange their vows at an outdoor ceremony on the central California coast, including their Pitch Perfect co-stars. Anna Camp wore a Reem Acra dress with Vince Camuto shoes and Neil Lane jewels. The couple had seven groomsmen and bridesmaid, with one being fellow co-star, Brittany Snow.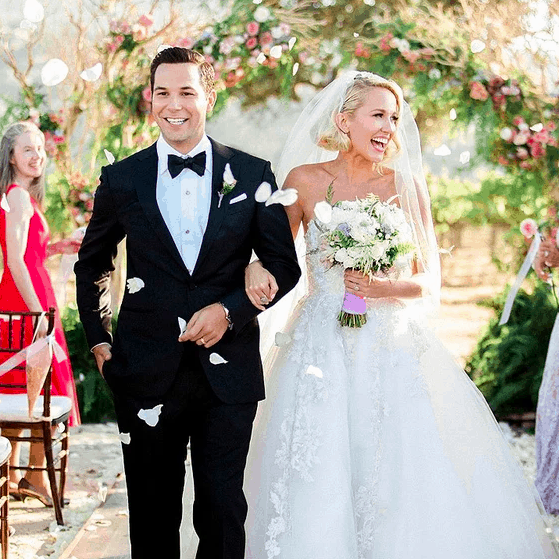 Meghan Markle
It was the moment everyone was waiting for and, on May 19, the world finally got their glimpse of the wedding dress Meghan Markle chose to wear to marry Prince Harry. The new Duchess of Sussex chose designer Clare Wright Keller, who is the first female artistic director at the house of Givenchy. The famous French house seems to be a favorite of Meghan Markle, who has chosen to go from an actress and public figure to a member of the British Royal family.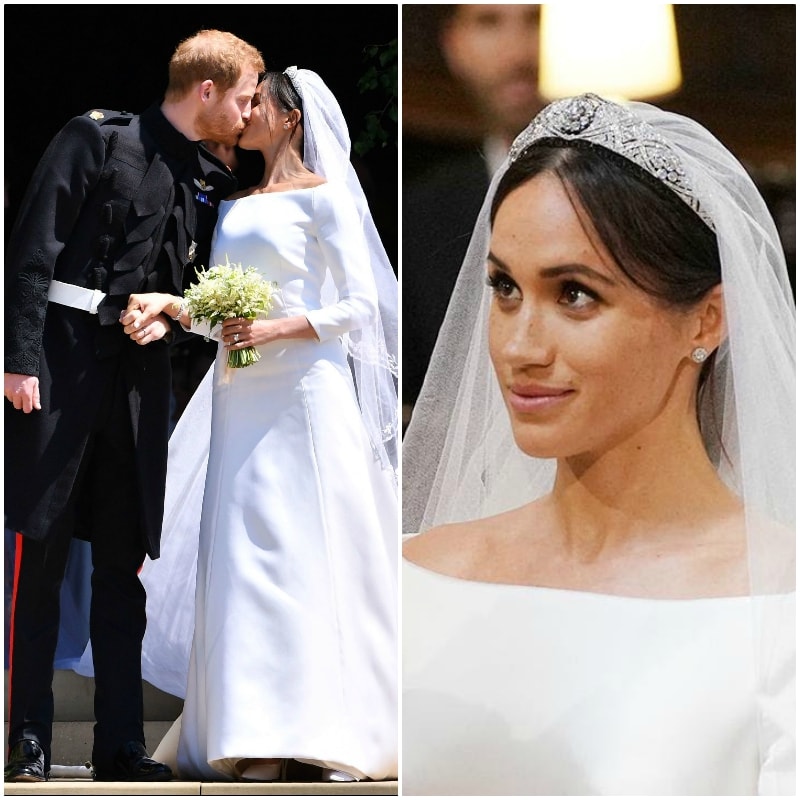 Angelina Jolie
After meeting on the set of Mr. & Mrs. Smith, a whirlwind romance fighting tabloid rumors and the paparazzi, and adopting several children, Angelina Jolie and Brad Pitt finally tied the knot at Chateau Miraval in France after nine years of dating. The ceremony was held in front of an intimate crowd of just 22 of the couple's closest friends and family. Angelina's dress featured illustrations by all of her children and was a uniquely beautiful homage to her family.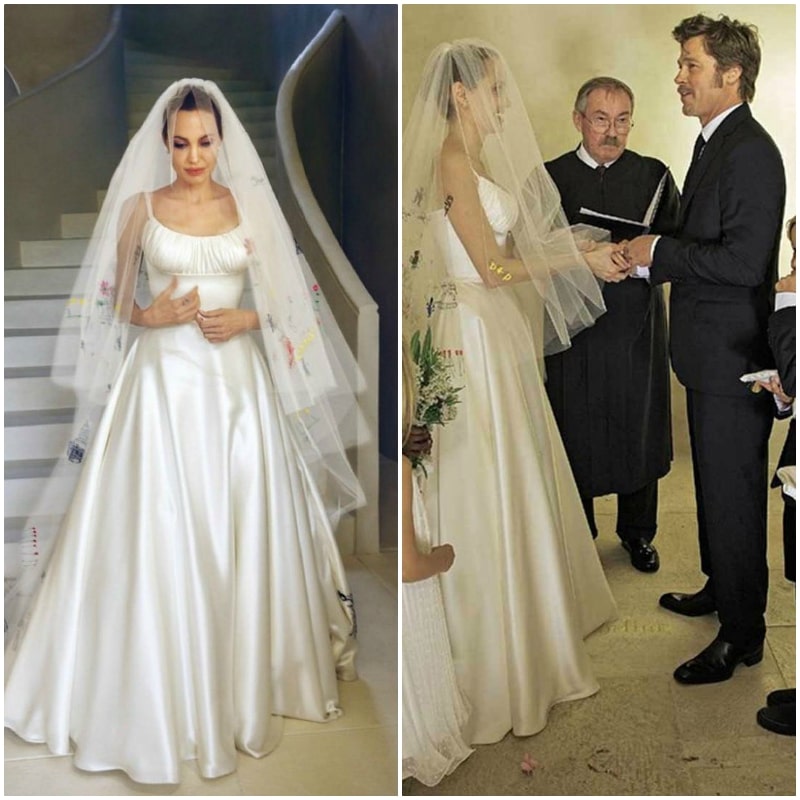 Margot Robbie
In order to officially quiet the rumors about her love life, Robbie posted a photo on Instagram with her newlywed husband and her beautiful wedding ring! However, photos from the wedding that leaked showed Robbie walking down the aisle with a pageboy by her side. Although it was just the upper torso of her dress that was revealed, it showed a gorgeous cream lace off-the-shoulder gown. It is reported that it was originally her mother's dress and had been modified for Robbie's wedding.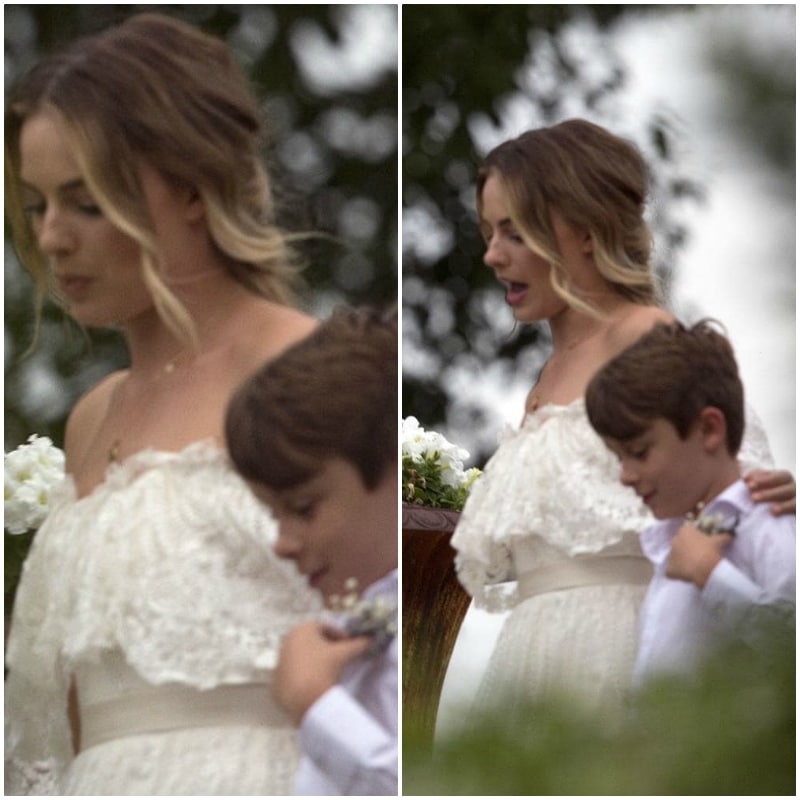 Shanina Shaik
She has walked many runways and is one of the beautiful Angels from Victoria's Secret, so it is no surprise that Shanina Shaik looked like the most beautiful bride on her wedding day. The model recently married DJ Ruckus in a private beach ceremony in the Bahamas wearing a bohemian style dress. Looking elegant and chic in white on her big day, Shanina had enlisted the husband-and-wife team at Ralph & Russo to help create her dream dress in just eight months.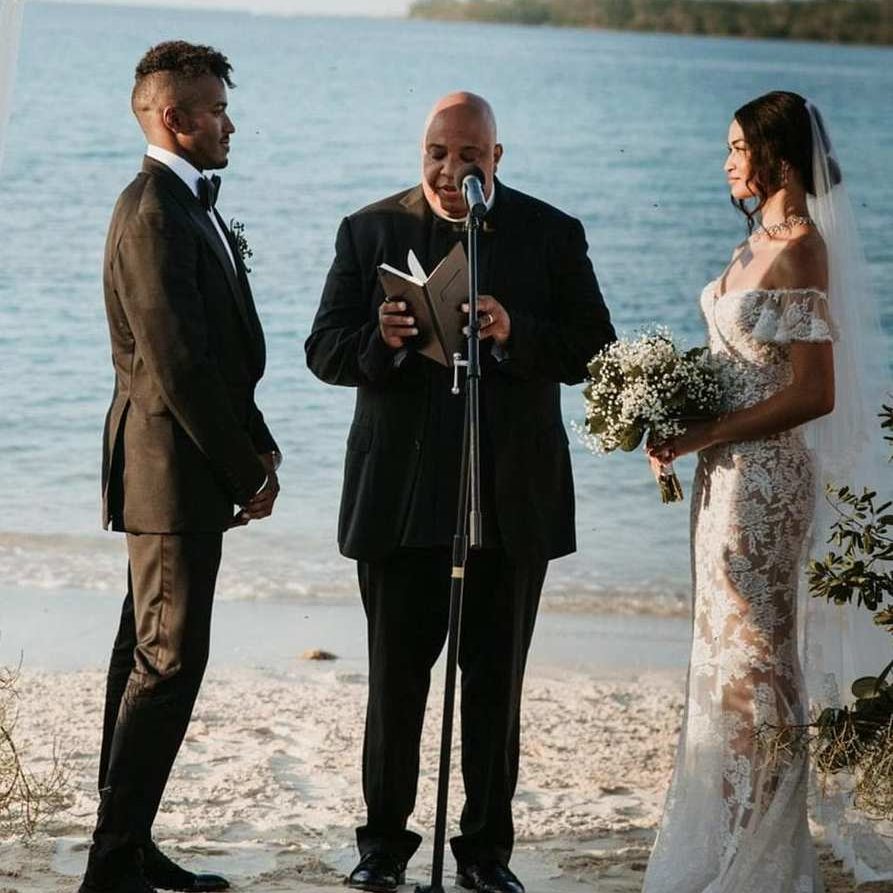 Nicole Richie
When socialite Nicole Richie married Joel Madden in 2010, she chose to go for this unique style of dress. While she has been known to have gone slightly over the top in her younger, wilder days, Richie seemed to have had her own vision when choosing this dress. Regardless of people's thoughts on this dress, the mother of two has since created her own successful fashion line, House of Harlow, so has proven she knows a thing or two when it comes to style.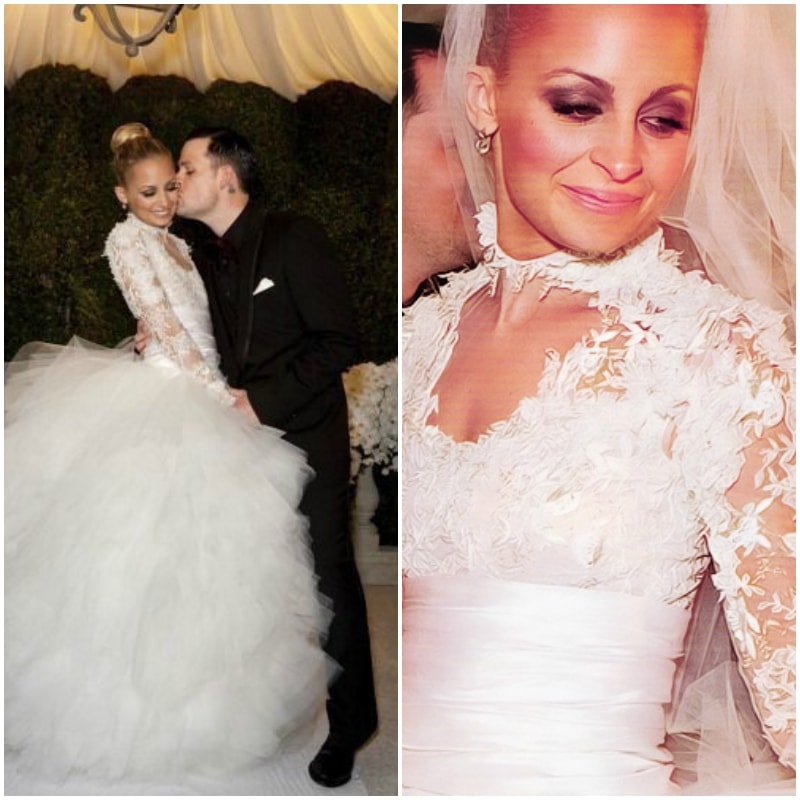 Khloe Kardashian
Back before Tristan Thompson, Khloe Kardashian married NBA player Lamar Odom just one month after the couple met. Keeping Up With The Kardashians and the E! TV network paid for the wedding, which was estimated to have cost more than $1 million – chump change for a Kardashian. The couple made $300,000 by selling the exclusive rights to their wedding photos to OK! Magazine. Khloe rocked a tiered strapless Vera Wang gown with purple tints that showed off her hourglass figure.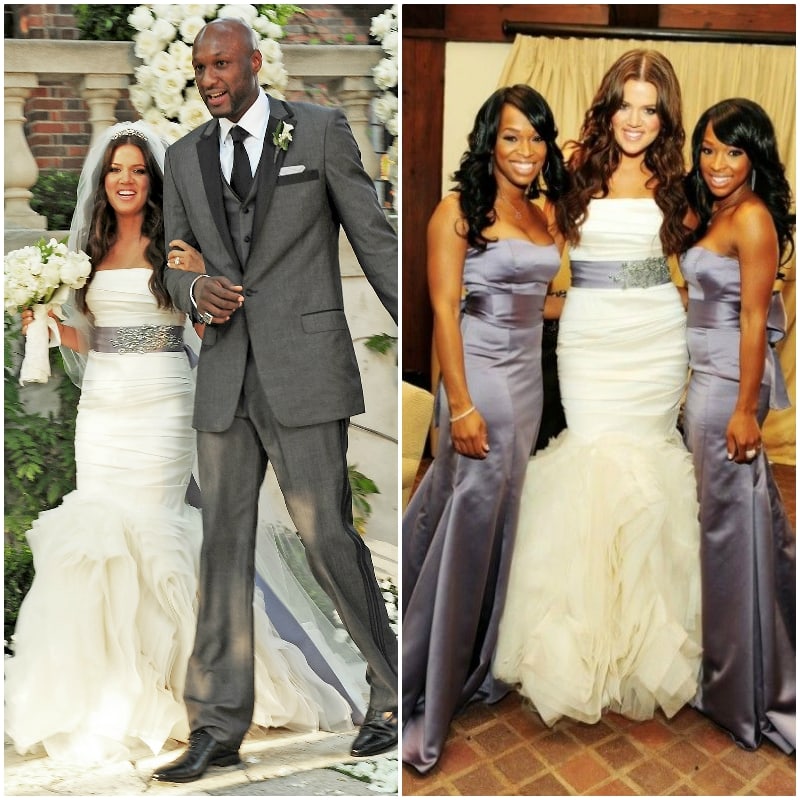 Audrina Patridge
Reality TV star Audrina Patridge married longtime beau Corey Bonahan in Hawaii, just a few months after giving birth to their daughter. Her wedding dress designer was based in Australia and explained, "It was just by luck that we were going to New York for Bridal Week that we were able to take the dress with us…for the final check…We popped it on her and did a few adjustments. Audrina loved it. She was just delighted and over the moon."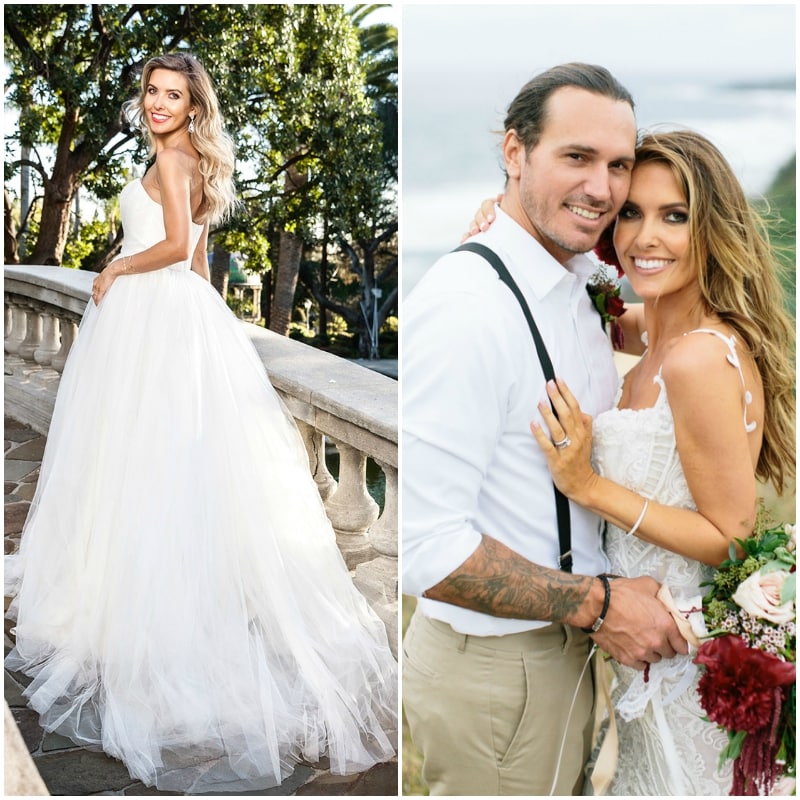 Amy Schumer
Amy Schumer discussed good pal Jennifer Lawrence's speech at her wedding to chef Chris Fischer, the brother of her personal assistant. "We just joke around so much, but to hear her say, 'You're the matriarch now and it's a role you'll be so good at and I know you love fiercely,'" Schumer said in a radio interview with shock jock Howard Stern. "Then she also said, 'I wish for you patience, which you don't have.' So, she also roasted me!"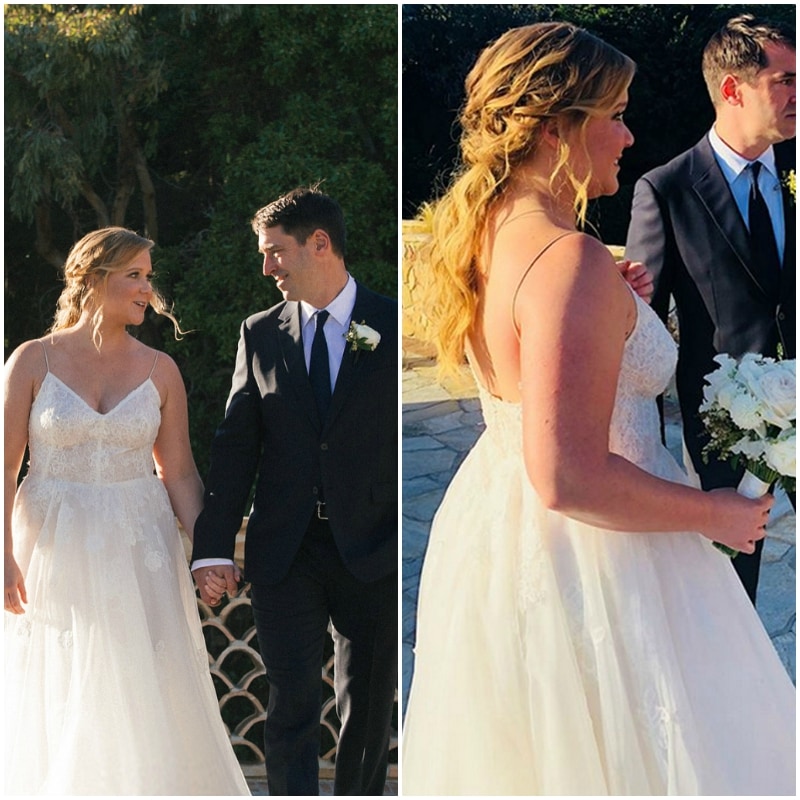 Kate Middleton
It was the Wedding of The Century, and for good reason. Nearly 2.5 billion people tuned in to watch the heir to the British throne, Prince William of Wales, wed his longtime love, Kate Middleton. The two wed at Westminster Abbey with the bride in a gorgeous Alexander McQueen dress.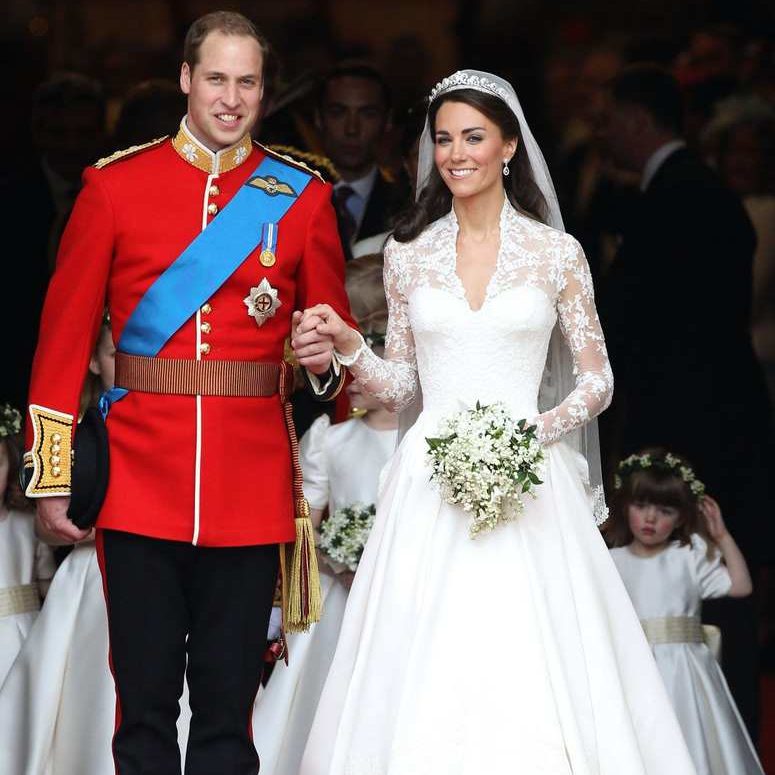 Ashley Tisdale
Ashley Tisdale is an actress and singer whose big break came when she starred in the Disney Channel original movie High School Musical. She's also a modern-day pinup, having ranked on the Maxim' Hot 100 list of sexiest women and hottest celebrities multiple times. So it's only appropriate that for her wedding to musician Christopher French, Ashley had her High School Musical co-star Vanessa Hudgens as one of her six bridesmaids! The pair wed at a private residence in Santa Barbara.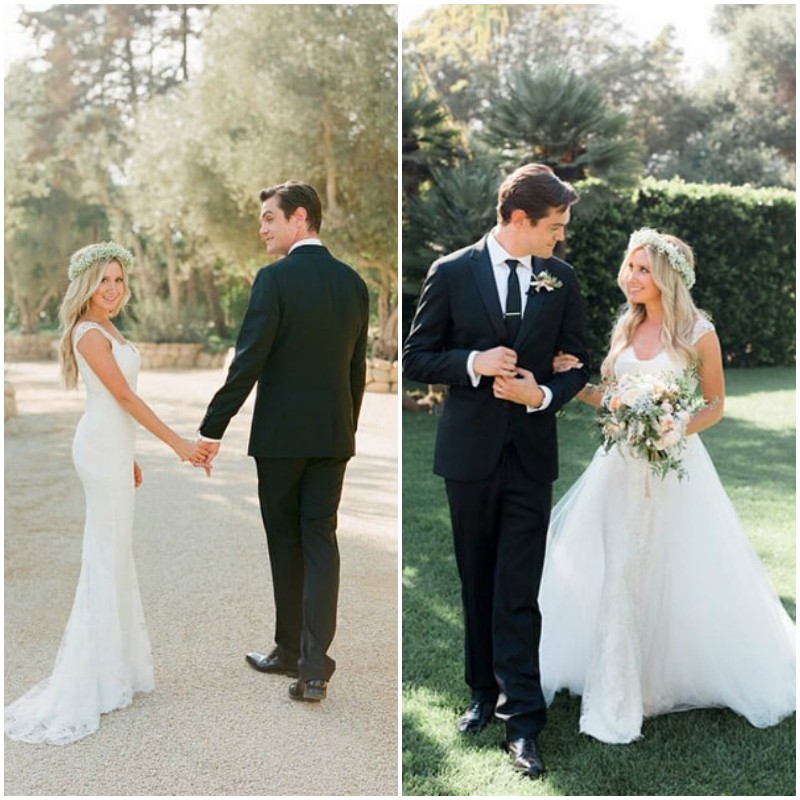 Shenae Grimes
Shanae Grimes did things a little different when she married her long-term boyfriend, Josh Beech, in 2013. In fact, the 90210 actress opted for an unconventional black Vera Wang dress for her big day, a decision many wouldn't choose when it came to exchanging their vows. While tradition stands at wearing a white dress on the day of your wedding, 23-year-old Shanae had her focus in a completely different direction. Meanwhile, five years on and the couple is still going strong!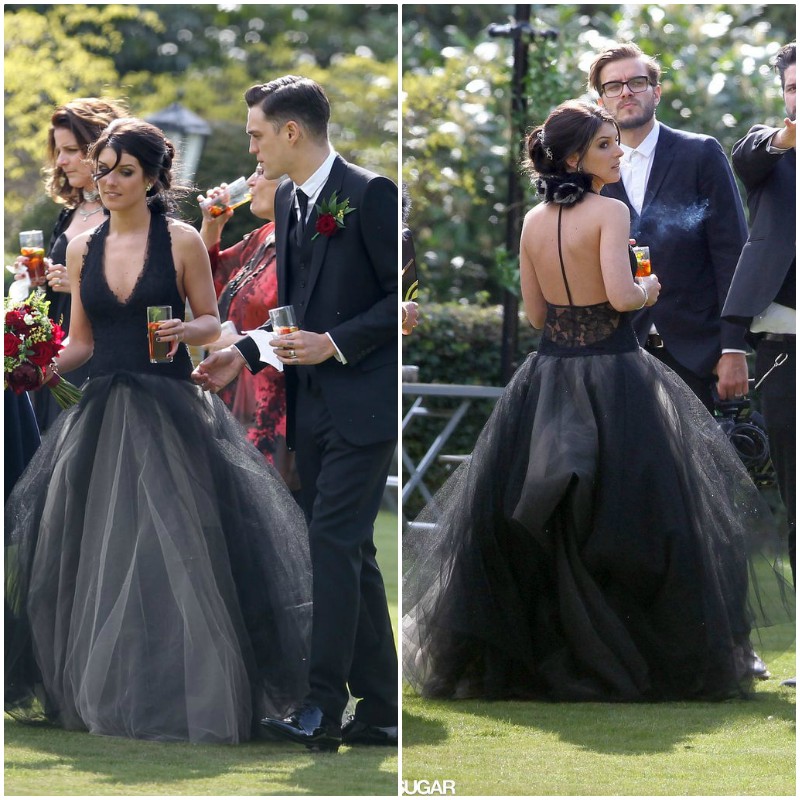 Hailey Bieber
Hailey Baldwin and Justin Bieber first met in 2009 when they were just teenagers backstage at the Today show. No one would have guessed that 10 years down the line, they'd actually be husband and wife. Though the two already tied the knot in a courtroom wedding in September 2018, they held another celebration one year later in September 2019 with all their loved ones. Hailey's stunning custom made dress is all anyone could talk about, and rightfully so!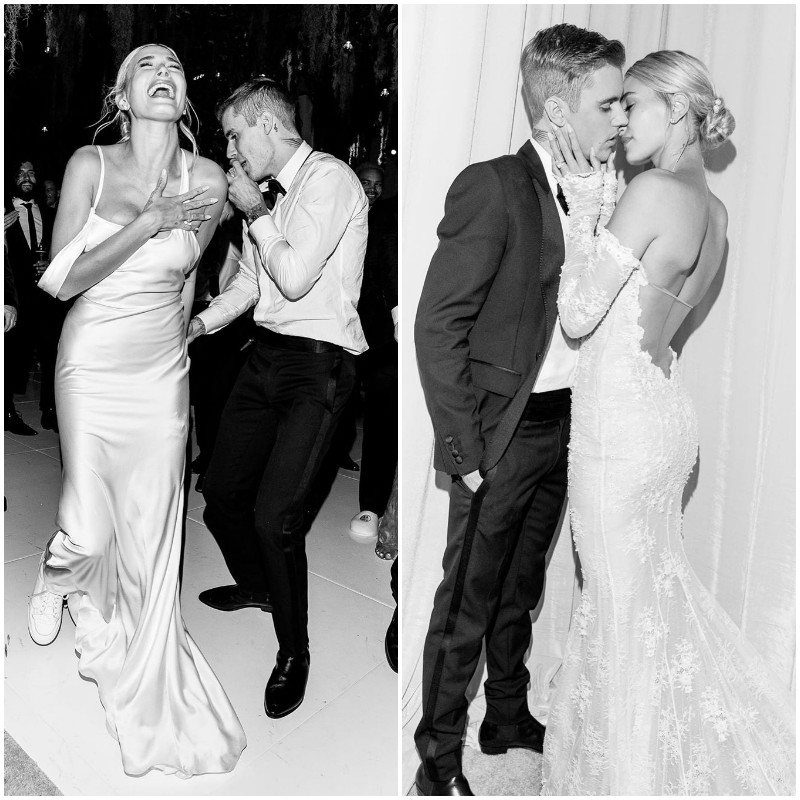 Gwen Stefani
The bride, whose known for her fierce sense of style, kept her distinct edge with a custom pink and white wedding gown by Dior during her wedding to British rocker Gavin Rossdale. The couple has since split, but her ex-husband says: "We had 20 years together and that in itself is pretty incredible. It's a lifetime. I still think she's incredible. It was a lovely 20 years and we have three amazing children. There were a lot of positives."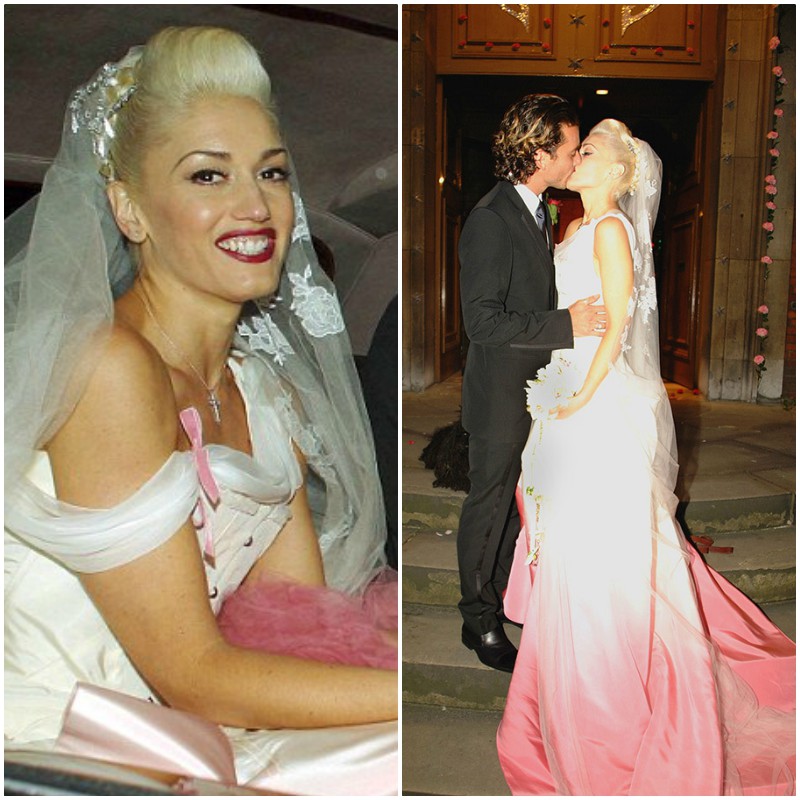 Salma Hayek
When Salma Hayek married the famous French financier François-Henri Pinault, the wedding was just as star-studded as you'd expect for Hollywood royalty like her. Bono, Penelope Cruz and Woody Harrelson were all in attendance. The wedding cost a whopping $3.5 million – which is pocket change if you're Francois-Henri Pinault (he is a billionaire, after all). The wedding itself was held in Venice's renowned opera house, Teatro La Fenice. The Mexican-born beauty now shares one child, named Valentina, with her husband.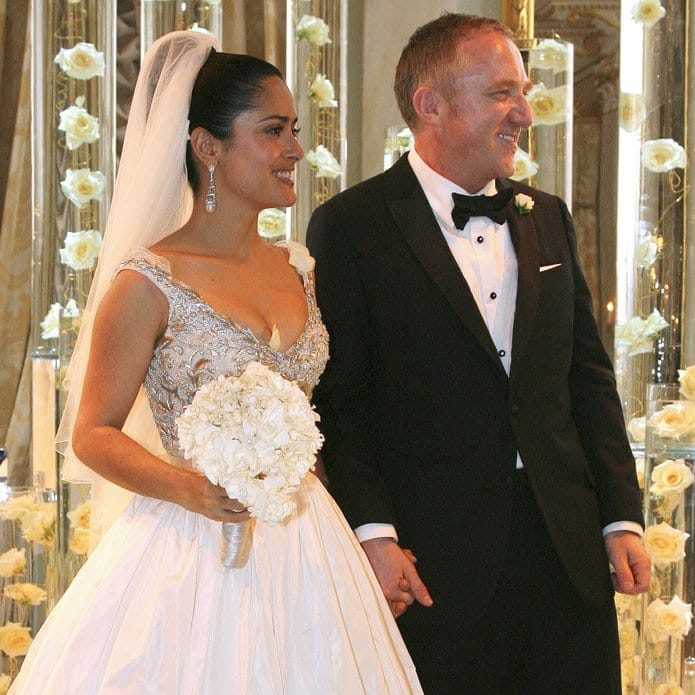 Serena Williams
Top tennis player Serena Williams married tech entrepreneur and Reddit co-founder Alexis Ohanian in New Orleans, Louisiana. Their infant daughter was in attendance. On Instagram, her husband posted: "You are the greatest of all time, not just in sport–I'm talking about as a mother and as a wife. I am so excited to write so many more chapters of our fairy tale together. And my whole life I didn't even realize it, but I was waiting for this moment."